At the end of show season I'm full of excitement for the next year. And when the next year's events finally dawn, I'm full of trepidation that maybe my dreams of jumping big fences were out of hand.
Did I really go preliminary last fall? Because I'm pretty sure I fell off jumping a 2'6″ fence last month.
Show season is looming, and I've already got Cairo signed up for a couple events at prelim. When I was doing novice on her and even training, my usual plan of jumping all summer and dressage all winter seemed reasonable. But prelim? If the sassiest little mare in the West and are going to jump that big, our good dressage basics will only take us so far.
Notice I said basics. Our scores are still a work in progress. But on that note: Matt Brown, you probably don't remember schooling Cairo and I for the novice three-day steeplechase at Rebecca Farm two years ago, but 19th after dressage to finish sixth at the Rolex Kentucky CCI**** on Super Socks BCF?
You are my spirit animal.
I tried to get some jump lessons in over the fall and winter, but it never quite worked out. So I was staring at a horse trials a month away and feeling like I don't remember how to jump.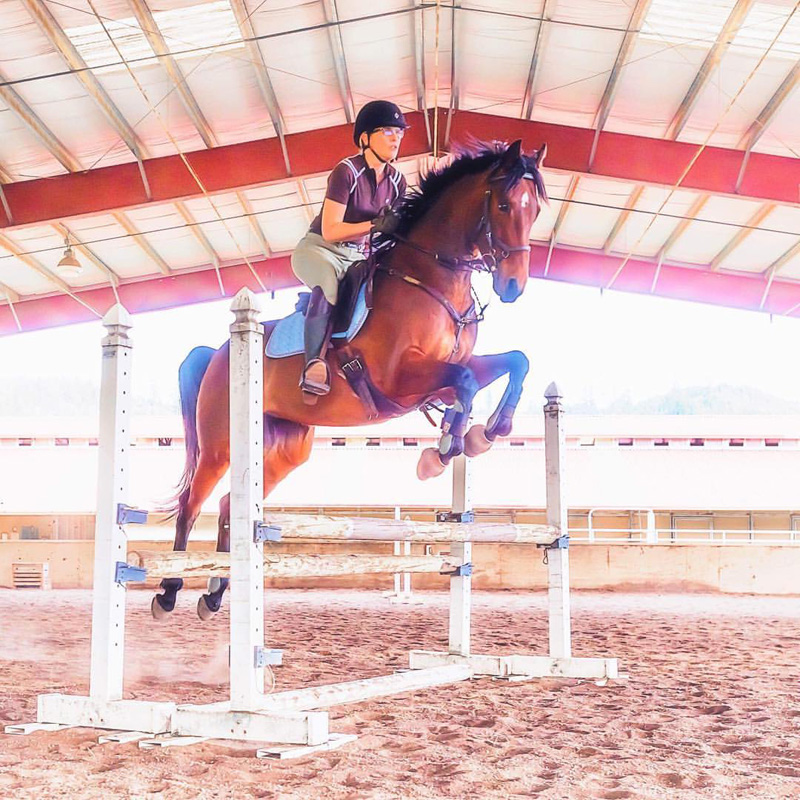 Then my friend Becky Burkhart, who bred Cairo and sold her to me, reminded me of the birthday gift she'd offered me months ago: A riding lesson with Rich and Shelley Fellers.
You know, Rich Fellers and Flexible, 2012 Olympians and 2012 Rolex FEI World Cup Final Winners, and his grand prix-competing wife Shelley Fellers, who had a great ride on her horse, Revenge, in the AIG $1 Million Grand Prix at HOTS Coachella (Calif.) earlier this year.
Go big or go home, right?
Becky hauls up from Eugene to ride and show with the Fellers' in Portland and has been for several years on her Irish gelding Dawney Grey. One of her young horses, Tanana, is a Flexible baby—sassy like Cairo, who she's related to through her mom. The Fellers' are good with hot little horses, people keep telling me. They even like hot little horses. Flexi is 16 hands. Cairo is 15.2 on a good day, with her shoes on. Maybe standing on her tiptoes.
Timberline Meadows, the Fellers' barn, is about two hours from Becky and I. So I made sure Becky added time in the scheduled drive up with our horses for me to stop and pee at least three times out of nervousness.
We were riding fairly early in the day because I had gotten tickets to Snoop Dogg through work and had invited Becky to go with me, if we got back from the lesson in time.
"Why don't you just text Shelley and tell her you want an early lesson because we need to go to Snoop?" Becky laughed at me. Please don't tell Snoop, Wu-Tang Clan and Cypress Hill, but I was more than willing to blow them off for a chance to ride with the Fellers.
The lesson wound up being at 10:30 a.m. and despite my bladder and needing to leave by 7:30 a.m., we got there on time.
We tacked up and headed down to the outdoor arena for a lesson with Shelley. I've watched Becky take lessons with both Shelley and Rich and I did know they are big on flatwork, so I was ready for that.
Or so I thought.
So let's keep in mind I'm an eventer. And I take a lot of dressage lessons, but my jumps tend to be while schooling at shows and some clinics. You would think that eventers and jumpers speak the same language—I mean, we all jump fences? Not so much.
One thing I learned very quickly is that perhaps most of my lessons are in dressage, and I jump a lot on my own, but I tend to divide my jumping from my flatwork too much. I ride flat in my dressage saddle and on jump days I jump. So the first thing I did was forget to lengthen my stirrups for the flat.
In my defense of any blonde moments (I'm blonde so I feel I can say that), there were three other people in my lesson, someone was hacking Flexible and Rich was jumping a Flexible baby, Reflex. I'm used to traffic and so is Cairo but I was in terror Cairo would either, one: Give Flexi the dreaded mare-stare or two: fall in love with him and overcome her Regumate in a hussy-like manner.
Cairo, as it turns out, was much more chill than I was and was deeply unimpressed. She didn't even show Flexi the whites of her eyes.
There were a good 45 minutes of half-passes, stirrup-dropping and walk-canter transitions before we even thought about jumping. Cairo and I had just started working on walk-canter in our dressage, and she was delighted to leap into the canter at the slightest provocation. However, Shelley wanted the canter departs to be straight and from a good walk, not drunken swerves from a jig.
And then there was the little matter of my tendency to drop my hands and my eyes on the flat, then merrily fling my hands in the air when jumping.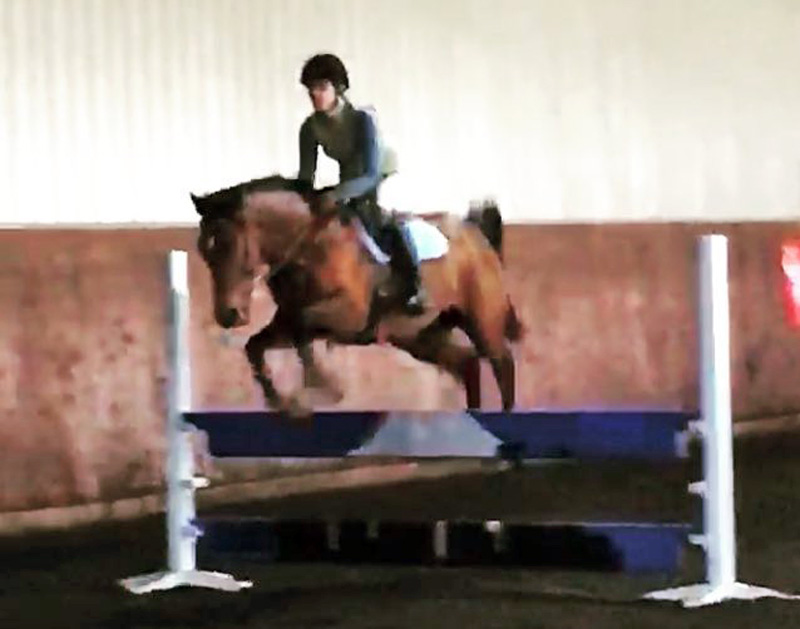 We headed indoors to jump. Our warm-up was an exercise with a wide X over barrels to planks set for a five strides that we did in sixes and sevens to work on adjustability. And I might have snuck an eight in. And needed to work on using my corners.
The first course made my eyes get very, very big. Mostly it was the dog-leg to the oxer at a slight angle heading into a wall rolling back to an in-and-out with a liverpool. Cairo and I are "gallop into the wild blue yonder" types so after a winter of dressage and self-schooling over little fences outdoors, the short turns and angles looked tough. Shelley dropped the fences for me (not for Cairo who clearly was not suffering any pangs of self-doubt).
I got discombobulated over the oxer into the wall and chased Cairo to the liverpool and she spit it out. Not because she was scared of it, but because I rode like a potato. She's brave but not stupid. We figured it out the second time and finished on the plank line that was now a six-stride to a triple-bar over the barrels.
After we finished I was over the moon that we'd pulled it off. My crazy little mare, who people used to roll their eyes at (and she rolled them back, trust me) as she tossed her head and swished her tail, held her own in a lesson at the Fellers' barn, despite my not having had lessons in months. I'd learned a lot and felt like we had taken some good strides forward. So all high and happy I of course immediately asked Shelley if I could come back the next weekend. "No problem," she said.
I felt like I'd gotten a better handle on the bad habits I'd reverted to in the winter—picking my hands up in their air and stiffing Cairo's arc, cutting my corners and, my personal favorite, having "Jesus take the wheel" moments in which I just let Cairo make the decisions.
Becky and I headed home—in time to go see Snoop, though, full disclosure, we didn't have enough time to shower and I seriously debated just going in my breeches and hoping people thought it was a valid fashion choice!
The following Saturday lesson Becky couldn't go with me, and I was on my own. I left even earlier because I'm the world's slowest trailer driver ever. I was less nervous this time since I felt I had a better idea what I'd signed up for.
After I arrived, I got Cairo tacked up and left her tied to the trailer happily snarfing hay and wandered into the barn to find Shelley, who was clipping a horse getting ready for the next California trip where 21-year-old Flexible had his retirement ceremony at Del Mar.
Let's just take a moment here to appreciate a horse who competed at the highest levels of the sport until he was 21!
Shelley cheerfully informed me that I would be riding with Rich and one other student and to head on down to the outdoor arena.
OK, so that jacked the intimidation factor up a notch. Just me, one of the Fellers' students, and Rich.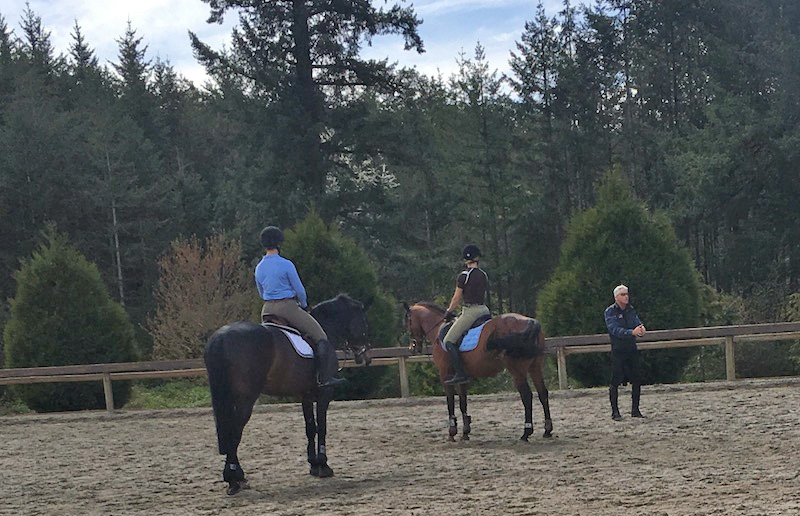 I was feeling pretty grateful that I've already been stepping up Cairo's endurance works since I now knew lessons at the Fellers' last a good hour and half. Rich put us on a large figure-eight and we did walk-trot transitions, shoulders-fore, shoulder-in on the diagonal, haunches out around the corners.
Rich was very specific about which hand he wanted the crop in and which diagonal he wanted for the lateral work and since I never carry a whip for dressage and do most of my lateral work at the sitting trot, my brain was hurting.
Rich was also very clear on the idea that while most riders are hand-riders, who focus on using their hands to control their horses, ideally we need to ride from our legs.
Then we cantered, again doing shoulder-fore work and walk-canter transitions both on the regular canter an on the counter canter on the figure-eight. Another thing Rich was specific about was how he wants the canter depart in order to have a straight horse. So I put Cairo in a shoulder-fore, put my inside leg at the girth and moved my outside leg back. What Rich did not want is a lot of pressure from that outside leg that winds up moving the horse's haunch over and making her crooked. The fact we have a little tendency towards crooked did not escape his eye.
After flatwork, we figure-eighted over a wide x-oxer, continuing our work on straightness and using some shoulder-fore at the canter. To my relief, Rich had the other student and her lovely dark bay gelding go first since she had ridden similar courses earlier in the week. I was particularly relieved someone else was the test pilot when he reeled off our first course, a bewildering—to my out-of-practice with jumper turns self—array of skinny fences and turns finishing on a wide oxer to an oxer over a liverpool.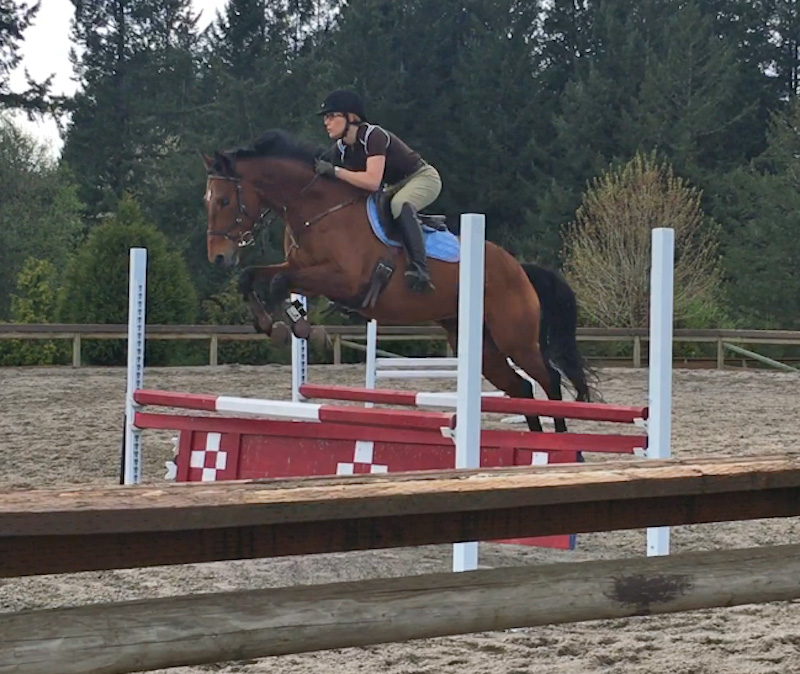 Cairo and I had some instances of too fast and at least one "Oh, if you wanted me to jump it, you need to be more clear" moment, but she leapt the final line merrily, and I was like "That was great!" and Rich was like "Yeah, we're just getting started." (That's not a direct quote, what he said was something like, let's go do the course in the indoor arena.)
The indoor course built on what we had been working on in terms of straightness and control of our horses' hind and front ends and of course our corners (and more, I'm sure but I ran out of space on my mental note list). Last weekend's in-and-out was now a triple and the first fence of the course was the last fence of the triple on a slight angle, then up the wall and across the diagonal to (my eyes) a solid oxer, roll back to the triple combination, roll along in seven around the corner to an oxer on the wall, then turn to a triple bar five strides back to the solid oxer.
Sound hard? Well, imagine my face seeing it after not doing courses all winter and doing very few rollbacks and such on event courses. And did I mention one of Cairo and my first triples together was at our prelim event last year.
I reminded myself that rusty is not the same as incompetent and one winter doesn't cancel out years of lessons and clinics in jumpers, equitation and eventing. And despite a certain tendency to doubt and overthink before I ride, the moment we get on course I'm a total adrenaline junkie who wants, like Cairo, to jump ALL the things.
Also, my horse is a rockstar. Pep talk accomplished.
Rich's other student went, and then he dropped the fences a smidge for Cairo and me. Cairo tootled merrily around the course and I might have uttered something vaguely inappropriate as Cairo caught some air over the triple-bar—both due to the height of her jump and my worries it would blow the distance on landing—but she came back nicely to fit the five strides in.
Rich had specifically warned me not to charge down that line (I think Cairo and my adrenaline tendencies came through during the outdoor jump where he had to tell me to slow down a couple times).
I was much better about my hands and my corners this lesson and Cairo was delighted with the results—basically I didn't get in her way. Rich pointed out there's not really a need to school how to cut corners because people and horses tend to do it instinctively, what needs schooling is using those turns.
Confession: The turn from the end fence to the triple-bar rode great because Cairo got her eye on the passage out of the arena, which is a short tunnel, and was clearly pondering running back through it just for giggles. She obediently turned to the triple-bar when I asked, but her little moment of sass meant we stayed out in our corner extra well!
The next course was similar and Rich left most of the fences at height for Cairo and I. She sailed over them. When we finished he rubbed her sweaty forehead and told her she was a good little jumper. First, I love hearing my crazy mare is a good girl and second, Cairo let Rich in her bubble!
Normally, people who get friendly with Cairo without first bribing her with snacks get a glare from her rolling eye and generally ignored. If you have properly bribed her, then she loves you until you run out of snacks. Once you are in her bubble then she likes you all the time. Maybe Cairo liked Rich because he let her jump bigger than she had all winter? Whatever it was, the bubble was entered.
Cairo and I headed home and I counted my blessings for the zillionth time that I have this little mare who after a winter of no lessons lets me try to scrape the rust off in lessons with folks that some people only dream of riding with.
Next up: It's our annual clinic with Dom Schramm!
Camilla Mortensen is an amateur eventer from Eugene, Ore., who started blogging for the Chronicle when she made the trek to compete in the novice level three-day at Rebecca Farm in Montana. Camilla works as a newspaper reporter by day and fits training and competing Cairo into her days.
Read all of Camilla's adventures with Cairo…