A carnival with a pony ride; a pasture on the side of the road; a relative with a horse in the backyard—many amateurs started riding as adolescents, and they never looked back. But Betsy Simons has a different story, one with a 15-year gap in her timeline.
Simons' husband, John Simons, saw an ad in the local paper by trainer Kim Perlman offering lessons at his new program at Touchstone, later renamed Riverstone Equine, in Central Valley, New York. He decided to buy her one riding lesson as a gift for her 29th birthday.
"My husband says it's the gift that kept giving," said Betsy with a laugh.
The couple worked at the same company in the banking industry and thought it would be healthy to have separate hobbies. John had golfing and cycling, so he thought Betsy might enjoy learning to ride. Betsy had always liked horses while growing up but was never able to pursue lessons, only going on the rare trail ride during family vacations. After her birthday, Betsy went out to Touchstone, gift certificate in hand and ready to learn.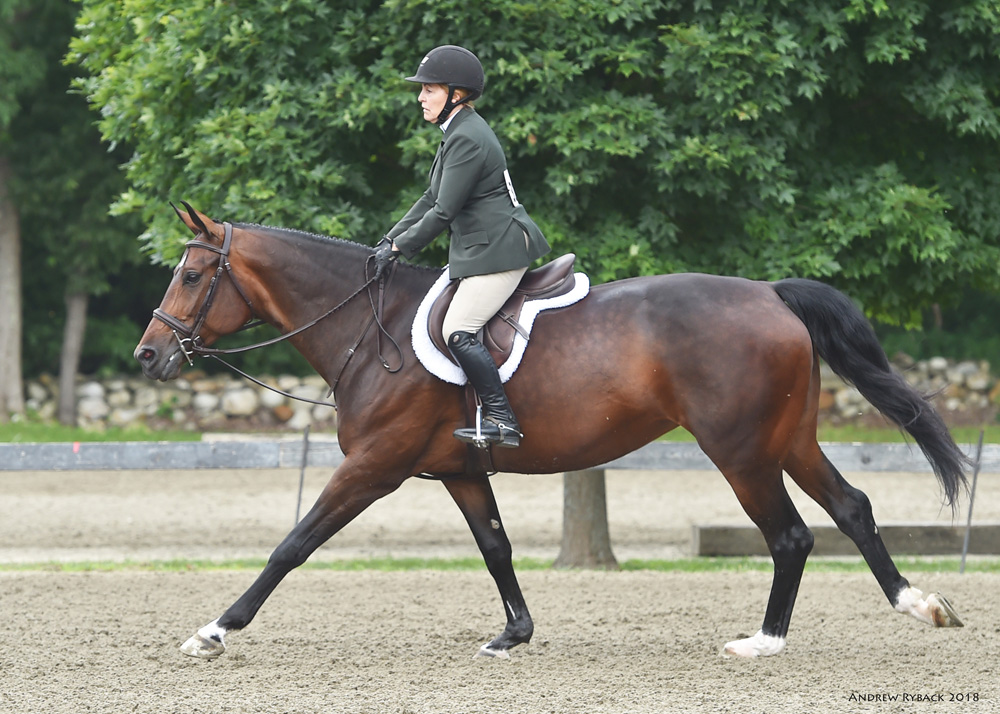 "She's from my original up-down lesson program, and she literally learned how to walk-trot with me," said Perlman.
From that one lesson, Betsy was hooked. She began riding more seriously and taking weekly lessons with Perlman. She eventually bought a horse, affectionately named The Other Man by her husband. While she loved "Tom" and was quite successful in the adult amateur hunter divisions, Betsy felt that he could do so much more than she was able to do with him. At the same time, she was raising her two children, Will and Katie Simons, working full time and spreading herself thin.
"The kids were getting older, and they were getting more active, and I was feeling probably a little guilty that I was spending so much time riding. I also had this fabulous horse whose potential I wasn't really tapping," said Betsy. "And if I couldn't ride [Tom], I didn't want to ride anybody. It was sort of like you buy the Jaguar or the Mercedes. I was like, 'Who am I going to ride that's going to give me that feeling again?' "
With the thought of riding any other horse too unbearable, Betsy decided to sell Tom and quit riding altogether. In that hiatus, she focused on her career and family and kept up with Perlman and others at Riverstone through social media. Betsy tried everything to replicate that euphoric feeling of being on a horse; she began playing tennis and joined a gym but couldn't find anything that compared to her love for Tom.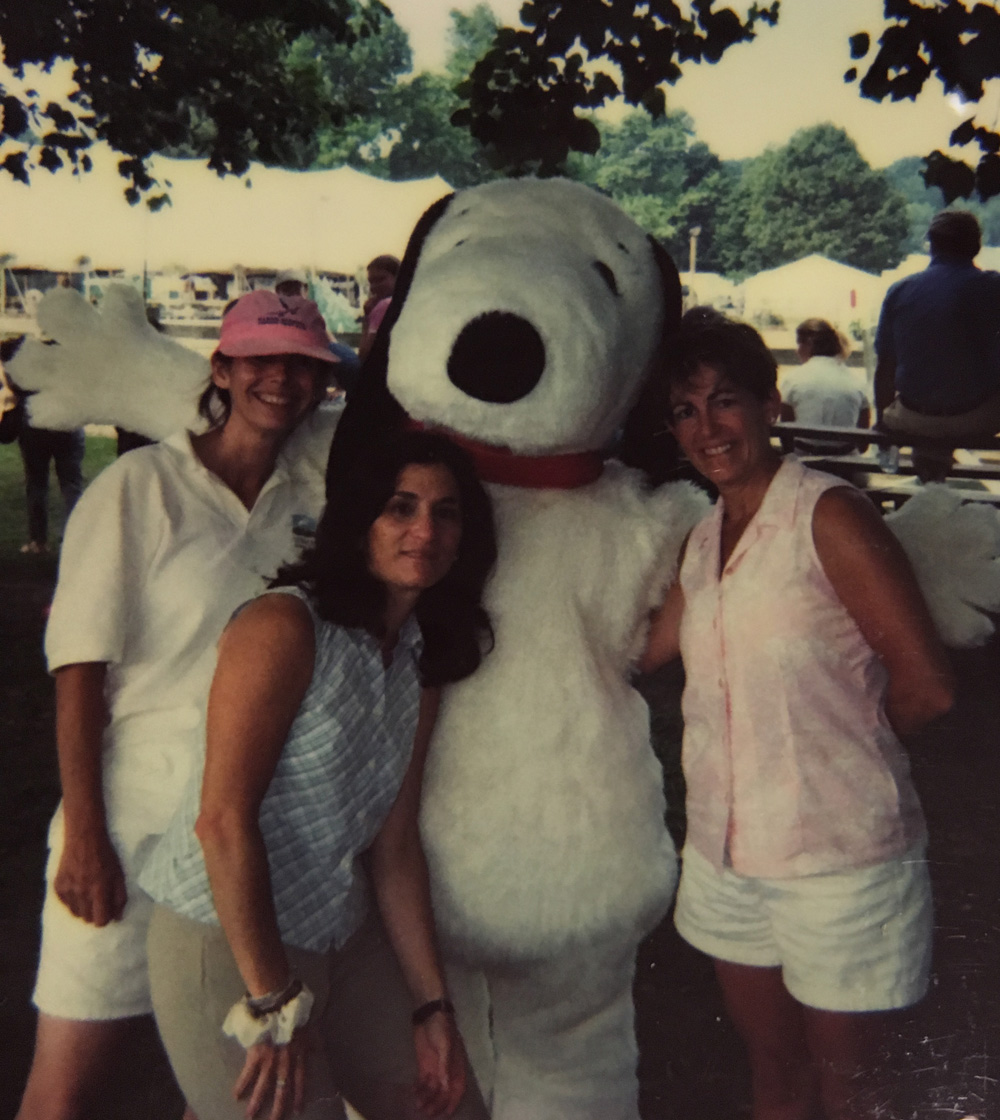 Fast-forward 14 years later. Betsy's children were both in college and out of the house, and horses were still in the back of her mind. One weekend when her husband was out of town for a golf trip, she decided to reach back out to Perlman.
"I had followed Kim a little bit on social media, and I'd see his posts, and I saw that my friends were still there, and Ann [Cohen] was one of them," she said.
Perlman encouraged Betsy to come out and visit the barn and picked a day when Cohen was going to be there for a lesson on her horse, Willow Bay. Cohen and Betsy were friends when they both rode with Perlman in the late 1990s and early 2000s, but they'd fallen out of touch when Betsy stopped riding. Even though it had been years since the two were together, Betsy still considered Cohen a friend. The pair reconnected after the lesson, catching each other up on life events. Cohen told Betsy that "Willow" was her horse of a lifetime, just as Tom had been for Betsy.
Months later Betsy visited Riverstone again, this time in the shadow of Cohen's passing, who'd died in October 2016 after a battle with colon cancer. When Betsy returned to the barn in May 2017, Willow (Harmony Bay—Willow) was still there. After Betsy's visit, Perlman invited her to come back out to the barn the next day for a lesson on Willow.
"I didn't have boots; I didn't have chaps anymore or a helmet. And all my friends up there outfitted me in a day," said Betsy. "Somebody had the same size foot and paddock boot, and somebody else had half chaps, and then Kim found a helmet that fit me."
Now 58, Betsy was nervous that 15 years was too long of a break, that her body wouldn't be able to do what it used to when she was 29, and that she wouldn't get the same feeling from all those years ago when she had Tom. Perlman, on the other hand, didn't have a doubt in his mind.
"When you teach the basics properly, they come back. It only took her a short time, really, just to get stamina back, but her style and her riding really hadn't changed," he said.
Betsy and Willow clicked immediately. The 8-year-old Swedish Warmbood-Westphalian mare had the same hunter frame, long stride and round belly that Betsy had loved in Tom. She only rode Willow for a few months before taking the plunge to buy her.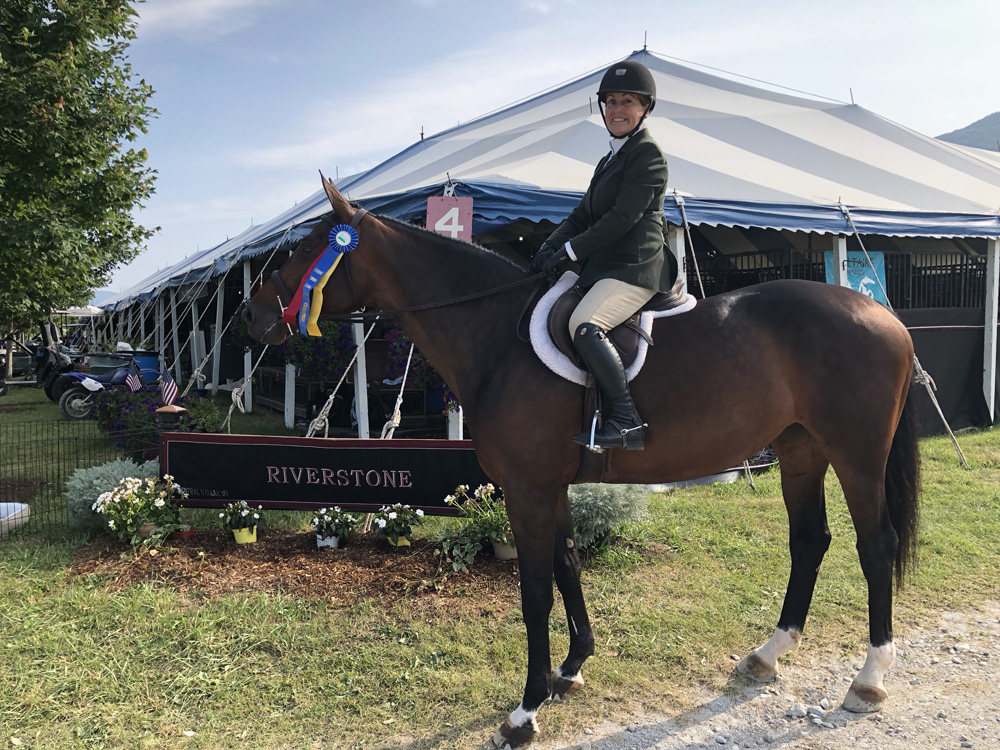 "I knew [Kim] wouldn't have sold me a horse that was going to break, and I trusted that. But I held back a lot from falling in love with her because I wasn't sure. I kept saying that Tom was my horse of a lifetime—that this would be fun, but Tom was my horse of a lifetime," said Betsy. "But I think she really knows me. And I do feel a strong connection, and I do feel like she is my horse of a lifetime too."
Betsy has been taking it slow while getting back into riding, but you would never guess it. Her first real jump back into the hunter ring was during the Vermont Summer Festival, where she won circuit champion in two of her divisions and decided to stay for four weeks instead of her originally scheduled two. Betsy currently rides in the modified adults and the 2′ pre-adult hunters, but has set her goals on returning to the 3′ hunters eventually. She credits her return to the show ring to the encouraging coaching methods of Perlman and his wife, Caroline Sykes.
"Caroline said to me, 'You can trot any one of these jumps, and I don't care if you do. Just get back in the ring. If you feel uncomfortable and out of control, just bring her back down to the trot. If you want to jump three jumps and leave the ring, I'm fine with that too.' And that took a lot of pressure off of me to perform," said Betsy. "When I went in, I cantered the whole course and came out and Caroline said, 'I saw that look! I'm not breaking to the trot! I'm not coming out after three; I'm going to do this!' And then you build on that. That confidence, the horse feels it, you feel more in control, and it just went from there."
Betsy admits that she didn't really believe in karma and fate but riding Willow has made her change her mind. Without meeting Willow, she might not have gotten back in the saddle, but something drew them together.
"I still use [Ann's] girth, and it has her nameplate on it. So every time I get off the horse, I see her name. I really feel like she sees it, and sometimes I feel like she's there. And she'd be so happy," said Betsy. "I think she would have been so sad to see Willow leave the barn, ever, and just the fact that she had said to me, 'This is my Tom,' and now [Willow] is mine. It just feels right."