It was pouring rain, and I was cantering Cairo up to a 3'9" vertical, just because it was there. I was grinning like an idiot, and Cairo was waving her tail like a banner.
That's when I knew, really knew, I was feeling back to normal. Or as "normal" as any eventer ever is.
Last I had blogged, I was dealing with a holiday morass of a two-month series of tests for both breast and eye cancer that left me crying about jumping an 18-inch X, and my little mare Cairo was probably ready to trade me in for a newer, less sniffly, model.
After three ultrasounds, an MRI, and three sets of mammograms, they were finally able to do a breast biopsy.
Doctor: You won't be able to ride for two weeks.
Me: So that's what, three to five days in eventer-speak? (The biopsy was on a Monday; I was riding by Friday, and now I know why sports bras were invented.)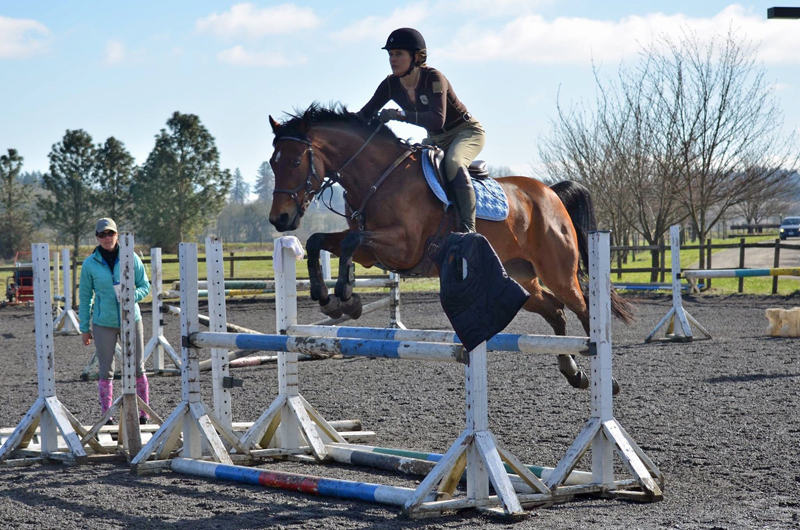 The diagnosis was "probably benign," and while I go back in June, I'm pretty sure I'm off the hook. I'm still going to put a pink ribbon on Cairo's booty for the Halt Cancer at X campaign when I head off to Rebecca Farm this summer. She'll forgive me for a good cause.
Meanwhile the eye lesion meant photographs, scans, a dye injection and, my least favorite, a very goopy ultrasound of my eyeball. Then wait three months and go back for more photos and goop. They've called it a lesion, a tumor and a mole. I prefer the latter as it sounds the most innocuous.
Three months was last week, and the lesion hadn't grown. While I'm seriously annoyed that there is an aspect to the lesion that puts me at increased risk for eye melanoma and that I have to go back every six months for the rest of my life, hey, so far so good, and at least it's a rare cancer!
My breast biopsy was slated for the day after a clinic with my trainer Meika Decher, and I elected to have her ride the sassy little monster instead of me, given I wasn't in the best state of mind.
It's unusual for anyone else to ride my horse (and lots of people have told me they never want to, but they say it really nicely, so I don't mind), but having your trainer get on is never a bad idea. Meika knows Cairo's bark is worse than her bite, and she had a blast jumping Cairo around. She pointed out that Cairo was being a moped around corners as opposed to a horse who knows how to bend. No wonder we were struggling with bending lines to skinny fences on cross-country!
Cairo also threw Meika a minor naughty moment or two, and I have to admit it's nice to know it's not just me; sometimes my little mare really is a pistol. And it really helped to have Meika feel just how sensitive Cairo is to the bit.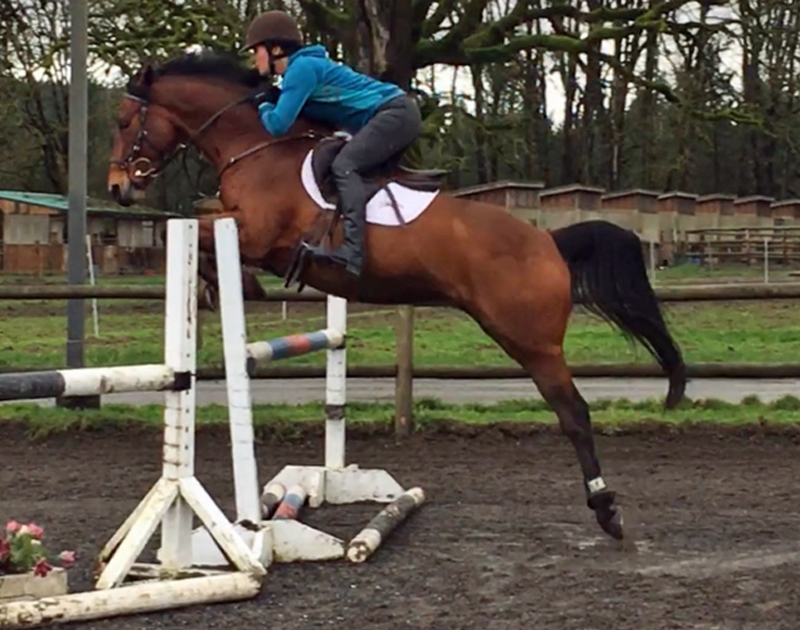 Cairo's moment or two of naughty with Meika was nothing compared to what she did to my dressage trainer Leslie Chapman later that month. A fairy godmother swooped in in the middle of all the crap I had going on and made magic by paying for—much needed—dressage lessons for me on Cairo (stretchy trot serpentines on the new prelim test???). And so I could afford to have Leslie hop on.
Cairo has more than a few quirks. One I don't think I have mentioned before in this blog is she doesn't like to be clucked at. When I say "doesn't like" I mean she goes from, "I don't want to go forward right now," to "I'm a cute little serial killer."
Leslie has been humoring me for a while in that when she's teaching me, and she clucks to make Cairo go forward, when I holler desperately, "No clucking!!!" she stops.
Because I guess I'm quirky too, Leslie has never told me that as my trainer she can cluck at my horse if she darn well wants to. Nor had she even asked me why I won't let her cluck.
I wasn't there the day she rode Cairo, but there were witnesses. It didn't occur to me to tell her not to cluck when she rode my horse, because, well, I holler, "No clucking!" a lot.
Irony duly noted that I can't cluck without risking bodily harm, but Cairo couldn't care less if I yell.
So, as you can imagine, Leslie clucked. That's what normal riders do to get the horse to go forward.
In response, Cairo generously offered to provide her with a bird's eye view of the indoor arena's rafters. Or pile drive her into the new sand footing. Whichever.
Now when Leslie starts to cluck at me in my lessons, she gets about halfway into the initial sound, stops herself, and says, "Sorry, sorry, sorry!"
Cairo: 1. Camilla and Leslie: 0.
Let's just say that Leslie and Cairo's session ended with Leslie safely dismounted with her two feet on the ground. It also ended with Cairo taking off bucking merrily around the arena, wearing the saddle I haven't finished paying for yet, periodically giving Leslie the evil eye until finally she reached into her pocket and pulled out a treat.
Cairo: 2. Leslie: 0.
Leslie's not exactly one to reward naughty with a treat, but sometimes with Cairo you do things you wouldn't normally do.
It's a good thing Leslie is my friend as well as my dressage trainer.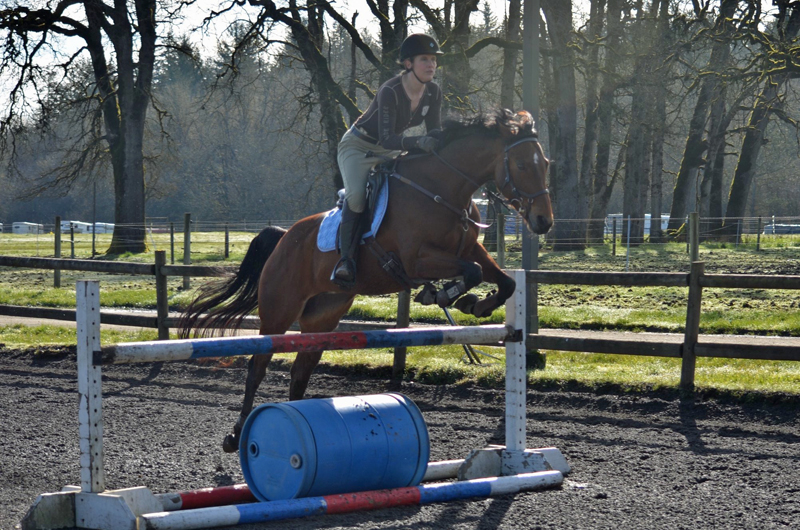 By the time Meika returned for another lesson, I was back on Cairo and working hard on that bend. Conveniently, the outdoor arena at my barn has a jump course on one end of it and a couple barrels for barrel racing at the other. After watching the good barrel racers practice, I started incorporating turns around the barrels after my fences and really getting Cairo to stand up and bend in her corners, something Meika noticed when she came back. I do think she was a little worried after I told her I was using running barrels as a training technique!
But in fact Meika complimented our newly improved bend, and I began to feel again like maybe I could ride.
Which leads me to riding feeling normal again.
I was out riding with my friend Becky, the same one who was there when I melted down over an X. Becky does the jumpers, and what to me looks like a big fence is her schooling height. She and I were jumping together one evening, and she thought I was done. She got off and began raising the fences. I wasn't done and came off an outside line around to a diagonal she'd raised. Cairo drew a bead on it, and well, it was there. So we soared over it and down the line.
"I'm so proud of you!" Becky said.
"But," she added, "I'd be more proud if you didn't just put three strides in the four."
Whoops.
So wish us luck. We are doing a clinic with Dom Schramm, and I saw that his comment on Meika's post about the clinic was something like, "Everybody had better bring their big girl panties."
---
Camilla Mortensen is an amateur eventer from Eugene, Oregon, who started blogging for the Chronicle when she made the trek to compete in the novice three-day at Rebecca Farm in Montana. Camilla works as a newspaper reporter by day and fits training and competing Cairo around her job.

Read all of Camilla's adventures with Cairo…