Standing in her kitchen in Seattle with her new baby girl Cora in her arms, Stacey DiNuzzo felt overwhelmed to the point of paralysis. Even though she had returned to work at T-Mobile leading crisis communications after her maternity leave, DiNuzzo continued to struggle with the severe effects of postpartum depression. She'd experienced postpartum depression with her eldest daughter Zoe DiNuzzo, but it came back stronger and longer with Cora.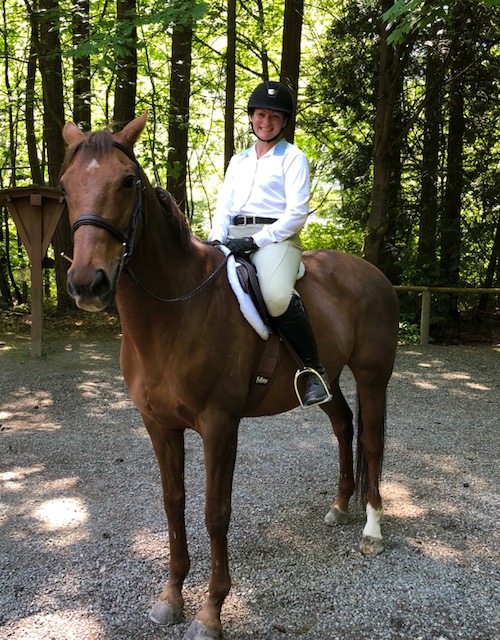 "A lot of people think postpartum depression is right after the baby, but she was like 6 or 8 months old at the time," said Stacey. "I just felt helpless and completely overwhelmed. It's so hard to describe. It's just like an enormous anvil is sitting on your shoulders, and you're being pulled in a thousand different directions because you're needed by your kids, your husband [Joe], and I still had work stuff going on. And I just stood there—standing there in my kitchen holding this beautiful baby that I was so happy to have [because] I wasn't sure I was going to have another child. I was so happy to have her, but at the same time I was so sad. So incredibly sad."
Stacey was considering medication. But the next day after her moment in the kitchen, she got an all-important phone call. It was her trainer saying that a special horse, Touch Wood, or "Teddy," was available for sale.
Stacey first laid eyes on Teddy before she resumed riding. Zoe had taken an interest in horses, and a young girl at the barn owned him. But Stacey felt an immediate connection to Teddy.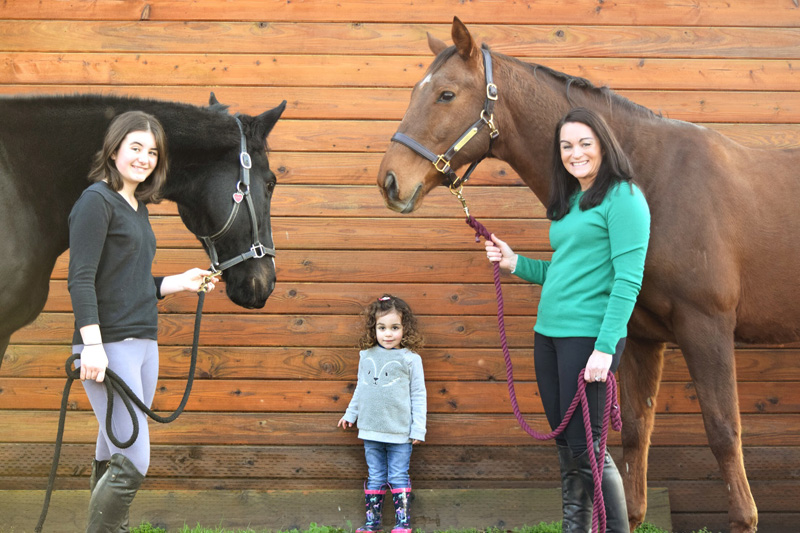 "I swear to God, the minute that I saw him, Zoe can attest to this, we got in the car after—it was absolutely love at first sight," said Stacey. "And [I] looked at Zoe in the car, and I said, 'Someday that horse is going to be mine.' "
When the opportunity presented itself, Stacey jumped at the chance and purchased him without thinking twice. Instantaneously she felt the weight lifting.
"I can't even tell you what that did to me because it was the first time in 10-plus years that I had done something just for me," said Stacey. "I bought him for me. Because I knew I needed something that I could do, and it needed to be a horse. It needed to be horses. And I did, and I went out and saw him and buried my face in his neck and burst into tears. I was so happy.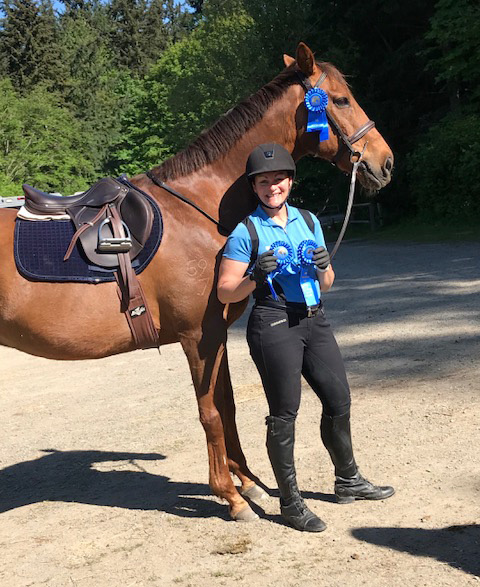 "A lot of women wouldn't have, and I recognized that I was either going to have to go on some type of medication—I still thought I might need to—but I was like, I've got to make some significant changes, and I have to find things just for me that make me happy, because if I don't I'm not going to make it," she continued. "The first time that I tacked Teddy up and got on him when he was mine, was just, it literally saved my life."
Growing up in Salisbury, Missouri, Stacey first fell in love with horses after her cousin plopped her on their farm horse bareback and led her around. On her 12th birthday, Stacey received a Quarter Horse named Candy, and soon thereafter Smokey, a Morgan-Quarter Horse cross. She competed in western pleasure with her 4-H club until college, when with Smokey's best interest in mind (Candy had died in a field accident years earlier) she sold him to a loving family.
She didn't ride until Zoe, now 15, developed the same horse fever as a young girl. And when Zoe initially started in an eventing barn, Stacey thought she'd try her hand at English riding too.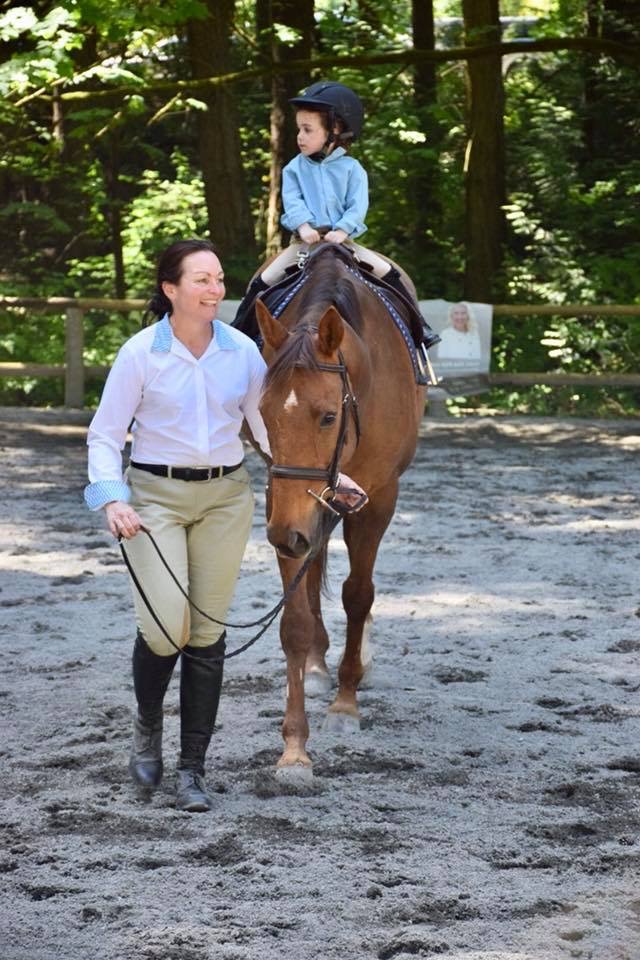 "She said from a very young age that she wanted to jump, and I was like, 'Well that's kind of cool.' I thought, 'You know, I'd really like to do that too,' " said Stacey. "We started riding together and taking lessons together. We truly learned together because for me it was a completely new experience. With riding English for the first time, I had to basically relearn everything. Everything's different—your saddle, your position in the saddle, even how you hold the reins."
The mother and daughter train in the hunter/jumpers with Shannon Peavey and in dressage with Siena Massey.
"It's just so unbelievably special that we still ride together like four times a week, and we share the same trainers," said Stacey. "And we take lessons together. We go to shows together. I cheer her on; she cheers me on."
And last summer, in addition to showing in dressage and local jumper shows with Teddy, Stacey and the 21-year-old former one-star eventer tried a new thing—their first rated hunter flat classes. They placed fourth and fifth.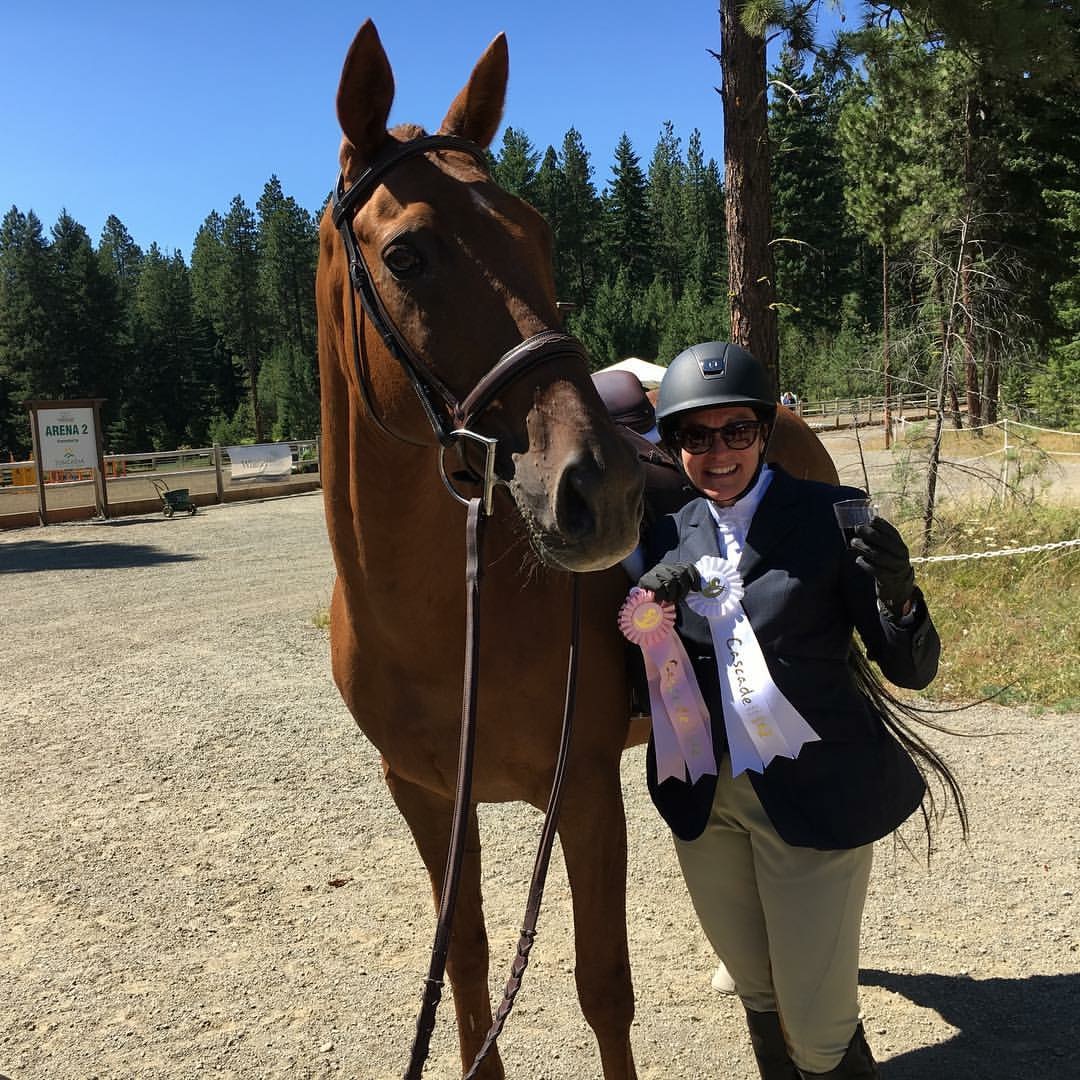 "I was actually elated. Elated that I stepped in that arena and came out with ribbons. My whole team was there and cheering for me. It was just so, so incredible," said Stacey. "For me, with Teddy, it's all about that day-to-day relationship."
Then on Mother's Day weekend, it got even better. At the Lake Washington Saddle Club hunter/jumper schooling show, not only did she take Teddy in jumper, hunter and equitation classes—earning a tricolor in the jumpers, but Stacey also got to see both her daughters compete for the first time. Cora proudly sat up straight, as Stacey led Teddy around for her first leadline class.
"Getting to lead Cora on Teddy in her first leadline class was a dream come true for me," said Stacey. "My dad and my older cousins used to lead me around the backyard on their Quarter Horses when I was that age, and that's where my love of horses really started. I was never able to do that with Zoe when she was 3 just because of where I was in life and because I didn't own horses at that time. It's amazing that Cora gets to grow up watching her mom and sister do what they love and now participate! I don't know if Cora will end up loving equestrian sports like we do, but she loves it now, and I absolutely love including her."