Name: Nanna Ericson
Age: 36
Occupation: Senior machine translation program manager, LinkedIn
Nanna Ericson is living her best life. Not because of her successful 10-year career with LinkedIn, her happy marriage, her American passport or her Bay area address.
The Swedish-born event rider feels like she's finally made it because there's a goat in her backyard.
"I always wanted the farm life," Ericson said. "Growing up in Sweden, my parents weren't into horses. They were nice enough to pay for public transport so I could take the bus to the subway, to another bus, to get to the barn. Owning a pony was nowhere near possible. Now, I have three, plus a goat!"
Ericson lives in Castor Valley, California, just outside of San Francisco, with her husband, Nick Mueller, and 5-year-old daughter, Clara-Li Mueller. Nanna and Clara-Li pack their weekdays with afternoon trips to the barn where both take lessons with Rachel Fox. On weekends they go on trail rides, camping trips and drive their spicy Shetland, who lives in the backyard with Ralphie or "Bad-Ba" the goat.
"It's a bit ridiculous, as I'm sure my family back in Sweden would agree," Ericson said. "It's a lot of work, and it's super fun, but yeah, it's completely ridiculous."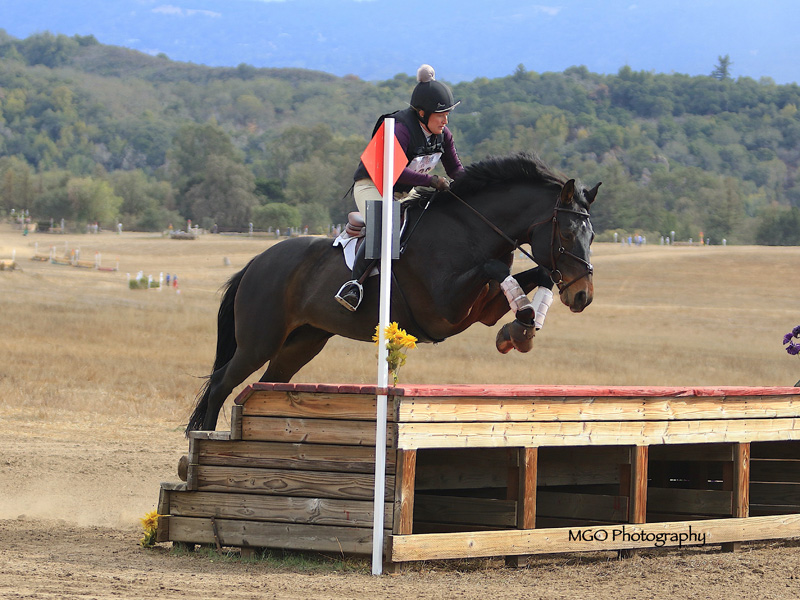 Off You Pop
Ericson's Scandinavian riding education looked markedly different from what she's seen in the U.S.
"We only rode in groups, usually 10 kids in a small arena. You don't get private lessons as a kid or any sort of lead-line experience," she said. "They throw you on a pony and tell everyone what to do at the same time. You fall off here or there, and when that happens you just go into the middle and wait until the instructor has time to throw you back onto the pony, and then you get back to it."
In high school, Ericson started riding with a jumper rider who had a lot of horses that needed to get out. She didn't have an arena, so they rode in the field.
Ericson earned her bachelor of arts in linguistics at Stockholm University in 2010. She also studied abroad in Washington, D.C., where she met her husband.
"Like most of us, I had to dip out of horses for a while. Adult life kicks in, you get your first job, move around a bit, none of which allows a budget for horses, or time for horses for that matter," she said. "My husband and I wound up moving to California in 2010, newly married, dead broke, just making it happen. All that was fine by us."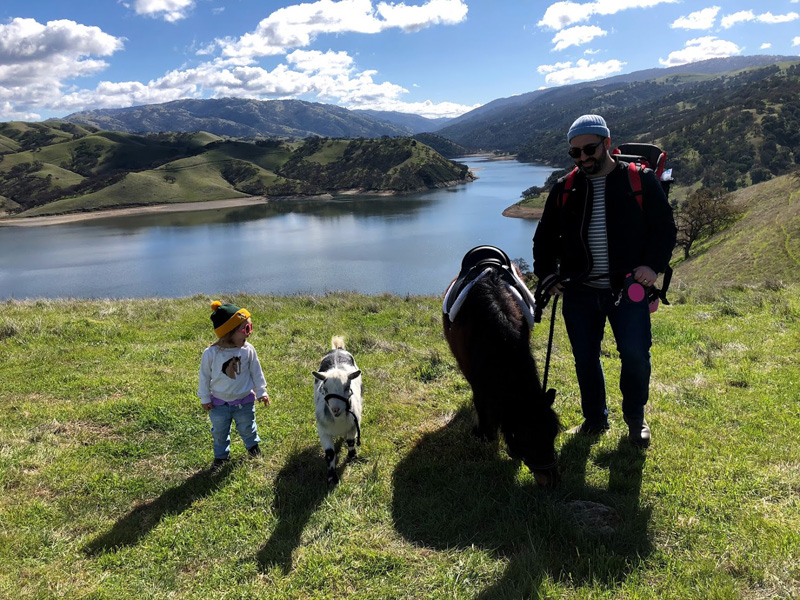 The Best Birthday Present
Ericson began at LinkedIn as a Swedish language specialist. When the company expanded, she led the launch of LinkedIn services in Sweden, localizing the effort based on her native knowledge.
"Finally, I had a little bit of money, so for my 26th birthday, I decided, I'm going to go take a riding lesson," she said. "I haven't ridden in a long time, and I'm in America, after all, and I might as well find out how they do things here."
The lesson turned into a lease, which turned into buying her first horse: Octavia OVS (Whitesville—Laguna), a Thoroughbred-Percheron cross.
"Octavia is a wonderfully forgiving, wonderfully opinionated mare who just knows her job," Ericson said. "I got her when she was 5, and she's about to turn 15. I got her from her breeder, Christy Tuescher, who's bred a few really wonderful draft crosses with her Thoroughbred stallion."
Ericson describes herself as a "perpetual amateur" who moves between novice and training level eventing depending on how much she and Octavia have been able to practice. For the most part, she finds that "horse people are horse people" on both sides of the pond. But she still has had to adjust to American attitudes towards trainers.
"People here are much more reliant on their coaches," she said. "In Sweden, we didn't bring a coach to a show. You took lessons, but you weren't loyal to any particular trainer. I had to learn about trainer loyalty the hard way! On the one hand, it's good because things get done properly when you have a coach watching you all the time, but on the other, it can be stifling in a way because you never have to just figure it out."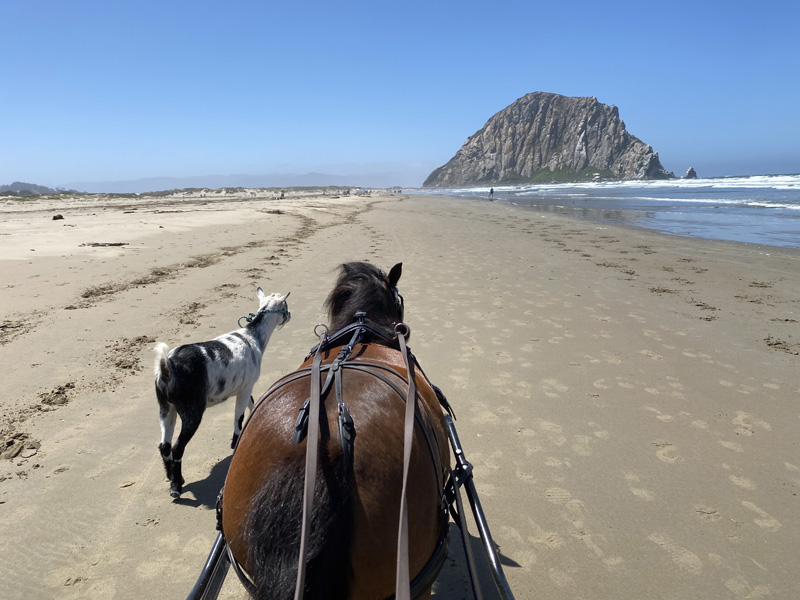 Pony Mom Lessons Learned

Ericson rode through her pregnancy and got back in the saddle as soon as she could after delivery. When Clara-Li turned 2, her parents purchased her first pony, Honey. She turned out to be a bit more of a "spitfire" than they anticipated, so they found something else to lease.
The leased pony, Frankie, lives at Alexis Helffrich's Cheval Training facility with Octavia. Honey moved into the backyard, where Ericson found another use for her.
"She was never going to be good as a kid's pony, so I made her a driving pony instead," Ericson said. "It's been really nice because I realized I could do it with my daughter. We go out together every Sunday afternoon."
Sharing a love of horses with her daughter has come with some growing pains, too.
"Clara-Li is pretty timid. She's stubborn like me, she's chatty like me, but she's more sensitive and careful than I am," Ericson said. "I tend to be just like, 'Buck up and get over it!' I'm learning to be more sensitive, which is probably good. I've actually had to do the same thing with Honey for driving. She's quite sensitive and spooky, so I've learned to lower my energy level and develop more body control so I don't hype her up more. I'm learning the same thing with my daughter."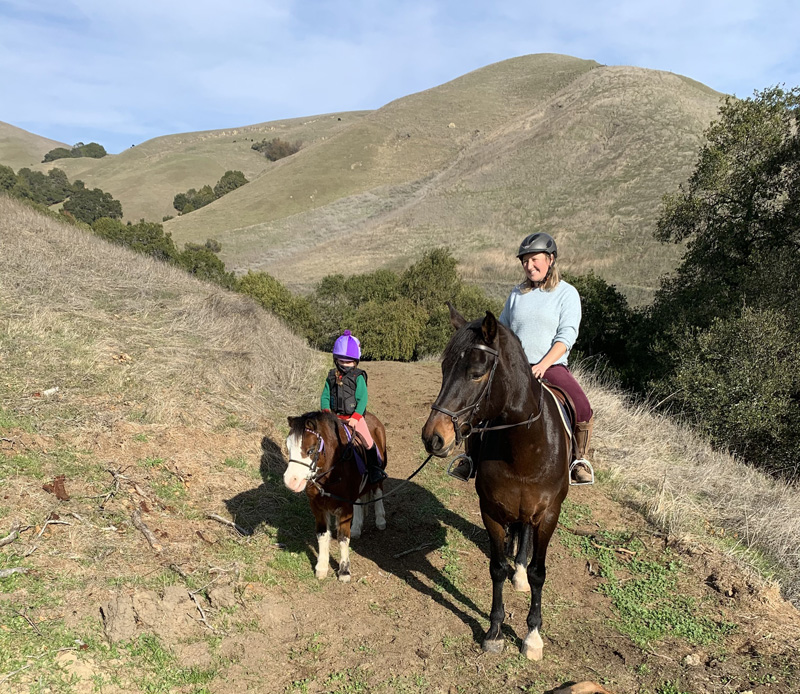 Vet Wrap, Bottled Water And N95s
Careful precautions at their boarding facility allowed Ericson and Clara-Li to keep riding through most of the coronavirus lockdowns last year. But when the worst fires in California's history swept across the coast in early autumn, risk mitigation wasn't enough.
"I had my trailer hooked up 24/7 all through the fall," Ericson said. "We were on red alert several times. The barn manager opened up an extra exit so that we could pull through in a big circle to load as fast as possible, if we needed to. We were really lucky. The fires came close, but we're so close to the Bay, they didn't reach us."
Octavia had gone through tieback surgery earlier in the year for roaring, and she went many weeks without work due to the air quality.
"We're so accustomed to fires at this point, we all were well stocked with N95 masks long before COVID hit," Ericson said. "It still feels like the end of days—you're wearing a mask to protect from smoke outdoors and a mask to protect from a pandemic inside. But, my husband and I also switched to working entirely from home. Living 30 miles from work, I was facing a commute that could take two hours each way. So that part has been nice!"
No Rules For Life Or Goats
Asked how she strikes a balance between work, life and horses, Ericson objects to the premise.
"There is no balance! I don't strike a balance," she said. "I keep a strict calendar, and I've gotten better at project management at work, which helps at home. I share a Google Calendar with my husband where I try to keep us up-to-date on what we're doing, with horses and work and everything else. I'm fortunate that I have a work schedule I can flex around, so a lot of days I stop to pick my kid up at 3, go take a riding lesson, have dinner and bedtime, then hop back online to work again at 8 after she goes to sleep. I don't know if we can call that balance! The main thing for me is acceptance. I can make the best of plans, but at the end of the day, if my kid is in a bad mood, it might not happen. I have to learn to roll with that."
Ericson's favorite place to be is on the trail with her daughter, sometimes her husband (though he prefers to bike), and, if the stars align, the family Bad-Ba, too.
"If my kid is in a good mood, I get to bring the goat," she said. "I don't have the mental bandwidth to handle both! He's a hoot on the trail. He runs next to the pony, but when he gets tired, he just stops. We'll pass hikers, and he'll try to go with them instead. Once we had someone complain about him—they were all, 'Our dog has to be on a leash. How come that goat gets to be loose?' But the ranger kind of shrugged and said, 'Well, we don't have any signs for goats.' "
Do you know an amateur with a cool story? Email Lindsay at lberreth@coth.com for a chance to be featured.