Most people would be proud to accomplish half of what Terri Sue Wensinger has in her career with horses. Wensinger, 58, won the Stock Seat Medal at the 1978 Arabian Nationals as a teenager, and after a 30-year hiatus she took trips to U.S. Dressage Finals from 2014 to 2017, picking up top ribbons during her last trip to the Kentucky Horse Park.
With a résumé like that, she could be content to rest on her laurels, but Wensinger's just getting started.
"I don't feel 58," said Wensinger. "Every year my son Charlie and I go to the Texas State Fair and go to the age guesser so he can guess how old I am. Every time it's under 50 I'm happy, and usually I'm happy. It doesn't feel like I'm too old for this challenge. It feels like the deeper you scratch the surface of this sport it feels much more mental than physical. It makes you think the wisdom and patience you acquired in life, or in your riding, can pay off here."
Wensinger considers horsemanship to be a journey, and she believes that to keep progressing you have to be willing to stretch your boundaries a little.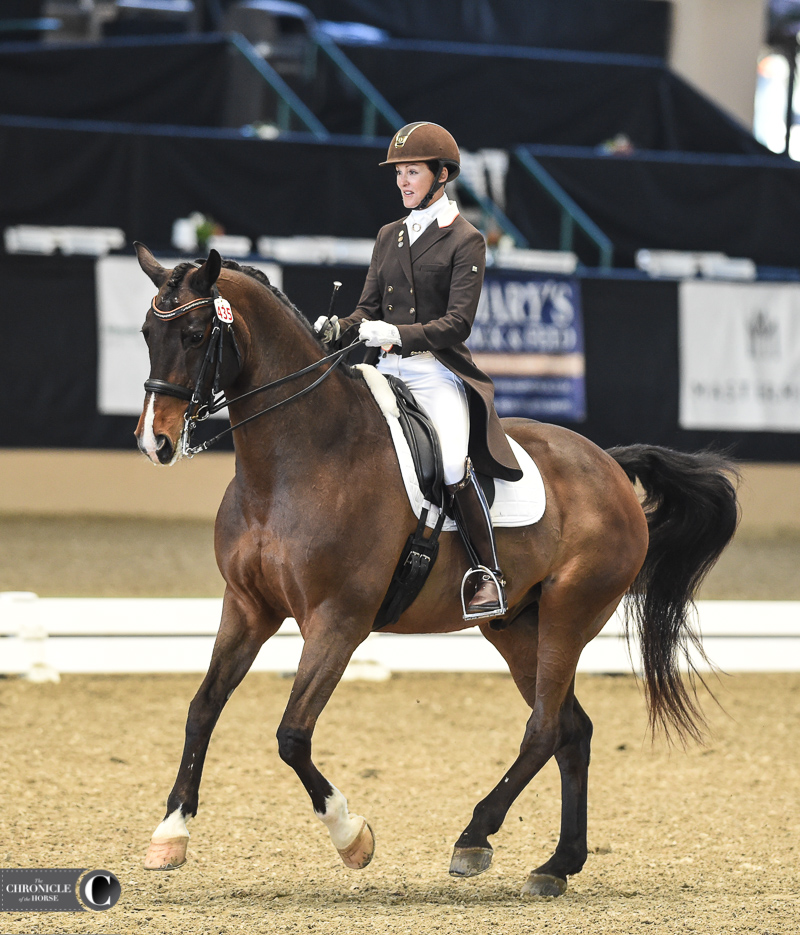 Wensinger, Dallas, rode casually as a child and switched to Arabians as a teenager after her family moved to Kansas City, Missouri. As she remembers it, her parents were worried she might fall in with the wrong crowd in the city and thought a horsey hobby would keep her in the barn and away from the party scene.
They were right, and Wensinger excelled. She began working with trainer Billy Harris, traveling with his operation to show and train in California, riding on the junior circuit and taking time in the summers to attend a riding camp at a Saddlebred operation. Despite a relatively late start (one trainer told her parents she should have started serious competition about four years earlier to do well in the junior division) she took saddle seat and stock seat medals at the prestigious Scottsdale Arabian Horse Show (Arizona) before claiming her AHSA National Stock Seat title.
After she went to college, career and family kept her out of the saddle until she bumped into a fellow mom wearing riding clothes on parent/teacher conference day at her son's school. The next week, she pulled on a pair of jeans and fashion boots and showed up at Rocking M Stable in Dallas looking to join their adult lesson program. The barn focused on dressage, which for Wensinger was a natural progression from her time riding stock seat. The similarities between reining and dressage are well established, but she was surprised to find herself drawing from her saddle seat experience as well.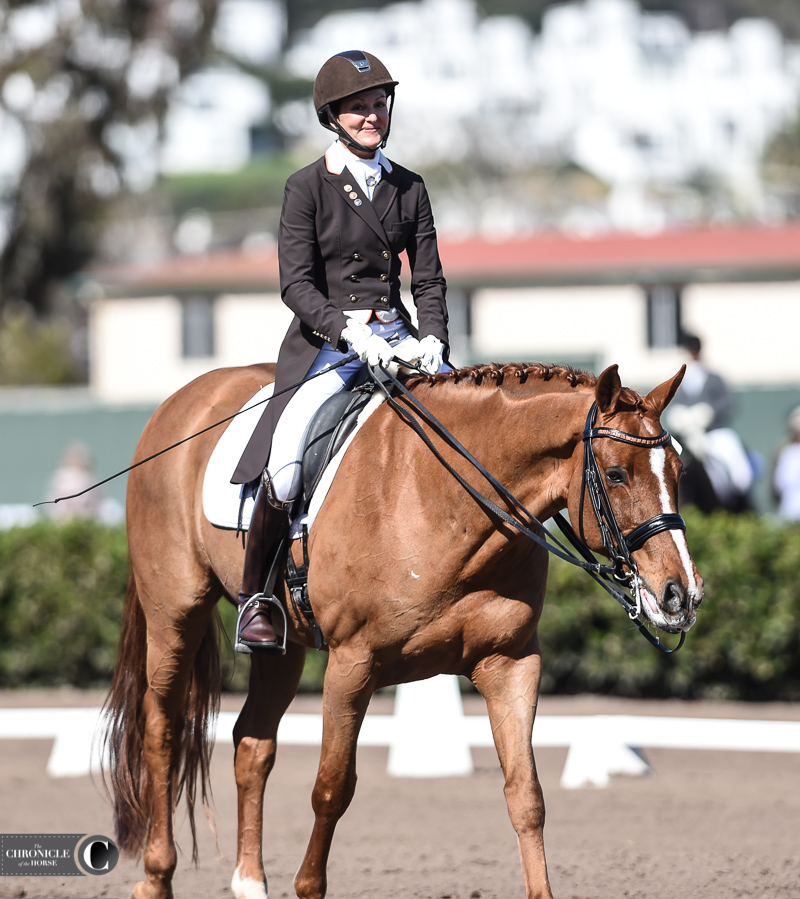 "That has really translated to dressage from a 'core posture/sit up/look where you're going' point of view. You post the trot, but you sit the canter, and the canter is huge on the gaited horses we rode," she said. "I think dressage is a boring old lady sport to watch from the outside, but you can't help but think it's the foundation of the other two. I, of course, think it's beautiful; it's my husband that thinks it's the most boring sport on the planet!"
After getting back in the saddle, Wensinger progressed from a horse in the Rocking M lesson program to a schoolmaster of her own. Valentino, a flashy Dutch Warmblood (Riverman ISF—Jiovette, Flemmingh), gave her a taste of higher-level movements while allowing her to continue the learning process. "Val" and Wensinger proved competitive at fourth level, Prix St. Georges and Intermediaire I. In 2016, they won adult amateur titles at Prix St. Georges and Intermediaire I at the Great American/USDF Region 9 Championships (Texas) and took their successful trip to nationals in Kentucky.
Wensinger wanted a horse who could help her advance her education to the Grand Prix level, and in 2017 she found the perfect fit in Asterios, a Danish Warmblood gelding (Akinos—Urwetta, May Sherif) previously campaigned by Charlotte Jorst.
She still throws one of her western saddles on "Asti" from time to time and teaches him to work the cows behind her barn in Texas, just to keep him sharp.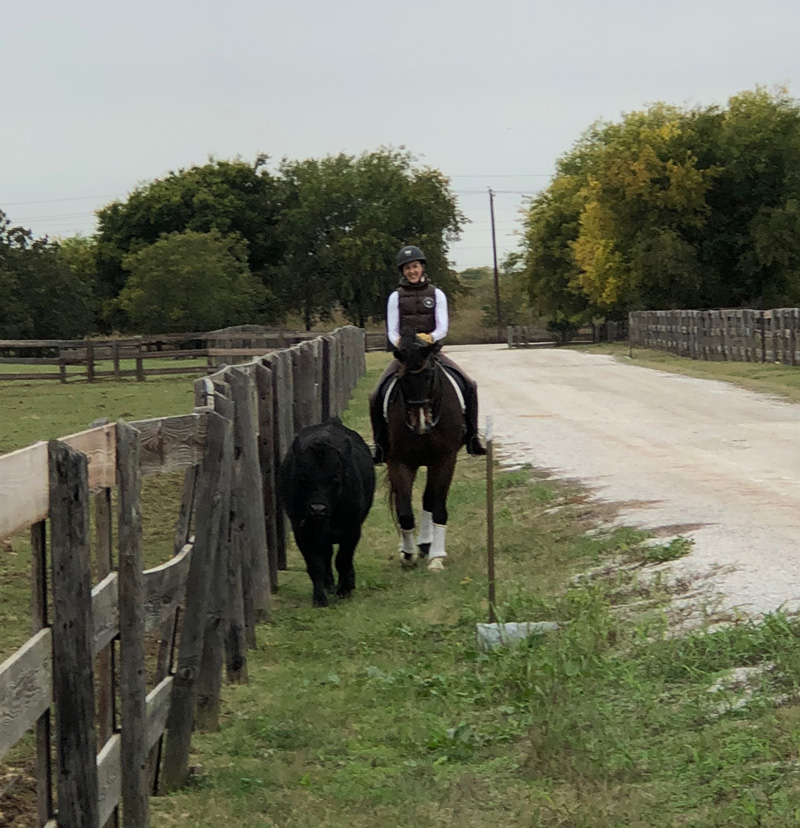 A win with Asti in the adult amateur Grand Prix and second for Val in the adult amateur Intermediaire I at the Region 9 Championships (Texas) meant both horses qualified for nationals last year, but Terri opted to bypass Kentucky in favor of putting more funds toward getting to know her newest mount.
With Asti turning 20 and Val 17, Wensinger knew she was going to need a younger mount soon, preferably one with upper-level potential. In late 2018, she purchased a 10-year-old Oldenburg gelding (Quaterback—Stellar Hit, Sandro Hit) from Alyssa Pitts named Quintessential Hit. "Quin" had already shown Intermediaire I with scores up to 79 percent, but after a couple of months working with him at home Wensinger feared she had made a mistake, either in choosing the horse or in the way she'd been riding him.
"It has not been easy, like not at all easy," she said. "It was the kind of thing where I thought I'd wrecked the horse."
Having hit the proverbial brick wall, she elected to send Quin off for two weeks' worth of evaluations at Steffen Peters' barn, and after three days, she got a call with a diagnosis: The horse is fine; he's just got your number.
"It was such a relief," she said. "The horse is awesome; I didn't break the horse. All I have to do is learn to relax and ride him. I can do that, I think. It won't take one day or two days, but I can do it."
Peters showed Quin for Wensinger at the Adequan West Coast Dressage Festival in January and picked up a win in the CDI1* Intermediaire I.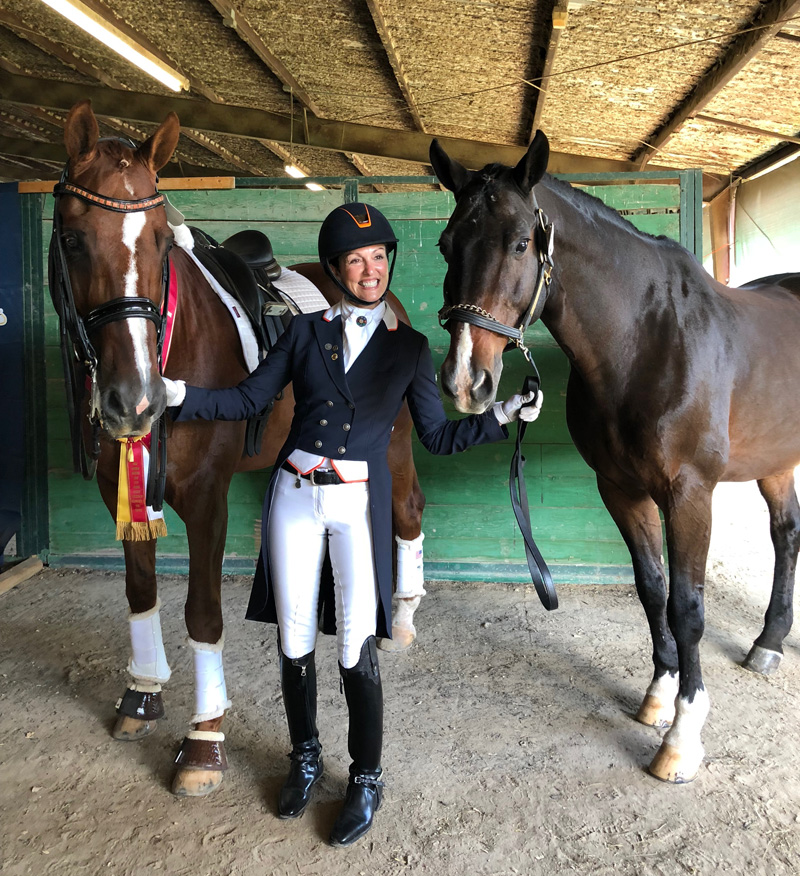 As Wensinger begins again she's drawing from one of the lessons she learned in Harris' barn. He often sat on one of his young horses while he taught lessons, helping it learn patience and respect as he asked it to walk, stand and back as needed for him to watch a student. Harris called it "thumping on" a horse. After encountering some challenges with Quin's canter in a recent lesson, the practice sprung to mind again.
"I thought back to Billy and was like, 'You know what? I need to be able to stop him and have him stand still.' He just wasn't respecting me. He was running through the bit; he was running through my aids," Wensinger said. "I spent about 20 minutes out on the hack working on that, and I can't wait to work with him [again] to see if it made a difference. So much of it is mental."
Wensinger's focus for 2019 is getting to know Quin. A friend is riding Asti, and she still rides Val with Benny Pfabe at her home base. She says she's fortunate to have Pfabe to pitch in when she's out of town but admits it's still something of a juggling act, keeping two or three horses going.
Wensinger has her own event planning business, Snap! Productions, founded in 2004 after a career spent planning corporate events. Work for Snap! can include anything from booking bands to organizing staging, sound and lighting and decorating for parties for companies like AT&T, Blue Cross/Blue Shield and Bell Helicopter. With an experienced staff under her, Wensinger primarily focuses on proposals, which can be done most any time of the day or night. She can take conference calls on the way to the barn—something she never could have done when working for someone else.
Wensinger's children are grown and out of college now, and her husband, Jack Wensinger, also works remotely, giving her the freedom to travel to California to compete and train when her horses need it.
That flexibility will come in handy as she and Quin continue their journey.
"He's a sweet, sweet horse," she said. "He's such a gentleman, and it's hard to find one that's really fancy but also really polite. I don't want to be the classic story of, 'Look at that amateur. She bit off more than she could chew.' So we'll take it slow."
Although he may not be horsey, Terri Sue said her husband has the perfect saying for her outlook on this (and most other) situations.
"My husband always says, 'Don't ask for an easy task, ask for the strength to meet the task,' " she said. "I don't want it to be easy."
Do you know a hard-working amateur who should be spotlighted? Email Lindsay at lberreth@coth.com with your idea!