Dr. Kim Keeton's start in eventing came with a harsh slap on the wrist. Despite having three stops cross country during her first event, as a teenager riding novice, Keeton finished in 2 1/2 minutes under time.
"I had a technical delegate yell at me and tell me that I was the reason for rule-change proposals to include speeding tickets on cross-country at the lower levels," she said. "So that was how I started eventing.
"It's because I thought you're supposed to go as fast as you could, moderately safely," she added. "That was just the training I had. We just galloped, and I was on a 17-hand Thoroughbred, so we made a lot of time."
Despite being lectured, the Atlanta native continued with eventing undeterred. In fact, it was then, at age 15, that she fell in love with the sport, riding horses nobody else wanted. Keeton also tried barrel racing and gymkhanas as a child, and at Otterbein College (Ohio) participated in any riding discipline she could, joining the school's western, dressage and hunt seat teams. Today, the Watkinsville, Georgia, equine veterinarian is living her childhood dream of "eat, breathe and sleep horses." She could not have predicted the path that brought her here.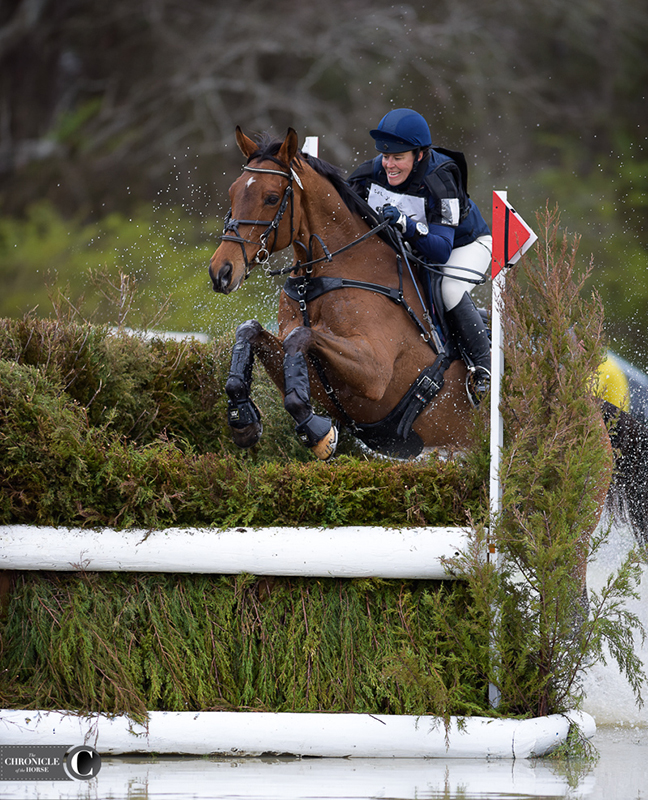 Meeting Lofty Goals
Professionally Kim Keeton, DVM, MRCVS, CVA, she moved to England at age 30 to work for a veterinary practice there. She took two horses overseas with her, an off-the-track Thoroughbred gelding called Wade And Tay and her young homebred Swedish Warmblood stallion Accolade (Amiral 764—Her Elegancy), to train with former Georgia residents Mike and Emma Winter and experience British eventing firsthand. She spent almost two years there, in 2010 and 2011, and credited the Winters for teaching her about proper cross-country riding.
Upon returning to the U.S., she and Accolade continued up through the levels to intermediate. While his talent for dressage and cross-country propelled him up the levels, he was not a careful show jumper. That, eventually, led to a career change for the stallion.
"It was, do I risk my horse's soundness and everything else by having four [rails] down on Sunday?" she said of her decision to transition him from eventing to straight dressage.
She set earning a U.S. Dressage Federation bronze medal as her first goal. Mission accomplished in one weekend. Then silver. Then gold. Keeton was preparing to tackle Grand Prix freestyles with Accolade when, in 2019, a serious car accident brought her life to an unexpected halt.
Changing Course
Keeton suffered a traumatic brain injury in the accident and was unable to ride for seven months. She struggled with physical and mental repercussions of the injury, some of which continue to bother her today, and realized that competing in both dressage and eventing at higher levels would be too much. She decided to retire Accolade.
"It ended my run with Accolade in the dressage just because I couldn't feel my hands for a very long time, and I still kind of struggle with that," she said. "When you have a head injury from a car accident and not from a horse accident, it's really odd. And that that was hard for me, and then I couldn't land and count strides at all, even seven months after it. And that was part of the reason I didn't go back to the dressage because I just didn't have the mental acuity to be that on it for that long."
She also couldn't be "on it" for that long from a veterinary standpoint. So she worked shorter days and credits her compassionate clients for allowing her to continue her veterinary practice at her new pace.
"They dealt with me when I couldn't say the word 'suspensory' because it just wouldn't come out," she said. "I still have issues, so to speak, from it. But again, it's learning neuroplasticity and playing games and trying to make my brain work the way that it used to. It won't, but, thankfully, it functions to a level that that I can do most things."
With Accolade retired, Keeton could focus on another horse, 12-year-old Keysoe, whom she considers her horse of a lifetime.
While she was recovering from her accident, Keeton leased the gelding to a young rider to keep him going, and the rider did a few three-stars with him. Once back in her tack, Keeton rode him in five events beginning in August 2021, including two intermediates, a three-star short and three-star long. Keeton successfully competed in her first advanced in her home state at Pine Top Advanced Horse Trials, Feb. 25-27, and described the experience as "epic." They earned a 30.2 dressage score, show jumped clear and had one glance-off cross-country.
"I was off the line," she said. "And you know what, at that level, you can't be off your line and get there on the half stride and make it work."
Still, they crossed the finish line, with Keeton hungry for the next advanced.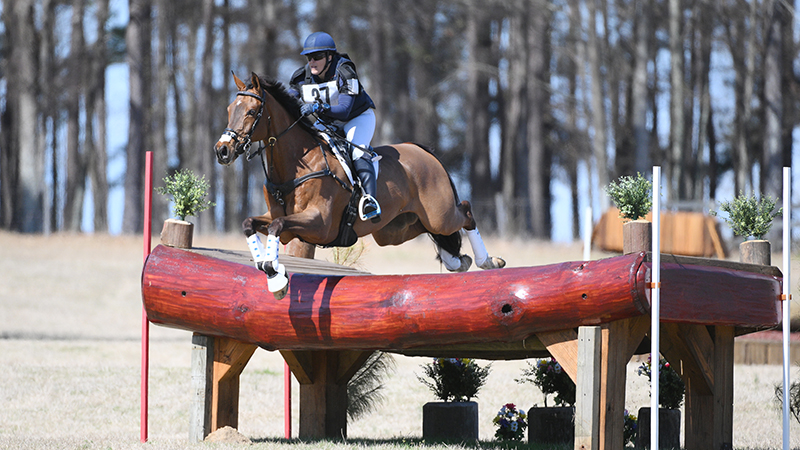 "The horse is pretty unreal," she said. "He's an off-the-track Thoroughbred, so I do struggle with soundness issues with him, and because he belongs to a vet, he has all kinds of weird things that happen or come up. But ultimately, the horse is a really good horse and we'll keep going at that level, hopefully."
Her Practice Allows Her To Practice
Keeton owns her Watkinsville-based veterinary practice, Coyote Creek Equine Veterinary Services, a sport horse niche practice focused on lameness, acupuncture, chiropractic and Chinese herbs.
"I don't do emergency work. I don't do routine care," she said. "So that gives me the liberty to have my weekends."
Her veterinary rounds start around 10 a.m., after she's ridden her horses, so her workday tends to end on the later side. Still, she often trailers her horses with her to work, so they are accustomed to hanging out in their "mobile stalls." This allows Keeton to take a break midday for a dressage lesson, for example, that may be closer to the client's barn.
Ironically, though, while it accommodates her eventing passion very well, Keeton says she never intended to have the type of veterinary practice she's built.
"I actually am doing everything I said I would never do," she said. "I never wanted to be the back lady. I never wanted to have my own practice. And I never wanted to be in solo practice. And now I am in solo practice; I'm the back lady, and it is what it is."
As to whether her veterinary acumen could give her a leg up on the health of her horses:
"I'm pretty useless when it comes to my own horses, to be perfectly honest. They actually have their own vet that is not me," she said. "I'll do the complementary stuff, absolutely. I have a Bemer that I use on them every day and I acupuncture them and I adjust them when needed, but they actually see Dr. John Peroni at [University of George College of Veterinary Medicine] for even their routine, soundness exams, post events."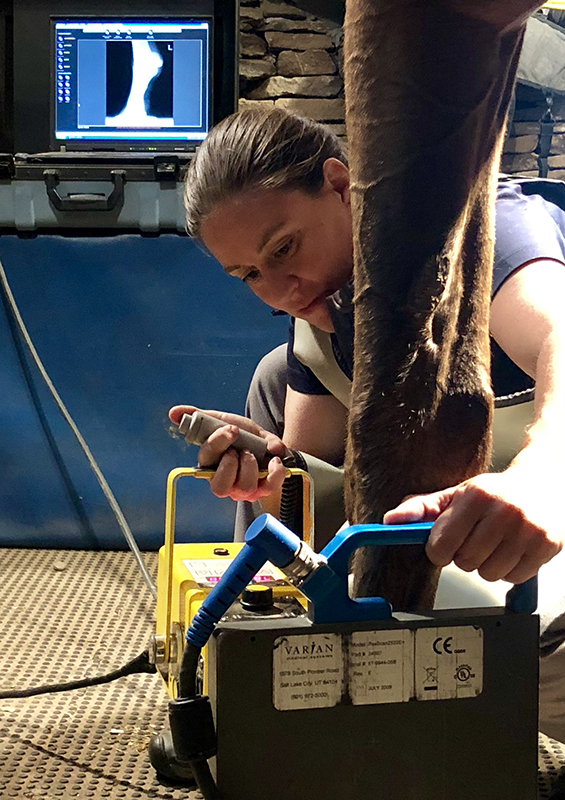 Keeton co-owns two of her three competition horses with Hope Thomas: Keysoe and Evita-Veron (Veron—Tomlow). Keeton hopes to compete "Eva," a 13-year-old Dutch Warmblood mare, in a two- or three-star this fall after bringing her back from hind pastern issues. She also owns a homebred daughter of Eva, 5-year-old M-Azing (by Contendro), who won her first beginner novice event at Stable View in Aiken, South Carolina, in April.
Keeton works with a variety of trainers, including Mary Bess Davis for jumping and Roel Theunissen for dressage. Keeton also has trained with Phillip Dutton, Doug Payne and Kim Severson, who she has hosted for clinics and "gone and literally camped in her backyard to take lessons at her place." Keeton considers all as role models and people she can call at any point, especially Severson, who she says is a technician in all three phases.
What's Next
"I honestly would like to become proficient at the advanced level, and I would love to compete overseas again," she said. "It would be a huge challenge. I've already left my practice once for two years. I'm not sure how amenable my clients would be to a long season over there."
She dreams of taking Keysoe and M-Azing back to England.
"I would love to become proficient here and then take that over there because it's a whole different sport and different level of proficiency," she said. "But those are very, very lofty, maybe not attainable [goals], but hey, if you don't set high goals, you'll never get there."