Name: Kali Holz
Job: Surgical Coordinator, AAS, RVT, Espanola Animal Hospital
Age: 30
Kali Holz admits that some days, she just doesn't want to go to the barn. Whether it's the end of a 12-hour shift, or a day off from her 60-hour work week, dragging herself 55 minutes one-way to practice walk pirouettes sometimes feels too draining to bear.
Those are the days she knows she absolutely must make the trip.
"Riding is my self-care," Holz explained. "Even if I have a long day at work, I'm feeling frazzled, and I don't want to ride at all, by the end of my lesson I'll have a huge smile on my face and be totally energized."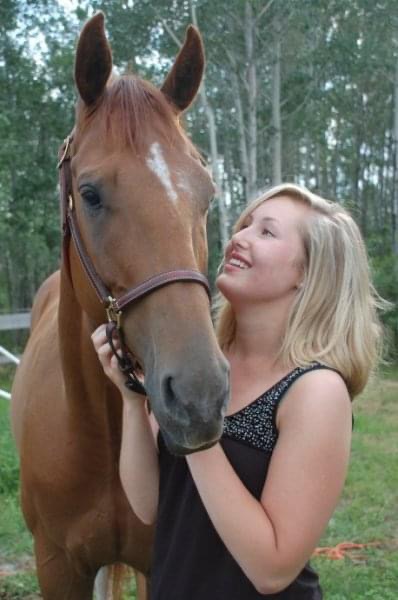 The Saturday when we spoke, Holz, of Espanola, Ontario, Canada, had just returned from a weekend emergency surgery to repair a Golden Retriever puppy's dual-fractured hip. When we hung up at nearly 6 p.m., she would drive to the barn to ride Havana, the 12-year-old Oldenburg mare she free leases from her trainer, John Battison.
When self-care doesn't motivate her to make the long commute to the barn, her competitive nature does.
"I've got the super lofty goal of riding Grand Prix by 35, and I just turned 30 this year," Holz said. "That's always back of my mind. What can I do at 8 p.m. on Wednesday that will get me closer to that goal?"
Combined with her professional ambitions, Holz's riding dreams will require many more late nights and early mornings from her. Luckily, after nine years in the field of veterinary medicine, long hours have become her specialty.
When The Student Is Ready, The Master Will Appear
Holz grew up riding hunters in Sudbury, Ontario, under the guidance of Cathy Inch. She got her first horse, a Thoroughbred gelding named Birdie, upon graduating from high school.
She elected to take a gap year before college to ride and work as a real estate agent. But she didn't like the job as much as she had hoped.
"People kind of treated me like a used car salesman," Holz said. "I felt like they were so skeptical of me, and really I just wanted to help! One day, I wound up driving 45 minutes in a snowstorm to show a house to some people who didn't even show up, and that was kind of it for me. That's around the time I met my current employer, Dr. PJ Rocheleau [DVM, CCRT], who at the time was my large animal vet, and he told me he was hiring."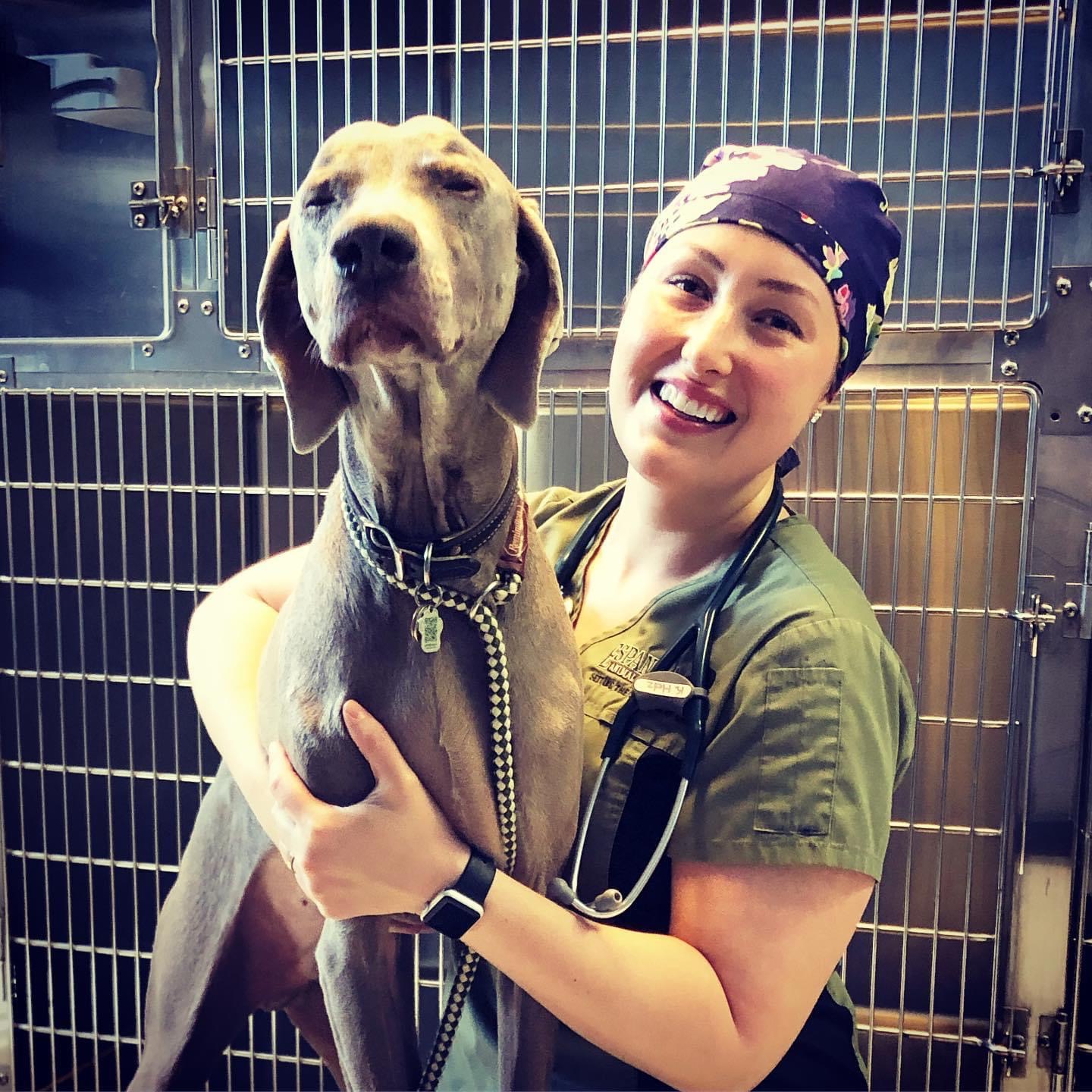 Holz started out as a kennel attendant, which meant her basic responsibilities included feeding, exercising and cleaning up after dogs and cats.
Within weeks, she felt ready for more.
"As soon as I got into that environment, I went into sponge mode," she said. "I couldn't learn enough, and I couldn't learn it fast enough. Dr. Rocheleau sent me to a grassroots veterinary technician conference. He picked out all of my lectures for me. I can remember sitting in these lectures on really very rudimentary stuff, like how to monitor blood pressure or put in a catheter, and just thinking, 'Wow! This is where I'm meant to be.' "
Holz struggled to find an affordable veterinary technician program in her region that wasn't taught in French, which she doesn't speak. A visiting veterinary student recommended an accredited online program, which her employer agreed to finance. She graduated in 2018.
"It was great because I got to apply what I was learning at work, and my boss was super helpful through all of it," Holz said. "Now, I do the same thing for other technicians."
Mentoring For Resilience In A Punishing Field
As the surgical coordinator and only certified veterinary technician at Espanola Animal Hospital, Holz mentors a group of roughly five aspiring technicians. As they progress through the same online program Holz completed, she helps them along with hands-on experience.
But they'll need more than technical skills for a career in veterinary care.
"The entire industry is really struggling," Holz said. "The average technician only spends five years in the profession. Suicide rates are really high among veterinarians and vet techs. There are a lot of reasons. Most people have crushing debt coming out of school. Wages are low—it's unheard of to make more than $20 an hour—and the hours are crazy. I work at least 60 hours every week. In the summer, it's even worse.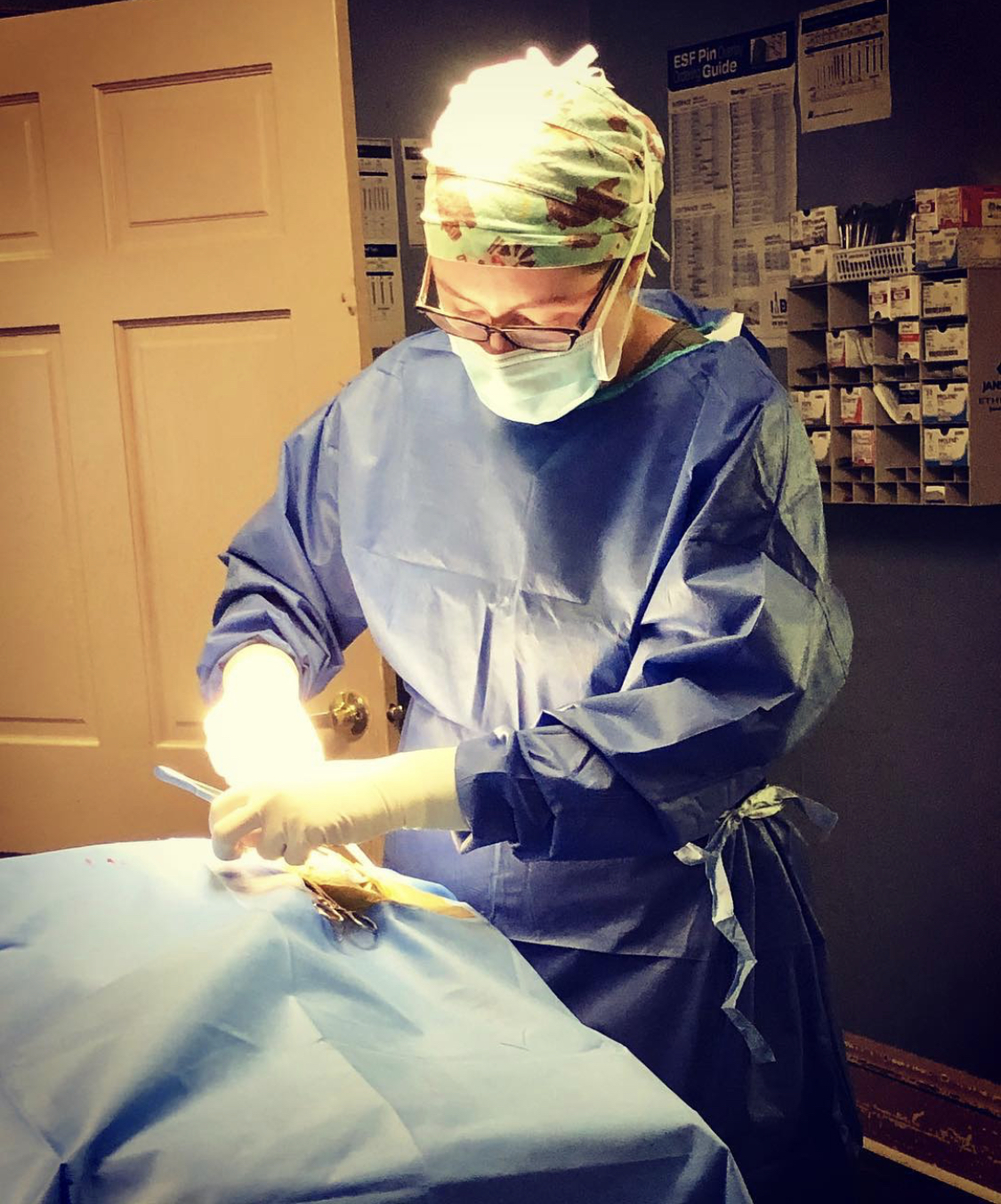 "During COVID, things only got harder," she continued. "Clients can be a lot more difficult to deal with because everyone is stressed out and kind of taking it out on you."
Holz describes herself as a kind of "mother hen" to her crew of vet techs. She checks to make sure they eat nutritious meals at work and stay hydrated throughout the day. When they have a time off, she encourages them to plan ahead so they spend it doing something active and fun.
Most importantly, she makes sure they're maintaining a strong support system of family and friends who understand the demands of the job they've chosen.
"It sounds ridiculous—like it's such simple, basic stuff," Holz said. "But our industry is so draining, it's easy to forget to take care of yourself. And you absolutely have to if you're going to stick with it."
Horse Sports For the Science-Minded
Around the same time Holz's fascination with veterinary medicine began, her equestrian interests started to shift, too.
"After about five years in hunters, I felt like I needed a new challenge, so I decided to try dressage," she said. "I was becoming more and more interested in the biomechanics of riding. It's incredible to me how a little adjustment with the seat, a push forward to the bit instead of a pull back, can make such a difference in a horse."
Since switching to dressage, Holz has found it to be the perfect counterpart to her busy career, in large part thanks to Battison.
"I started working with John around on my Thoroughbred, Birdie," Holz said. "Birdie ended up having conformation that wasn't super ideal for dressage—a really long back for a Thoroughbred—and he had some issues from when he was younger. He had had an OCD that made it difficult for him to flex his hocks and take weight on the hind end. We had chronic issues with swapping leads behind, bearing down on the forehand at the canter, and the canter just generally being a gross, unenjoyable thing."
After a particularly disastrous show weekend at first and second level, Holz decided to lease the gelding to a hunter rider. At the same time, Battison's former mount, Havana (Harvard—Sudorme) had just finished a year off after a suspected mild suspensory injury.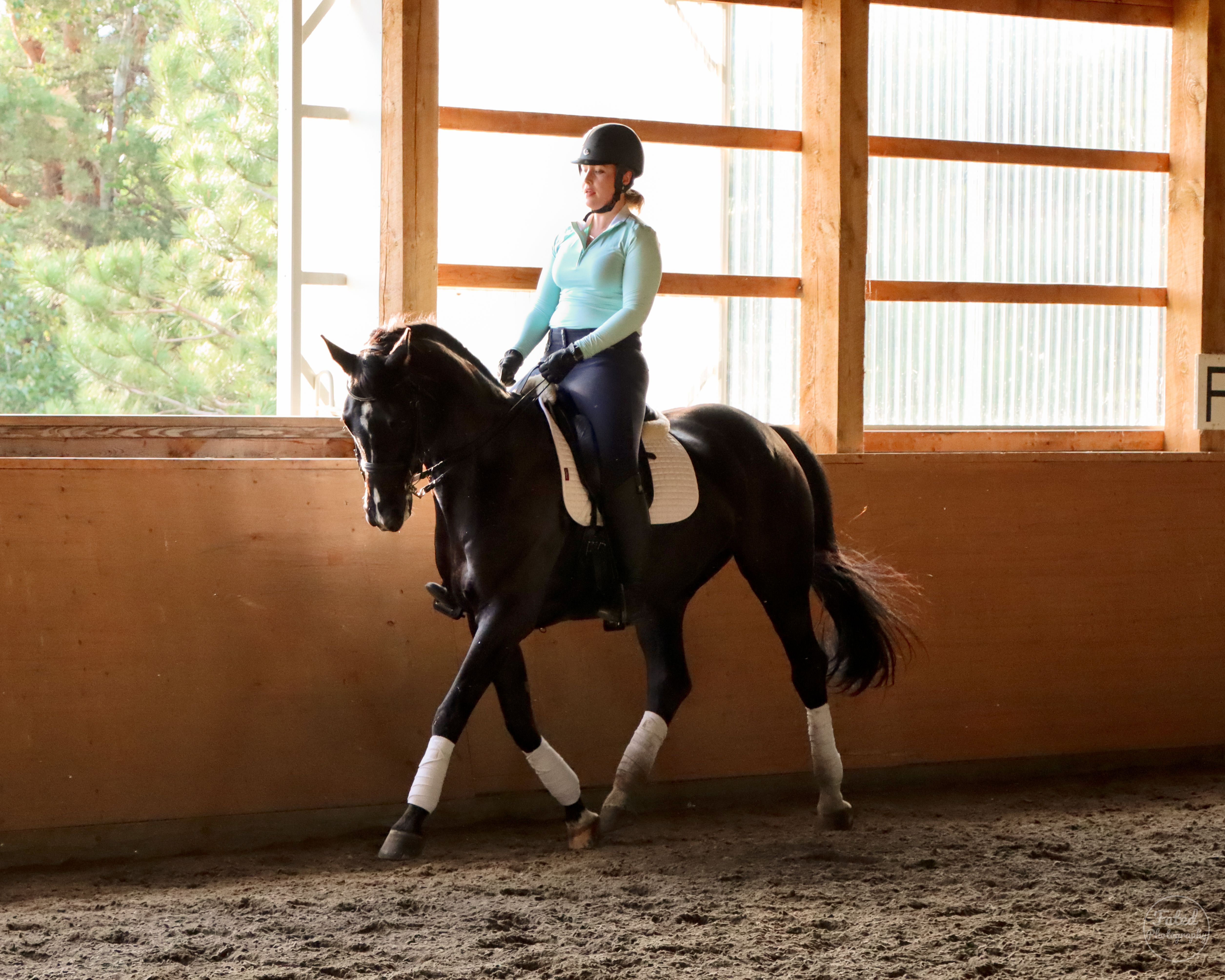 Battison, who had trained the mare through Prix St. Georges, asked Holz if she would like to bring Havana back into work. When the two clicked, he offered her the ride for free.
"John and Havana have both been such an incredible blessing," Holz said. "John has taken me from somebody who couldn't stay on the bit at canter to where I am today. I feel like a completely different rider now. He pushes you, not so far that you're afraid, but far enough outside of your box to realize you can do things you didn't believe you could do.
"The atmosphere he creates in his lessons is so good for me, too," Holz continued. "We're getting work done, but it's fun and invigorating at the same time."
Canter Concerns
For the first six months of training, Holz jokes that the canter "still freaked [her] out." She found that the lead-swapping problem she had with Birdie continued with Havana, in part due to the hunter half-seat she still habitually assumed at the canter. By learning to sit in to the canter, ride the shoulder instead of the neck, and execute a half halt, she finally got over her "canter PTSD."
In the past two years, Holz moved from practicing 20-meter circles to four-tempis and canter pirouettes. From training level to third level, Havana has taught Holz like only a mare will.
"When I think of her as a person, I definitely think of her having a martini by the pool," Holz joked. "She prefers to relax. Every time you ride her, it's almost like you have to convince her that she wants to work, but then as soon as you get through that wall, she's amazing. She's super forward, so fun and really honest, too. If I put too much spur on in a walk pirouette, she's going to be really witchy. I think that's what makes her such a good partner and teacher. She demands that I do things correctly, and when I do, she rewards me."
Steady Progress Requires Strategy And Support
Perpetually pressed for time, Holz makes the most of every minute she has for riding. She's made a science out of preparing meals she can eat one-handed on the drive to the barn, which can stretch to an hour and a half in winter weather.
As she drives, she also thinks carefully about her ride.
"On the way to the barn, I try to really map out what I want to accomplish, given that that might change based on what Havana feels like that day," Holz explained. "I have to think, 'If I want to ride Grand Prix by 35, how can I move us another inch along at least a loose pathway to get there?' "
Back at work, Holz has a plan, too. The industry dictates a five-year waiting period between completing technician certification and starting a specialty program, which Holz plans to pursue in diagnostic imaging and anesthesia after her time is up. In the meantime, she is pursuing other avenues of study, both on canine physiology, fitness and rehabilitation, and on becoming a Certified Veterinary Pain Practitioner.
Busy pursuing her various goals, Holz admits she keeps a small social circle. But the people closest to her play an outsized roll in her success.
"You need a cheerleader. You need people saying, 'Remember why you're here. You're here because you love the animals,' " Holz said. "My parents, my brother and my employer have been great at reminding me why I do this. It's important work, and there aren't a lot of vet techs out there to begin with, which means every one we lose is a major loss.
"That's where riding comes in for me, too," Holz continued. "It's a way to take care of myself, so I can keep doing what I do."
Do you know of an amateur with a cool story? Email Lindsay at lberreth@coth.com for a chance to be featured.