Signing up her children for riding lessons in 2018 drew adult amateur Dawn Rapoport back to the barn after a nearly two-decade hiatus from the saddle. Now 52 and established in her career in financial services, Rapoport is rekindling her riding career thanks in part to a horse, "Ari," she purchased to share with her daughter, 17-year-old Skylar Rapoport. Dawn rides on the weekends; Skylar rides during the week while Dawn is at work.
"Skylar is only two years from college; my son is three years from college, and I kind of have this peace of mind that it's going to be such a shift when we have this empty nest, but my nest isn't going to be all that empty because I've got Ari," said Dawn, of Palos Verdes, California. "It just feels good to know I've got myself set up to do the thing that I love, that keeps me happy, keeps me balanced, and that Skylar and I will probably continue to share. It will continue to be a connection for us. She won't be doing it every week like she is now, but I think she loves knowing the plan is not to sell her show horse when she goes to college. Her show horse will just be with mom."
The Rapoports ride at Portuguese Bend Riding Club in Rancho Palos Verdes, California, a barn Dawn discovered through a business client. While her son, Zachary Rapoport, doesn't ride anymore, mother and daughter have made the barn a second home.
"I liked that it's all disciplines," she said. "I knew that I wanted to do hunter/jumper, and I knew that I wanted a barn that does show. I love the competitive side of riding, and for whatever reason I've never felt like I'm done with it yet. I wanted a show barn, but I didn't want a show barn that's so intense that if you're not out every weekend then you're kind of on the sidelines. I wanted that balance, and that's what our barn is."
Under the guidance of the mother-daughter training team of Jen and Laura Hannink, Dawn trains for the low adult hunters while Skylar competes in the low children's hunters and equitation medals.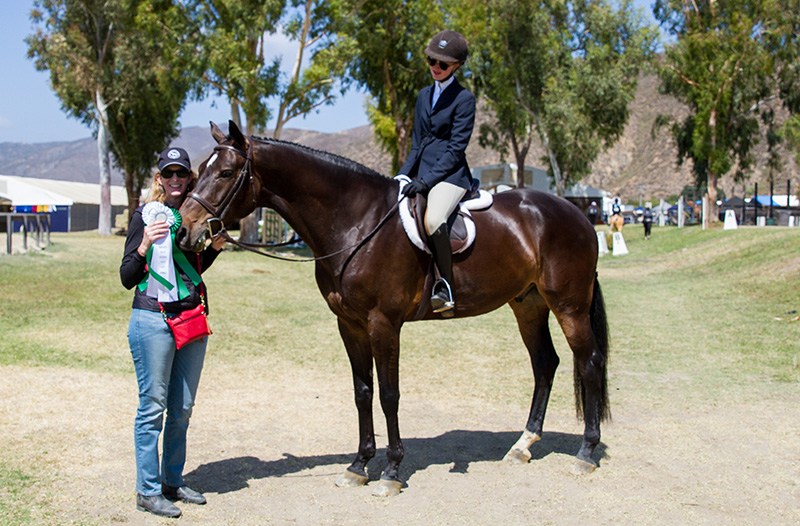 Dawn didn't ride until the age of 12, when her father remarried an avid foxhunter. A year later, with her new stepmother's encouragement and her father's support, she had her first pony.
"I think my dad liked the grit you develop from riding," she said. "I was the barn rat, working at the stable on weekends, cleaning stalls, hauling hay bales, and I think he was all about that being a good way to spend time as a kid."
Plus, "I was kind of a shy, reserved kid. I definitely feel like riding changed that. You can't be passive in riding. You've got to conquer fears," she said.
Although Dawn did some A-rated shows, she had to work for lessons. Looking back, she sees the value in the experience. "It was having to learn to be happy with what I was doing, and the fact that having a pony at all was a big deal and learning that appreciation," she said.
When it came time to move on from her pony, Dawn learned more lessons, and they weren't easy ones.
"My second horse was not nearly as positive an experience," she said. "She was an off-the-track Thoroughbred; she was 4 years old. She was beautiful, but she had a level of anxiety that never worked itself out. She was a very humbling experience and one where I didn't accomplish what I had hoped to accomplish. She was supposed to be the horse that took me up for the rest of my junior career, and that didn't happen. We essentially had to give up. So there was sort of a learning that things don't always go the way that you want, and sometimes you have to find other [options].
"I ended up just riding a couple other horses in the barn as circumstances allowed, and that was kind of the end of my junior riding. It just kind of fizzled out, and that was a big disappointment," she continued.
(Ironically, while that mare, Just Imagine, ushered Dawn out of the horse world for years, she ushered her father and stepmother further in. They decided to breed her and see if she'd produce a race horse. She didn't, but from there her father became a passionate breeder who still, at 80, owns a few broodmares and recently sold a 2-year-old now in training with Todd Pletcher, Dawn said. )
Now Dawn is getting a new opportunity to return to the show ring. In June 2021, after a few years of lessons and leases, she felt the time was right for her and her daughter to buy a horse.
While they did not set out to buy a greenie, their budget was such that they could either buy a made horse ready to step down and retire in the next few years or a promising-but-sane young horse. On a shopping trip in Ocala, Florida, they saw City Of Stars, a Dutch Warmblood gelding (Grand Slam VDL—Hester Lady, Zambesi TN), pop down a 4' gymnastic.
" 'Ari' just stood out as being really level-headed. We both got along with him really well," Dawn said. "And then we just saw potential. He's 6 years old, and I think Jen looked at him and thought, 'We can work with this. This is a horse with a pretty easygoing nature.' He takes a joke, as they say."
They bought Ari at the end of February, and he was home in California in early March. Ari quickly started earning good ribbons in the show ring, including a third with Skylar at their first rated show, the Temecula Valley National Horse Show Week 1 in May, in a green rider hunter classic, plus a championship in green rider equitation at the Blenheim June Classic.
Getting to know a new horse comes with the inevitable bumps, too. One of those happened when Ari ran out of the warm-up ring and back to the barn at a show with Skylar.
"It was one of those moments as a parent where you're like, 'OK, this is painful, but she will grow from this,' " Dawn said. "The next morning she came back and won two classes. It was a priceless moment to have that experience where she pushed through and then overcame that. It's so rewarding when you work through those things, and, you know, you kind of build that connection with them as you're working through things together. It teaches you how to maintain that optimism, and you have to manage your frustrations and manage your fear and, you know, all those things that just play out in life and allow you to practice those skills."
While Rapoport got back into horses for her kids at first, she has her own competitive goals too. "I would love to get back to 3', which Ari is more than capable of," she said. "That's where I left off, and the goal had been to get to 3'6" back in the day.
"I do think riding as an adult is a slightly different experience because I'm a little more cautious, and I realize there's a little more to worry about," she continued. "Like last year I broke my hands riding, and I then realized I couldn't type on my computer for a month, and that slowed me down at work, so I realized my life isn't quite as accommodating for injury and things that can go sideways. And I don't have quite the fitness; you know, it's very humbling as an adult. In my head I'm still that 16-year-old, but then when I'm in the saddle, I'm like, 'OK, things don't work the same as they used to.' "
Dawn's husband of 19 years, Micah Rapoport, is on board with the adventure, even though she wasn't an active rider when she met him. "He comes to the barn with me as much as he can, and he's getting to know Ari," she said. "He's super supportive, and I'm super grateful for that."
During her own debut aboard Ari, Dawn won champion in the "Rusty Stirrup" equitation division at the Huntington Beach Sunshine Classic (California) show, July 14-17.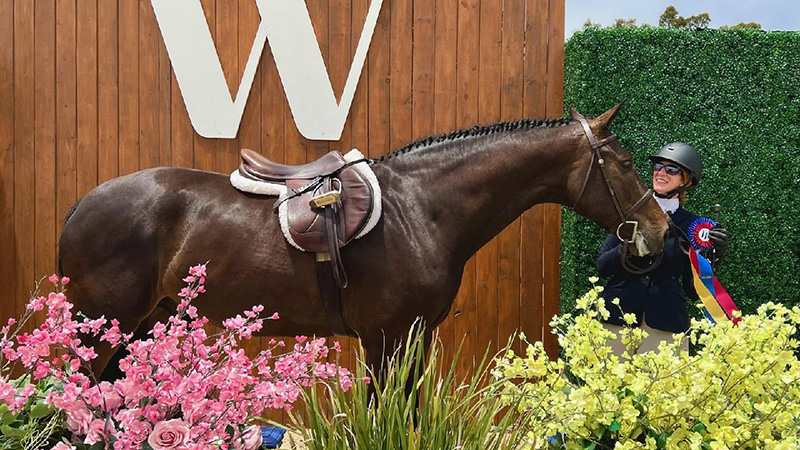 "My younger self is not impressed, but my older self is giving me a high five for just getting back out there and having goals," she said.
The vagaries of aging and changing goals aside, Dawn said she's thrilled to be back in the saddle—and back in the barn—again.
"When I'm at the barn, I'm in my happy place, and I'm with like-minded people that I really enjoy being around. And that's one thing I love about riding too, is when you're at the barn you're with all age groups. It's a great community, it's other adult riders, it's watching the kids doing all the things that we did as kids, and you get to kind of relive it through their experience, and it's also hanging out with the horse show moms, who I love," she said. "There's just no better place to be."