Name: Erin Roof-Wages
Age: 39
Occupation: Small animal oncologist
It's been two decades since Erin Roof-Wages jumped around an international event. She made her return to the international stage a winning one this month at the River Glen Horse Trials (Tennessee),  topping the CCI2*-S with her colorful Semisonic Rembrandt.
"It was super exciting," she said. "I had no expectations for the win. I just wanted to go out and finish. It was a really tough stadium. It was a very forward-riding, kind of not-forgiving stadium, so I just pushed it out on the cross-country to try to go for the time but still ended up with a little bit of time. It just kind of worked out that I was still in the hunt at the end of it!"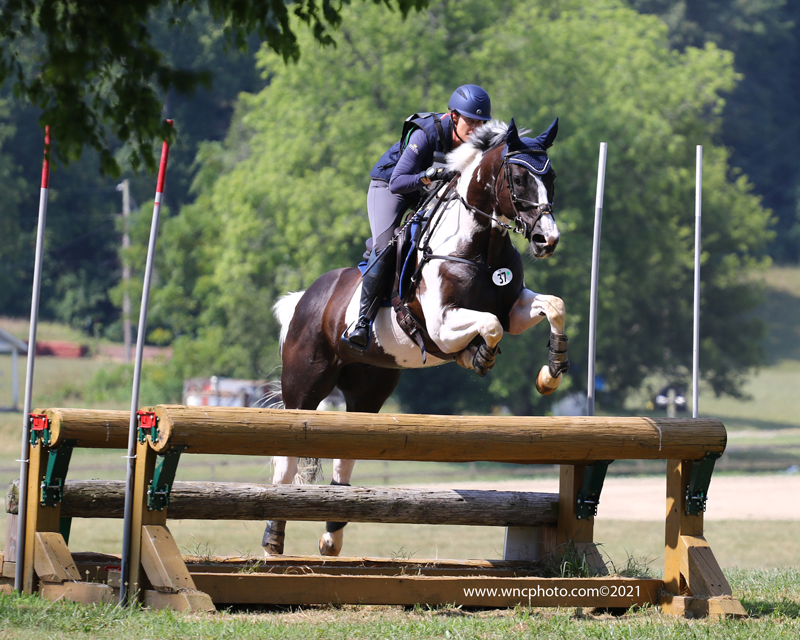 Roof-Wages grew up in Houston and Flower Mound, Texas, and competed on a variety of off-the-track Thoroughbreds and Appendix horses. She competed at the FEI North American Junior and Young Rider Championships twice and went to school to become a small animal veterinarian.
Her mother, Kathi Roof, wasn't a rider, but she is secretary for several events, including River Glen. When Roof-Wages was a teenager and able to take care of herself at competitions, her mother started volunteering, and her involvement grew from there.
"She started going into the office and working and helping with scoring, then she took over a bunch of events in Area 5," Roof-Wages said. "She was the secretary for Greenwood and Willow Draw and a bunch of other ones that are not even functioning now and just kept at it."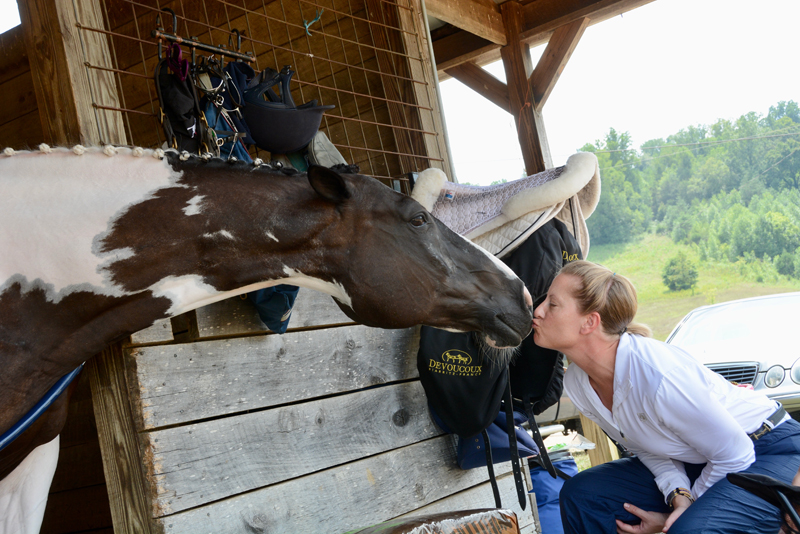 Roof-Wages bought "Remi," a U.S.-bred Oldenburg gelding (Sempatico M—Annie), from Denise Rath when he was 5. Now 12, Remi is "in your pocket" in the barn, but he has proven a challenge for his rider under saddle.
"He's very pretty, and he thinks he is as well!" she said. "He's kind of a combination of a little bit lazy and a little bit spooky. It's kind of a terrible combination because he's behind your leg, then all of a sudden he's halfway across the arena! He's been a challenge for me for sure. I mostly rode Thoroughbreds off the track before this, so he's a different ride. He's taught me a ton, and his dressage is coming along so beautifully. He's a great show jumper. If I can get him to right spot, he's not going to take a rail."
Roof-Wages worked in Texas and trained with Rebecca Brown for several years before taking a job near Geneva, Florida, last September. She specializes in oncology for dogs and cats, and has treated the occasional exotic pet too. Her husband, Aaron Wages, is also a veterinarian at a different clinic.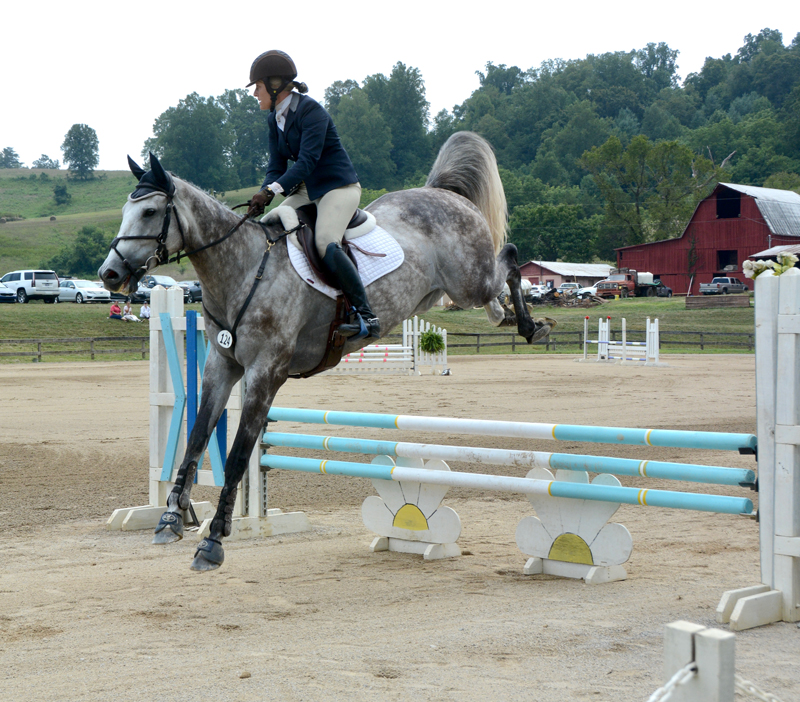 "It's emotionally taxing, but at the same time I meet probably the best patients and owners every single day—the kind of dedicated, wonderful clients that you really want to be a part of their pet's cancer care," she said.
Roof-Wages trains with Maren Foster in Florida. She keeps busy with Remi, an off-the-track Thoroughbred named Morrison who is going novice, and her 7-year-old daughter Tabitha Wages, who has interests other than horses.
Like many amateurs, finding the time to ride, work and spend time with family is a constant juggling act for Roof-Wages.
"In reality, it's miserable," she said. "It takes a village. I've got Maren coming out to ride when I can't, I've got balancing a 7-year-old daughter at home who likes to do her own things like swimming and volleyball, and I've got a very supportive husband who helps me out at any turn—feeding, doing anything with the horses. It's the biggest challenge."
Roof-Wages isn't sure what's next for her and Remi, but she'd like to get him fitter to try a long-format event.
"He's been super fun and a really great horse for me," she said.
Do you know an amateur rider with an interesting story? Email Lindsay at lberreth@coth.com.