When Kiera Phlipot graduated from the University of Findlay (Ohio), the lifelong hunter/jumper faced the same conundrum as many others—become a working student at a show barn or maintain her amateur card?
For Phlipot, the choice was easy.
"It really wasn't a goal for me to be a professional and have clients," she said. "It never really appealed to me. I never think I'm good enough to teach someone else. I want to be a continual student of the sport."
Phlipot had taken riding lessons since she was 5, the youngest age the Grosse Point Hunt Club (Michigan) would allow. She was still at the barn in 2001 when a devastating fire engulfed the barn, killing 19 horses, including her first horse. The aftermath was tough—Phlipot was only 14 at the time of the blaze—but from the tragedy came a new opportunity for learning. Phlipot was paired with a new horse who took her through the junior jumper circuit.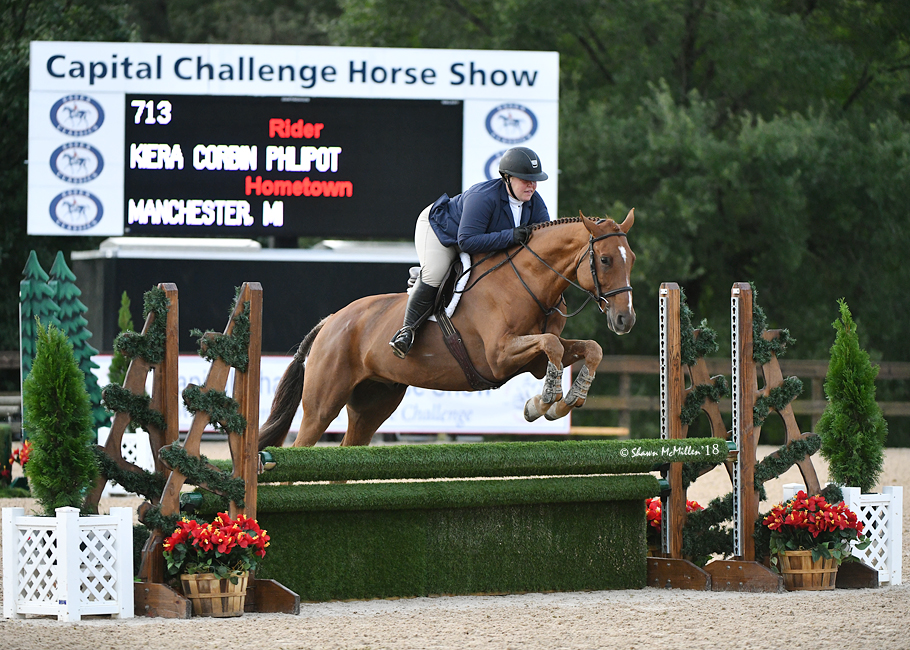 "We'd never do this nowadays, but he did everything. He showed in the children's jumpers, all the big equitation," she said. "Every once in a while I'd be somewhere that was small, and I'd need a third for the junior hunters, and we'd fill that too. This horse was one of those that you couldn't make lame if you tried, so we just kept going."
After graduating from Findlay, Phlipot and husband Alan Phlipot moved to Michigan and were eventually faced with the "rent or buy?" question. They decided to purchase a mini farm and found a small tract of land in Manchester, Michigan, with a house and a barn. The barn needed some work, and Kiera had dreams of one day running a small boarding operation.
"Before my grandfather passed away, he wanted me to have my dream barn, so he helped me finance the barn we have now. It was super nice and generous," she said. "We call it Gardian Farm, and there's no u because that was his last name—Gard."
Gardian Farm is a full-time occupation for Kiera, 31, and has grown to include 10 stalls. (The original plans called for eight, but we've all heard the saying about horses and potato chips.) Alan pitches in whenever possible, and Kiera believes he's made a complete conversion from non-horsey person to horse show husband (in fact, that's his Instagram handle now).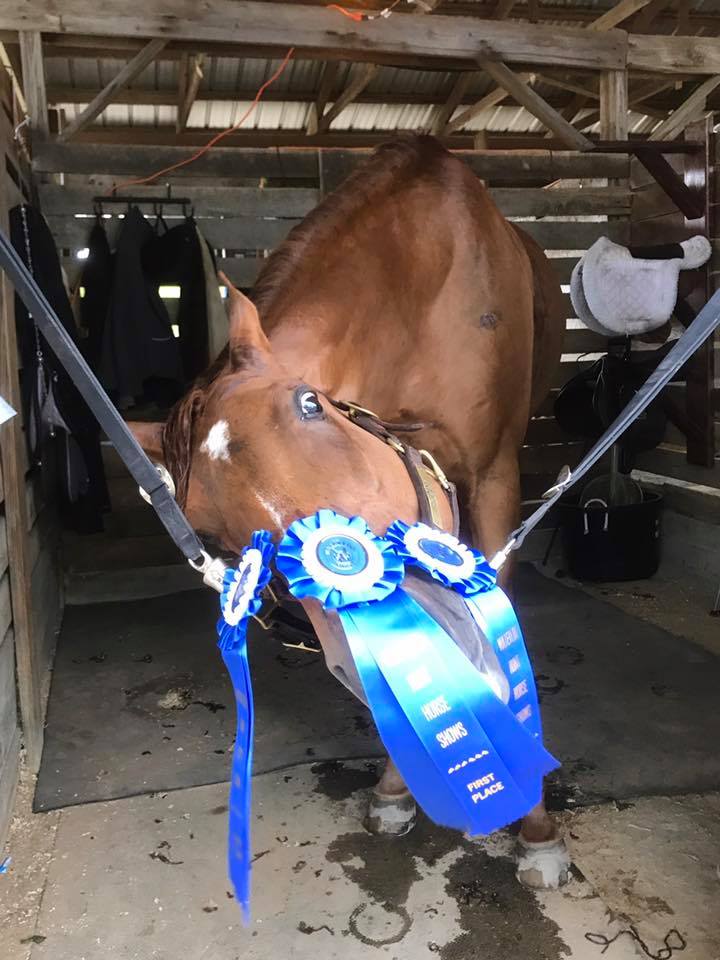 "When we first met I was always at the barn at Findlay, and he really wanted to hang out with me, so he started coming to the barn," she remembered. "One thing leads to another. 'Hey, will you dump this wheelbarrow? I'll teach you to walk this one out to the turnout.' "
Today, Alan can clean stalls, wash legs, undo braids and "in a real big pinch, tack up." He's also the barn videographer, dutifully recording rounds and supporting Kiera whenever possible at shows.
That support is important, because she does everything herself—braiding, grooming and training at home. As Kiera's traveled the circuit, she's developed a network of local trainers who come up for the day of the show to coach her. The strategy has given her the chance to learn from a variety of professionals without the expense of paying to bring someone in or to haul out from her base at Gardian.
The horse show schedule got more complicated this year when Kiera's roster of show horses grew from one to two. Her longtime companion is Red Roc, a 9-year-old Oldenburg gelding (Roc USA—Rhea) known as "Paddy," whose connection to Kiera goes back to before he was even born.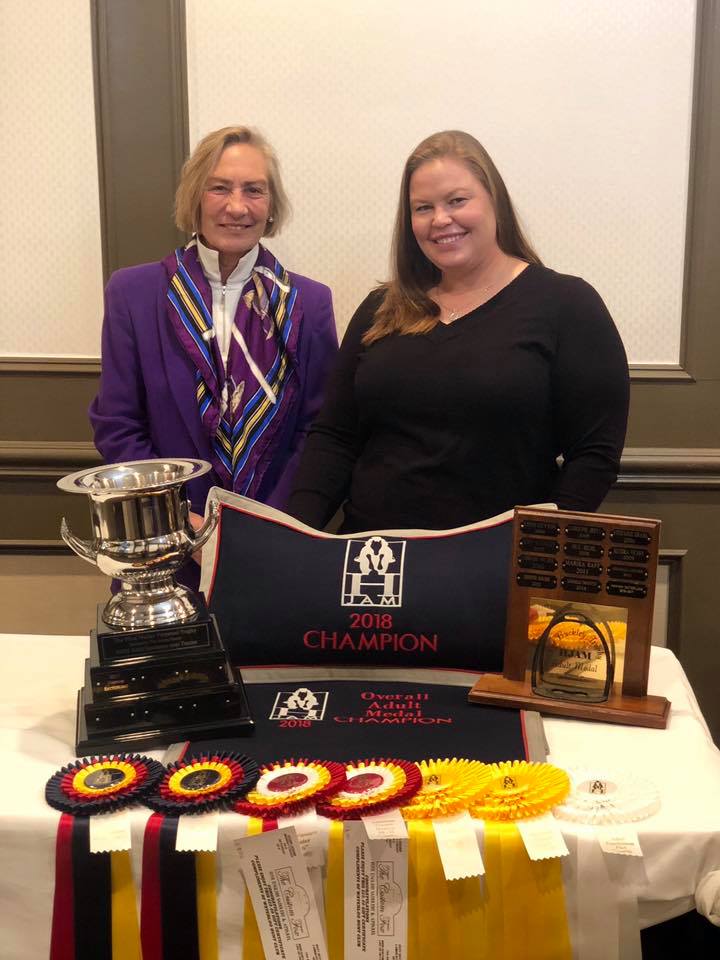 Paddy's dam belongs to a friend of Kiera's from Findlay. On a school break from college, she remembered visiting her friend's barn and taking a lesson on the mare. Several years later, that mare was bred and produced Paddy. Kiera purchased the precocious youngster as a 4-year-old and did all the training on him from the ground up.
"Paddy is excessive. He's an outgoing personality. He likes to use his lips like thumbs. We have a really strong relationship, so we know how to goof off with each other," Kiera said. "He'll push his luck every once in a while, but he'll know when he took it too far, and he'll go 'Oh sorry, just kidding.' "
The big challenge with Paddy has been waiting for his brain to mature. He's still not quite there yet. Although he's brave and handy, Kiera has taken time and patience to settle his mind in the horse show environment.
"For a horse that will jump fire, he's very reactive to his environment," she said. "They have a big, floor-cleaning Zamboni, is what I call it, in the corner of the World Equestrian Center [Ohio], and that is what he has chosen to believe will kill him at some point in his future. And it depends on the day as to whether he remembers it's there or not. We have to work through it and remember that we are going to live, and it will not come through the wall to get you.
"It's in the corner, tucked away, with nothing else around it," Kiera continued. "To him, it probably looks like it ate everything around it. And he thinks he's next."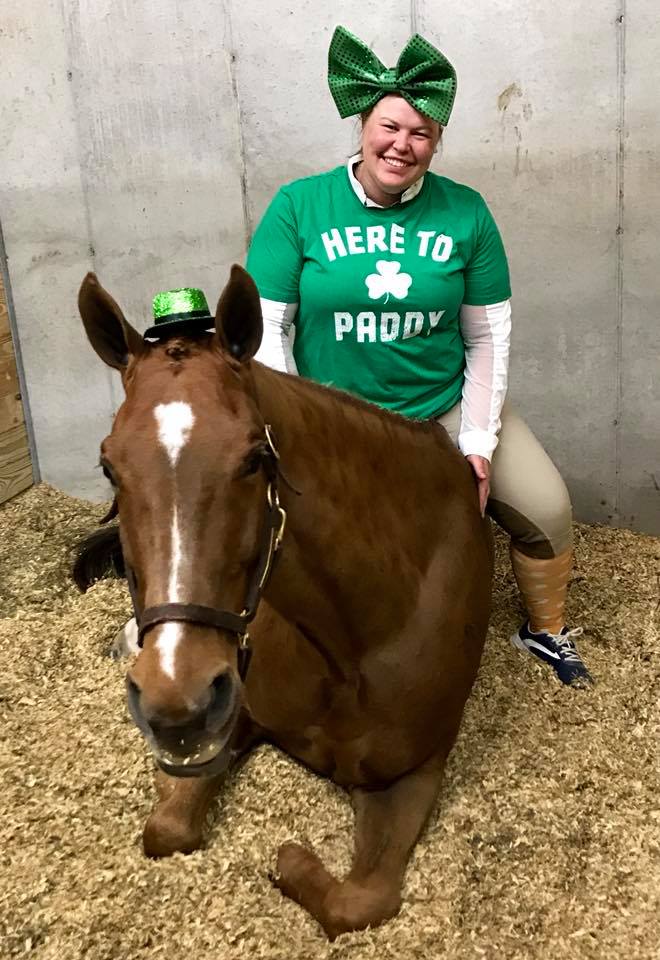 Kiera's latest acquisition, a 10-year-old Dutch Warmblood (Tenerife VDL—Odessa) named Goldfish, is a completely different ride. Kiera spotted 'Fish' in a show this summer. It would be hard not to; he's 17.3 hands and chestnut with flashy chrome and a floating stride. Kiera bought him, and five days after the purchase walked into the ring for a 1.10-meter class. Whereas Paddy needs confidence and instruction, Fish is straightforward and allows Kiera to focus on her own skills a little more. Where Paddy is goofy, Fish is reserved and sweet.
"When I first got Goldfish I was body clipping him, and you know with Paddy he knows just when to lift his leg to mess with me," she said. "Fish lifted his leg at one point, and I instinctively tapped him on the shoulder and said, 'Hey, knock it off,' and he went flying back in the crossties. And I said, 'Oh my gosh, I'm so sorry I offended you!' He's very emotional."
Remaining an amateur hasn't kept Kiera from competing in the big shows. This season, her first at 3'6" with Paddy, she qualified for  the Capital Challenge Horse Show in Maryland. Capital Challenge had been a goal for her for a long time, and after a consistent season, she was pleased to make it to the big dance. The pair even got a third in one of their equitation over fences classes. This was despite Kiera coming down with a fever of 102 on the second day of the show.
"The coolest thing for me is that I took Paddy in his first baby greens, his first 'A' show, and we just did our first international derby together and qualified for indoors," she said. "That was the culmination of a partnership that I got to cultivate myself. It's rare these days, and that's what makes it special."
It was a good hardware year for Kiera too. With Paddy, she picked up the Hunter Jumper Association of Michigan's Overall Adult Medal Champion and Adult Equitation Over Fences Champion awards for 2018. Goldfish, meanwhile, was named 2018 National Outstanding Horse after Kiera lent him to Findlay for the Emerging Athletes Program this fall.
Having already met one of her goals for Paddy, Kiera is contemplating some changes to next year's schedule. She's interested in doing more adult equitation classes and is looking forward to a new challenge class on offer from the Hunter Jumper Association of Michigan: a gymnastics challenge. The series, which incorporates numerical scoring and is based on a finals class at Capital Challenge, will incorporate trot poles, gymnastics lines, rollback turns and other exercises riders are more commonly tackling at home.
She also has a new goal: to get a blue ribbon round in both hunters and jumpers at the same event. It's a lofty ambition for an amateur, but if there's anyone who can pull it off, it might be Kiera.
Do you know a hard-working amateur who should be spotlighted? Email Lindsay at lberreth@coth.com with your idea!