Name: Eileen Morgenthaler
Age: 63
Hometown: Portola Valley, California
Twenty years ago, a hack with a friend added a new dimension to Eileen Morgenthaler's life.
She was just getting back into riding after a long break—she rode casually in her 20s, before her job and family took priority—when a friend at the Horse Park at Woodside, in Woodside, California, offered to take her out for a hack. They jumped some logs, and Morgenthaler was hooked: Eventing would be her next sport.
"I thought that was the coolest thing I'd ever done," she said. "You could hear me screaming to Los Gatos about how fun it was. It was like nirvana. It became an incredible passion. I ended up buying a second horse and went to the horse park with a trainer there and was there for 16 years, then moved to another trainer for all eventing."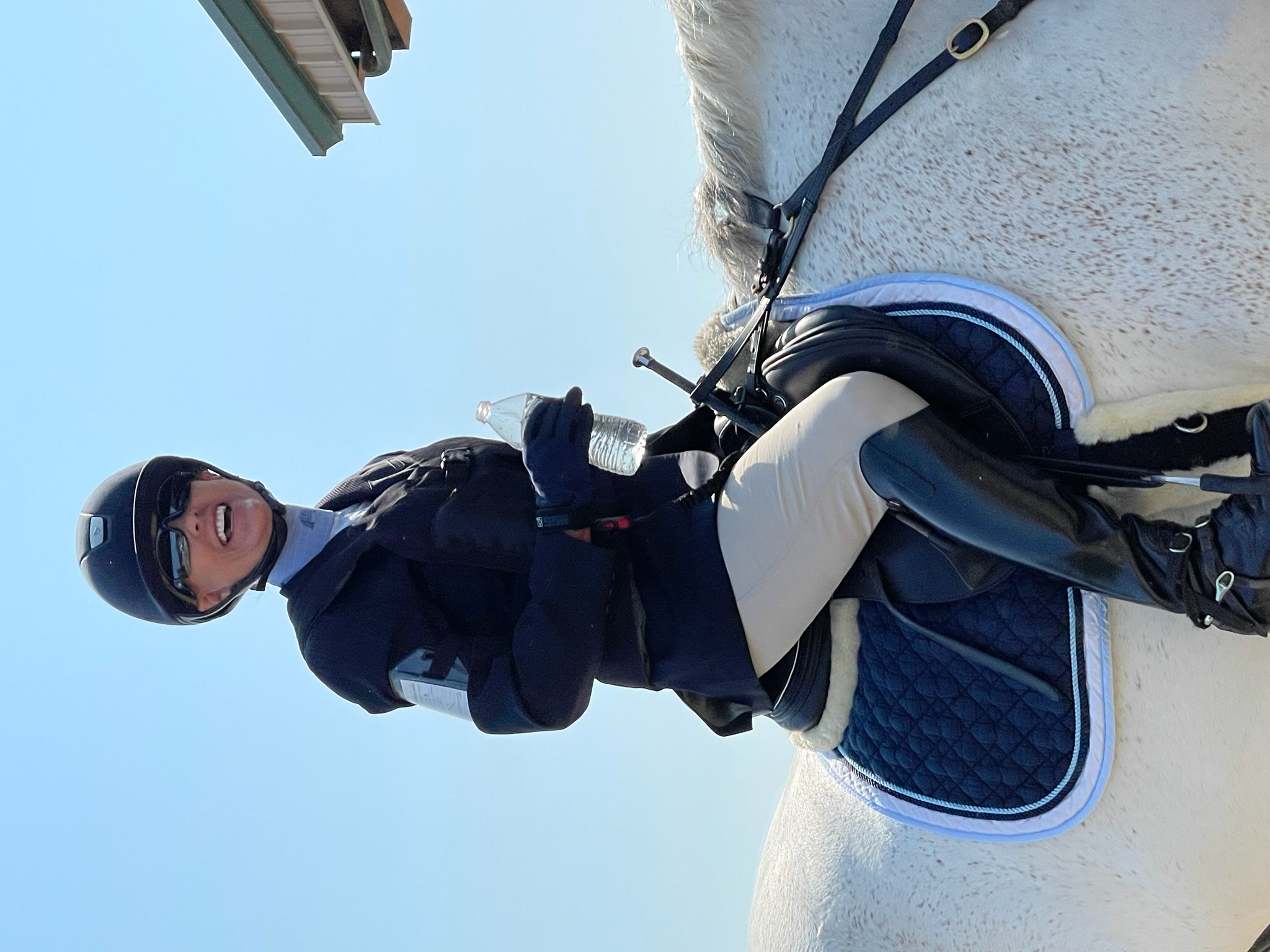 Eventing is not a sport for the faint of heart, and picking it up in yours 40s isn't common, but Morgenthaler is a bit of a thrill seeker: her other favorite pastimes include snow skiing, water skiing, paddle boarding and hiking.
Last year, Morgenthaler realized a goal by competing in the beginner novice rider division at the 2021 USEA American Eventing Championships (Kentucky) on Chicago GS, an 11-year-old Trakehner gelding of unrecorded breeding.
"It was an extraordinary experience," she said. "It was so much fun. The Kentucky Horse Park was an incredibly beautiful place to hold it. You didn't feel like there were 1,200 horses there. To ride in the Rolex Arena and have your name in the lights on the scoreboard was kind of a dream come true. Never would have dreamed it, but it happened. I'm very happy I went."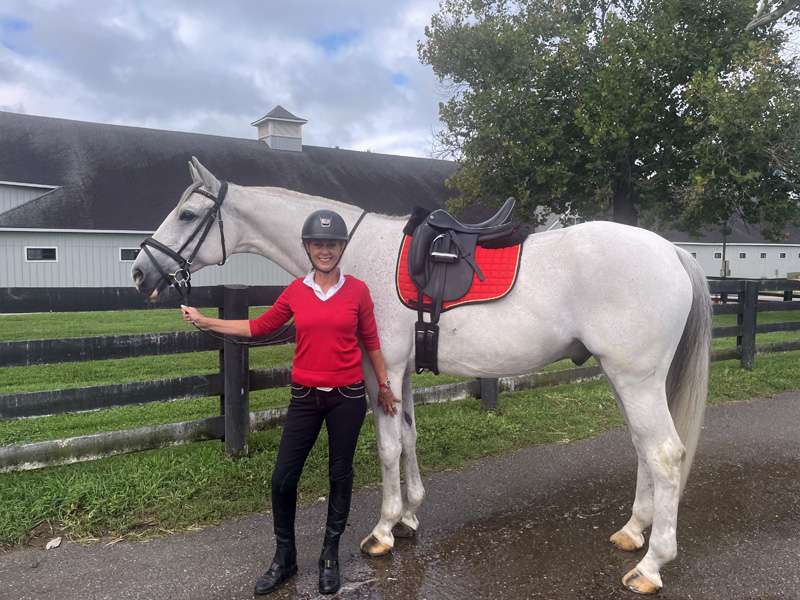 Finding Horses Again
Morgenthaler had a busy career in computers and real estate sales and marketing before becoming a full-time mother.
"I didn't let myself miss it," she said. "I loved horses and animals, and I had a dog. You just put your head down. I couldn't afford it. I had to work, and I was self-supporting. I'd lost my parents at 20 years old to cancer. You're on your own, and you have to make your own living. It was only after I married and had kids and had the option to no longer work that it really opened up the opportunity to ride."
She found that being an active, fit person was essential, both when she started competing and now into her 60s.
"I think it's important to be fit," she said. "I've always been fit my whole life. And you have to be logical with a bandwidth of fearlessness. And you have to take it at your own pace. I've slowed down since I started because I'm now 63. I was competing often times at training level, and I dropped back down to novice and 'beginner nervous,' as we call it. And that's fine. For me, as an older person, I'm not going to the Olympics. It's about having fun and staying as safe as possible and really enjoying it, but having guts. If you're terrified, don't get in the saddle. If you're concerned and totally on all cylinders and aware, get in the saddle."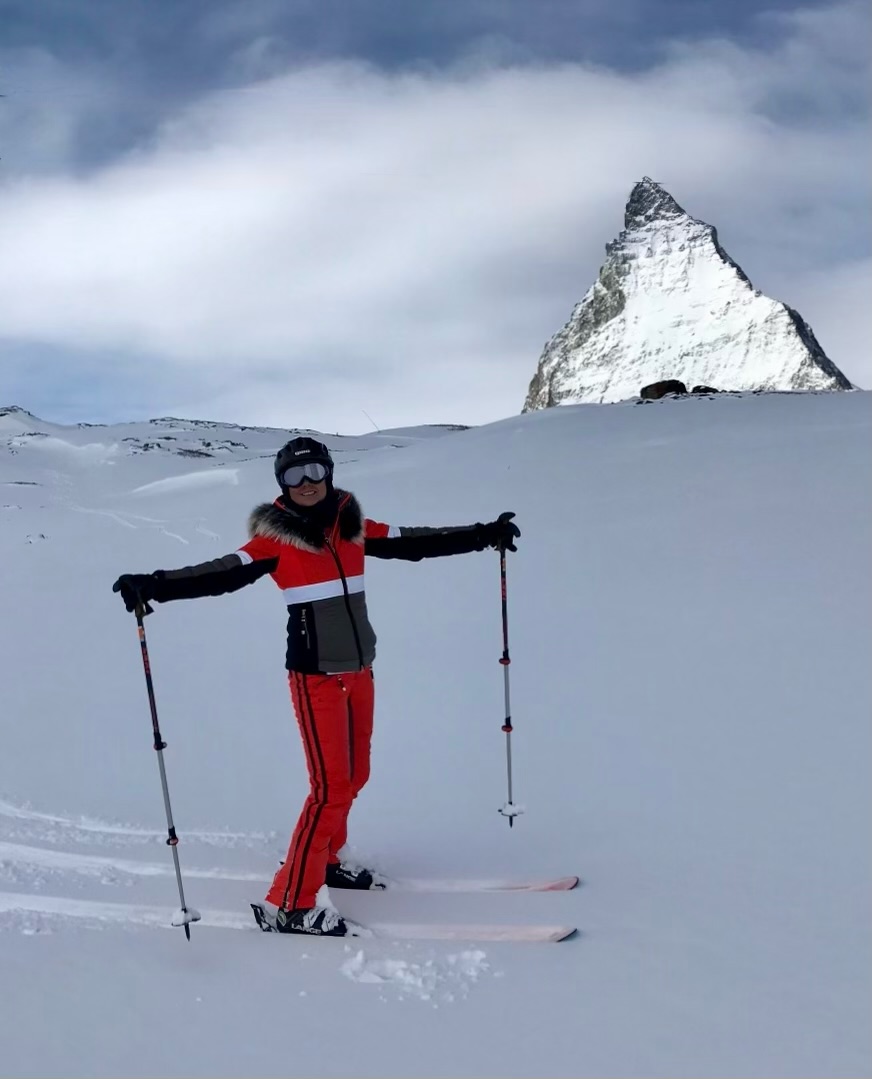 Morgenthaler enjoyed eventing with her daughter, Lauren Morgenthaler, for many years, and they've kept horses at Woodside from the start.
"It's hard to describe what eventing has taught me in that it reinforces your toughness, it reinforces your ability to take things in stride, especially because you've got a sport with a horse as opposed to just yourself," she said. "You have that factor involved in the sport—one day you're on top, and the next day you're on the ground looking up at your horse. What it teaches young people, I just think it's so important. They're away from screens, they have to think about somebody other than themselves, they're thinking about their horse first and then themselves after you ride, and the life lessons it teaches—it's very hard to find something that provides that education that you don't know that you're getting, but you're getting it."
A Bit Of A Break
Eileen still enjoys skiing with her family, including husband Gary Morgenthaler, but in January 2020, she had a bad accident that left her grounded from horses for nine months as she worked though rehab and physical therapy.
"I was going down a chute in Tahoe. I hit a rock, and one ski came off but the other one didn't," she said. "I was shooting down pretty fast, so I had to pull my ski around to stop myself, and I completely tore my ACL. I had a complete repair and rehabbed."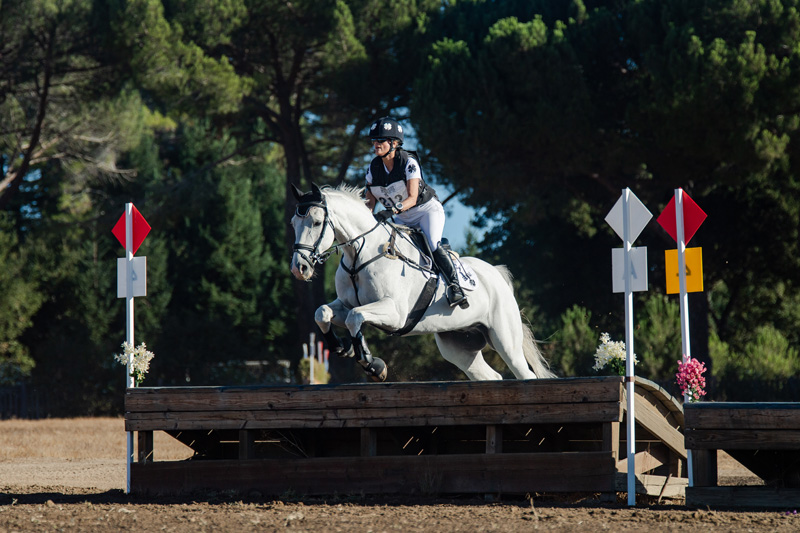 Preserving And Promoting Horses
During her downtime from riding, Eileen helped out at the horse park as much as she could. She's been involved for 16 years as a volunteer and member of the board of governors. Currently she's president of the board.
"I ended up spending a lot of time in the office assisting with whatever I could, it didn't matter what. You just have to make lemonade out of lemons," she said.
The mission of the horse park is stewardship of the land, horse sports and education. There are about 120 horses boarded on the property in San Mateo County, California, as well as a therapeutic riding program and the Woodside Vaulters. The venue hosts several hunter/jumper, dressage and eventing competitions every year on its 270 acres. Eileen used her skills from her former jobs to help engage the community in the horse park's mission.
Looking Ahead
Eileen is looking forward to competing Chicago GS next year, as well as two other horses, Levitate and Redfield Out Of The Blue.
Bought from Jessica Phoenix, Chicago GS has been a great partner for her. "He is just fantastic," she said. "He's beautiful, his movements are great, he has a great mind, he's quiet. I'm very lucky."
She's hoping to qualify for novice at the AEC. "I just want to ride," she said. "My goal this year realistically is just to ride some really good novices on him."
---
Do know you an amateur with a cool story? Email Lindsay at lberreth@coth.com for a chance to be featured!