California-based adult amateur hunter/jumper rider Lyssette Williams has been a self-starter since a young age.
Raised by her single mother, Williams started riding thanks to one of her mother's coworkers, who taught her basic flatwork and horsemanship lessons. When she decided she wanted to jump, her mother gave her the task of finding an affordable trainer. Williams, who was in middle school at the time, and a neighbor called every local barn in the phone book and wrote down their pricing and information.
That fateful phone book search led Williams to a trainer who remains a mentor to this day. It also introduced her to a horse-show world where people who looked like her—Black and biracial—and came from her modest means were few and far between. As Williams has grown into a successful adult amateur, she's also become a voice of advocacy for equestrians who are Black, Indigenous and people of color.
In Williams' middle-school search, she found Irene Lorimer, the trainer at Windmill Ranch, located only a few blocks from her house in Livermore, California. Lorimer—a noted trainer in her own right, as well as the sister of Linda Hough, National Show Hunter Hall Of Fame inductee, and the aunt of Olympic show jumper Lauren Hough—provided Williams with many opportunities.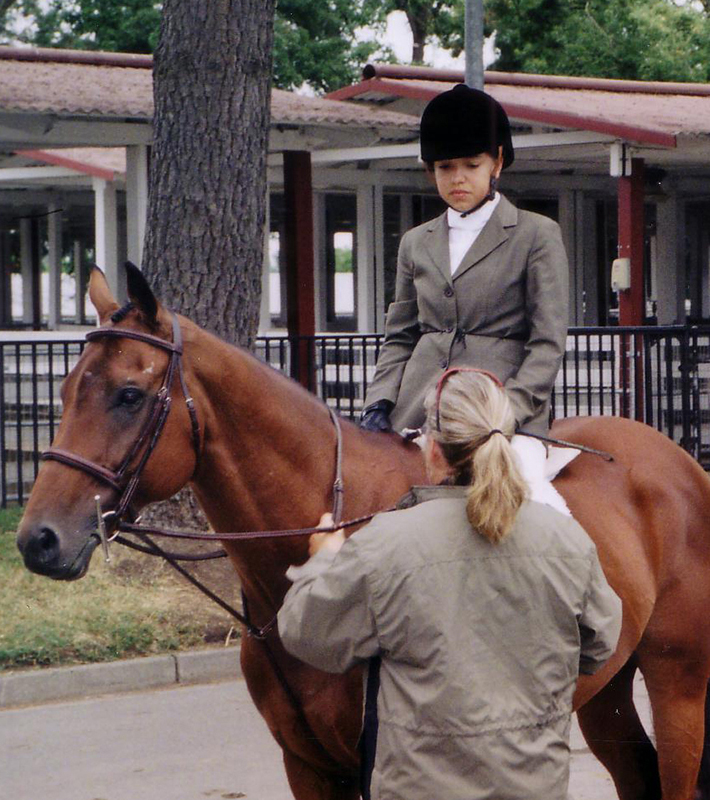 "I could only take one lesson a week, but during the summers, I could work and get more riding lessons, so I basically got to ride every day during the summer because I helped with the pony camp, taking care of the lesson horses and cleaning tack," Williams said.
Two years after she started riding, at age 14, Williams began competing at schooling shows. She rode whatever horses were available in whatever divisions suited them, in hunters, equitation and jumpers.
Then a Thoroughbred named "Carlos" entered her life. Lorimer got the gelding as a sales horse when Williams was in high school, and Williams showed him as a working student. Lorimer gave Carlos to Williams while she was attending the University of California, Santa Cruz.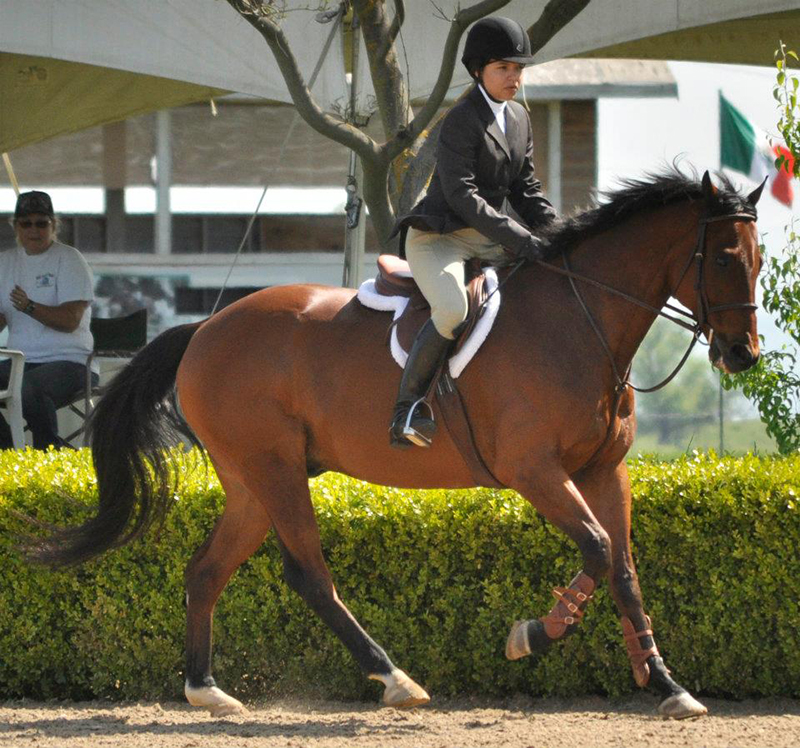 "He was like my everything," Williams said. "I loved that horse so much."
Williams and Carlos started jumping crossrails together and progressed to showing in 3'9" hunter and equitation classes.
"Carlos was the first horse I felt pretty successful on," she said. But navicular syndrome forced Williams to euthanize him in 2013, when he was 14.
At UC—Santa Cruz, Williams competed on the Intercollegiate Horse Show Association team while studying for her undergraduate degree in fine art.
Williams, who also holds a master's degree in comic arts from California College of the Arts, now works for Stanford University (California). After a stint as a web designer, she'll be starting a new position next month in communications and analytics with the university's School of Medicine.
She currently owns a 17.2-hand Hanoverian, Sonder, that she purchased as a coming-3-year-old in 2017.
"Since I've had him since he was basically just a foal, it's been pretty fun," she said.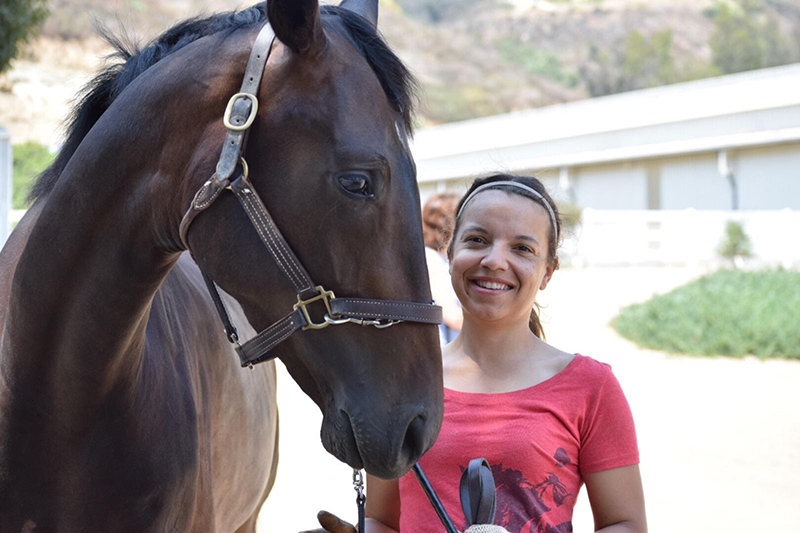 When "Dante" (Sinatra Song—Chrysalis) was 3, she entered him hunter breeding classes, including the Sallie B. Wheeler Hunter Breeding National Championship (Virginia and California).
Since then, they've progressed into the performance ring, showing at 3' in his 5- and 6-year-old years, and last year moving up to compete at 3'3" with the help of trainers Diana Yeater and Matt Griffiths in Del Mar, California. Although the EHV-1 outbreak in California forced them to stay home this spring, Williams hopes to do the low amateur-owner division with "Dante," now 8, later this year.
Williams, of San Diego, balances her work and riding schedules by staying flexible: "Everything just flows around what I need to do that day for work," she said.
She applies her professional communication skills to the horse world by advocating for BIPOC equestrians through freelance writing. Her stories have appeared in Sidelines Magazine and the American Paint Horse Journal. She's also written pieces for Jumping Nation and The Plaid Horse that share her experiences and ideas to promote diversity, equity and inclusion in equestrian sport.
"I've been fortunate enough to come from a very supportive barn family growing up. Irene always fostered a culture of inclusion, so I didn't feel growing up like I was discriminated against in riding," she said. "But I knew that due to my circumstances, the fact that I was raised by a single mother and that we didn't have a lot of money, that I was at a disadvantage."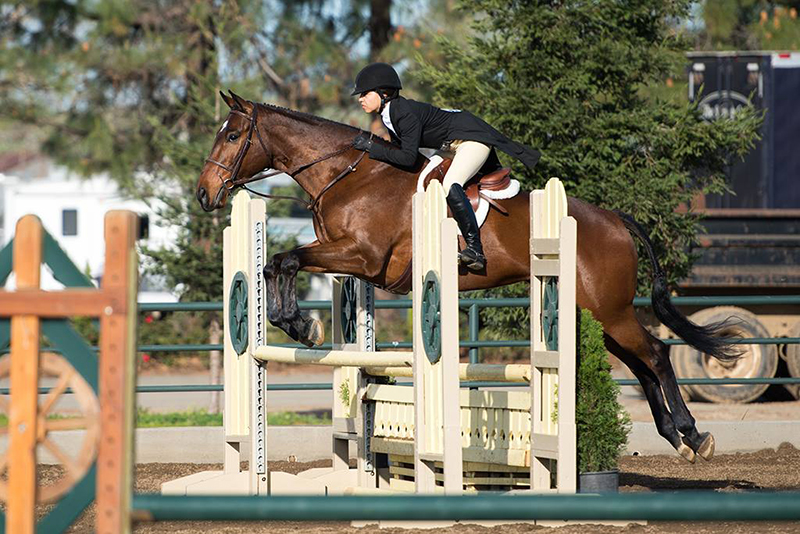 She is supportive of programs such as the Interscholastic Equestrian Association and the Intercollegiate Horse Show Association that give riders an opportunity to show more affordably.
"I wish we had IEA when I was growing up. Like I'm really jealous, I wish I had that," she said. "But I had IHSA, and that allowed me to show way more than I had and learn from other students what shows were like where they grew up."
Williams encourages those who want to advocate for young riders from a broad range of backgrounds to get involved in their communities, for example, by helping riding therapy programs acquire equipment to accommodate growing children.
Williams is also striving to become involved in the U.S. Equestrian Federation and U.S. Hunter Jumper Association governance. She recently ran for the Zone 10 committee, and although she was not elected this time, she is not giving up on her efforts to advocate for change.
"It's my personal belief that we shouldn't just sit around complaining about the problems that we see, that we should get involved," Williams said.