Name: Valerie Goodman
Occupation: Marketing Consultant
Age: 60
It wouldn't have taken much to keep Valerie Goodman from buying Idylwind Brychan. He had a discount price tag, but the barely backed 6-year-old Welsh Cob didn't have the breeding, training or look of what she wanted: an adult amateur dressage prospect.
If not for a veterinarian's uncommonly bold recommendation, Goodman might have ignored her instincts about "Bryan" altogether.
"He was all the way in Kansas," said Goodman, who lives in Southern California. "He was cute, and he was small, so I decided to have him vetted. The breeder, Pamela Johnson, had to haul him to another city, and the day he went for the vetting it was really windy and stormy out. When the vet called, I asked, 'Well, what do you think?' And he said, 'You know, I have to tell you, when this horse got here, the weather was awful. I had to longe him out in the middle of a cornfield. Then I had to lead him through this strange little passageway because part of our facility is closed up. All while the weather was raging.'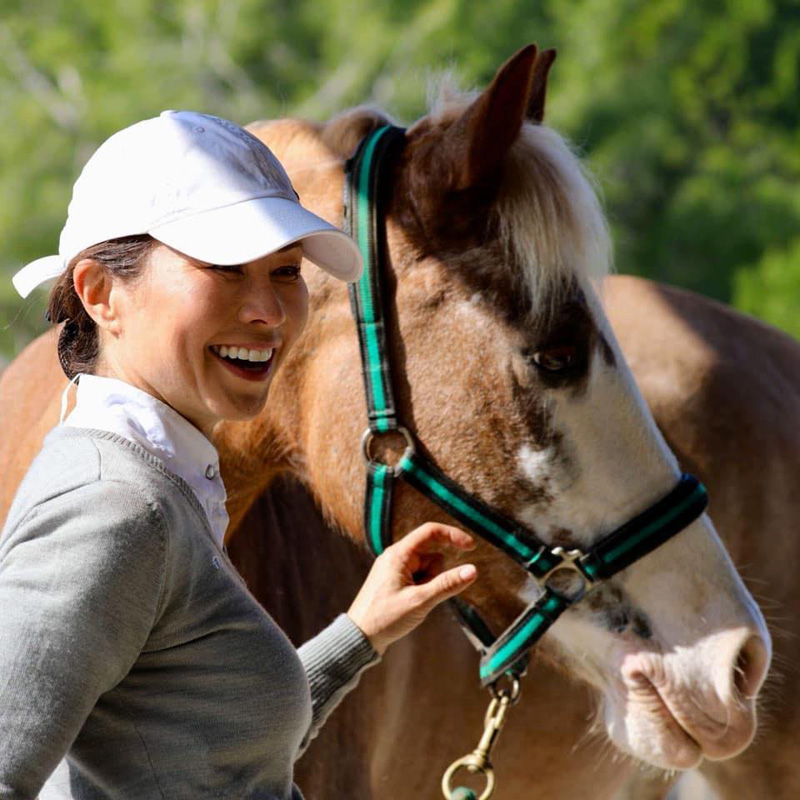 "The vet said to me, 'This is such a good horse. You need to buy this horse,' " Goodman continued. "So, I bought him basically sight unseen."
Goodman never imagined that a decade later, Bryan would be named the 2020 Welsh of the Year for the Welsh Pony & Cob Society of America. But their unlikely start, and the leap of faith that spurred it, offered Goodman a chance to grow her faith in herself and her horse—faith she would need to climb to Prix St. Georges and beyond.
Dear Mom, Per My Last…
Goodman grew up in Sacramento, California, just down the road from a small zoo that offered pony rides for kids. Goodman visited as often as she could.
"I started slipping notes to my mom about how much I wanted a horse," Goodman remembered. "I would leave them in her shoes, in her pocket, in her purse. When I turned 10, she surprised me with a present: a pair of riding breeches (jodhpurs at the time, with the puffy sides) and a little riding shirt. She said I could take my first lesson."
Goodman fell off in that first lesson, but she carried on undeterred. She rode in local hunter/jumper shows through her school years, dipping a toe into the A-circuit once or twice.
Most of the time, she was the only "skinny little Asian-looking kid" in the ring.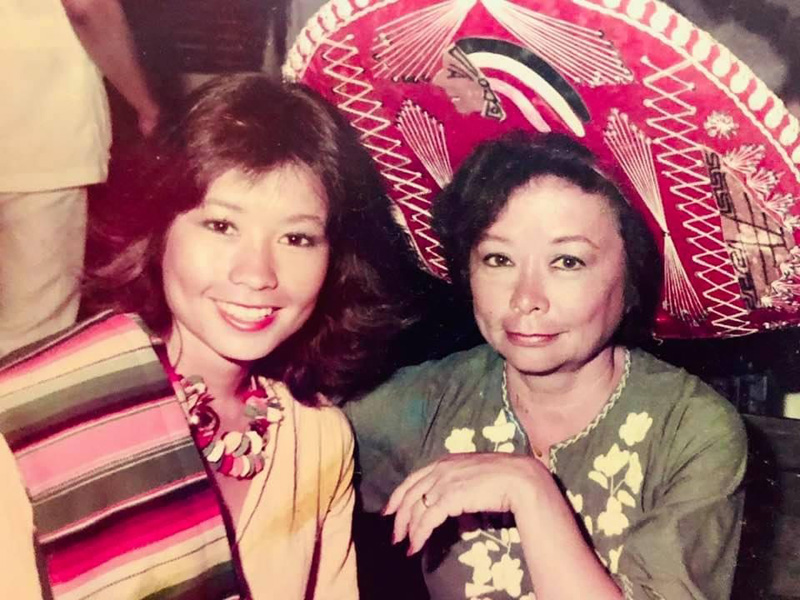 "I can honestly say I've never experienced any hate or discrimination in the horse industry, which I'm grateful for," Goodman said. "My mom is American Indian, French and Chinese, and my dad Japanese. My dad had been put in American concentration camps during the war, and he was a U.S. citizen! Growing up, he did not want us kids to learn Japanese. He was afraid if people knew we spoke Japanese, that people would treat us differently."
"I'm thankful that I had parents who recognized the fact that yes, there was discrimination, and did what they could to protect us, but also were role models for us," Goodman continued. "My mom set up the first minority-woman-owned business in Sacramento. For me, she really proved that minority women can do anything."
Annnnd CUT!
Goodman's mom, Audrey May Yee, continued to support her daughter's riding career. When Goodman took her first job in television reporting, she imagined she'd have to give up the sport. But Yee came through again.
Yee had a friend with a cutting-trained Quarter Horse and connected the two of them. Even as a broke, early career professional, it was an arrangement Goodman couldn't turn down.
"I knew nothing about cutting horses, but he was amazing," she said. "He knew his changes, and he was so well trained. I took him in a couple of cutting competitions, then I decided to try him over fences. He was great! We did a few local shows, but all that time I was also trying to get my career started."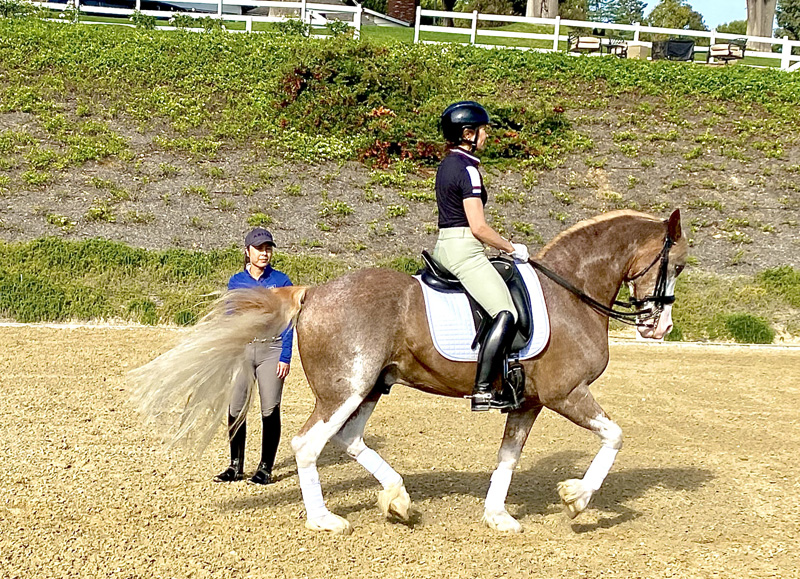 Goodman worked her way up to television anchor. When her Quarter Horse passed away, she paid a visit to western dressage rider and U.S. Equestrian Federation 'R' judge, Lynn McEnespy.
"Lynn let me try her dressage horse, and I just loved it," Goodman said. "I ended up getting my first dressage horse, a Thoroughbred, from a slaughterhouse auction. I took him to my first show, which was absolutely abysmal—I didn't know what I was doing! But I kept at it, kept playing with it, trying to learn the sport."
Goodman eventually bred and started a Dutch Warmblood colt for dressage. Unfortunately, his big gaits triggered too much pain in her back, which she had injured previously in a riding accident.
She was between horses when she met her husband, Jeff Goodman. The couple moved to Southern California, where Valerie began her career in marketing. She had two boys, now grown: Grey, 23, and Cade, 21.
"I ended up taking a 15-year break from horses," she said. "Between basketball and baseball, I was shuttling kids back and forth, and trying to work at the same time. I knew horses would always be a part of my life. I just took a bit of a break during that time to raise my family."
A Pasture In Need Of A Pony
In 2011, the Goodmans moved onto a small acreage in Palos Verdes, California. Immediately, Valerie started horse shopping. She saw Bryan online, and although she knew nothing about Welsh Cobs, there was something about him she liked.
After the veterinarian's glowing recommendation, Valerie had Bryan shipped from Kansas to California. When the 14.3-hand gelding stepped off the trailer, she wondered what she had gotten herself into.
"He was cute as a button, but he was smaller than I expected, and the first times he cantered, he hopped like a rabbit," Valerie said. "At first I thought, 'Is this a breed thing?' but I came to find out it wasn't a breed thing at all. He has a longer back, and he just needed to build strength."
Slowly, Bryan (Tuscany Aramis—Me Juliet, Crossroads DafyDD) found his three-beat rhythm. Although Valerie knew the old adage about buying a canter and training a trot, she trusted the sturdy roan's work ethic and trainability to carry them forward.
And she couldn't help but enjoy his trot, too.
"Something almost freaky about him—he can sit!" Valerie said. "I remember once, the first year I was riding him, I sat up, picked up the reins a little bit and lifted through my core, and he just started passaging. I was like, 'What the heck?!' I immediately stopped, but I realized how easy that was for him. It was like a lightbulb went off. I thought, something in this horse is really, really special."
Before long, judges confirmed Valerie's suspicion. In 2016, she and Bryan were reserve champions at the GAIG/USDF Region 7 Championships (California) in the second level adult amateur division. From the Welsh Cob and Pony Society of America, they won an open championship at second level and a reserve championship at third.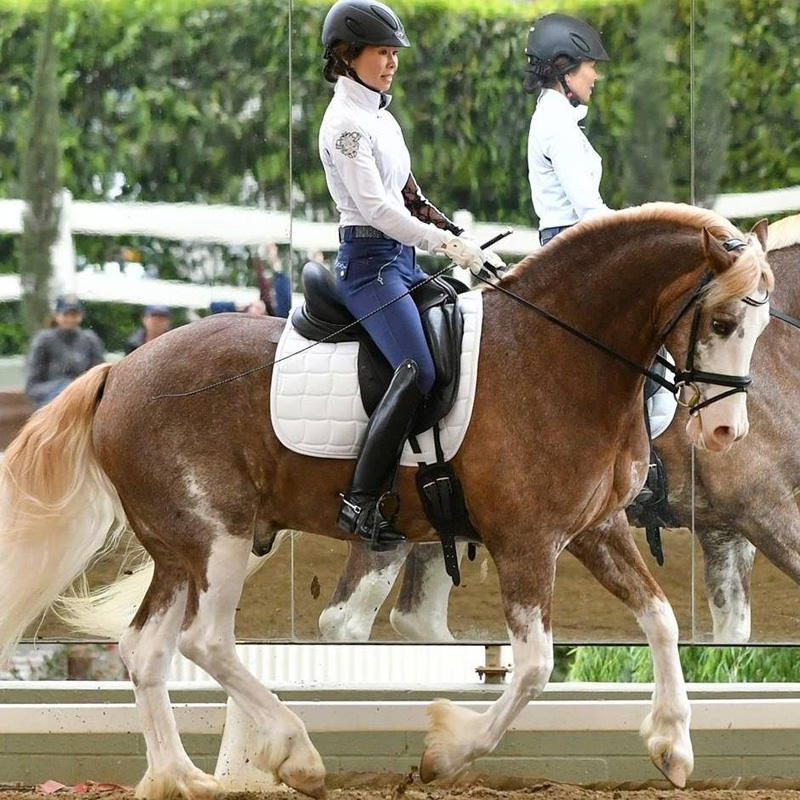 Wanted: Tutor. Subject: Fun.
Valerie felt thrilled by their accomplishments. But as she climbed the levels, she began to strain under the pressure.
"Dressage is so interesting in that when you get to certain levels, if you really want to be successful, things have to change," she said. "The frame, the horse's way of going, they have to evolve. The way I interpreted that, unbeknownst to me, was through tension. That tension—mental and physical—wasn't healthy for me. I started physically breaking down, particularly in my back and shoulders. And I noticed changes in Bryan, too. He began having ulcers and hind end issues, which he hadn't before."
Her confidence failing, Valerie gave herself and Bryan a year of downtime. They stopped competing. They stopped striving.
When Valerie felt ready, she knew she needed to find just the right person to bring them back into the sport.
"For a long time, I had been admiring Sarah Lockman," Valerie said. "I would see her at shows sometimes on 15 horses a day, and they were horses of all kinds, which is not that common in Southern California. I called her out of the blue and said, 'You don't know me, but I have a Welsh Cob, and I really think you can help us.' "
Valerie dropped Bryan with Lockman for a month, then started taking lessons on him again.
"That was the turning point," Valerie said. "I was really grateful to Sarah for paying attention to this really uncommon horse. She really taught me that no matter what, the horse comes first. When I was learning so much, I was really focused on me—what I was doing, what my goal was. I was being way too hard on myself, and I wasn't thinking about Bryan.
"Once Sarah started working with us, I really started believing in Bryan. I didn't have to be perfect. He could do it because he wanted to do it. I just had to believe in him."
Valerie also started seeing a sports psychologist who, along with Lockman, helped remind her why she was riding in the first place.
"For me, dressage has to be fun," Valerie said. "Especially as an adult amateur, I didn't have high aspirations. The real reason I wanted to ride was just to go out and have fun!"
Building A Barn Community
Bryan developed laminitis in 2017, but with a carefully managed diet, he recovered stronger than before. He jumped from third level to Prix St. Georges.
With Lockman traveling to Wellington, Florida, for part of the year, Valerie learned to lean on other local trainers, including 'S' judge Louise Koch and Stacey Wakaki, one of the only other Asian American riders in the area.
"People confuse Stacey and I a lot," Valerie said with a laugh. "I can't say how grateful I am for the support of Sarah and the other trainers who have looked at this unusual horse and seen him as worth recognizing. Between the three of us, and Sarah when she's here, we're trying to figure out how to get Bryan and I up the levels."
As violence against Asian Americans increased over the past few years, Valerie says she's more grateful than ever for her "bubble" at the barn. Outside of it, she can feel the fears her parents suffered through rising to the surface, fears she didn't imagine herself experiencing as an adult.
"In Southern California, there's a lot of Asian hate going on right now, against men and women," Valerie said. "In my small community, I don't think it's an issue, but when I go other places, I definitely am aware of my surroundings. I do a kind of risk assessment, which is just a terrible way to feel. And it's been even worse wearing a mask! I worry, are they going to think I'm from China? I don't know."
A Cob Convert, Through And Through
Valerie describes herself as a "typical amateur," struggling to balance family life, riding and her work as a marketing consultant for her husband's dentistry office and for other clients. While Bryan doesn't have the look of a standard upper-level mount, Valerie sees a place for horses like him in dressage's mainstream.
"I think Bryan is pretty typical of the Welsh breed; he's highly trainable, very willing and full of personality," Valerie said. "It's great that the Welsh Cob and Pony Society has started to recognize dressage as a stronger discipline for this breed. I think, especially for amateurs, there's a lot of room for a smaller, capable horse with a temperament that's so unique."
Although she never expected to ride a horse with feathers at the FEI levels, now that she's doing it, Valerie isn't looking back. In fact, she just bought another Welsh Cob—a stud colt yearling who she hopes to train next.
For now, she's focused on the cob in hand.
"Sarah says Bryan has got Grand Prix potential, if we can hang in there," Valerie said. "Bryan has been very tolerant of me learning and making mistakes as we've gone up the levels. So, as long as he wants to do it, we're going to go as far as we can!"
---
Do you know an amateur with a cool story? Email Lindsay at lberreth@coth.com for a chance to be featured.