When Maggie Stonecipher was approaching her 60th birthday in 2020, she made a commitment to herself to tackle some big goals: She wanted to improve her health, and she wanted to ride again at the Fédération Equestre Internationale level, something she hadn't done in 12 years.
With those goals in mind, she embarked on a personal journey that led her to a healthier lifestyle, a stronger body, a 105-pound weight loss and a horse named Ultimo.
"I didn't necessarily have any visions of grandeur," said Stonecipher, now 62. "I just had that typical adult amateur dream. I still wanted to learn how to ride those tempis, do that piaffe and passage. I was getting ready to turn 60. [I thought] if I'm going to do this, I'm getting way too old to wait much longer. And then if I wanted to have a happier life I had to physically get stronger and fitter."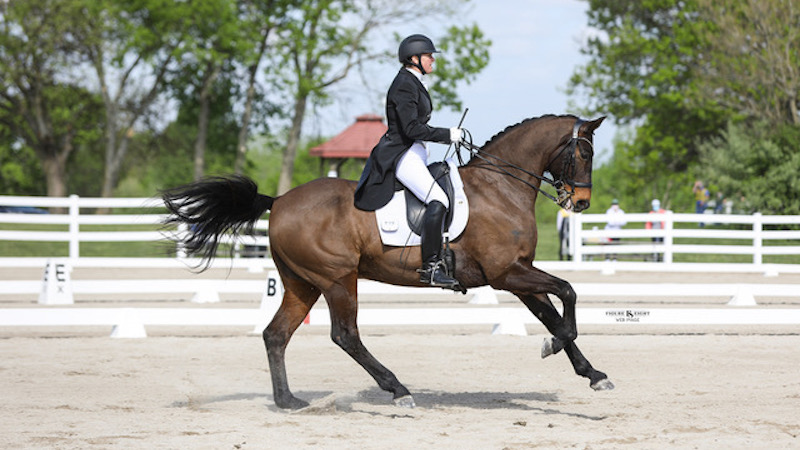 The Oskaloosa, Kansas, real estate agent and her 21-year-old Dutch Warmblood (Olivi—Jasmijn, Sit This One Out) "Timo" recently rode to a personal best Grand Prix score of 65.54 percent at the Cornhusker Classic, held May 28-29 in Elkhorn, Nebraska. 
When Stonecipher saw "Timo's" sale ad for the first time, during the height of the COVID-19 pandemic in September 2020, there was something about him that she really liked. 
"So I brought him home without even riding him," she said. "It was definitely a leap of faith."
Stonecipher became a dressage rider later in life. She was in her 40s when bought her first dressage horse, a solid-colored Paint named Mr. Jet, for $1 after he was deemed unrideable by his previous owner. 
"I went to my first show in March of 2002," she said. "I did training level and just absolutely fell in love with it. That wonderful horse, who was supposedly too lame and too much of a [jerk], took me to second level. We were regional champions at first level." 
These days, Stonecipher is an active member of the Region 4 dressage community. Having spent over a decade on the board of the Kansas City Dressage Society, she knew just what to do in the face of dwindling competition opportunities for riders in her area. 
"I got a group of people together and said, 'OK, why do we have this problem? Why do we have no schooling shows?' " she said. "The big thing was [finding] a place and someone to financially get it started." 
The group found a facility to host the show, and, combining her passion for dressage with her day job, Stonecipher stepped in with her real estate business, The Property Shop, as title sponsor of a schooling show. That show has since grown into an annual series of competitions, the Property Shop Dressage & Combined Training Schooling Show Series. Offering everything from USDF dressage to combined training and western dressage classes, the shows have become a popular circuit for grassroots equestrians in the Kansas City area. 
"This is our third year doing four shows a year," she said. "We just did our 10th show. Nine of the 10 shows I've had to close early, [by] as much as two and a half weeks. This past show, we were in 90 dressage rides. We don't run them at a profit, and we give out big ribbons." 
Although Stonecipher established the series to help her local dressage community, sponsoring it has benefitted her professionally as well, she said.
"The horses have helped me with the business," she said. "I'm in the top 10 percent of [real estate] agents in the Kansas City area; a lot of people do recognize my name from the horses and from doing things like these schooling shows."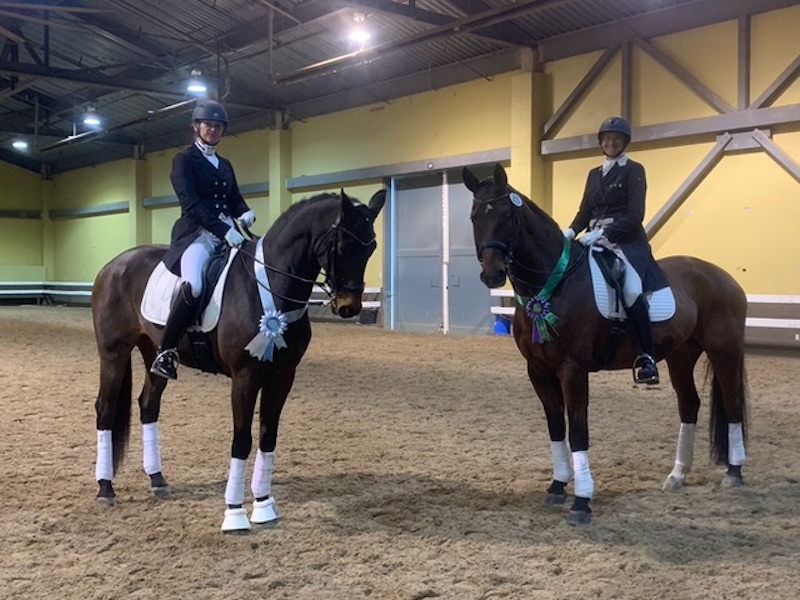 Keeping Timo at home allows her to balance riding with her busy work schedule. While that means neither she nor Timo are in full training, they haul once a week to Wally Woo Farm where they take lessons with Emily Miles. With Miles' guidance, the pair made their Grand Prix debut last year. 
In 2021, they won second in the adult amateur Grand Prix at the GAIG/USDF Region 4 Championships (Iowa), earned a 10th-place finish at the U.S. Dressage Finals (Kentucky), and Stonecipher earned her USDF gold medal. After all of that, Stonecipher wasn't sure if Timo, now 21, would make a return to the competition arena this year. 
"At regionals last year, I probably got the best comment on a test that I've ever gotten. The comment was, 'The horse performs the test with a smile on his face.' And I thought, for me, if I can take a 21-year-old horse in and be doing Grand Prix and have a judge feel like my horse is happy being out there doing it, that is something worth cherishing," she said.
Riding an older horse is a privilege Stonecipher takes very seriously. 
"Generally, when I'm on him, I'll go and do a little bit of trot in the indoor just to feel how he is feeling that day," she said. "Then we'll head out and go for a trail ride. I try to focus on keeping him mentally fit and not bored in his routine. Whether we keep showing or not is totally up to him. If we never show again, I'm absolutely fine. He's the priority, and showing an aged horse I feel a sense of responsibility to make sure that every day what I ask him to do is 100 percent fair." 
Since earning their personal best score at Cornhusker, Timo has carried Stonecipher through another debut: her first freestyle. They earned a 63.88 percent with their Grand Prix freestyle debut at the Maffitt Lake Dressage Classic I (Iowa) held June 11. 
Stonecipher is careful to prioritize her horse's needs when competing. 
"Going into Cornhusker, my mindset was just [to] go have fun. See if Timo's still having fun," she said. "He felt fabulous. He's a funny horse in that when he goes to a show, he knows why he's there. He loves to show off. I went out there and forgot all the other worries, forgot that he was 21 and forgot that I'm 62. It was a ride where I had a plan, I knew I could execute the plan, and then I actually did it."