Name: Amatey Wensel
Age: 35
Occupation: Dentist
Amatey Wensel admits she got goosebumps as she gazed at the American flag and heard the first strains of the "Star Spangled Banner" during the awards ceremony at the HDS Spring Classic CDI in Katy, Texas, late last month. Riding a musical freestyle she choreographed with the help of barn mates, on a horse she has trained herself, Wensel, 35, and her 14-year-old Hanoverian gelding Furst Klasse REF had just won their CDI debut with scores to the mid-60s.
"It did feel really special," Wensel said, adding with a laugh, "and I realized this is as close as I am going to get to the Olympics."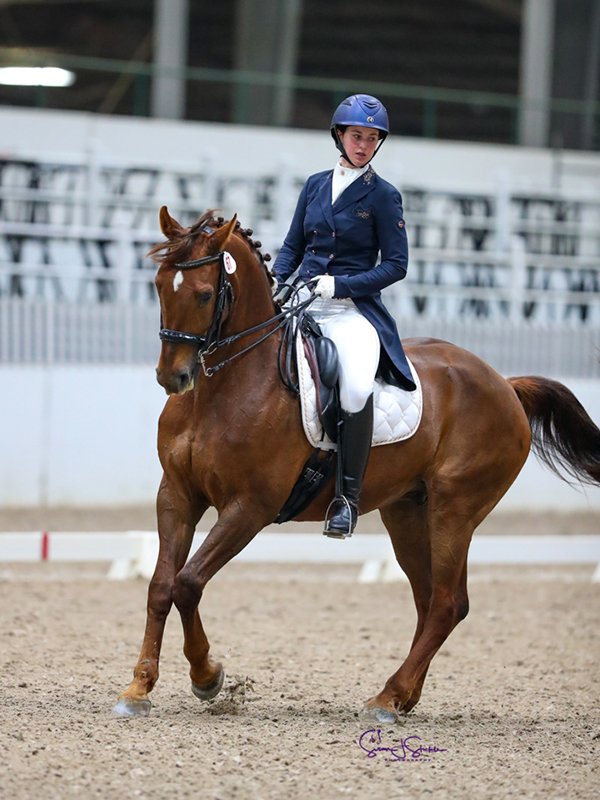 For this dentist from Lantana, Texas, dressage is both a passion and a stress relief from her busy daily routine of caring for patients and managing two dental practices she owns in the Dallas-Fort Worth area.
Wensel didn't grow up riding dressage. Her mother was a horse lover and the family kept a few horses at home, but Wensel never took formal lessons and mostly rode bareback. During college at the University of Texas in Dallas, followed by dental school at Baylor College, Wensel took a 10-year break from riding. It wasn't until after her graduation and a move to Lufkin, a small town in far east Texas, that she was able to return to the saddle.
"The first thing I wanted wasn't a fancy car or anything like that," she said. "I wanted to get back to horses. I wanted to at least smell a horse again."
She started taking lessons at RKE Equestrian Center in Lufkin; it was a choice of convenience that proved serendipitous.
"That was the only place in the area. It was close to my apartment, and dressage was what they did," Wensel said. "If I'd ended up at a jumping barn, I probably would have done jumping. But within a year or two, I loved the dressage. I've tried a little jumping, and a little trail riding, and I enjoy it, but dressage is where my passion is.
"I really like purposeful riding. To go with a plan, work through the homework from my last lesson, study videos of my riding and execute on those. I like the idea of having small goals and working through those and achieving each little level—that's what makes it kind of fun for me."
Wensel went from regular lessons to a half-lease before purchasing her first horse, a Friesian-cross mare named Syn, who gave her experience through first level.
"It was when I was half-leasing a horse that I realized I'd been fully bitten by the horse bug again," Wensel said. "When you get stressed out, or so exhausted and burned out from working long hours, it's not just a hobby, it's an escape."
Although Wensel's dressage pastime came to her "by accident," her profession, the field of dentistry, appealed to her from a young age.
"I was the weird person who really liked going to the dentist," Wensel said. "It fits me, and it fits my personality. I like the idea of being able to get people out of pain and helping them with my hands."
"There is a really intense level of attention to detail," Wensel continued. "When you are preparing a tooth, a quarter of a millimeter makes a huge difference. It is the attention to the tiny little details that matter. That drew me to dentistry, but I feel there is a lot of parallel to me wanting to choose dressage."
Today, she sees patients at least four days a week, handling everything from extractions and root canals to routine checkups. Between patients, she coordinates with her office managers and five other dentists who work in her practices, Robstown Dental and Orthodontics in Robstown, Texas, and Saddlebrook Dental and Orthodontics in Gainesville, Texas. By 4 or 5 p.m., she's out of the office and making the 45-minute drive to Rock Gate Equestrian Center in Bartonville, where Furst Klasse REF (Florestan I—EM Dorucza), better known as "Clyde," now lives.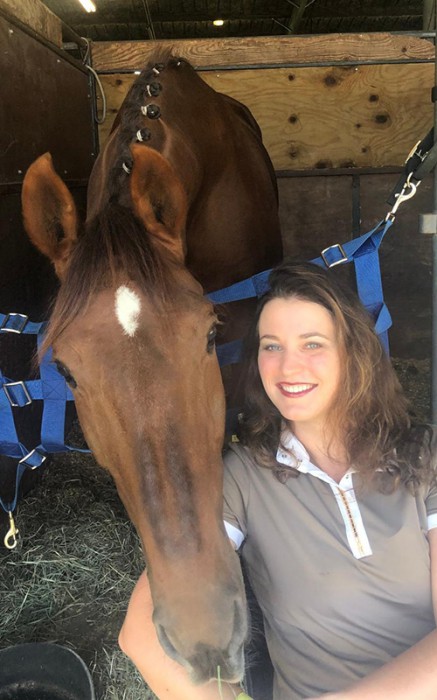 Clyde came into Wensel's life about four years ago, when she decided to look for a "step-up" horse to take her beyond the introductory levels of dressage. He was schooling second and third level but had no recognized show record. She began competing him in 2018 at first level, and the pair has progressed steadily since then.
"I was lucky to find him," she said. "He is a really pretty horse, very athletic and agile. At the beginning, I couldn't do a whole lot with him. I didn't really know how to ride off my seat or anything. We have just come such a far way."
Initially, Clyde could be nervous and tense. He never behaved badly, but the lack of relaxation affected his development, especially at shows, where he would spin anxiously in his stall if Wensel wasn't with him. Wensel credits her coaches, Frederick Magazzeni, who has helped with developing Wensel's seat, position and the timing of her aids, and Carsten Meyer, an eventing and dressage coach who knows just when to push horse and rider out of their comfort zone, for helping her to improve Clyde's confidence and work ethic.
Eight months ago, after a solid season at Prix St. Georges and Intermediare I, Meyer planted the seed that Wensel and Clyde should aim for the CDI in Katy.
"I had no idea what that was," Wensel said. "I went to research it and read everything I could online. Honestly, a lot of the battle was learning how to get your passport and microchip. Thank goodness I had eight months to get all that in order."
Throughout fall and winter, riding under the lights of the covered arena, Wensel focused on developing her Intermediare freestyle. After listening to countless songs online, she settled on instrumental variations of music by Billie Eilish, Kanye West and The Weeknd, editing the pieces together herself.
"It took a few rough drafts," she said with a laugh. "Everyone at my barn is so supportive. They watched me time and again, redoing the choreography, pushing play on the speaker for me and recording on the cell phone."
Though Wensel felt she and Clyde were well-prepared for their international debut, she still found herself a little intimidated by the many rules and regulations required by the FEI.
"Everyone had told me they're so strict, and there are more rules than a regular show," Wensel said. "You pull up, and they immediately take the horse's temperature, there are only certain times when you can school and only in certain rings, and you can't take your horse out of his stall without the permission of the stewards. That made me realize we were entering new territory."
But upon entering the CDI stabling area with Clyde, Wensel also recognized just how far they have come in their partnership. Her once nervous and insecure mount was confident and relaxed, despite the strict show environment.
"He immediately rolled and got shavings all over," she said. "He chilled out. He liked the rope barrier where he could stick his head out, and he just watched everything. I think he's kind of realized, 'I have to save myself for the whole weekend.' By Sunday, we were both really exhausted, but he still tried for me, and I definitely appreciated that. He's an honest horse, and he'll put the effort in."
With an international win on her resume, Wensel is looking forward to doing her homework in pursuit of her ultimate goal—moving up to Intermediare II and, hopefully, Grand Prix.
"But we cannot do that until we figure out the passage and one tempis," she said. "Those are the big things on our dream board right now. We probably won't show until fall, and just work on those things."
"My husband, Mike Goodwin, is super supportive," Wensel added. "He understands when I say I will be home from the barn 'in an hour,' I mean three hours. Those late nights during the week, he never guilts me or complains, because he appreciates that passion. Meanwhile, Carsten makes me appreciate the journey, because you can get stuck in the details and so obsessed about the next goal. Sometimes, you have to stop and reflect, and enjoy where you've come from."