Kate Baldino is one of those people who believes passionately in finding your joy—in life, in the saddle, and in her case, over thousands of miles of open terrain, hills and woods.
Baldino, 20, is a competitive endurance rider who has logged over 2,200 miles in the saddle since she began in the discipline at the age of 12 and went on to represent the United States in the 2015 and 2017 World Endurance Championships. These days she's also added full-time student, part-time barn help and part-time student of dressage to her plate. She takes it all in stride with a sense of calm and a chipper attitude.
"I'm lucky that I wake up happy, and I know not everyone is that lucky. That's not a negative character trait, it's just where you sit on a spectrum. It's easy for me to be happy," Baldino said. "My mom laughs because people ask her how long it takes me to do a race, and she says it takes one day to do a race, and they say, 'Your girl's got some grit.' I like to think that I do. I enjoy things like that—things that some people would look at and think of it as an insurmountable challenge, I look at and think, 'That sounds like fun.' "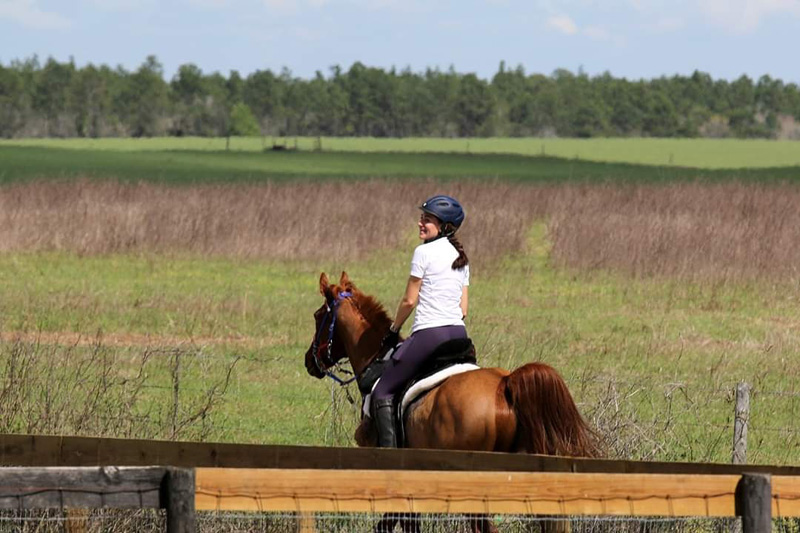 It's a good thing she does, too; balancing any equestrian sport with a full-time job or school is a challenge, but endurance is especially unrelenting in its fitness requirements for horses and humans. Baldino is an undergraduate student at the University of Georgia studying biology with a horticulture minor, and she has an eye toward graduate school and a career in the agricultural extension service.
Besides a full course load and training, she also feeds horses at a nearby boarding barn a few nights a week. Endurance is as much about human fitness as it is about equine fitness, so Baldino swims three to four days a week, lifts weights twice a week and rides four to five days a week, schooling on friends' horses and hacking out whenever possible. Weekends are periodically taken up with races—75 miles each, all ridden in one day.
Sometimes, like at the Fun in the Sun Endurance Festival, held the first week of March in Williston, Florida, she does two races in back-to-back days aboard different horses. Her schedule makes every day a full one, but they're busy with things she loves.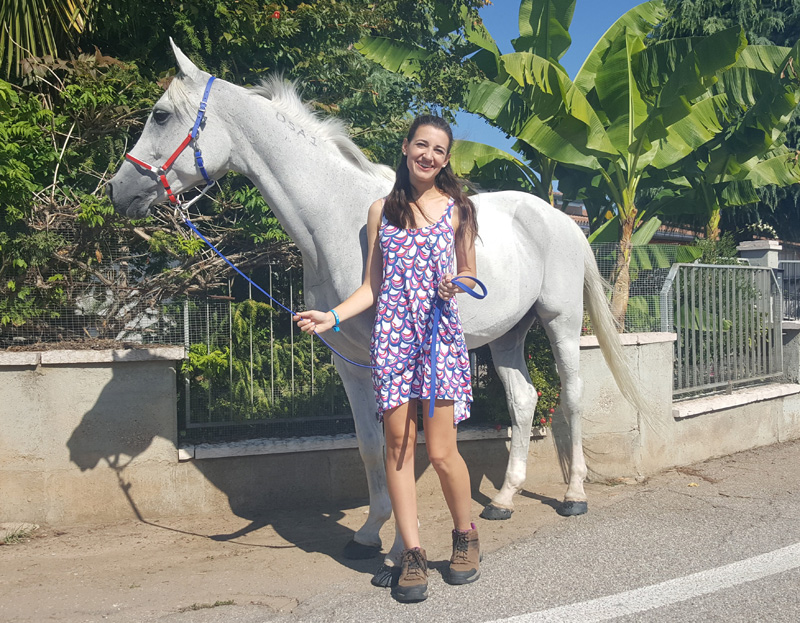 "I don't know what I would do with myself if I wasn't always running to do something," she joked.
Baldino rides for owners Melody and Jeff Blittersdorf and says her deal with the couple is that she shows up fit to ride on race day, and they get the horses fit. The arrangement has allowed her to build on a successful junior career even at a time when she doesn't have her own horse.
Baldino started taking hunter/jumper lessons as a child after her mother ascertained she was afraid of horses and wanted her to overcome her fears. (It worked, Baldino says, perhaps a little too well.) At the age of 9, she went with a family friend to watch an endurance race, and she was transfixed; the idea of spending all day on the trails and in the woods with your horse appealed to her, and the frequent veterinary checks (positioned every 15 to 20 miles) emphasized to her the importance of welfare and conditioning.
"I went home and said, 'Mom, I've got to try this!' and she looked at me and said, 'You're 9 years old. I think you can wait,' " Baldino recalled.
She didn't wait long. At 12, she entered her first race, a 25 miler, and at 14 she had accumulated enough miles to waive the adult sponsor required to ride with competitors under the age of 16. She worked up to 50-, then 75-mile races. In 2013, 2014 and 2015 she represented her region at the Adequan FEI North America Junior and Young Rider Championships, finishing fifth in 2015. The same year, at 17, she represented the United States with Kalilas Legacy at the World Endurance Championships in Chile. She was back at Worlds in 2017 with Synthetic +/ and has qualified Traction for the 2019 Worlds, though it remains to be seen if she'll be chosen to compete. As with eventing, however, just completing the race successfully is a badge of honor for endurance.
"The past two years, I've been focused getting to know Mel's younger horses well and growing with them, so our goals have been less focused on placing and more so on improving on past competitions," she said. "Even completing the 75 miles is considered an accomplishment. Knowing a horse's 'normal' is really important when we are asking so much of them on competition day."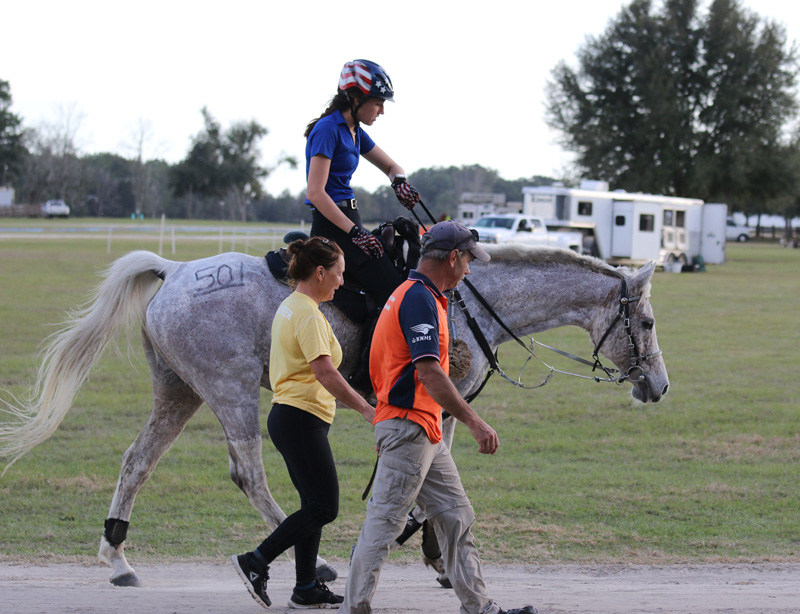 After 2017 Worlds, Baldino took the somewhat unusual step of cross-training in dressage. She had fallen a few times and lost some of her confidence and her balance.
"I got to the point that my balance was getting better, and I got to be a more competent dressage rider, and then I really fell in love with the sport," she said. "I'm never going to pursue it competitively I don't think, but I love that it focuses on building a holistically strong horse. I love that you can take a minute and really focus on the beauty you're creating with the horse. It builds a horse that's strong in a different way than endurance does."
Finding the beauty in the moment is a big part of what keeps Baldino's outlook sunny. She has found endurance to be a welcoming sport full of camaraderie. She often pairs up with a competitor at the start of a race if they have similar pacing goals, and in the last few miles, they will make decisions together about whether to race to the finish or cross the line simultaneously. The goal, she said, is more about finishing with a healthy, sound horse than the placing.
Most often though, she finds herself alone with her horse—and she likes that.
"Sometimes you're with other people, but sometimes you're just alone in the woods," she said. "That's why I love this sport so much because it's just you and your horse and the beauty of where you are, and you get to see it in a different way than you would if you were visiting on foot or popping in as a tourist. When we were in Italy, I remember the race course went under this bridge that I think was built in 700 AD, and I was cantering under it every time I went to the vet check area. Things like that I'll remember for the rest of my life."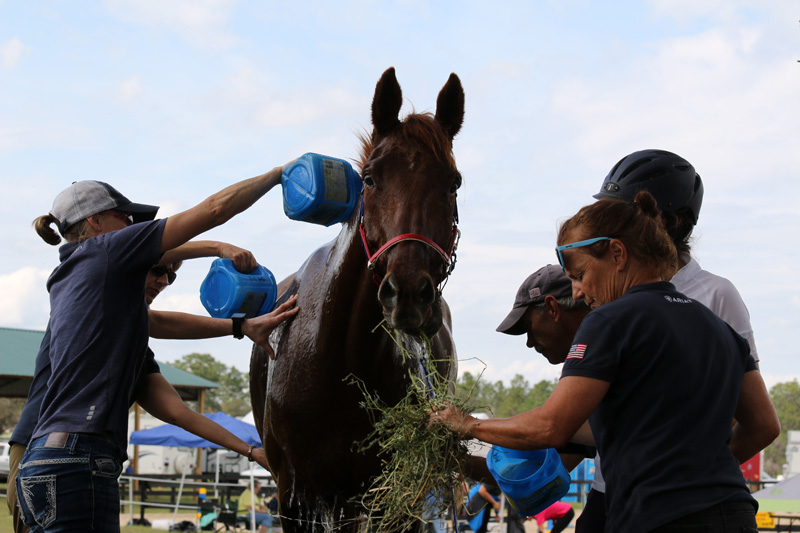 She imagines though, that this is likely the part of the sport that made her parents the most nervous when they sent their 12-year-old off into the woods, hoping she would pop up in a few hours—and for their bravery, Baldino says she'll always be grateful.
"They probably weren't comfortable with it, but they love me, and they wanted me to do the whole 'chase your dreams' thing," she said.
Since she turns 21 in April, this will be the last calendar year Baldino can compete as a young rider, and with graduate school on the horizon, she realizes she may soon have to shelve her endurance career for a few years before launching her career seriously in the senior division. For now, she's focusing on keeping herself and Traction moving towards a possible trip to Worlds. At 9, Traction (Syndicat—Trojkaa, Moment) is on the younger side for an endurance horse and is a curious, affectionate soul. He's not without a competitive spirit, often hearing other horses on the trail before Baldino can and pulling to catch up.
If endurance has taught her anything though, it's to focus on the long game. She knows she'll be back one day, and her lessons from her junior career will be there to carry her through.