Every few years, trainer Nerice Gulino has a student who goes beyond expectations, working harder than anyone.
At Gulino's Foxwoode Hunt Club in Holly, Michigan, Clara Kissling has been that student lately. She takes on the less fancy horses, focuses on experiences rather than ribbons at horse shows, grooms and helps around the barn, and is a mentor to other Foxwoode students.
As a result, the Michigan Hunter Jumper Association awarded the 21-year-old its 2021 Sportsmanship Award. 
"It's not about ribbons to her," Gulino said. "We want to see her successful, but her version of success is different than the rest of us, and I think that's kind of missing in our sport sometimes. For her to demonstrate that to the kids around her and the other adults is really contagious. It's nice to have."
Kissling, West Bloomfield, Michigan, has dabbled in low-level hunters, jumpers and 3' equitation on a variety of horses. Now a senior at Grand Valley State University (Michigan) studying to work as a physician's assistant and holding down two hospital jobs, Kissling rides on her Intercollegiate Horse Shows Association team and heads back to Foxwoode whenever she can.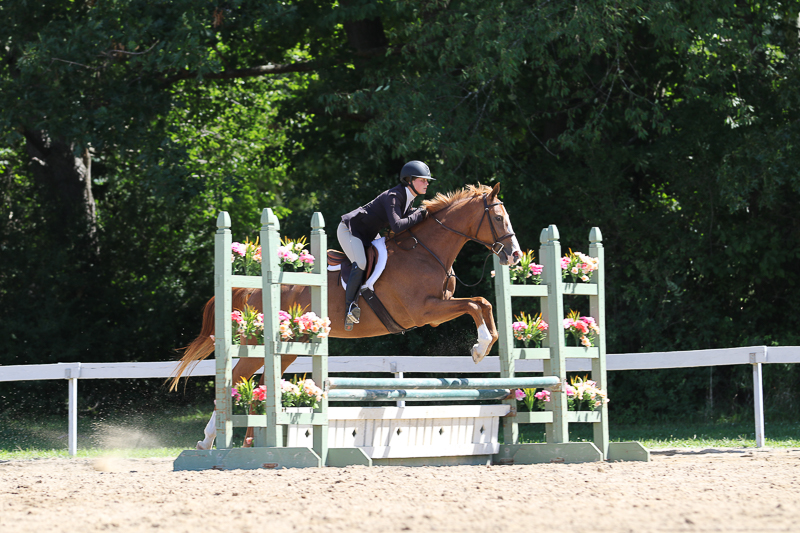 She said Gulino allows riders to create their own opportunities. 
"If you don't want to take the opportunity, that's OK, but if you show interest in it to her, she'll give you more opportunities," Kissling said. "That's what I've done over the past couple of years. I've shown more interest, so she gives me more opportunities to do the stuff that I can. As a college student, I can't pay for everything, but she's made riding very accessible to me, either from working at the barn or just helping ride whoever needs to get ridden at the barn."
Gulino has enjoyed watching Kissling's confidence grow. 
"I'm a very traditional trainer, so hair is still in the helmet, tucked in shirt," Gulino said. "She was a very timid kid who was terrified of the big, scary lady who had all the rules. But she was just one of those kids that liked to be pushed. She didn't demonstrate a lot of confidence, but she was always very good and hardworking. Now seeing her as a young adult and working with children and working in the hospital off the horse, working with young horses, working with customers and the show staff, she just exudes confidence, and it was such a 180 for me. I was so happy to get to see that transformation."
Over the summer, she rode a client's young mare, Special Endeavor, at some local shows to give her experience.
"It's such a pleasure to watch her get on something that is educated, and she complements it so well," Gulino added. "She's earned the right to do what she does, and I keep trying to nurture that with her." 
Kissling enjoys the challenge of different horses and the bond she forms with them. She said her experience at Foxwoode has helped her in IHSA, where she enjoys cheering on her teammates.
"Everybody gets really wrapped up in trying to place and do well, but when anybody goes to the ring, I tell them, 'Go have fun, and go make the most of it.' Everybody tries to dwell on if they got first or second, and I ask, 'Oh, did you have fun? Did you learn from that horse?' " she said. "I've learned to not dwell on the negative things because everybody tends to dwell on negative things. If you try to pay attention to the positive things, then that gives you a better outlook and then everybody else will think that way as well."
As she looks towards graduate school, Kissling hopes she'll soon be able to have her own horse. In the meantime, she believes her time at Foxwoode has made her a more confident person, able to converse with people she might find intimidating.
"Everybody respects Nerice very highly, so that was very intimidating to me as I was younger, but as I grew older I started to understand those relationships," she said. "It was really beneficial to me, because I know how to approach my manager and my bosses now in a hospital setting, or professors or anybody who's very highly respected. I can still be with them with that respect but also on a very personal level where I'm not intimidated by them anymore."
---
This story ran in the February 2022 issue of The Chronicle of the Horse. Subscribers may choose online access to a digital version or a print subscription or both, and they will also receive our lifestyle publication, Untacked. 
If you're just following COTH online, you're missing so much great unique content. Each print issue of the Chronicle is full of in-depth competition news, fascinating features, probing looks at issues within the sports of hunter/jumper, eventing and dressage, and stunning photography.