Not many amateurs can say they won the first Fédération Equestre Internationale event they entered. But Lisa Chan can.
She and her 8-year-old Irish Sport Horse gelding, Fernhill Picture This (Ard VDL Douglas—Cavacruise, Cruising), recently topped the VHT International CCI1*-L, held May 26-29 at the Virginia Horse Center.
Chan, 39, a hair stylist in Southern Pines, North Carolina, purchased "Dougie" a year and a half ago from her trainer Daryl Kinney, who imported him.
"He had done a few classes when I purchased him. We did one beginner novice, then moved through levels together," she said. "We just did our first modified and preliminary this year, and the goal was the one-star. We're both very green, and we're just looking to have like three good phases—you know, just finish and have a good time."
Chan splits her saddle time between Dougie and Euclades, a dressage horse owned by Cynthia Paules with whom she moved up to the FEI level last autumn and currently competes at Intermediaire I.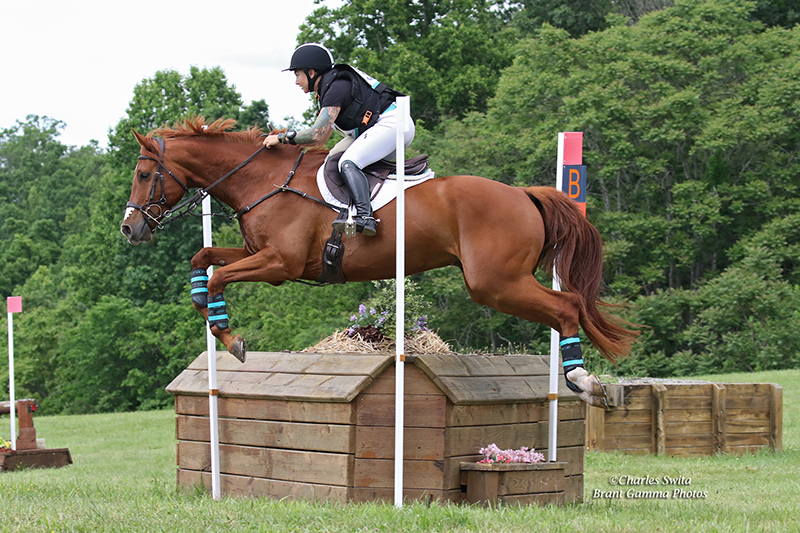 Although she's been a rider since childhood, it was joining the U.S. Army that, indirectly, set the stage for Chan's current success as someone working and riding in one of the country's hubs of English horse sports.
Joining Up
Chan started riding at a hunter barn at age 8 while growing up in Williamsburg, Virginia. She stuck with it until she joined the U.S. Army in June 2001.
"I did ponies all the way till I graduated high school," she said, "And then I joined the Army. I had a couple of friends in high school that were joining, and it just sounded like a really good option."
Chan joined the Army just months before 9/11, and served for a little more than four years, stationed at Ft. Bragg, North Carolina. While she was trained as an intelligence analyst, she ended up focusing mostly on repairing important tactical gear, like communication equipment and night-vision goggles, as the nation geared up to fight two wars.
"My unit basically got all of the night-vision goggles for the whole 82nd Airborne Division, and we had to make sure they were in working order," she said. "We had some other equipment too—it was kind of like an assembly line."
Chan didn't realize it at the time, but her years at Ft. Bragg—located on the edge of Moore County, North Carolina, with its vibrant equestrian community—were setting her up for a very different kind of life after active duty.
Making The Cut
During those years, Chan started working on the side as a hair stylist and make-up artist, introduced to the profession by a friend who was a stylist.
"I've always kind of been the friend who's doing everyone's hair or make-up for prom, it's always been an interest of mine," Chan said. "I was just trying to supplement my income, and somebody just looked at me and was like, 'You know, you should probably just do this for a living' and so I did. I got my license after I left the Army in late 2005."
Chan started doing hair and makeup for local photoshoots, and that lead to editorial work.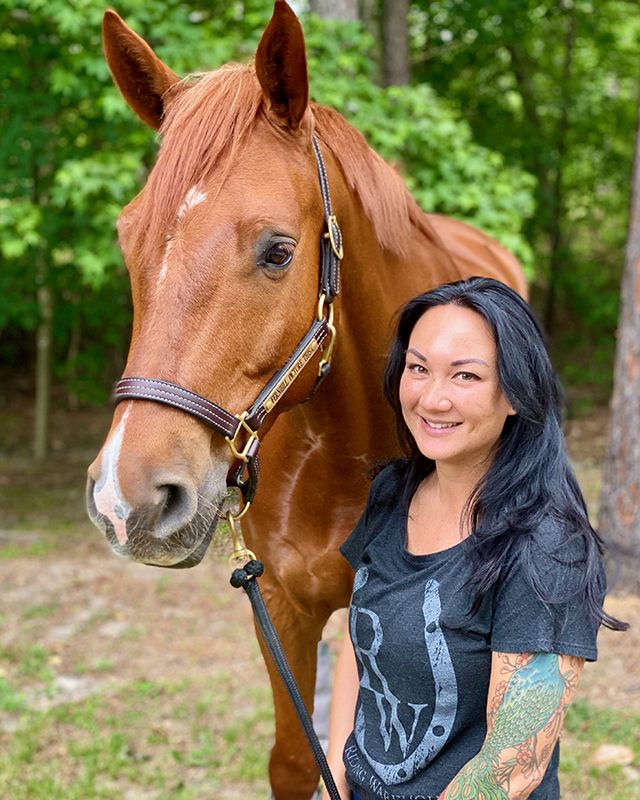 "After leaving active duty, I'd go out to Los Angeles, Miami or New York and do makeup for magazines, and then a little bit in the fashion industry," she said. "I was doing lots of smoky eyes and like glossy lips. If you want that Pam Anderson-type makeup, I'm your girl."
These days she works closer to home, from a studio near Southern Pines that she shares with another stylist.
"For a while I felt societal expectation to do something else, but I really, really enjoy my job," she said. "I traveled a lot for the editorials before, but now I actually enjoy having my regular clients and seeing them. I like developing those relationships and being able to ask, 'How's your kid? How's your horse? Probably about 50% of my clients are horsey."
Back In The Saddle
Chan gradually got back into riding around 2009, while living in the Raleigh-Fayetteville area, sporadically riding horses for friends and taking lessons whenever possible.
"I also started retraining off-the-track Thoroughbreds," she said. "Just going and grabbing and kind of reselling, like within three months. That was super fun because I couldn't really afford to go horse show. Then finally around 2013-2014, I was financially stable enough to have a personal horse, and then started eventing and showing again in 2018."
She eventually moved to nearby Southern Pines, North Carolina, and found herself surrounded by horses and riding again—but not the show hunters she grew up with.
"When I moved into the Southern Pines area, and I was kind of in a position to have a personal show horse, I was making more money. And honestly, there wasn't any hunter stuff around here," she recalled. "My friend suggested I try eventing, and I haven't looked back."
Chan pointed out that there's quite a bit of overlap between being a hair stylist and being a good horsewoman, like knowing the quirks unique to a client or horse's personality, desires and abilities.
"My personal thing is self-care for my horses," she said. "I like to know the horses, and I like to know my clients the same way I like to know my horses. My dressage horse hates the heat, so I'm not going to show him the summer; I know that about him. And my hair clients, if I know that they're really low maintenance, I'm not going to give them a haircut and hair color that's going to require lots of maintenance and appointments every four weeks."
As for Dougie, Chan described him as "super goofy, super loveable," with an "in-your-pocket" personality. He also has an epic sweet tooth, and a taste for human goodies—although he had to take a break from those for his first FEI competition, lest some odd ingredient ran afoul of FEI medication rules.
"He'll eat anything," she said. "I have a whole thing on Instagram of him eating Italian ice and Twizzlers and oatmeal cream pies."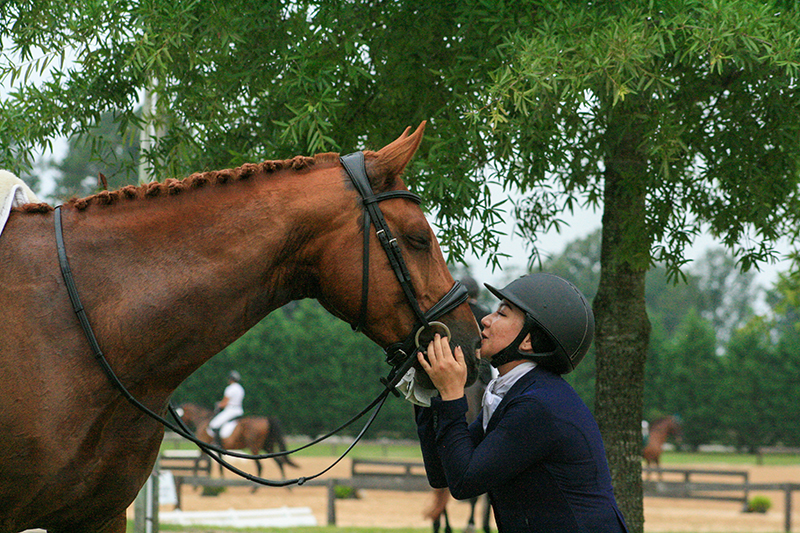 Chan now boards her horses 10 minutes from her home and within hacking distance of Kinney's barn so she can ride over for lessons in the early mornings before work. After riding, she typically works from late morning to early evening in the nearby studio space she shares with another stylist.
"Every Sunday I have to plan my schedule," she said. "Like, what days do I have time for both of them, what time is my first client, things like that. I'm super schedule-oriented."
Chan will spend the hot summer months close to home and will focus on training, giving Dougie a break from competition. She plans to start back in September at the Tryon Fall Horse Trials (North Carolina) and hopes to qualify for a CCI2*-L eventually.
"That's a little ways off, but I'm working towards that," she said. "I haven't been eventing very long, and Dougie is still green. I'm big on going slow and steady."