For many adult amateurs who event, the sense of accomplishment goes well beyond the final score or ribbon color. For Lea Brayton, crossing the finish line in the open beginner novice division at this year's Spokane Sport Horse Trials (Washington) in October was as monumental as winning a four-star event.
"It was just such a great feeling to realize this was totally within the scope of what she and I could do," said Brayton, who had struggled with eliminations all seasons along with her green mare. "I tried not to think as much about the pressure of competing, and I think that made a huge difference in the way we approached it.
"It certainly came with a lot of difficulty."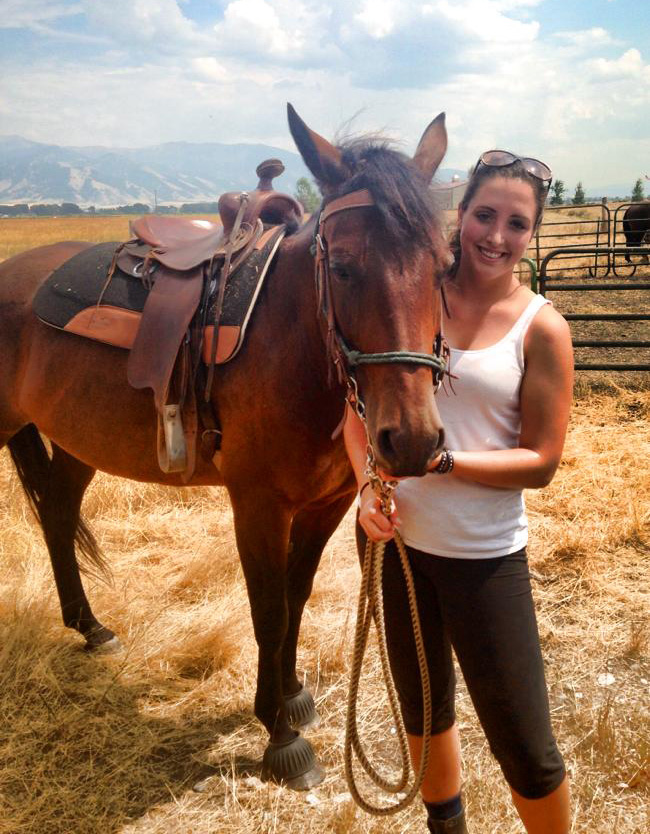 It was a long road for Brayton and Traveler's Bay, known as "Baya." Brayton and Baya met about six years ago when Baya was 6 years old and unbroke. Brayton saw a sale ad for the Morgan-draft cross and had the sense the owner may have taken the horse to get her out of a bad situation but wasn't prepared to do much handling of the horse herself. Brayton put down $250 for her.
"I bought her feeling like, 'This isn't the horse I want, but I'm going to do this because this is what my heart is telling me to do. It's the best thing for the horse,' " she said.
Baya was not easy to start. She hadn't been handled consistently, and had recently been separated from the herd she'd lived with for several years. Brayton had to corral her while riding a four-wheeler for some time before she was halter-broke and catchable. It took even longer to get her going safely under saddle. The problem was gaining Baya's trust. Once Brayton had that, the pair found peace in long hacks near Bozeman, Montana—through foothills, over the trails in Hyalite Reservoir, through neighborhoods and towns, even through a country club.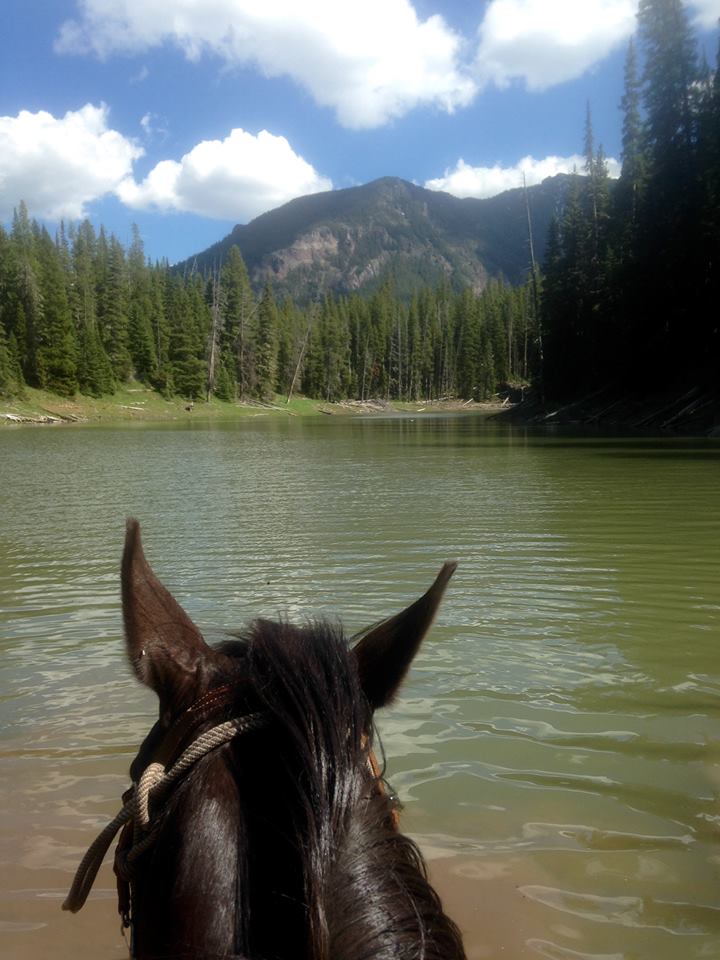 "She became probably the most trustworthy horse I've ever been on," said Brayton. "She has this way of reading what I want before I even ask her for it on the trails. I just sort of have to breathe out, and she'll know. She has been the joy of my life. I've had horses before her, and I've loved them, but she is just something completely unique. She's unlike any horse I've ever been on."
When Brayton moved to Oregon for work and school, she brought Baya with her. Brayton had evented when she was younger and began considering whether Baya would be a good prospect. They tried jumping in the arena, and while Baya would lock onto a fence, her fearless nature sent her through it, not over it. Brayton backed off, examined Baya's background and realized she had been riding on the trail with little to no contact.
"I had gotten so used to her picking up on the innate sense of what I wanted that I forgot to really ask her for things," she said. "I had to step back and think about how I was approaching jumping."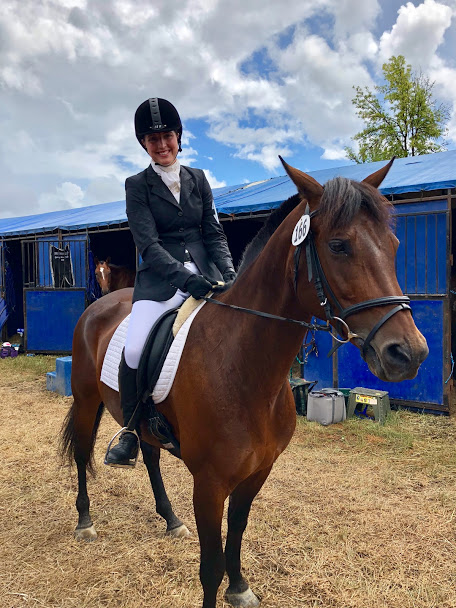 A small, careful cross-country school helped Baya and Brayton change their communication, and a lightbulb came on for Baya; she cleared everything with room to spare.
Besides their training difficulties, Brayton and Baya encountered the Murphy's Law so many horse people know: If you're entered in a show, the horse will find a way to break herself.
"I was entered in Rebecca Farm [Montana], and I had to withdraw, which was heartbreaking because that was the one event I'd always wanted to go to," she said. "She had this very strange allergic reaction that lasted for like three weeks. She was covered in like fluid-filled hives all over her body and ended up having some residual swelling in her leg."
A week before Spokane Sport Horse, Baya tripped over herself in a jump school and cut the inside of her chestnut with her opposite shoe, requiring a trip to the clinic to put in staples. But the cut healed much faster than the veterinarians expected, and they were still able to make it to the event.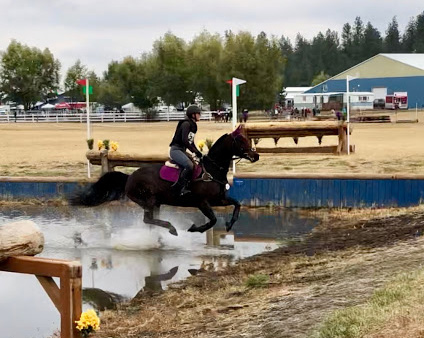 "Even though it was difficult and trying and challenging in every way, we got here, and now I'm sitting here thinking about next season and all the pipe dream goals I might have," said Brayton, who says she feels invigorated after the pair completed their first event.
Stepping away from the sport for a few years and then coming back gave Brayton a different perspective on how things have changed—either with time or with her various moves through different regions. From where she sits, splitting her time between her day job as programs director for the non-profit Oregon Horse Rescue and working around the barn to afford her renewed horse show habit, eventing has gotten expensive—really expensive.
"It can be difficult to feel like I'm on the same level as the riders around me," she said. "When I get up at 5 a.m. to feed the barn horses in exchange for board, and pound posts and build fences in exchange for lessons, I sometimes wish I had what they had. I came from having horses in my backyard in Montana, riding in whatever clothes I rolled out of bed in, to showing up at events where almost everyone is wearing $200 pairs of FITS. It's a rough transition."
Brayton says she worries the cost factor, and the culture that sometimes comes with it, may keep other amateurs riding out of backyards and in hand-me-down tack away from events. The stakes are especially high for amateurs hauling distances to school and show for three different phases and worrying, as Brayton has this season, that after all of it she may be eliminated and not get another chance until the next show.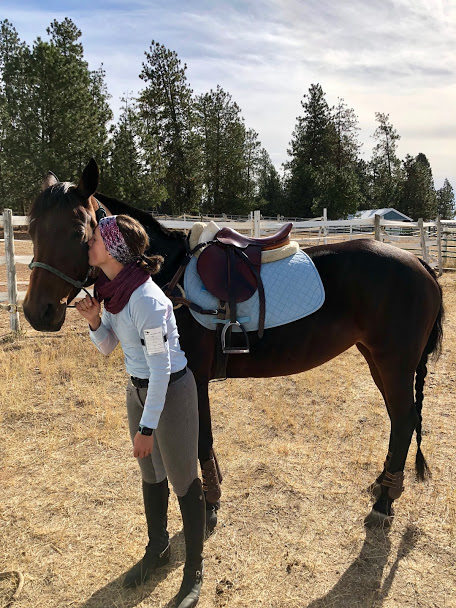 Brayton believes the high financial and emotional costs of eventing can ultimately be problematic not just for her, but for the sport at large.
"Industry-wide, I think that's something we need to be thinking about, because otherwise the sport could become only for the elite or only for the rich," she said. "I think that's such a huge loss, because there's so much to gain from having this kind of relationship and emotional connection with an animal, especially in a sport that's dependent on the way you relate to your horse."
Do you know a hard-working amateur who should be spotlighted? Email Lindsay at lberreth@coth.com with your idea!