Name: Sam Goione
Age: 23
Occupation: Student
Growing up, Sam Goione struggled with confidence issues both in life and with horses. It took many years riding many horses for Goione to finally find "the one."
While browsing the internet, Goione came across the U.S. Bureau of Land Management online auction. She'd worked with mustangs before at a rescue, so she felt prepared to take on one of her own. With the click of a mouse and $125 later, Arrow was hers.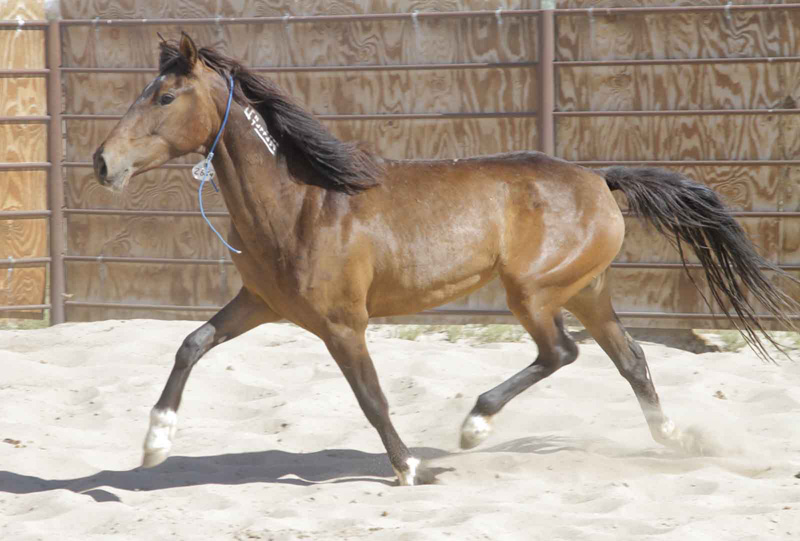 Who Saved Who?

Goione started riding in Colts Neck, New Jersey, before her family moved to Castle Rock, Colorado, when she was 14. The transition to high school can be difficult under normal circumstances, and it was even harder for Goione in her new town.
"I walked into a brand new high school not knowing a single person, which led to a lot of anxiety and depression issues—just a lot of overall general unhappiness," she said. "With all that going on, the barn was my happy place and my safe place where I went to get away from it all."
But ever since her first fall at age 11, Goione struggled with her riding confidence, doubting herself and her abilities. She owned a few horses, but nothing ever felt right to her.
She showed in hunters and jumpers throughout her adolescence and by June 2017, she wanted to buy her next partner.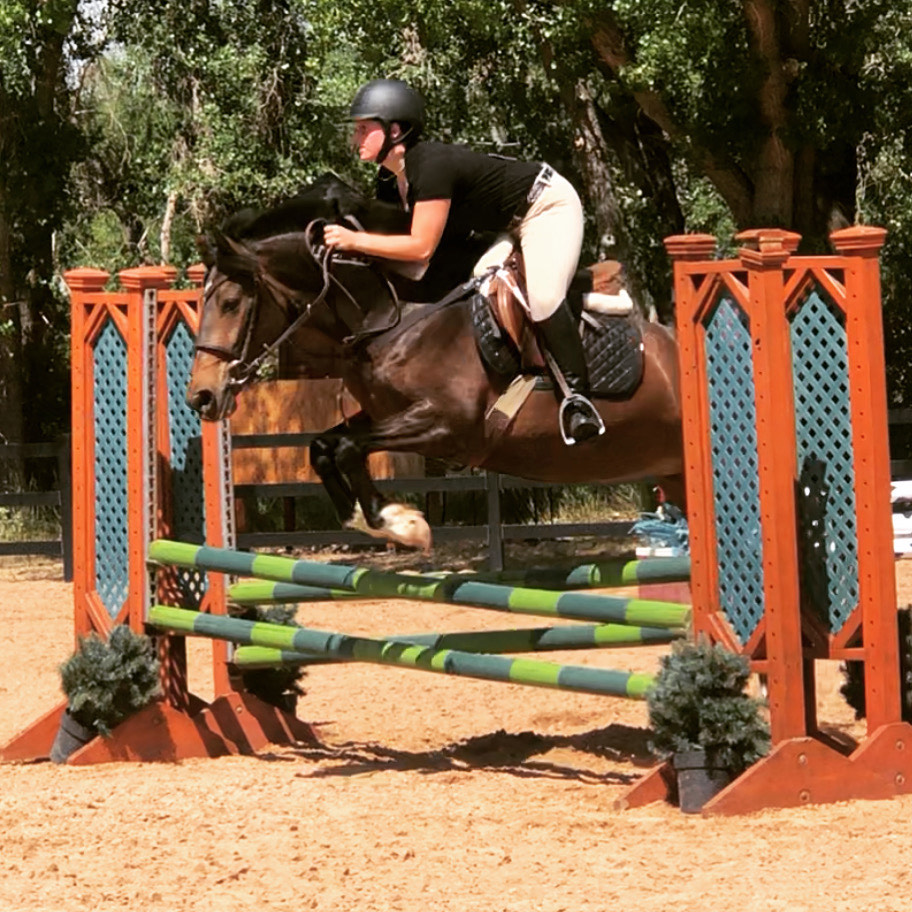 "Arrow was a sale authority mustang, which means she'd been passed over so many times in the adoptions that she was for outright sale," Goione said. "She was also considered to be unadoptable due to her being a small bay mare. She was on her last chance auction when I purchased her; it's unknown exactly what would have happened had I not purchased her, but I can't imagine it would have been what she wanted. I strongly encourage people to never be afraid to adopt the so-called plain horse. My boring-colored, small mare is the best thing that's ever happened to me.
"I had quite a few trainers tell me, 'Don't waste your time. Don't waste your money. Those horses can't jump,' " she added. But Goione had no expectations for Arrow. She just started slow and steady, and soon Goione's confidence issues started to melt away.
"It wasn't until I got this horse who I did all the training on and knew I could trust 100 percent that I was like, 'OK, I can do these things,' " Goione said.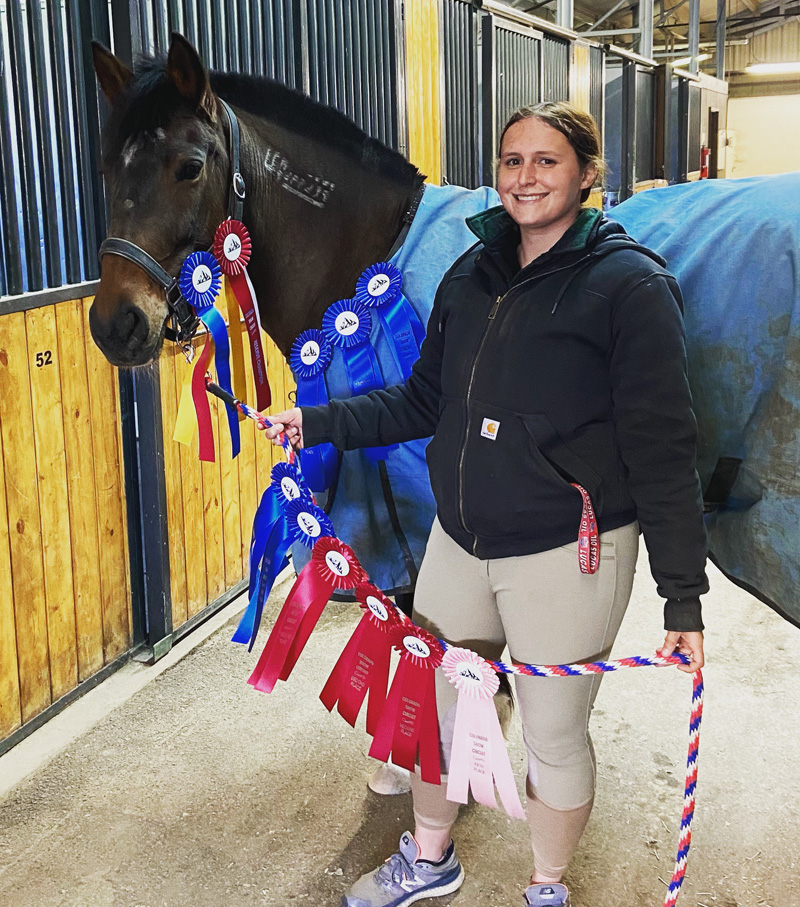 The Kick That Nearly Killed Her

A 3-year-old wild mustang is an ambitious project, and Arrow was suspicious of Goione in the beginning.
"She would take hay out of my hand in the trailer, but as soon as she got out of the trailer, she would run to the opposite side of the pen and snort at me and overall do her absolute best to get away from me," said Goione. "It took a little while, but with some positive reinforcement training and a whole lot of cookies, she started coming around and following me and doing all that stuff."
Goione sent Arrow to a friend who specialized in mustangs for a few weeks to learn some groundwork. Arrow started under saddle a couple of months later.
Six months after Goione purchased her, Arrow was kicked in the face in turnout and broke her jaw.
"She had gotten turned out with the wrong horse by accident, and he kicked her in the head and almost killed her," said Goione. "He broke her jaw in two places. That put a big halt on all of our training, and she was out for about four months doing stall rest."
When Arrow was ready to come back into work, she was fearful of the bit, so Goione started her with the softest bits she could find and let her spend time playing in the arena while wearing a bridle before getting back on and taking a contact.
"When I got her I was at a weird point in my riding career where it was like, well, if she never wants to jump more than cross-rails, that's totally fine," said Goione. "Once she healed from her jaw it happened that she just loved to jump. That's her true passion and mine, so once we figured that out, it was all really good from there. She won every class at her first show."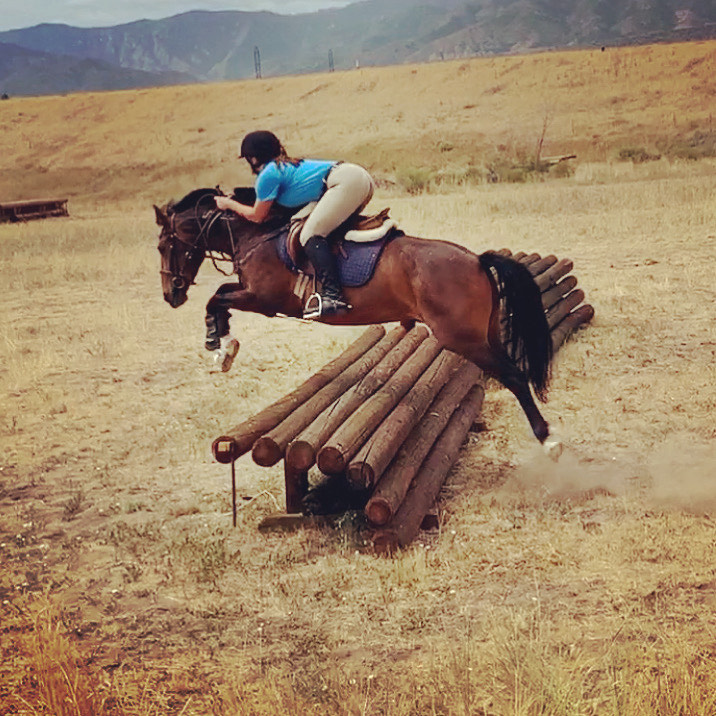 Partners For Work And Play

The pair has been competing in the 2'3"-2'9" hunters and jumpers  with help from Sky View Farm's Andrea van Meenen, who never doubted Arrow's ability despite her 14.2-hand stature and unusual breed.
"She has been a huge part of all of this in that she was willing to take Arrow on into her program even with all the stigmas and other trainers telling me no," said Goione. "I'd been told if I wanted to ride with [other trainers] they'd sell my horse and get me something that's actually a show quality horse. I just love my horse. I really thought she had some special potential, and I wanted to see that through for as far as I could."
Goione says she's never met a horse with so much heart. "I don't know if that comes from the bond we share, or if that's just who she is," she said. "She loves her job and jumping and that truly shows. She also truly loves showing. She shows up at shows and acts like it was what she was born to do. She's a true professional the whole time we're off property, doesn't get riled up by things, and doesn't care about the chaos. I truly believe that she loves competing as much as I do. This amount of heart has always been nice in that we never lose faith even during some of our challenges; she doesn't give up, which allows me to keep the faith in our journey.
Goione is graduating in May with a degree in psychology from Metropolitan State University (Colorado) and is heading to graduate school at Colorado Christian University in August to earn her master's degree in clinical mental health counseling. She's been working part time at a psychiatrist's office and has an internship with an equine-assisted therapist. Arrow also plays a role in the program.
"We pair patients with horses, and they get to work with the horse, and it helps them work through their mental health issues and trauma through just having that extra animal in their court at all times," Goione said. "The horses really help people convey their emotions and just help them learn to trust again. She's taken to that extremely well. She loves her kids."
While Goione still doesn't always feel she's fairly judged in the hunters with her mustang, the confidence she's gained since she bought Arrow is the most important thing.
"We have such a strong bond that it's one of those things that if I ask her to do something, she does it," Goione said. "That goes both ways. If she needs something, I do it for her. That's been a real big change for me from horses that used to refuse and all that other stuff. She'll jump anything. People shouldn't doubt these mustangs in our sport. I really think if someone is wanting to take a chance I'd encourage it."
Do you know an amateur with a cool story? Email Lindsay at lberreth@coth.com for a chance to be featured.