Growing up in Charlotte, N.C., and immersed in the Saddlebred world, Jody Swimmer never even contemplated dressage.
But after a self-described midlife crisis in which she changed careers and went back to school, Swimmer took up dressage, and couldn't give up the breed that was so special to her.
Now she and New York City Slicker, a Saddlebred she's brought up from the beginning, are conquering the Fédération Equestre International levels and knocking on the door to Grand Prix.
"They're hard working, and they have hearts of gold. I'm not going to the Olympics. I just like to have fun and ride correctly, and I'm able to do that on my breed," said Swimmer, who's since become an unofficial ambassador for the breed in dressage.
Swimmer's parents, Harry and Marilyn, bred Saddlebreds at their Swimmers Misty Meadows Farm, so she grew up riding saddle seat.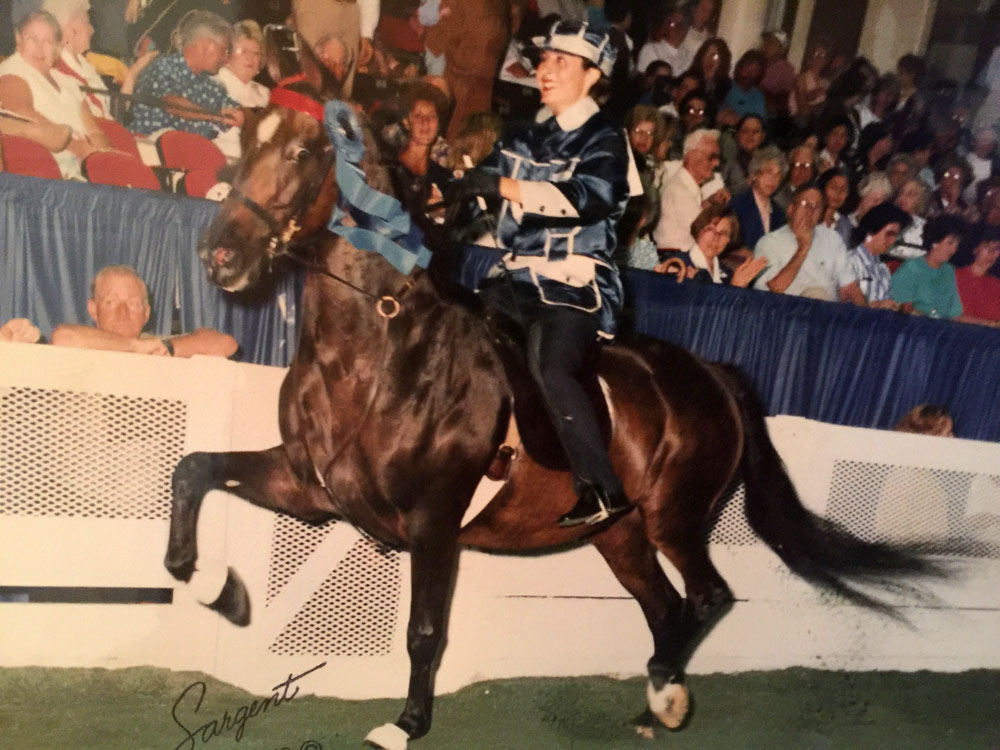 Jody Swimmer grew up riding Saddlebreds. Sargent Photo courtesy of Jody Swimmer
Jody stopped riding for about 10 years and moved to Kentucky with her husband, but after divorcing, she got back into it with a 3-year-old from her parents.
She dabbled in endurance, English and western pleasure for a few years and continued riding with her longtime trainer Fran Crumpler, who'd help her to a reserve world championship and numerous wins as a child and young adult. She continued to ride and show her parents' horses until they retired.
Jody had been working in corporate wellness after earning a masters of arts and teaching in health and physical education from the University of Louisville (Ky.), but at age 47 decided to go back to school to become a physical therapist.
She earned her doctorate in physical therapies from Bellarmine University (Ky.), and decided to start pursuing dressage.
After getting to second level on a Hanoverian/Thoroughbred cross mare largely on her own, Jody decided it was time for her next project.
"It was a very steep learning curve. After the mare didn't make it past second level, I took her back to the farm and started looking around. I thought I was going to get another warmblood but I tried some, and they scared the bejeezus out of me. Some of them just didn't want you on them, and Saddlebreds don't do that, so I started looking for a Saddlebred," she said.
She found New York City Slicker (I'm A New Yorker—Callaway's Dash Of Class), or "George," as a 2-year-old in Kentucky through old Saddlebred contacts Bill and Kris Knight when they heard she was looking for a dressage horse.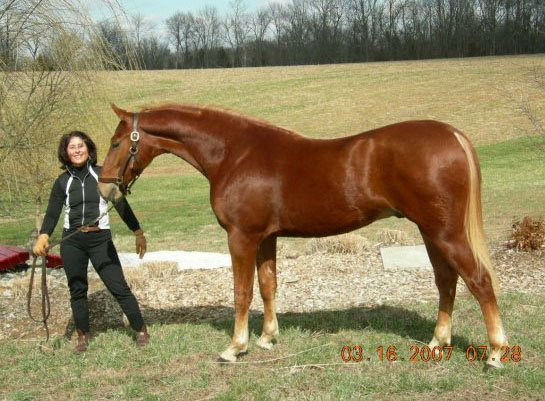 Jody Swimmer has brought New York City Slicker along from a 2-year-old. Photo courtesy of Jody Swimmer
"He looked the part! They had brought him in for 30 days and started racking him, so the week before I came they tried to ride him long and low. We pulled the tack off and watched him move, and I really liked the way he moved," she said.
Jody's trainer Krista Hoffman approved, so she bought him.
Although George doesn't have the ideal conformation for dressage, he's excelled. Jody took him a few materiale classes as a 3- and 4-year-old, and he scored well, which gave her confidence to move forward in her training.
"Conformationally he's straight behind, and he's got a flat croup. I think that's not uncommon in a Saddlebred. Any time anyone else has ever gotten on him, they say he's so easy. I'm not aware of any blatant breed prejudice with this horse because he's very willing to perform and work," she said.
They gradually climbed the levels together, and reached Prix St. Georges in 2014. "If he were to wear a sweatshirt it would say 'Whatever' on it. He's like, 'Oh, that's what you wanted me to do? Why didn't you say so?' He's really smart. He picks up on things quickly, and any delays in his training have all been from me, not him," said Jody, 57. "Once we got to fourth level, I said my goal is definitely silver with him. Anything after that is icing on the cake. He gets up for the game now when he hits the show ring. He really turns it on. Now I'm like, 'OK, I think we can do gold.'"
As they were training for Prix St. Georges, Jody got a hip replacement and found a saddle that worked for both of them. After that, nothing could hold them back. They reached Intermediaire I in April of 2016 with scores in the mid-60s.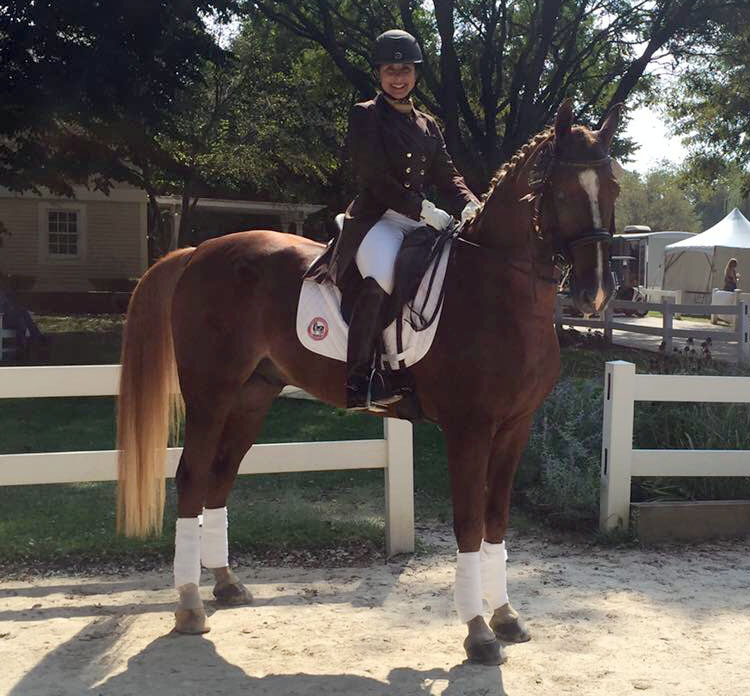 Jody Swimmer and New York City Slicker. Photo courtesy of Jody Swimmer
The pair qualified for the U.S. Dressage Finals (Ky.) this year and made their first trip a positive one, scoring a 63.02 percent in the adult amateur Intermediaire I finals.
"Ever since my hip replacement and the saddle working it's been like, alright, we'll just keep going for it. After Prix St. Georges I was like, 'Well, there's no new tricks in I1
' We did I1 and did really well. I wanted to represent his breed at Nationals, and my goal was to represent well, and I think we did a good job at that," she said.
Jody pointed to George's great work ethic, something most Saddlebreds she's ridden have. They're schooling Grand Prix movements, but Jody says they might stick to Intermediaire again this year.
"I'm kind of an idiot when it comes to one tempis! But I might try to campaign him again at I1. I'd like to get a ribbon at nationals this year," she said.
Jody balances her riding while working for an outpatient group in Kentucky. She rides early or late and doesn't ride on Fridays so she can spend time with her husband Rick Lyons.
"I've mellowed. I work for someone now. I've had my own business most of my life, so I think it's mellowed me a lot. I can leave work, and if I have to figure something out for a patient, I'll figure it out, but I don't have to worry about all the other details of running a business. It's not a perfect world—you have some patients you might be a little more challenged by—but that's life. I'm definitely sane because I have a horse. I don't think I would be manageable without a horse!" she said.
Jody says horse people seek her out, and she enjoys working with them.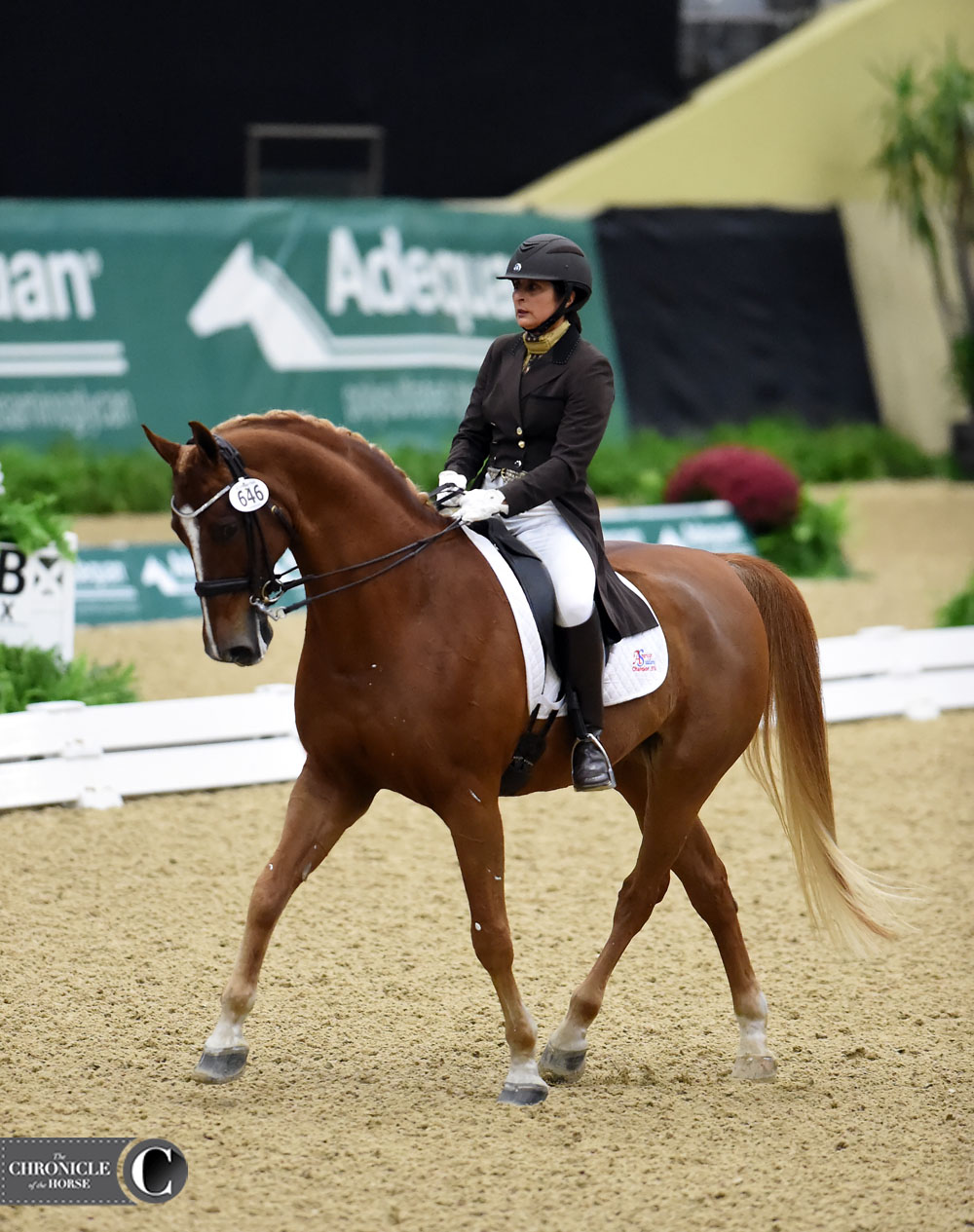 Jody Swimmer and New York City Slicker competed at their first U.S. Dressage Finals (Ky.) last fall. Photo by Lisa Slade
"It's always fun to work with equestrians because they follow instruction well, and they want to get better. They always have a goal, but some of them are more difficult," she said. "I had to kind of come down on a lady that's a little older than me who's having shoulder trouble but still cleaning six stalls a day twice a day. I had to lecture her that she needs to change her lifestyle. Sometimes it's a hard thing to come to those conclusions. I think sometimes it helps coming from someone who knows what they do. But the reality of getting older is sometimes not much fun."
Although she only has one horse and is an amateur rider, Jody's hope is to bring attention to Saddlebreds as dressage horses. She rode George in an exhibition at Breyerfest in 2016.
"Yes I would love to get my gold medal on my Saddlebred, but I'm really campaigning him to promote the breed so that other amateurs like myself that have moderate talent, moderate pocketbooks—especially when it comes to purchasing a horse—to consider the breed. There are so many beautiful horses available that will do the job, and they're so willing.
"When you have a moderate budget, you're not going to find a unicorn," she said. "They might have something conformationally wrong with them, but you can work with those issues and do really well. In my opinion, they're a safe breed. People get this idea that Saddlebreds are crazy, but I always tell people they are not crazy. What horse do you know who will have fire crackers, fire extinguishers, whips with bags and chains a flyin', and they go straight through it and don't lose their rider. They through that stuff and are trained up.
"They're hard working and they have hearts of gold. I don't have the means to rescue all of these horses going to slaughter or to the Amish, so if more amateurs would consider the breed, I feel like I've had a good day."