Lexington, Ky.—April 26
It's not every amateur rider who's able to admit their horse has more potential than they do. And it's even harder to then turn that horse over to a different rider to see what it can do, but Kevin Baumgardner isn't your typical amateur rider.
The former president of the U.S. Eventing Association gave professional Tamie Smith the ride on his horse Wembley in March of last year, and at the end of the first day of dressage at the Land Rover Kentucky CCI****, Smith and Wembley are sitting in third place behind Michael Jung and Boyd Martin.
"It's really a dream come true," said Baumgardner. "I've had so many work commitments over the last year, and whether or not I could ever get to a four-star I think is questionable."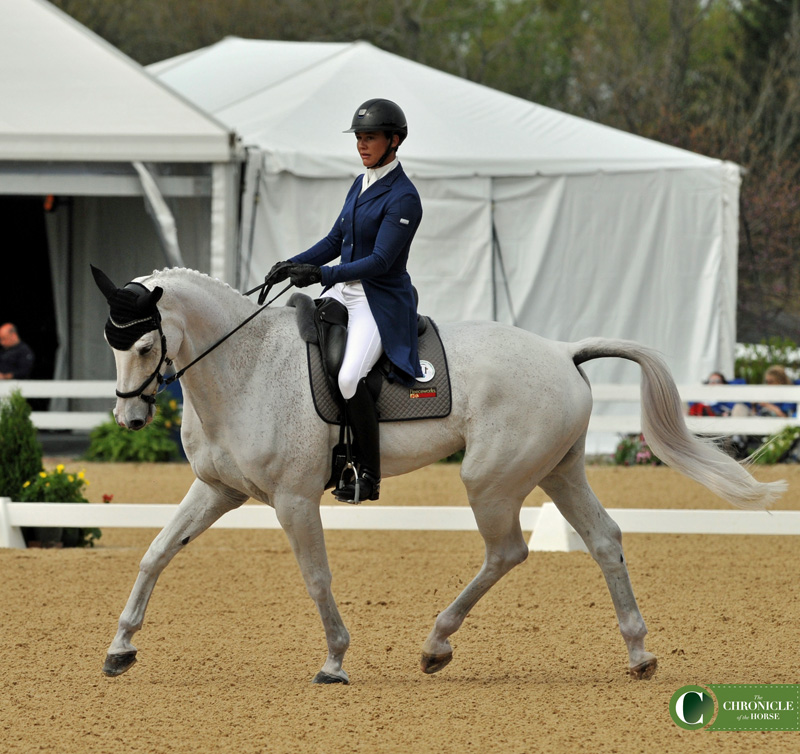 Baumgardner retired from his post as USEA president in 2010 and works as a partner in a law firm in Seattle.
"I've got a world-class rider here, and [Wembley's] shown that he deserves to be a world-class horse," Baumgardner said.
Wembley had competed up to the two-star level in England with Tim Price when Baumgardner first met him in 2013.
"I'll never forget we took him cross-country schooling [to try him], and Kevin said, 'You get on him first,' " Smith said. "And I said, 'No Kevin, because I'll tell you to buy him!' "
"I tried him and got back home and thought he would be willing to put up with me and teach me," Baumgardner said with a laugh. "He's the best horse by a mile that I've ever sat on, let alone owned. It's really exciting that he's willing to put up with my amateur mistakes and also go for the big time."
Baumgardner, who's ridden through advanced, started at the one-star level with the now 15-year-old Dutch Warmblood gelding (Lester—E-Vip, Cantus) in 2014, progressing through the levels and completing their first CIC*** in 2016.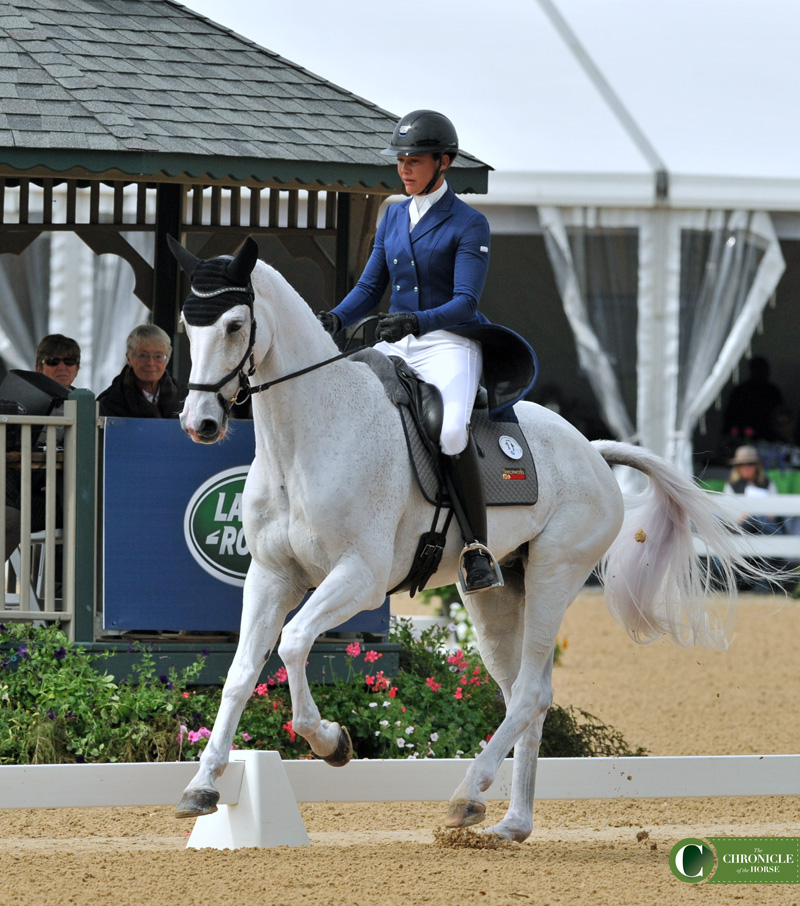 "It's been really fun over the last couple of years, and now Tamie and I have been trading off riding him," Baumgardner said. "He really has shown he has the ability and the right to be here, and Tamie and [my wife] Gretchen and I are such good friends. She's always been one of our best friends and a great rider, and it's really meaningful to us and rewarding to us to have her riding our horse here."
It's Wembley's first four-star, and he put in a beautiful, relaxed test to score 32.1.
"He's weirdly calm, because he's been a bit off his head all year being fit and everything," Smith said with a laugh. "It's almost like he's like, 'Finally you've given me a presentation that I belong at!' He's been really super, and that was his best test."
Wembley and Smith will have a day off before tackling Derek di Grazia's cross-country course on Saturday, but team Wembley is already on Cloud 9.
"We call him the magical unicorn," Gretchen Baumgardner said with a laugh. She even has a unicorn keychain on her bag that sprouts fangs when squeezed—she says it's what Wembley looks like when he's begging for a treat!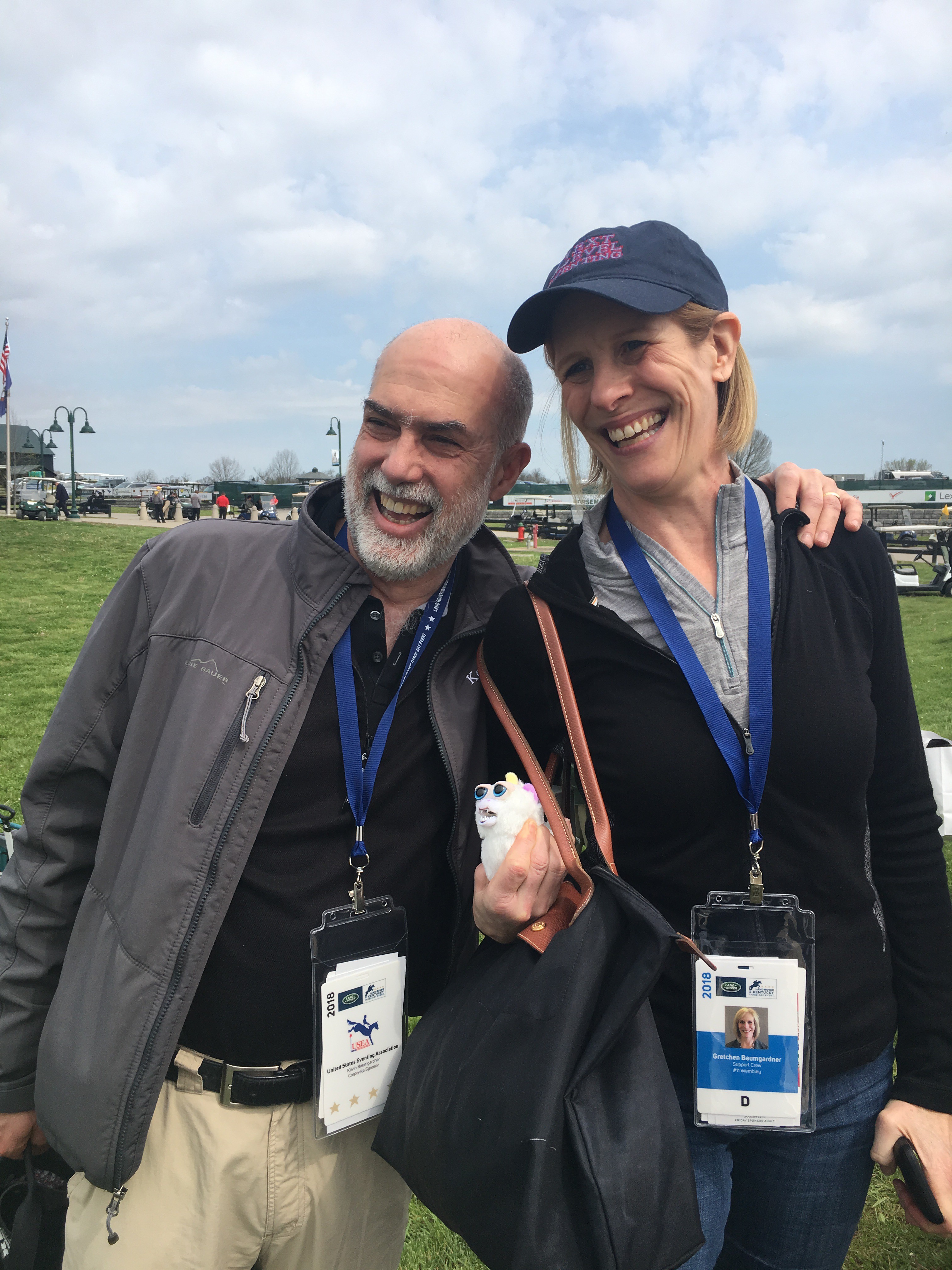 "We're happy for both of them right now, that was the best test they've ever done," Kevin said. "Regardless of how it was scored, it was as good as he can do right now, and she's getting that out of him. It's really exciting."
"They've been huge supporters of me, and he's been very much involved in U.S. eventing as well," Smith said. "It's wonderful, that's what the sport is all about really. They've become family to me and just to be here is really great."
The Chronicle is on site at the Land Rover Kentucky CCI****. Keep an eye out at coth.com for all our coverage of the event.
Important Links: Land Rover Kentucky website  ⁄  Ride Times / Results /  Live streaming / All of the Chronicle's coverage
Make sure to follow along on the Chronicle's social media outlets: Facebook, Twitter and Instagram.