When he was just a yearling, All Star jumped out of his paddock, and Amanda Gomez turned to her mother and said, "Oh my gosh, that's going to be my grand prix horse some day, you watch."
Amanda's mother, Pam, scoffed at the idea; All Star was a Thoroughbred bred for the track. Foaled in 2012, he's the son of Pioneerof The Nile, the sire of Triple Crown winner American Pharoah. Amanda's father, Hall of Fame jockey Garrett Gomez, had ridden Pioneerof The Nile to second in the 2009 Kentucky Derby and won multiple stakes races on him. Part of Garrett's deal for riding the horse in the Derby was lifetime breeding rights to Pioneerof The Nile.
"That's how All Star came to be," said Amanda. The horse's Jockey Club name is Been in Denile, and Amanda has known him since he was foaled. "We bred the mare [Here We Be] in 2011 and had 'Ben' in 2012. He was one of the last horses my dad bred," she said. Garrett died in 2016.
Given the family history, All Star had a special place in Amanda's heart even before he helped her win her first grand prix class as a professional on Aug. 14. Amanda, 19, and Ben topped the $10,000 Free Rein Grand Prix at the Huntington Beach Summer Classic (California).
"He was second in a little $3,500 class earlier in the week and won the $10,000 grand prix," Amanda said. "Those are the only two classes he did all week. It's pretty special."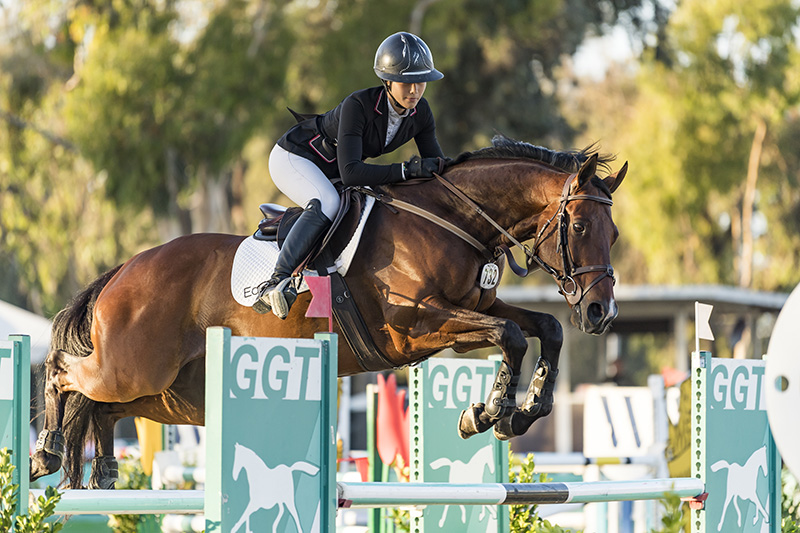 Before his jumping career began Ben did go to the track as a youngster, but "he did not want to run at all," Amanda said. "In his races, he never even broke a gallop. He just kind of cantered around. He ran two races and was last in both, so we could tell he didn't want to run. And there's no reason to make them run if that's not what they want to do."
The Gomez family brought him home to their Rising Star Equestrian in Norco, California.
"I gave him a little bit of time off, and I started him up probably in the middle of 2017, just slowly because he was young," said Amanda. "There was no reason to push him too fast. He also is very careful and super scopey, so I had to go very slow and make sure he was always confident about the jump height and what we were doing. I took my time with him, and it really paid off."
They started showing together in the children's jumper division in 2018, moving up to the low junior division in 2020. By the end of 2021, Amanda's last junior year, they were consistently in the ribbons in the 1.30-meter classes. But as 2022 started, Ben went on the back burner. His only outing before the Huntington Beach Summer Classic was three 1.30-meter classes in April.
"I had two others horses that kind of took most of the showing attention for the last six months," Amanda said. "He just kind of sat at home. I kept him fit and rode him, but he didn't show, really. This is his first show really back, and I think he showed us he wants to keep showing!"
Amanda rides with her mother, Pam, at Rising Star Equestrian and together they run a training and showing business. They have the requisite warmbloods in the barn, but "of course I like to bring in as many Thoroughbreds as I can and develop them," said Amanda. "The really quality ones that I think can be super special like Ben, I keep, and the ones that want to stay at the lower levels, I'll re-sell.
"It's really something that I'm super passionate about. It's something that my dad was very passionate about when he was here with us. We're really trying to honor his legacy and show that a lot of the jockeys really have a lot of compassion for these horses during their time in the track and when they come off the track."
Amanda said that while the racetrack gets a bad rap for some trainers throwing horses away after their careers on the racetrack end, the majority of the trainers do care. "They want to make sure they end up in soft landings and good homes," she said. "So, I always try to do what I can to promote Thoroughbreds. I want people to see that they're special, and they deserve a place in our industry."
Amanda describes Ben as the most powerful horse she's ever sat on.
"He's so talented, so scopey, so powerful and athletic. If you ask him to do something, he's all heart. He really gives it 110 percent every time, which is super hard to find," she said. "He's everything that you could possibly want in a top horse. He's so careful, and I think as long as I can just continue to take my time with him and develop him the right way, he's going to be one that I hope one day can jump the 1.50-meter classes."
Amanda laughed when asked about Ben's personality.
"He's kind of a hard-head," she said. "He's got a really funny personality. He's quiet and not spooky, but he's got a little attitude for sure. I think that's the grit that he has in the ring as well, so if that's what we have to put up with around the barn, then we'll take it."
She said she appreciates that he comes out of his stall each day wanting to do his job. "I think that's a trait a lot of Thoroughbreds have," she continued. "He's the one horse that I truly feel like we have the common goal of just having fun and enjoying ourselves."
Amanda has been enjoying her first year as a professional and working with her mother.
"The thing that I love most about riding with her is that she allows me to branch out and learn from other people. I have a lot of mentors and people that I can look to for advice, which is super cool," she said. "And I can look to her for advice and know that she always has my best interest at heart. I wouldn't trade the opportunities that she provides for me for anything. That's something that I'll always be grateful for. Your first year as a professional is a little bit nerve-wracking, so it's really special that I've been able to have a good year like I have so far."
Amanda plans to show Ben a bit more this summer with an eye toward entering the FEI 1.35-meter classes at the Las Vegas National in November. She also wants to show him in Florida in 2023.
"That's our goal right now," she said. "Of course, things can change, but I have high expectations for him, and I'm sure he'll rise to them."