Wellington, Fla.—Feb. 20
Bertram Allen had his work cut out for him if he wanted to win the $140,000 IDA Development CSI3* Grand Prix at the Winter Equestrian Festival. Fifteen horse-and-rider combinations had qualified for the jump-off, and Olympic gold medalist Ben Maher of Great Britain had set a time of 40.92 seconds with Faltic HB. While others had tried to dethrone Maher, no one had succeeded, though Brazil's Eduardo Pereira De Menezes came close with H5 Elvaro (40.95 seconds).
But Allen had the benefit of being last to go, and he knew his mount Harley VD Bisschop well, having been partnered with him since 2018.
"For some reason or another I don't always get the nicest jump-offs on 'Harley,' " he said. "So I was kind of a bit cool going in. I was just going to have my round, and if it all came off I knew he could be fast enough, but I wasn't going to force anything. Just kind of from the start I caught [fences] 1 to 2 good, the double good, just kept going from there then."
The Irishman stopped the clock in 39.66 seconds to definitively win the grand prix for the second year in a row.
"It's great to win any time, but to win a grand prix, and I suppose to do it two years in a row and also last to go, it's always a little bit sweeter too," he said.
Allen has shared the ride on the 15-year-old Belgian Warmblood (Dulf Van Den Bisschop—Charisma I, Coronado) with his younger brother Harry Allen a couple times over the past two years. Harry showed Harley at the end of last year, and then Bertram handed over the reins again two weeks ago.
"[Harry's] in Spain now with a lot of the other horses, and then he came out here the end of last week, so I thought it would be nice for him to ride [Harley] and kind of see how it's done over here because it's obviously different in Europe and everything like that," he said. "So it was obviously a good experience for him, and obviously it didn't do the horse any harm."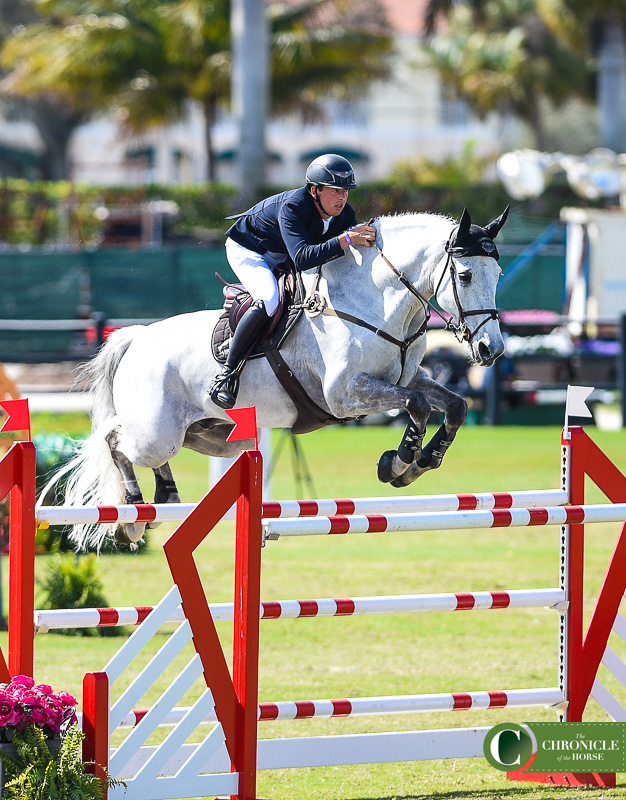 Faltic HB is a newer horse for Maher. He started riding the 12-year-old Dutch Warmblood (Baltic VDL—Beloma B, Concorde) stallion in October. The pair did their first five-star last week, and this was the first time Maher pushed him in a jump-off.
"He jumped the five-star great last week, one of the bigger classes he's ever jumped," Maher said. "We were a little bit unlucky with the first down in the first round and decided to bring him here this week to get a bit of feeling on grass and just kind of drop him down just one level to keep him mentally confident. So, yeah, very happy with how he's coming on and very excited for him to be on my team."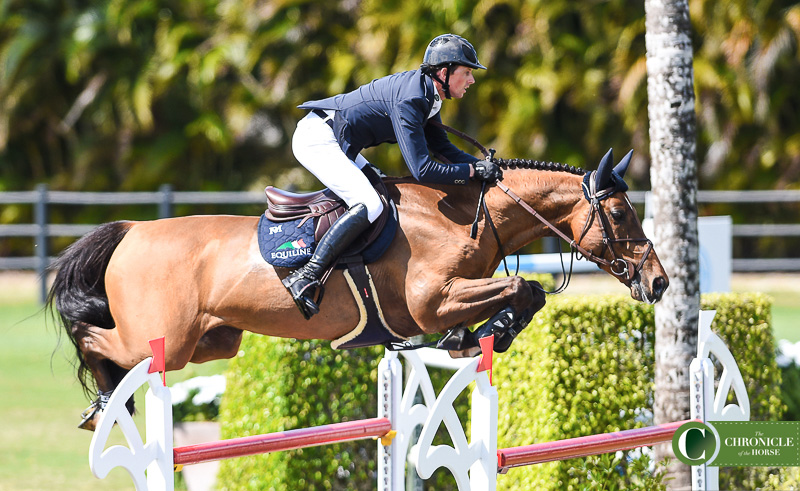 Pereira De Menezes rounded out the top three. Initially, his sponsor Carlos Hank Guerriero competed H5 Elvaro, a 13-year-old Dutch Warmblood (Calvaro F.C.—April Love M, Heartbreaker), but Pereira De Menezes took over in 2020. They've earned some good placings, but the stallion was out of the ring for a while after getting injured in August.
"This is his first grand prix back, so I was pretty pleased with his performance," he said. "I knew we needed to take care of the double combination, the vertical, vertical, and I think I lost there, and I tried to recover, but it wasn't enough."