Harrisburg, Pa.—Oct. 19   
Dorothy said, "There's no place like home," and Jennifer Alfano would maybe add "There's no place like winning at home." Back in 2014, Alfano and her own Candid came to the professional's hometown of Harrisburg, Pa., and won the grand hunter title.
But since then, much had happened. In 2016 Alfano took a fall at Devon (Pa.), which saw her knee fractured and her ACL torn. And since then, "Sheldon" had mostly been campaigned by Alfano's former student Kristy Herrera. Even when Alfano returned to the ring mid-season this year, she continued to let Herrera guide the 9-year-old Holsteiner by Quintender.
"Kristy's been showing him still quite a bit because I love watching her ride him," said Alfano. "I've actually only shown him [three] times this summer, which just dawned on me the night before."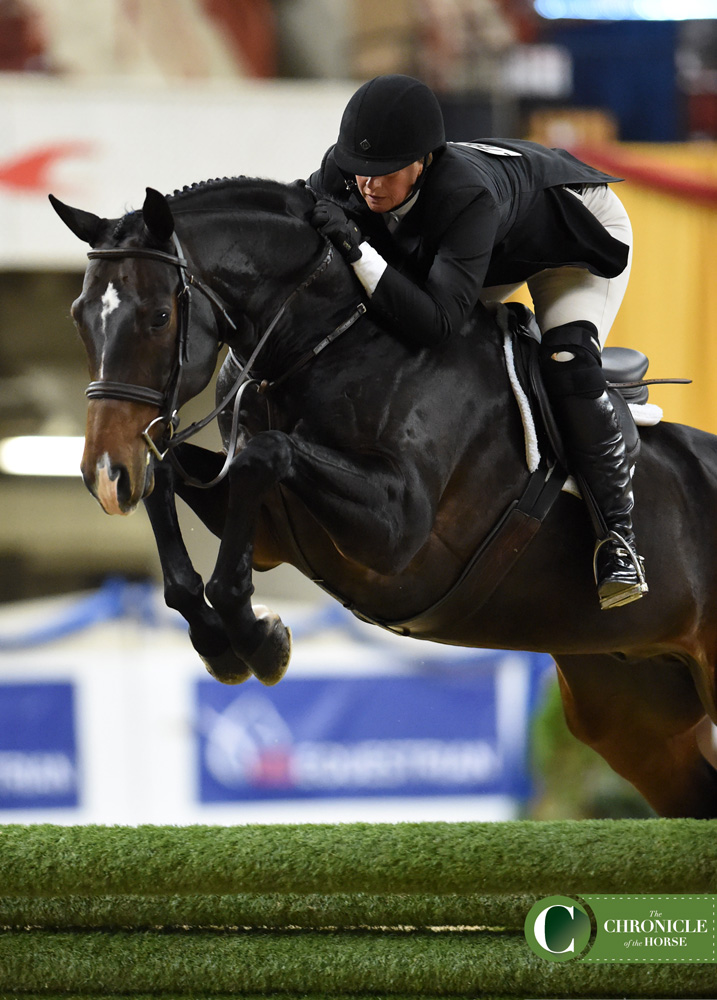 But each of those three times, Alfano and Sheldon came out with a tricolor on his browband. And at the Pennsylvania National, with Aflano holding on as the gelding wowed the judges with his seeming unlimited scope, the pair continued their championship tradition as they topped the high performance conformation hunter division.
"I was a little nervous but he was just so good," admitted Alfano.
"I always love coming here," she continued. "It's my hometown so when I was little, it was such a big deal this horse show. Because I grew up right near here so it's always been home and a lot of my family's still here.
But even though Alfano and Sheldon have united in winning style, she still continues to share him with Herrera as the gelding has become quite a favorite.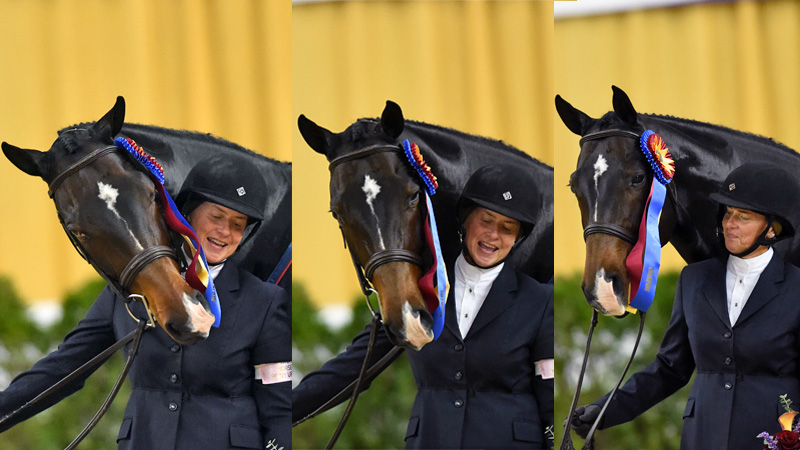 In an industry of many professionals showcasing client horses, Alfano simply laughed as Sheldon nibbled on his championship ribbon under the jumbotron where her name was lettered as owner and rider.
"It makes it really special," she said of winning specifically on Sheldon. "But I also get nervous because he's my own horse."
Stewart Takes On The Pressure
Coming into the final jumping round in the green conformation, Scott Stewart was behind. After a mistake in yesterday's handy, he and Betsee Parker's Private Life sat 6 points behind Havens Schatt and Playmaker. And make no mistake, Stewart was keenly aware of those points, and knew as he entered the ring, he had to win the class.
"It was sort of a race to the end for sure," said Stewart. "I made a few little mistakes in the other class. It was myself really but the horse was good.
"Sometimes [pressure's] good for me," he joked. "Sometimes it's better to have a little adrenaline going. I think it's fun. I'm glad it's over."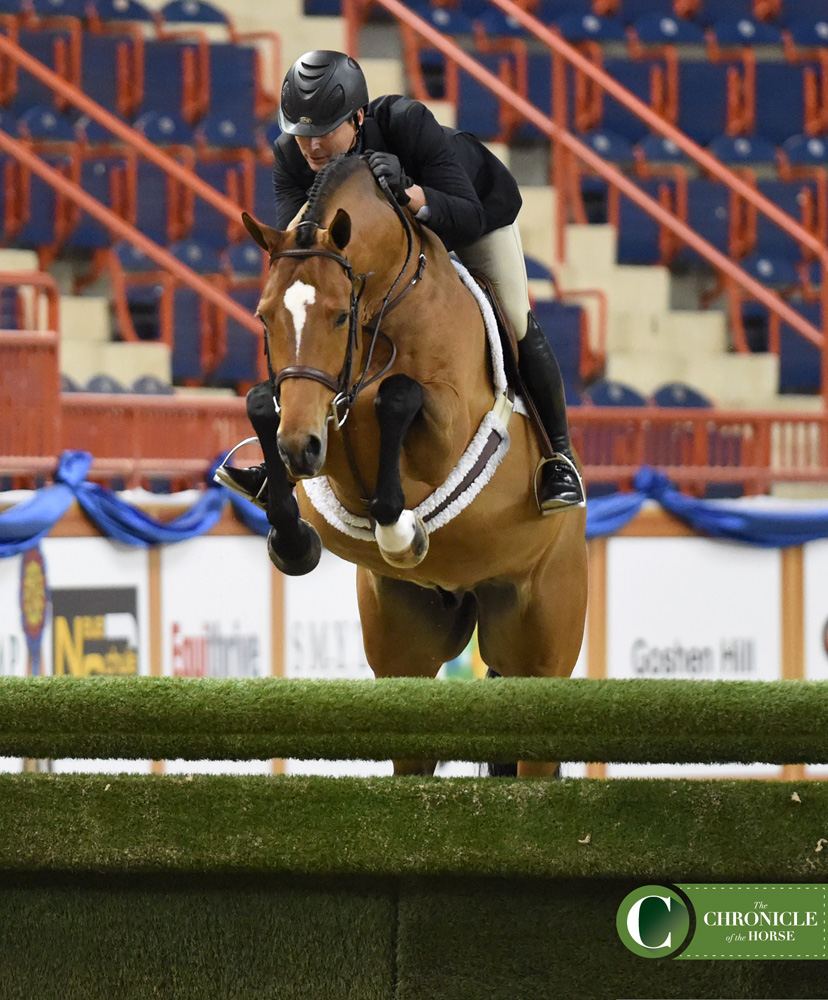 And with all eyes on him, not only did Stewart and the 6-year-old Dutch Warmblood gelding deliver the blue ribbon—they did it in 92 style. While Private Life had only shown at 11 horse shows total this season, he earned champion or reserve champion every time, including placing second in the WCHR Peter Wetherill Hunter Spectacular behind Stewart's other ride, Catch Me.
"He's like the easiest horse to ride," said Stewart. "It's like riding a made-up junior hunter. He's really easy it's almost hard. He's always pretty right on. It's really my mistakes. He's a blast."
With a successful Pennsylvania National under his belt, Stewart earned the leading hunter rider title and his 3'6" green hunter mount, Wonderly, earned grand hunter champion.
IMPORTANT LINKS:  All the COTH Pennsylvania National coverage  |  What You Need To Know  |  live results/order of go  |  live streaming  |  show website