He posts four wins in the last meet of the spring season.
Jockey Xavier Aizpuru left his mark at the Fair Hill Races, capturing four victories on May 24 in Fair Hill, Md.
The 2007 National Steeplechase Association leading jockey's most notable win came in the featured $30,000 Valentine Memorial Sport of Queens filly/mare hurdle stakes with The Fields Stable's Guelph for trainer Tom Voss.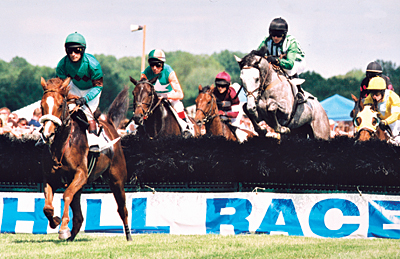 Despite several attempts, this is the first time the 2005 filly/mare champion Guelph has won the Valentine. Her most notable effort was her second-placed finish in 2006 under unusual circumstances. The mare had flipped in the barn area just before the race, and unbeknownst to the Voss staff, had broken her withers
in several places. It wasn't until they unsaddled her that they noticed the massive swelling.
In May, Guelph won $50,000 Sport of Queens at the Iroquois Steeplechase (Tenn.) in much the same style as she took the Valentine. The 7-year-old, homebred chestnut shot ahead of the field and never relinquished her position.
"She jumped more aggressively today than she did at Iroquois," Aizpuru said. "You always worry that they are using up too much energy doing that. She's not very big. But every time they kept coming to her, she seemed to say, 'Come and catch me if you can.' She was picture perfect and a pleasure to ride."
Voss said she is tough on course, not only because she ran well with the withers injury in 2006, but she had also been saddled with 160 pounds that year, 21 more than the winner.
"She's been third and was a nice second here with an obscene amount of weight," Voss said. "So I knew she was good. Not sure what we will do with her. Maybe retire her."
Bred in state by Tom's wife Mimi Voss, Guelph also received the $15,000 Maryland Million bonus for Maryland-bred horses.
A last-minute rider change was fortuitous for Aizpuru as he picked up another winner for Voss with Blackwood Stable's Motel Affair in the open claiming hurdle. While it was a decisive win over Sara Lyn Stable's Quem Se Atreve (Richard Boucher), it was the excitement after the race that had people on edge.
Cracking Down On Steroids
The National Steeplechase Association is giving trainers fair warning: If you are using steroids on your horses you need to stop now.
In an effort to stop the use of performance-enhancing drugs, the NSA has
adopted a new steroid rule to go with their already vigilant drug testing practice.
The new rules will take effect Sept. 1 and will include the following drugs: Stanozolol (1 nanogram per milliliter, all genders), Boldenone (15 nanograms per milliliter for intact males, none is permitted in geldings or female horses), Nandrolone
(1 nanogram per milliliter in geldings, fillies, mares and .45 nanograms per milliliter for intact males) and Testosterone (20 nanograms per milliliter for geldings, .55 nanograms per milliliter for fillies and mares, intact males will not be tested).
Stacking (the multiple use of the four steroids) is forbidden. Although the fines and penalties have not been ironed out as of yet, NSA racing director Bill Gallo thinks they will probably adopt the same policy that some of the major tracks do, and everything will be in place by Sept. 1.
"Drug testing is a deterrent. We are not looking to catch people, we are looking to deter people from doing this," Gallo said. "We are telling them, if you are on steroids you need to come off them."
Since the 1970s, drug testing has been a part of the post-race process. In addition to drawing blood and obtaining urine from the winning horse, stewards reserve the right to do pre-race testing and to randomly test any horse, no matter where he or she finishes in a race.
More recently the NSA was on the forefront of CO2 testing (milkshaking). Milkshaking is the illegal use of alkalizing agents such as baking soda and sugar to neutralize lactic acid, stave off fatigue or to mask other performance-enhancing drugs.
In 2004, the NSA started pre-race testing of CO2. Because steeplechasers run much longer distances than flat track horses, the NSA officials thought that milkshaking might be more inclined to happen in jump racing and wanted to nip the practice in the bud.
"We are following the rules for those jurisdictions that are restricting steroids," Gallo said. "In other cases though, like CO2 testing, we sort of modeled that ourselves."
Trainers who run at Colonial Downs (Va.) and Philadelphia Park (Pa.) this summer will find steroid rules already in place at those tracks, and all trainers must abide to the rules of those jurisdictions. Saratoga Springs (N.Y.) has yet to formulate a new steroid policy.
"I think we are pretty proactive when it comes to safety of horses and riders," Gallo said. "We were first to put jockeys in the vests, the first to put them in the bigger, safer helmets. We are the only American racing entity that has the Procush whip as mandatory. It's a whip that makes more noise than anything else, and it's necessary to carry a whip, especially in jump racing, to guide the horse into your fence."
Fourth-placed finisher Lucy Horner's Four Schools (Richard McWade) had turned a few heads with his third place in the unlimited claiming hurdle at the Radnor Hunt Races (Pa.), and three trainers put in a claim for the Irish-bred at Fair Hill.
While multiple claims happen frequently at the track, this is the first time that officials could remember three trainers putting in for the same jumper. Jack Fisher, Sanna Hendriks and Richard Valentine were ready with $20,000 for the horse, but after the draw it was Valentine for owner Jacqueline Ohrstrom who got the prize and bragging rights.
Aizpuru also won the maiden claiming with Nina Gardner's London Grove for trainer Elizabeth Merryman and the training flat with Augustin Stables' Auction Watch for Hendriks. This gives Aizpuru the lead in NSA rider standings going into the summer season with 12 wins.
"Four winners, and I only got beat by a neck on another one," Aizpuru said. "It was a great day at the office to be sure and a nice way to end the season."
Fenneka Bentley received her second sanctioned career win as a trainer with Gil Johnston's Chislehurst in the maiden hurdle over Robert Kinsley's News Flash (Aizpuru). The Maryland-bred also picked up an extra $15,000 in bonus monies.
Husband and former champion jump jockey David Bentley said Aizpuru was originally on his wife's horse but was committed to Voss so they asked William Dowling to ride.
"It really worked out well. Willie did a great job," Bentley said. "This is only his second start over fences. They went out steady, and he still had something in the tank. He really seems to enjoy the jumping."
However, Chislehurst's race did not go off as planned for several jockeys. Matthew Klein's Duck Hunt (Liam McVicar) fell at the fifth fence. Kinross Farm's Never Fear (Chris Read) fell over them, and
Dark Hollow Farm's Two Terms (Chip Miller) fell over one of the other horses. Read suffered a broken arm and McVicar a possible broken collarbone. Miller remained unscathed, and the horses were unhurt in the mishap.
Paddy Young took the last timber race of the season with Augustin Stables' South Monarch.
Trained by Hendriks, South Monarch won the maiden timber with Jody Petty at Winterthur (Pa.) and the amateur highweight at Willowdale (Pa.) with James Slater.
"He's a horse everyone likes to ride," Hendriks said. "He has now run over a number of different courses. We know he must be good, because Paddy, Shane and Jody all love riding him. They really like schooling him. I will have to see what he's eligible for and go from there."
Sarah Libbey Greenhalgh