Martha Ingram has been competing at the Capital Challenge Horse Show since her junior days, but on Sept. 28, she finally picked up an equitation win after chasing it for years.
Ingram, 21, of Nashville, Tennessee, made the trip from Furman University in South Carolina to Capital Challenge, just long enough to top the 26 total entries in the North American Adult Equitation Championships.
"I actually skipped school today to be here, but I fly back tomorrow!" said Ingram, who is currently in her junior year. "This is my first time doing the amateur equitation here. I did the juniors; I did the Taylor Harris [National Children's Medal Final]; I didn't even make it to the second round in the Taylor Harris, so really coming here I just wanted to have a good time."
Ingram sat in second place behind earlier Adult Amateur Equitation championship winner, Adam Edgar, following the first two rounds of over fences competition, but she shot to the lead after a final test of the top three riders. With Ingram taking the victory, second place was awarded to Jacqueline Attwood-Dupont, and Edgar finished in third.
"It was just a really nice surprise," said Ingram. "I was hoping to do well, but I wasn't expecting anything. I was going in to have fun, so to come out on top is really nice."
Ingram's mount for the class was Airport 48, a 15-year-old Holsteiner gelding ridden to great success in the hunter ring by her father, John Ingram. And while Airport 48 is now known for his amateur hunter accolades, the horse was initially purchased more than six years ago to be Martha's equitation mount, a role the gelding only now stepped into for the first time – and only temporarily.
"The horse I was going to do originally got hurt kind of last minute, so he was the backup," explained Martha. "Since he was bought to be my equitation horse anyway, we thought, 'Why don't we do Airport?' I'm really lucky that my dad let me show him. He's like a dog. He just loves people and loves his job. He's very smooth and comfortable; he really jumps nicely. He's always there for you, so I'm really lucky."
Jessica Stone Scores USHJA 3'3″ Jumping Seat Medal Final—East Win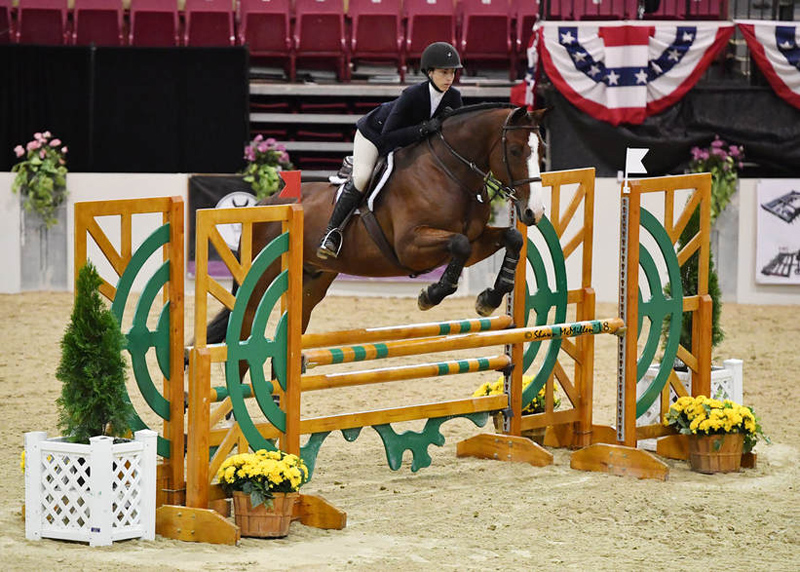 Among the winners on the second day of competition was Jessica Stone of West Bloomfield, MI, who clinched victory in the second annual USHJA 3'3″ Jumping Seat Medal Final – East.
In order to secure the win, Stone had to top 121 entries over three phases of competition, including flat and gymnastics phases held on Friday and a final, jumping phase held on Saturday, Sept. 29.
Coming into Saturday, Stone sat in third on a score of 216.80, while Breanna Bunevacz of Calabasas, California, held the lead with a score of 220.12. However, Stone soon shot to the top of the leaderboard after earning a score of 89 from judges Mark Jungherr and Sissy Wickes. That score, multiplied by a coefficient of two and combined with her score from Friday, gave Stone a 394.80 total that would prove to be untouchable by the final two riders to return. Bunevacz, 15, finished the round with a score of 84.50 in the jumping phase for a 389.12 total.
With more than five points separating them, no additional testing was necessary, and Stone was awarded the victory while Bunevacz took second.
​
"It feels really good!" said Stone, 18. "We were coming in in third place, so I knew I had to lay down a good round. I trust my horse, so I knew we had a good chance. The course was really nice. The first line was a really tight turn back to jump three, so that was a little tricky, but it was a really good course."
Stone is a freshman at the University of Georgia and trains with Abby Blankenship out of Treesdale Farm in Indianapolis, Indiana. Before Stone headed into the Show Place Arena for the jumping phase, Blankenship gave her some final advice.
"I said you're a great rider; you just need to ride what's happening at that moment and try to stick to the plan," said Blankenship. "But if you have to adapt a little bit, try and be as smooth as you can be. I tried to not put too much pressure on because the kids put enough pressure on themselves.
"I was so happy for her," continued Blankenship. "She has worked really hard, and she is a great rider. And that's a great horse. It's just nice that it came together for her."
The horse, Odyssey, is a 7-year-old gelding owned by Sorensen Stables that Stone began leasing last fall.
"'Nemo' has the best brain; I love him," said Stone. "He's soft; he's fun."
"They developed together," added Blakenship of Stone and 'Nemo.' "It's a good match, and we've learned a lot about him over the 10 months that we've had him. He always steps up to the plate. He's never one that you have to worry about anything going wrong."
Grady Lyman Wins Palm Beach International Academy North American Junior Equitation Championships
Grady Lyman, of San Diego, won the Palm Beach International Academy (PBIA) North American Junior Equitation Championships on Sept. 30.
From a field of 138 entries, Lyman was one of the top 20 to return to the ring for a second jumping round in the North American Junior Equitation Championships. When she returned, she executed the highest scoring round of the weekend – earning a 96 from one of the three panels of judges and an average score for the round of 94.66.
​"I've only scored about a 93 before, so to get a little bit higher than that was really, really nice," said Lyman, who trains with Ken and Emily Smith of Ashland Farms. "It was really good for my confidence too."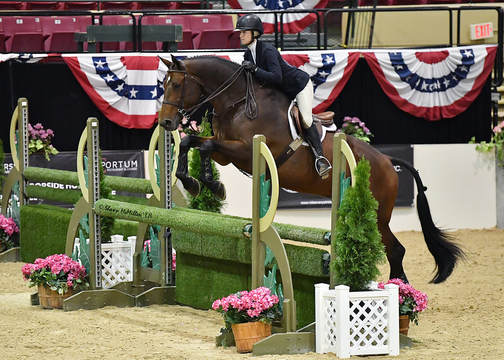 That score shot her from second place to well into the lead with an overall score of 184.99. With more than two points separating her and eventual second place finisher, Madison Goetzmann of Skaneateles, New York, who earned an overall score of 182.25, no additional testing was deemed necessary, and the win was presented to Lyman. Third place went to Kaitlyn Lovingfoss of Santa Clarita, California, who finished in third with a score of 179.41.
"The top 20 were all within about eight points; the top four – they just had to keep laying it down," said course designer Ken Krome. "The girl who won was just flawless. To me that put a gap on the field, and that was decisive. It's nice to have a decisive winner."
"It was amazing," said Lyman of her win. "I was going to be happy either way, with whatever result I was going to end up with. We're just gearing up for USEF [Talent Search] Finals [New Jersey] next week, and I wanted to have a good solid round to learn some more lessons before I go into the rest of the Indoors season.
"I did this class last year; it was my first year doing it, and it did not go as planned, so it felt good to come back here and get some redemption!" continued Lyman, who recently started her freshman year at the University of South Carolina where she competes on the school's National Collegiate Equestrian Association team.
Lyman's winning mount for the class was Efendi, a 10-year-old Holsteiner gelding owned by Don Stewart.
"I showed him a couple times this summer," said Lyman of the gelding also shown by fellow junior competitor Brian Moggre. "Don let me use him for the week, so that we could save my other horse, Cohiba VDL, for the USEF Finals next week, and then Brian's going to gear back up and do him at Harrisburg.
"He's a really special horse," continued Lyman. "He's so graceful across the ground. He has such a big stride that you get to go so slow, and he doesn't move you that much at all in the air, so you really get to hold your position. He makes me look good; he did all the hard work."
Avery Glynn Gets THIS National Children's Medal Finals Win
The win in the Taylor Harris Insurance Services National Children's Medal Finals went to Avery Glynn of Petaluma, California.
The top 40 THIS National Children's Medal competitors from across the country qualified to compete in the final at Capital Challenge, and the top 10 from Sunday's first round then qualified to come back for the second round.
At the conclusion of the first round Glynn sat in second place with a score of 87.75 behind Katalina Rickard of Sherman Oaks, California, who carried a score of 88.00. Sitting in third going into the second round was Amber Ayyad of Rancho Santa Fe, California, on a score of 86.53.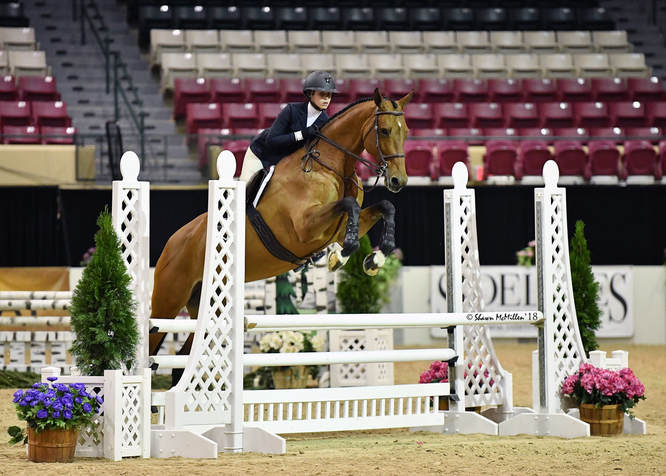 "I was really nervous because I knew I wasn't on top, but I was in a good place," said Glynn, 12. "A lot of my friends were in that class, and I'd seen a lot of people be good at the beginning. There were a few inside turns, and I decided to take a few of them. It was a hard decision whether we wanted to or not, but I did what was right for me and my horse and was happy with my decision."
Glynn had good reason to be happy with how her round played out, as an average score for the round shot her to the top of the leaderboard. When Rickard found a bad distance to the second to last fence on course, the top two came down to Glynn on a score of 175.75 and Ayyad on a score of 174.86. With less than two points separating the top riders, the judges called for additional testing.
Glynn and Ayyad both executed the test well, which incorporated a hand-gallop out of the line-up to an oxer, a trot fence, a halt, and a counter canter to vertical before picking up the sitting trot back into the line-up. While Ayyad earned the slightly higher test score, an 86.33 average, it was not enough to move her ahead of Glynn who scored an 86 on the test to secure the victory.
"It feels amazing to have just won the THIS National Children's Medal Finals!" said Glynn, who took the win aboard Cocon 4, a 9-year-old Oldenburg mare owned by Glynn's father, Ned Glynn. "I was so happy with my horse. This is her first time at indoors ever. We imported her as a jumper. She's just starting her eq career, and I was just so proud of her. She acted amazing tonight. I was just so excited, and it was amazing.
"We actually imported her as a grand prix horse for my dad," continued Avery. "I started riding her, and she ended up being quieter than a normal jumper would be. I showed her in some of the small jumpers, and I really liked her, so we slowly started turning her into my eq horse!"