Amateur eventer Amy Dobbins didn't really expect her college project pony, Oliver Twist, to re-enter her life years after selling him, let alone watch last month as he helped cinch a U.S. Eventing Association Intercollegiate National Championship. Now 17, "Ollie" has brought multiple young riders across the country through the eventing and show jumping rings, moving from Georgia to Arizona to California before returning to Dobbins at the end of 2020.
Dobbins originally bought the Haflinger pony a decade ago, when she was a graduate student at Auburn University studying finance. 
"I just wanted a project pony," she said. "I was a broke college student, working, but not making much money, and I thought buying and selling a pony I brought up could give me a little extra money."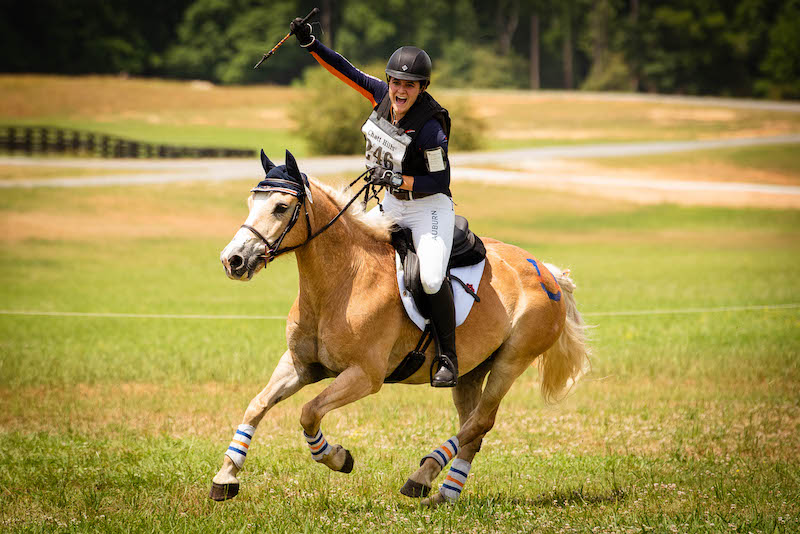 Dobbins found Ollie on Craigslist in LaGrange, Georgia, a town 30 minutes from her home in Newnan, Georgia. He was 7 and owned by his breeder, Joseph Lashley, who had taught him to drive. At 14.2 hands, Ollie didn't match Lashley's other Haflingers in height, so he was for sale.
"I tried him and I was like, 'I'm sold,' " she said.
Dobbins trained the pony to be an interdisciplinary athlete. She evented, show jumped and foxhunted him, along with using him for Pony Club rallies and ratings. But Ollie wasn't a packer; he had his challenging moments with Dobbins in the years she owned him. 
"Every horse has its quirks, you know," she said. "Ollie's was water. He hated water. He would not go near water—it was bad. Fortunately, there was a creek where I boarded in college. I would take him down there every day, and we would fight and struggle over this little creek until he got used to it." 
It was Ollie's fear of water that made Dobbin's think he would be a jumper: "He would jump the creeks, and I mean, huge creeks too. He's always been a jumper. When I first got him, he'd overjump everything. He was like a spring, he'd jump me out of the saddle."
Dobbins sold Ollie two years later.
"Being in grad school at the time, I just needed the money more than I could keep him. But I made it clear to every owner that if anything happens, I'd like him back." 
Ollie went to a young girl named Grace Montgomery, in Anniston, Alabama, who had been riding for about two years. 
"[Ollie] introduced me to eventing," Montgomery said. "He definitely taught me to ride, to have a good seat. He loved to buck me off when I first got him—or spin me off. He gets a little naughty sometimes. And he taught me to ride pretty well because he was naughty." 
After five years together, Montgomery outgrew Ollie, and a trainer suggested her family sell him to another interested rider.
He went next to a woman in Arizona, who sold him two years later to another young girl in San Juan Capistrano, California. 
"I've followed him every time he's sold," Dobbins said. "I'm Facebook friends with everyone. He's just a special pony to me." 
The young Californian's trainer contacted Dobbins near the end of 2020.
"She just said, 'My student needs a bigger horse and wants to jump bigger jumps—would you want Ollie back?' I was like, 'Well, of course, but I can't afford him!' " Dobbins said. "He was winning novice, and show jumping at a meter, I couldn't afford that! So I left it at that." 
But a few months later, Dobbins received another message from California. 
"They said to me, 'Look, we really want him to come back to you. It's not about money. We love your story and want him to be in a safe home,' " she recalled. She couldn't offer much, knowing she'd also have to pay for shipping from California, but they accepted her price. "I was like, 'Is this real? Is he sound? Is he alive?' But I got him back, all in one piece, the day after Christmas. It was unreal."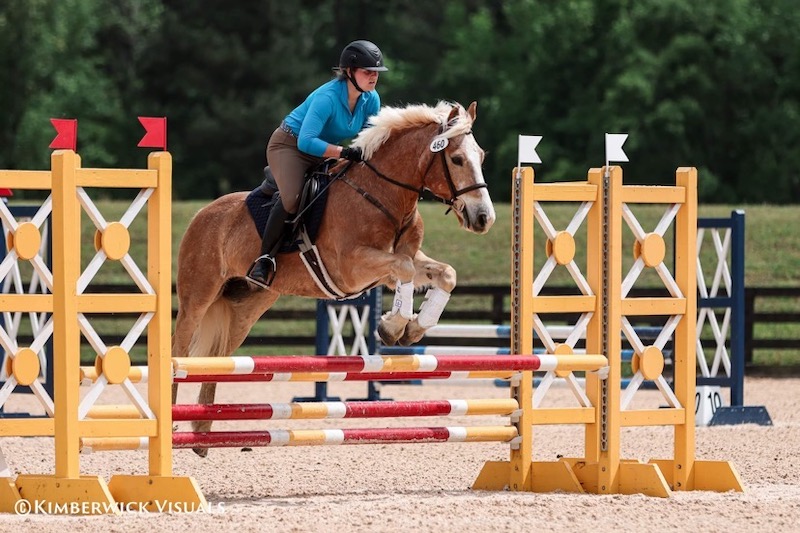 Dobbins evented Ollie at the novice level in 2021, but found out she was pregnant not long after reuniting with him.
"I was so worried he would just sit in the field after all of this trouble getting him back East, but then I remembered seeing something my trainer friend, Stephanie Counts, had posted a while back, looking for a pony for her daughter. I knew Ollie would be perfect for her. He's quirky, but he's perfect. So I said, 'Take him for a couple of weeks, we'll see if everything works out, and then after I have this baby, I want him back.' "
Dobbins received a surprising phone call from Counts a few months later. One of Counts' students, Auburn University freshman Alayna Backel, had been working toward competing in the USEA Intercollegiate Championships, but her horse had just pulled a suspensory. Counts asked if she could borrow Ollie for the competition.
Dobbins agreed, and Backel rode Ollie for the first time a week and a half before the championships. The Haflinger pony was a big adjustment from the Huntsville, Alabama, native's own horse, a Percheron-Thoroughbred cross. 
"My training regime was… a little different the week leading up to the championship," Backel said. "I had to adjust from a 17-hand horse to a 14-hand pony's stride, which are obviously really different."
Backel schooled Ollie over fences twice, once over stadium jumps and once cross-country.
"Funnily enough, the third time I ever jumped him was at nationals," she said. "All I had to do was get a feel for him. Once I got a feel for him, it just kind of flowed. It wasn't anything too difficult to adjust to, but it was definitely different. I just wanted to get comfortable with everything that I needed to do while showing while working at home."
When the Auburn team arrived May 19 at Chattahoochee Hills in Fulton County, Georgia, for the championships, Ollie found another familiar face: Grace Montgomery, who would be riding for Auburn in the novice division on her mount Fernhill Wonder. 
"It was awesome having Ollie there on the team," Montgomery said. "[Backel] told me her trainer's daughter was riding him, so I was able to visit him on her farm, but it was so great seeing him back in action—especially with a teammate and friend."
Competing in the beginner novice division, Backel found herself in the pressure-filled position of being the team's last rider to go for both show-jumping and cross-country, the final phase of the championships.
"My teammates came up to me before I went in [for show jumping]," Backel recalled. "They told me 'We're sitting first!' and I said, 'Guys, you can't tell me that right before I go in!' But he was great. He jumped everything absolutely perfectly." 
Backel found herself facing the same pressure before her cross-country run the next day. 
"In the start box, I was like, 'OK, I'm ready.' My heart was beating out of my chest," she said. "Our team was sitting first, and I was the last rider. I thought, 'I just have to go clear and everything will be good, I'll seal the deal.' " 
Montgomery had warned Backel about Ollie's fear of water before cross-country, and advised her to give him a reassuring ride there. Backel took that advice and Ollie jumped through without issue.
"Coming out of the water complex and heading towards the finish line, all of the Auburn parents and friends were jumping and screaming, and I was like, 'Oh my gosh, this is crazy!' " Backel said. "I'll never forget coming over the last fence and galloping over the finish line. It was a feeling like no other."
Backel, who plans on eventing for Auburn the rest of her college career, said of Ollie: "I learned that if I put my trust in him, he's like, 'OK, I got you.' If I did what I needed to do, he would do what he needed to do. He knew his job, I knew mine, and it really worked. He's really special."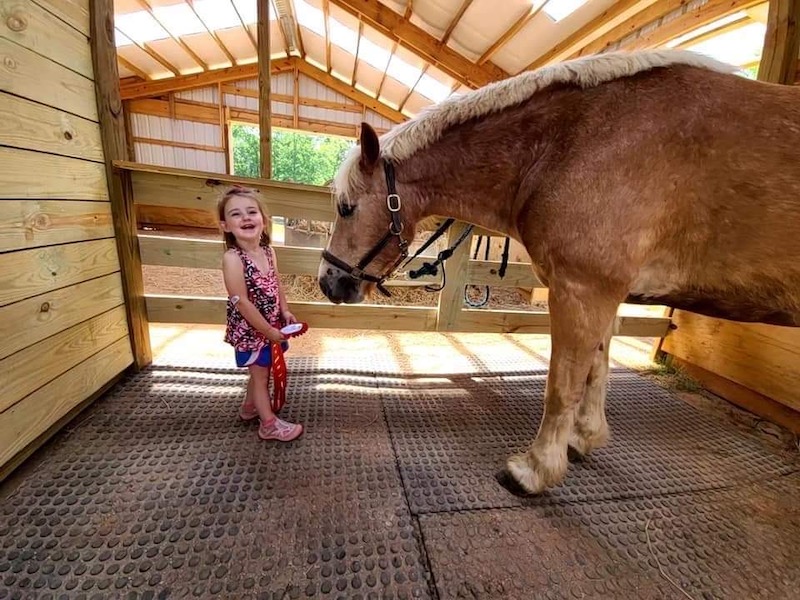 And as for Ollie's future plans? 
"Ollie has a lot of life left," Dobbins said. "I have two little girls, and Ollie will be raising two more riders. … I'm hoping he'll be running amoeba [level] for many more years. It couldn't be any more perfect."