For the first time in a year, spectators were allowed back on horse show grounds over the weekend, and they jumped at the opportunity.
The U.S. Equestrian Federation lifted its ban on spectator attendance beginning May 3, meaning last weekend's competitions were the first in the nation allowed to welcome not just competitors and support staff, but cheering fans in limited numbers. The updated rules allow spectators to return at 40 percent of a venue's ticketed outdoor capacity, or 400 people, whichever is greater, or 30 percent capacity, or 300 people, for indoor venues.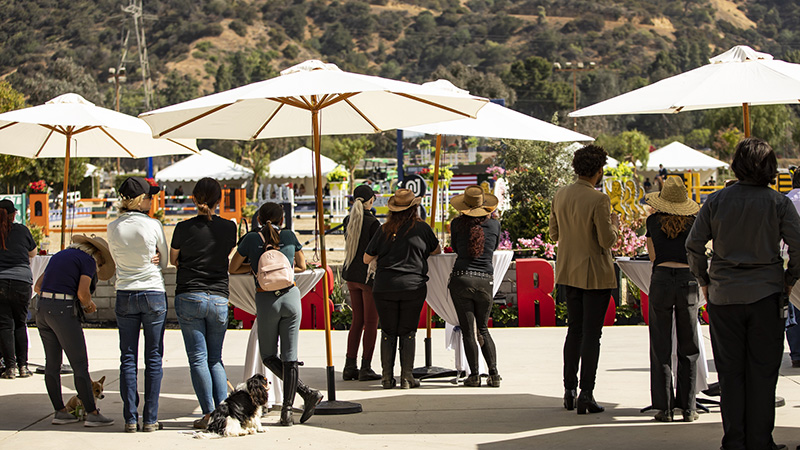 The West Palms Events Riders Cup, held May 6-9 at the Los Angeles Equestrian Center in Burbank, California, and including a $100,000 grand prix on Sunday, was one of the weekend's biggest shows nationwide. However, its attendance numbers were more restricted than the new USEF guidelines because of its location in Los Angeles County, which recently changed its rules to stipulate that sporting events can allow spectators up to 25% of the venue's capacity.
Show management rushed to accommodate spectators when that rule came into effect in California shortly before the show started, West Palms CEO Dale Harvey said.
"The event was planned with no spectators," Harvey said. "It all kind of changed really in the 10 days leading up to the event, so we had a lot of scrambling to do to revamp it a little bit to accommodate that."
To keep within the county regulations and ensure social distancing protocols were followed, organizers restricted attendance pre-sale tickets, heavily promoted the show's live stream as an alternative to attending in person, and still had to turn people away at the doors, Harvey said. The show's VIP seating section, offering tables and cabanas separated by trees and hedges to keep unrelated groups apart, sold out in advance for the duration of the show.
"Last year was dismal; it was sad not having anything here," Riders Cup spectator Leslie Charleston said. "It's nice to have it brought back to life. This is great, and I hope that we can continue to do it."
Riders Cup Grand Prix winner Will Simpson agreed. Simpson got to relish audible cheers after he posted a jump-off round aboard Chacco P that was 2 seconds faster than his nearest rival.
"We do this because we love the sport, and we're grateful to be able to ride these magnificent animals, but we also do it to be in front of our friends and the fans," Simpson said. "It was a lot of fun, and it's good to have the fans back."
But with "sold out" meaning, for now, just a quarter of the equestrian center's actual capacity, the atmosphere for the big classes wasn't quite the same as at pre-COVID-19 shows.
"There's nothing like having a full house and creating that atmosphere, so I'm looking forward to getting back to creating events based on a full house," Harvey said.
"I love watching the big shows. I want it to come back more and be what it was," spectator Liz Gordon said. "I want to see the guest barns filled and the indoor arena all flowered up. This is the start of bringing it back, and I'm here to support it."
On the opposite coast, at the Jersey Fresh International Three-Day Event, held May 5-9 in Allentown, New Jersey, organizers offered pre-sale tickets but also allowed spectators to pay admission at the gate. In a more subdued return to years past, tailgating tents popped up around the main Jersey Shore water complex, and spectators lined the ropes near some fences to cheer and snap pictures on cross-country day.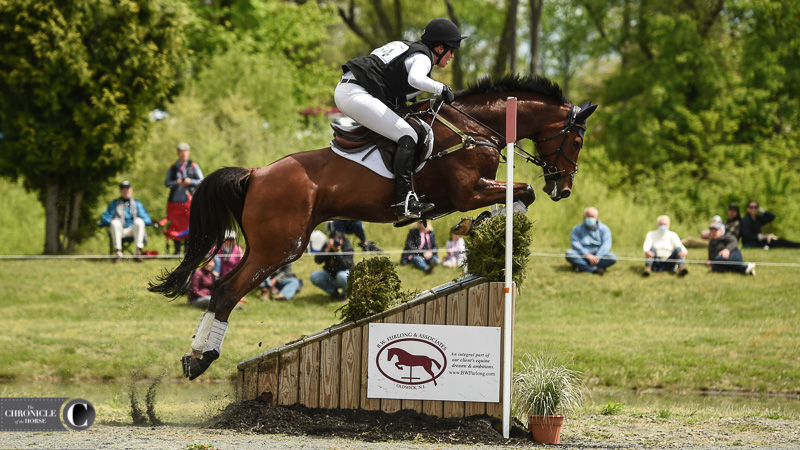 "We love having spectators, and we want to have the sport be bigger and more popular," said competitor Tamie Smith, who won the CCI3*-L with Solaguayre California. "It was nice to have all the tailgating around Jersey Shore. I wasn't sure they'd be able to pull it off because it happened so close to the event, but it was a blast, and the horses love it too."
Although organizers only had a few weeks' notice that spectators would be allowed—the USEF announced the protocol change in mid-April, to take effect May 3—organizer Jane Cory said the news was welcome and didn't cause headaches, thanks in part to the event running on a large property with plenty of capacity and room for visitors to spread out.
"Tailgate was actually easy to get going; we have a dedicated group of regulars who were happy to come," she said, noting that organizers enlarged the spots and offered fewer of them to allow for social distancing.
Virginia Grimm, a veteran Jersey Fresh volunteer, was happy to return to her volunteer role on cross-country day and came back the next day to watch show jumping.
"The community here is kind of like coming home, especially after all this COVID stuff," she said. "This is a huge community, and [the horse park] is one thing that's kind of united people."