Wellington, Fla.—Jan. 28  
Adrienne Lyle picked up another winner's blanket for Salvino when winning the FEI Grand Prix Special CDI*** at the Adequan® Global Dressage Festival. This was added to the one they scooped two days previously for winning the CDI*** Grand Prix.
Lyle and the 11-year-old Hanoverian stallion by Sandro Hit, owned by Elizabeth Juliano, chalked up a score of 75.23 percent, which would have been even higher had it not been for a jog in the walk, eliciting 5s from all five judges. The stallion's energy and ability, both for his extraordinary ability to collect, yet to relax just a moment later, drew many admirers, and higher yet scores could well be on the horizon.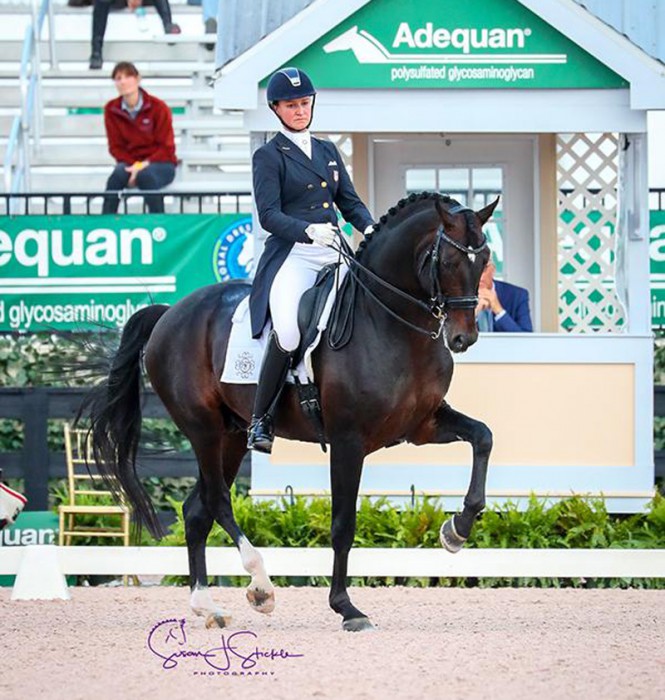 "We're pretty green still in the Special as he hasn't done too many of them, but the effort he's putting in in the ring is phenomenal, and it's now just a matter of smoothing it out and him understanding what we want and when, because he's always so eager to offer it all up in there," said Lyle, who trains with Debbie MacDonald and was quick to praise her input in their stellar progression. "Every time he goes in there, he tries harder and that's very special."
Despite being a stallion, "Vinny" leads a normal home life, going in the paddock, hacking, doing cavalettis and riding around the jumper fields. His temperament and ability in the ring mean he could be a very valuable addition to senior teams over the coming years.
"The most exciting thing about him, and I've heard this from a couple of judges too, is that there's not one thing that's a weak point and could only be a 7. As he gets stronger, we'll see where the scores go. But there's not one thing where he's plateaued yet—or even come close to plateauing," added Lyle, 33.
The partnership was formed almost three years ago, though they have competed in only four CDIs to date as Lyle spent the first year gelling with the horse in training. The main aim for the season is the upcoming FEI World Equestrian Games in Tryon, North Carolina, in September, though Lyle has not ruled out contesting an FEI World Cup qualifier class. Their next show will be the five-star CDI AGDF show (Feb. 8-11), where a host of top names will be competing.
Canada's Megan Lane improved on her third place finish in the grand prix, sneaking ahead of Shelly Francis and Doktor. Lane rode her own 17-year-old Caravella (by Contango) to 72.38 percent. Caravella was bred by Jill Irving, who also contested the class, riding Degas 12.
Locally-based rider Heather Blitz once again dominated the small tour ranks with the up-and-coming 9-year-old Praestemarkens Quatero, topping the Intermediate I CDI*** class. She has been riding the gelding by Quarterback for three years, but only launched his international career earlier this month, in the opening week of the AGDF. Every judge but one rewarded their I-1 test with over 70 percent, and they finished on 70.82 percent.
Susan Pape of Great Britain continued her run of success with the 9-year-old stallion Harmony's Eclectisch, winning the Intermediate I CDI* unanimously with 69.41 percent. The victory means the new partnership—formed at the end of 2017—is unbeaten in both their international starts after choosing to make their international debut at AGDF.
Two of the three horses in the amateur Prix St. Georges CDI class were ridden by American rider Amanda Lopez, and they filled the top two spots. She claimed a 64.16 percent victory on her own Quantum, a 14-year-old Swedish Warmblood by Quite Easy.
See full results from the CDI*** Grand Prix Special and full results from the whole CDI.