No sooner had my fellow riders and I gathered around Eric Smiley than he began firing questions at us. What is the function of the outside rein? The inside? What is straightness? (Answer to the last: The hindquarters follow the forehand, which follows the head on any line the rider chooses to ride.)
Riding on four Olympic teams, coach of the 2012 Belgian Olympic eventing team, and Burghley and Badminton competitor to name only a few of his accomplishments, Eric Smiley has represented his home country of Ireland at the top levels of three-day eventing. I jumped at the chance of riding in his clinic at Inavale Farms in Philomath, Ore., March 22-23.
My mare Cairo can be a bit quirky, so I'm wary of clinics or instructors I don't know, but everyone I know who has ridden with Eric sings his praises.
Known not only for his upper-level riding, but also for his ability to produce young horses, Eric's clinic ran the gamut from green "starter" horses and riders to a training/preliminary group. I signed Cairo and myself up for the novice/training group and was soon out in the Oregon drizzle at 9:30 in the morning and wishing I'd had a little more coffee so I could keep up with Eric's swift mind and playful dialogue a little better.
Eric's Socratic teaching method asks the riders to question the vocabulary they have been using to learn and ride. He was clear that his questioning and teasing were to get you to think. My fellow riders and I soon showed that thinking and riding was a challenge for us from time to time, as when he asked us to ride a circle around him, and we promptly trotted in a large egg shape.
As the "grown-up" in our group of three, I tried to answer his questions swiftly, albeit often slightly incorrectly, if the others were feeling quiet. When you are on the hot horse that people on the sidelines are eyeballing and saying to each other, "I wouldn't ride that!" sometimes you just suck it up and feel OK looking slightly crazy.
The first day of the clinic focused on flatwork and poles and acceptance (not submission, he clarified) from the horse before the jumping began. Riding a horse is a matter of teamwork, Eric said, but he also drew on the analogy of an employer/employee relationship. When one of the horses in my group was a bit lazy, he pointed out you wouldn't let an employee be so lazy on their way to work.
Cairo did not drag her feet. She treated the audience to some bucks and snorts and eye-rolling. Rather than comment on her antics, he focused on her acceptance of the bit.
Coming beside us and taking Cairo's reins into his own hands, he said "throughness" is no resistance from the hind legs, hindquarters, over the horse's back, through the poll to the lower jaw to the bit and back to the rider's hand. Cairo, who is no dummy and knows an experienced trainer when she sees one, accepted the contact, relaxing her jaw and giving through the poll.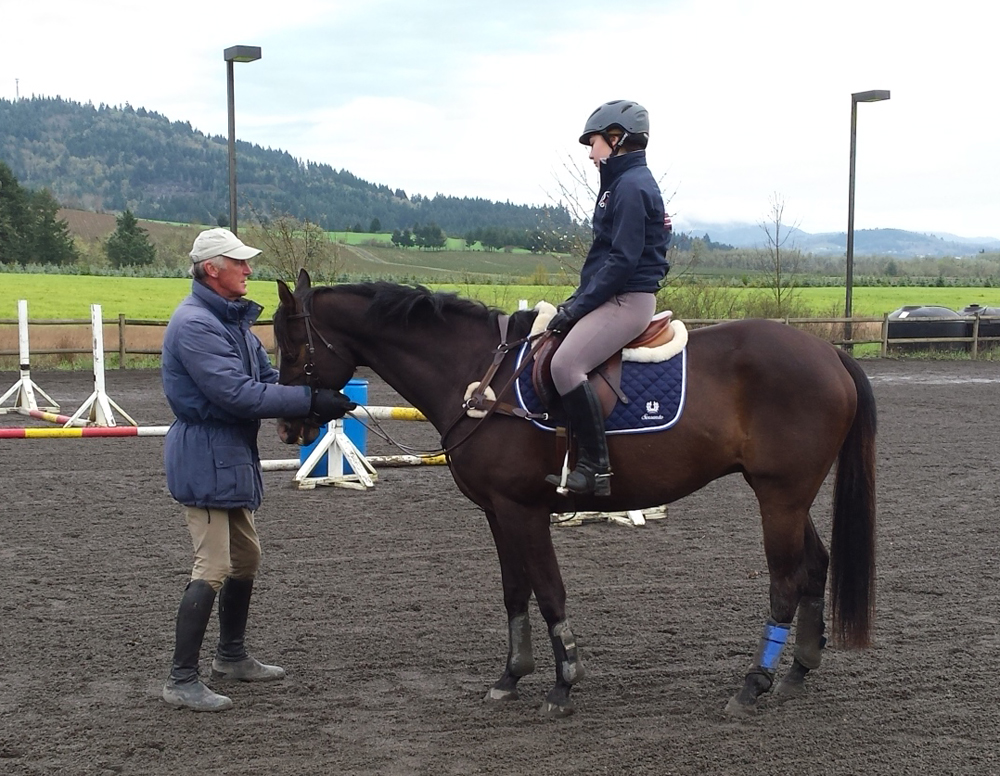 Eric Smiley explains acceptance of the bit to Rachel Russell on Sorrento. Photo by Leah Russell
Forward, he continued is the horse taking me—I'm not pushing them, they're taking me.
After figuring out what a circle actually was, we moved on to the canter. Eric put two poles down on one side of the circle, parallel to one another, and had us canter through those, gradually making them narrower. The inside leg keeps your horse from falling in, the outside keeps him from falling out, he said.
After listening to our own horse's footfalls at the canter—are they regular?—he then had us start cantering over a pole, then two poles five strides apart, then a pole five strides to a vertical. With Cairo and her Gumby-long strides I had to rate her, while other riders had to add leg, with the horse staying regular and accepting the whole time. If you know Cairo, that in itself was a big challenge! Listening for regularity kept me asking for acceptance but not straying into nitpicking at her.
The lesson continued with the level of difficulty gradually increasing and each exercise building on the next. Much of the ride focused on the riders being able to understand exactly what he meant—and what we mean— when we use certain words.
Eric added in a bending line with an oxer, also in five, and then turns, first using his tall, lanky body to demonstrate how the rider's body in the air asks for the turn and the lead (and which foot hits the ground first) on landing.
The challenge throughout the day was not in the height of the fences but in the rideability of the horses.
A big lesson of the day was "Dead Man's Corner," in which you rode along the rail, then turned back to an oxer angled away from the rail. All of us (and especially Cairo and I, the crash test dummies) drifted way too far down and then turned back abruptly, losing impulsion and regularity.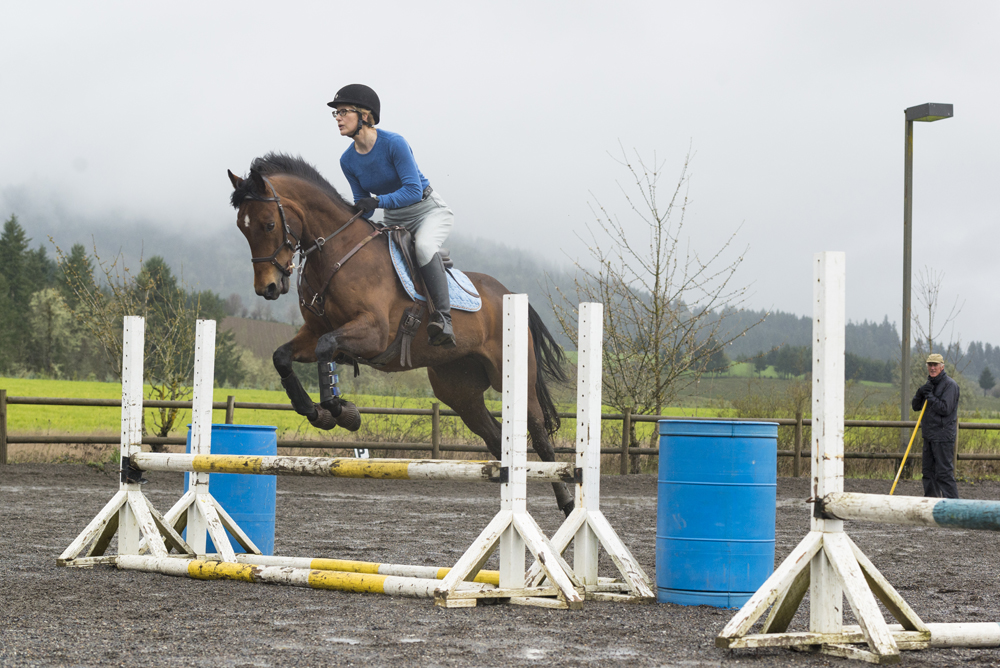 Cairo and I tackle the oxer out of "Dead Man's Corner." Photo by Irina Kuzmina
"Is it easier to turn 10 meters or 20?" Eric asked.
He showed us that the acute angle we were riding could be avoided by a wide, sweeping earlier turn, rather than a sharp turn farther from the fence. Inavale, the facility hosting the clinic, often has stadium fences set out of those types of corners at its annual horse trials, so I was pretty excited at being able to practice that maneuver.
As we wrapped up, Eric eyeballed Cairo's nathe three-ring mullen mouth bit and suggested I ask him about bits at lunch.
Oh dear.
Lunch, both days of the clinic, was a Q&A session with Eric answering questions about anything from breeding Irish Sport Horses to his Olympic rides. Turns out I didn't even have to ask him about my bit because another rider asked him about his "pet peeves" and gag-type bits are a peeve.
Eric went into detail about his concerns with gag bits and said when he was watching a British Eventing video of cross-country falls he noted that a large percentage of the horses were in some form of gag or elevator bit. He has suggested what bit is being used be tracked in incident reports after falls.
As he writes in his article "A Bit of a Disaster," which he gave me a copy of, in a strong bit like a gag, "Horses are now 'blocked' with the resultant diminished ability to jump. Their way of going changes: the jaw shows resistance, the head comes up, the neck goes hollow, the shoulders become blocked, the back becomes less through, the rider stops using release for fear of more speed, and the hind legs are less engaged."
A gag bit, he said, works on the lips and poll and can create a delayed reaction and an inverted jump. The back and shoulders lock, the back cannot bascule, the horse hits the fence with his forearms, and rotational falls happen.
Finding a bit Cairo accepts and goes well in has been a challenge (thinner, soft rubber mullens only for the princess). She's strong but doesn't tolerate strong bits. I've been riding her with the cheek pieces on the top ring and the reins on the second ring, in a sort of baucher-meets-a loose-ring action, but when a rider of Eric's caliber tells you the bit you're using could lead to bad falls…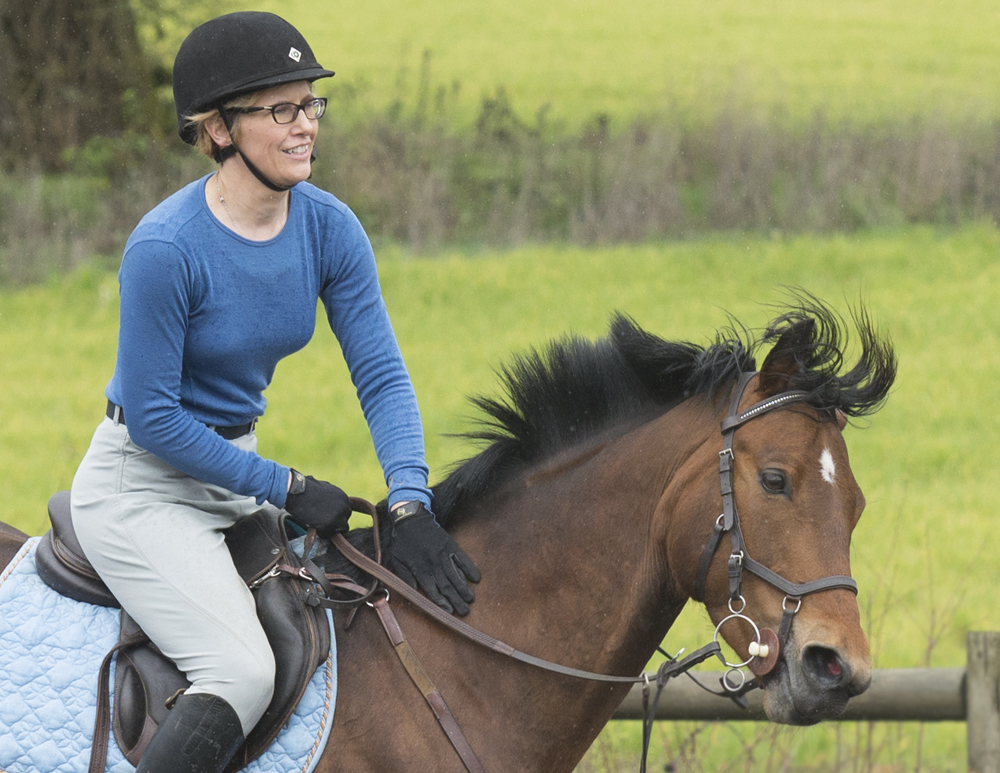 Cairo expressing her opinion of "acceptance." Photo by Irina Kuzmina
Let's just say I decided to defer to the expert on that one! I was glad I had brought another bit with me, just a plain rubber mullen D-ring Herm Sprenger Duo. I switched the bit, wiped my tack, doted on Cairo, and got ready for Day 2.
You can read all about Day 2 here!
Camilla Mortensen is an amateur eventer from Eugene, Ore., who started blogging for the Chronicle when she made the trek to compete in the novice level three-day at Rebecca Farm in Montana. Camilla works as a newspaper reporter by day and fits training and competing Cairo into her days.
Read all of Camilla's adventures with Cairo…