When Allison Greulich competes Heart River, she knows she's going to get some questions from onlookers.
"He gets called a mustang or an Appaloosa all the time," Greulich said. "Or they see his brand, and they ask what he is, why is he branded, and where did he come from."
Greulich's 15.1-hand red roan gelding is, in fact, a Nokota. Don't worry if you've never heard of the breed. Greulich, 30, who is lead research support at the University of Pennsylvania's gene therapy program, knew absolutely nothing about them until "Heart" showed up at her aunt Lois Gemmell's farm in Doylestown, Pennsylvania, in 2005.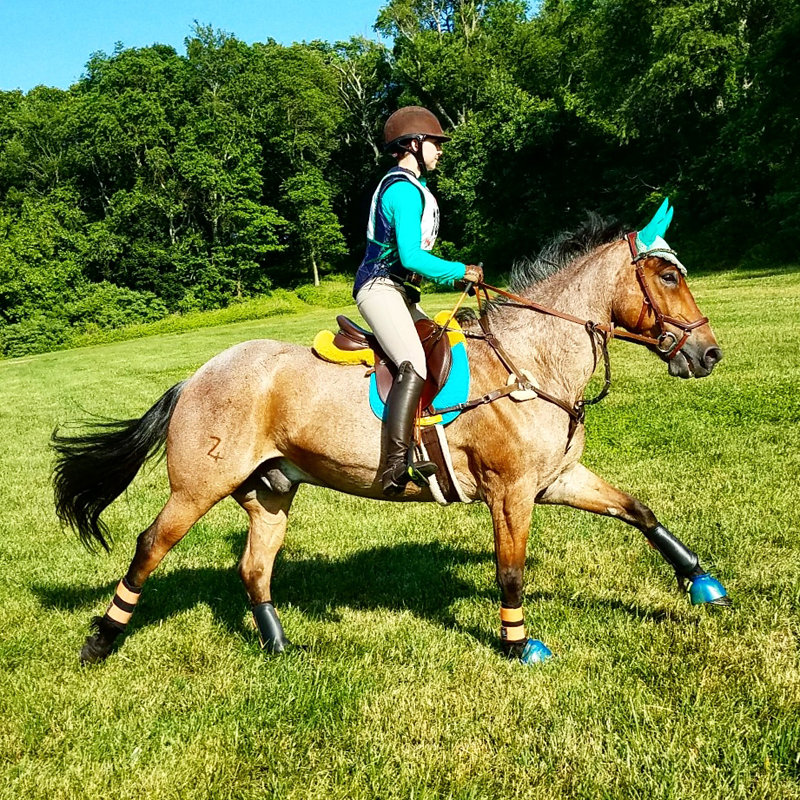 Nokotas are a breed of wild horses that developed in the badlands near the Little Missouri River in southwestern North Dakota. DNA evidence shows they descended from early 20th-century ranch and American Indian stock horses, possibly including those turned over by Sitting Bull when he surrendered to the U.S. Army in 1881 at Fort Buford.
After the creation of Theodore Roosevelt National Park in 1947, many of the wild horses that had roamed the badlands for generations were fenced in. By the late 1970s, U.S. Park Services had begun rounding up the horses and selling them. At these sales, brothers Frank and Leo Kuntz noticed that all of the horses from the park had a similar conformation and looked different from other breeds. In an effort to save what they thought was a unique breed, the brothers purchased as many horses as they could. Nearly 20 years later, in 1999, this effort evolved into the Nokota Horse Conservancy.
Heart River began his life roaming free on the Nokota Horse Conservancy Ranch with little human contact. When he was 2 years old, he was purchased through a ranch sale and moved to Doylestown. Three years later, his owner relocated and didn't take Heart with her, abandoning him at Gemmell's farm, which she co-owns with her son, Justin Reeser. In an attempt to make her new responsibility earn his keep, Gemmell asked her niece to help turn him into a lesson horse.
"I started working with him, and I was teaching a girl that was potentially going to lease him, and he was just completely attached to me—like Velcroed at the hip," Greulich said. "He didn't want to work with anyone else. We just really, really clicked from the moment I started working with him."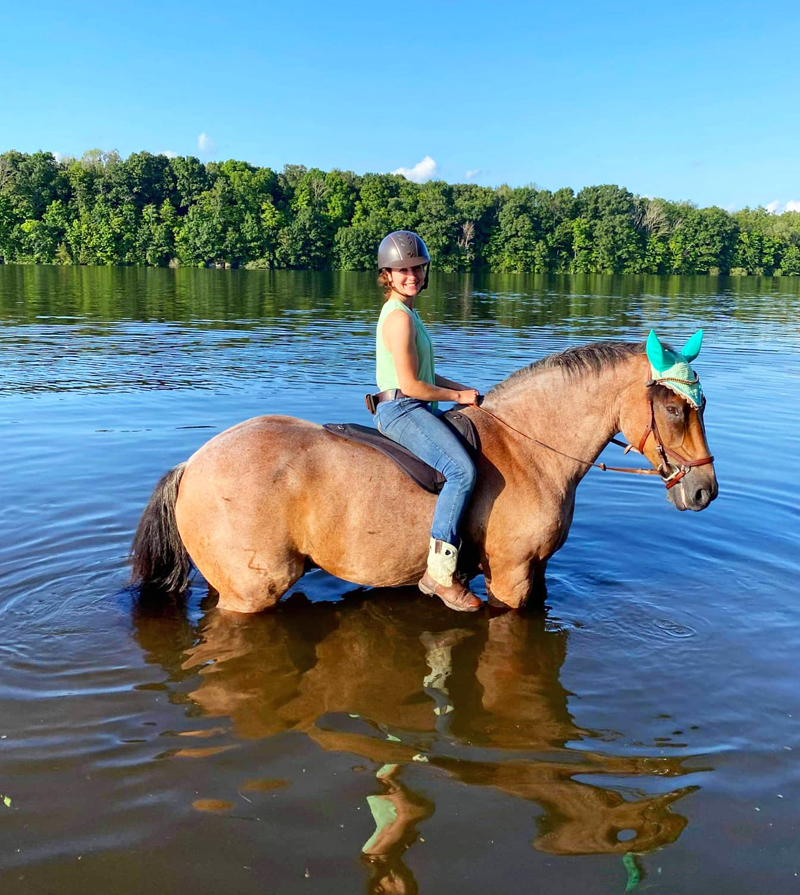 Greulich began riding as a small child, and her entire family was and still is involved with horses.
"When I was growing up, we had this mare, and my mom would just plop me on her," Greulich said. "The mare always wanted to go back to the barn, so my mom would lead us out into the field, leave us there, and go back to the barn and do whatever she was doing, and we would slowly spiral our way back to the barn door."
As Greulich grew older, she started riding in hunter and jumper shows, but when she was 15, she attended Dressage At Devon (Pennsylvania) with her mom and aunt, and she instantly fell in love.
"I thought it was beautiful and amazing, and I wanted to try to do it myself," Greulich said.
When she began working with Heart in 2008, she focused on schooling him in dressage. By 2015, the pair had qualified for the Eastern States Dressage and Combined Training Association championship show at first level, and in 2016, they returned to win the championship, an achievement Greulich still lists as one of her proudest. "I went not really expecting anything huge," Greulich said. "It was the coolest experience to bring along my little wild pony and do all of the dressage training myself and then have that happen."
Since then, Greulich turned her focus to eventing, and she's currently competing Heart, who is now 18, at novice level. As a child, she begged her mom to allow her to event, but her mother felt the sport was too dangerous.
"I like to say that I can do eventing now because I am an adult, and she can't tell me I am not allowed to anymore," Greulich joked.
Due to her hunter/jumper background, Greulich had always incorporated jumping into Heart's training, so the transition to eventing was fairly easy.
"At first he was kind of like, 'Well, I'll do it if you want me to Mom,' because he was always on the lazier side, but this past year he has really kind of come into his own," Greulich said. "He has really gained a lot of confidence, and now he just absolutely loves it."
Greulich credits five-star eventer Dom Schramm with helping her find her way in the new discipline. "He has just been such an incredible resource from not only just the lessons, but even just the differences in how the recognized and schooling shows run and nutrition and shipping horses and tack and just every little thing," Greulich said. "The entire eventing community is so welcoming, so helpful."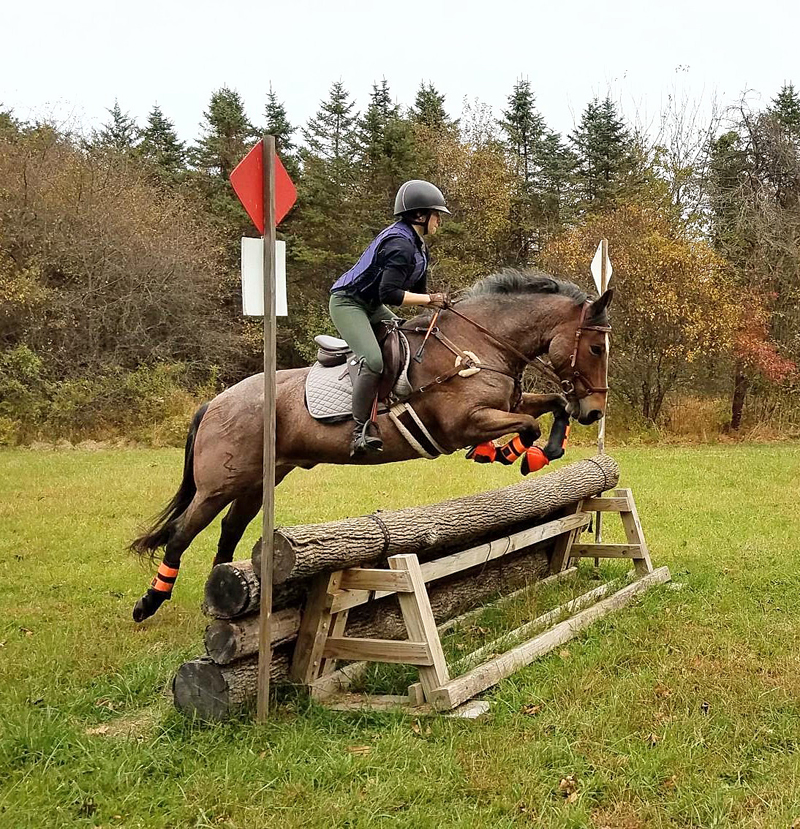 While the pair has competed regularly over the course of their 13-year partnership, Heart does sometimes display remnants of his wild start.
"He was and sometimes still is very head shy and just skittish in general," Greulich said. "It is almost an innate kind of fear. If he goes for a little while without doing something, he needs kind of a refresher."
Despite these challenges, Greulich said she would love the opportunity to take on another Nokota in the future.
"It amazes me how versatile he is and how smart he is," Greulich said. "I can teach him anything, and he will pick it up within 45 minutes of me working with him."
A few winters ago, she decided to try to train him to pull a sleigh. She started by teaching him how to long line, and within an hour he was pulling her in the sleigh. "He puts up with a lot of my crazy ideas," she said with a laugh.
The connection Greulich has with Heart, she says, is completely different from any other horse she has worked with.
"As soon as I got on Heart it was this immediate click that we just kind of spoke each other's language," Greulich said. "There is a lot more trust in our relationship than with any other horse I have ever had, and it's mutual. I trust him to take care of me, and he trusts me to take care of him."
After her experience with Heart, Greulich encourages anyone interested in a wild horse to take the plunge.
"They are 100 percent worth the time to put into making them a riding horse because there is just such a connection there with an animal that kind of came from nothing and no contact to being put through the sales and finally landing with a person and working with that one person—just an amazing bond is formed doing that, and they will just do anything for you," she said.