Luhmühlen, Germany—June 14

The last time Shamwari 4 cantered down centerline at a four-star was two years ago in Kentucky, but on the first day of dressage at the Luhmühlen CCI**** the German-bred Hanoverian proved he's still on his game. With a score 27.4 penalties, "Shammie" and Boyd Martin are sitting in a tie for the lead with Great Britain's Kitty King and Ceylor L A N.
"Shammie's feeling like a 6-year-old here at Luhmühlen," said Martin. "He went fantastic in today's dressage. It was probably the best test we've put together since partnering up years ago, and I couldn't be happier with him."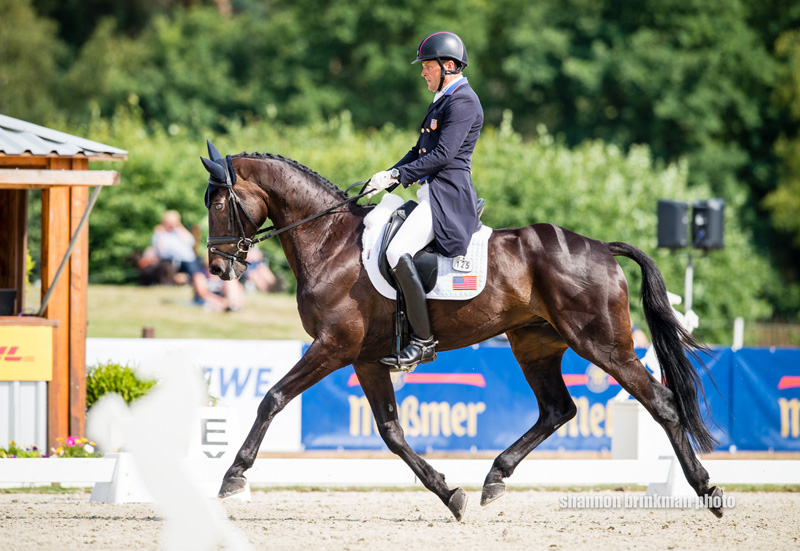 Since his wife Silva Martin couldn't make the trip to Germany, Boyd's relied on U.S. Eventing High Performance Director Erik Duvander to get Shammie's canter work up to snuff.
"Erik Duvander has been really awesome to work with," said Boyd. "He's been the Donald Trump of American eventing. He's making American eventing great again, and he's been awesome the last couple of days. We've worked on a number of exercises to really get Shammie engaged, especially in the canter work, and I think a lot of our success today was due to the preparation he's put into us the last few days here in Germany."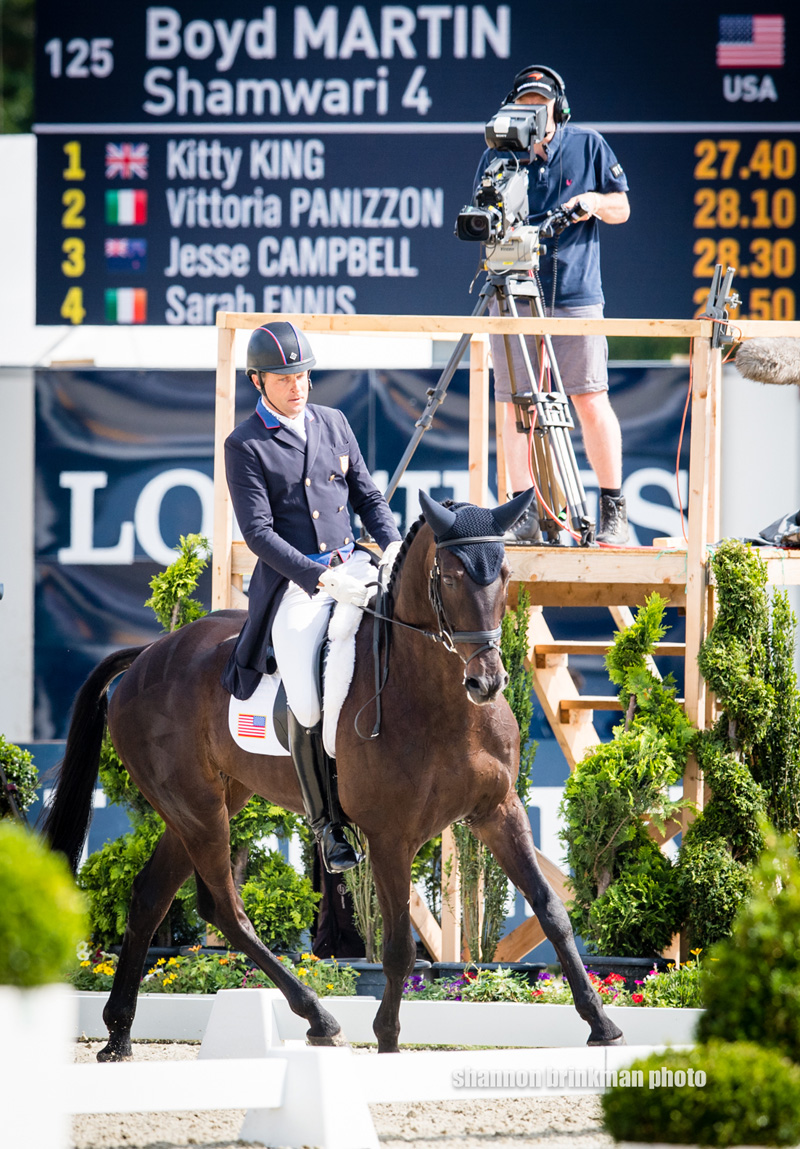 Boyd picked Luhmühlen for Shammie's four-star return since he felt it was the least taxing on the 16-year-old gelding.
"He's a World Equestrian Games and an Olympic veteran, and I thought that this four-star would give him a run that would give us the least amount of trauma to his legs," said Martin. "By saying that I'm not really thinking about the WEG. He ran really well here a couple of years ago [when he finished third in 2014], and he's in great shape. He's healthy; he's looking strong; he's happy. And I'm really going to go for it come Saturday.
"I've been looking after my old mate Shammie and not running the legs off him," continued Boyd. "I've got complete belief in this horse, and I've had him for a number of years and he's jumped every cross-country jump I've ever pointed him at, and so I felt like I didn't really need to push him hard in his preparation at the competitions. I just ran him at the intermediate and two-star level and kept him sweet and schooled him at some difficult stuff at my schooling course in Pennsylvania. I'm going to have to be aware and ready because he hasn't seen this degree of difficulty in some time, so I'm going to have to be concentrating and really ride him well."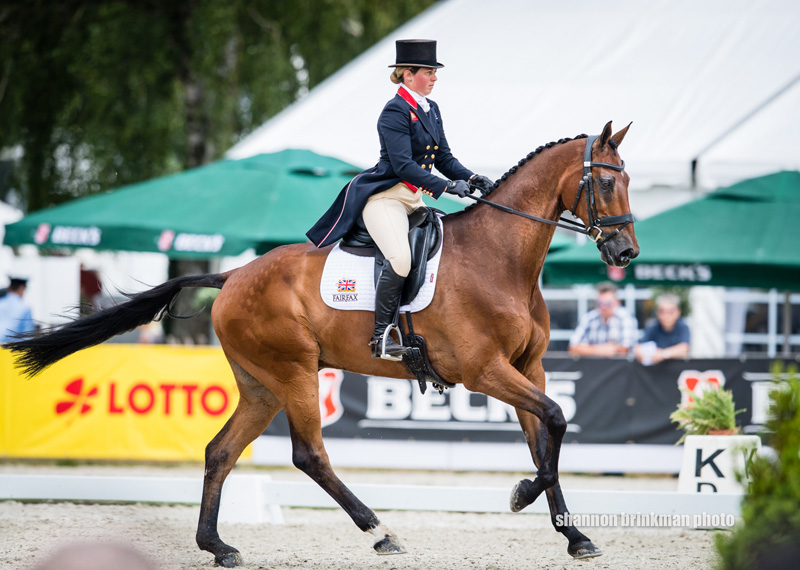 King's horse Ceylor L A N has had a similarly light schedule over the last two years. The 11-year-old Dutch Warmblood has only run two CIC***s since the 2016 Olympic Games in Rio.
"He has performed really well for me today, and I could not have asked for more," she said.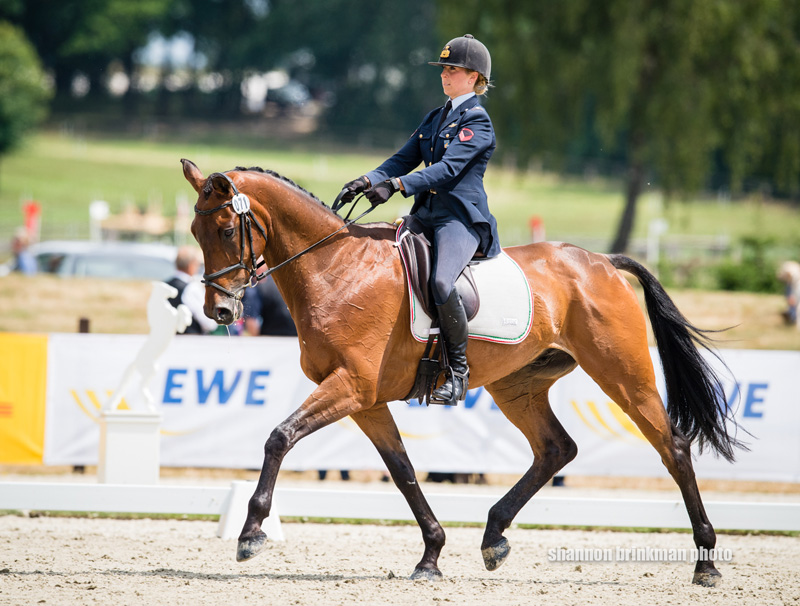 Right behind them is Italy's Vittoria Panizzon, who rode four-star rookie Chequers Play The Game to third on a 28.1.
"Only one of the flying changes didn't quite turn out as planned, but the rest was brilliant," she said. "He has a fabulous walk, which earned us three 9s from the judges—definitely something to be proud of."
The other American representative in the four-star, Liz Halliday-Sharp on Deniro Z, currently sits in eighth on a 29.8.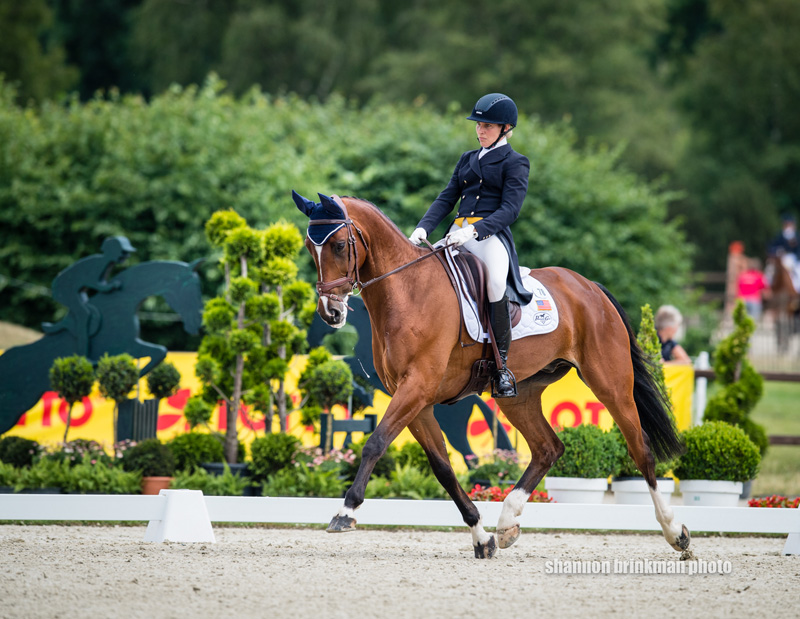 In the CIC*** Germany's Julia Mestern, who is also a successful dressage rider, delivered an almost perfect dressage test today on Grand Prix Iwest for the lead on a 26.2.
"This was by far our best test!" said Mestern. "I was smiling the whole way through, which is a sure sign things were going well for us today. There were only a couple of things we could have done better—coming down the first centerline and two of the flying changes were not as good as they could have been. The rest was brilliant! The atmosphere is electric in the stadium, but my horse kept his cool and listened to me throughout."
German teammate Josefa Sommer sits second on Hamilton 24 (26.8).
"He has improved from test to test this year, and today he really gave it his all," said Sommer. "The canter work still needs a little work, but I really could not have asked for more. Even our changes were pretty good today, which I managed to improve after getting some useful tips from Ingrid Klimke."
Woods Baughman and Maverick McNamara are the sole American combination in the three-star, and they sit 21st with a 35.4. Baughman, 22, has been living in Germany and training with Dirk Schrade since January.
Want to catch a live stream of the cross-country? You can catch all of the three- and four-star action at Horse & Country.