Lima, Peru—Aug. 2
Onzieme Framoni has never been Ecuadorian eventer Nicolas Wettstein's top horse, but he's always been his favorite, and he's thrilled to have the gelding here at the Pan American Games.
After all, he and his family bred the 17-year-old Selle Français (Airborne Montecillo—Just Framoni, Hand In Glove), and he's been a solid citizen since the beginning of his career through the five-star level.
"I've always had another horse to do the Olympics or the [FEI World Equestrian Games]," said Wettstein. "But he's my heart horse."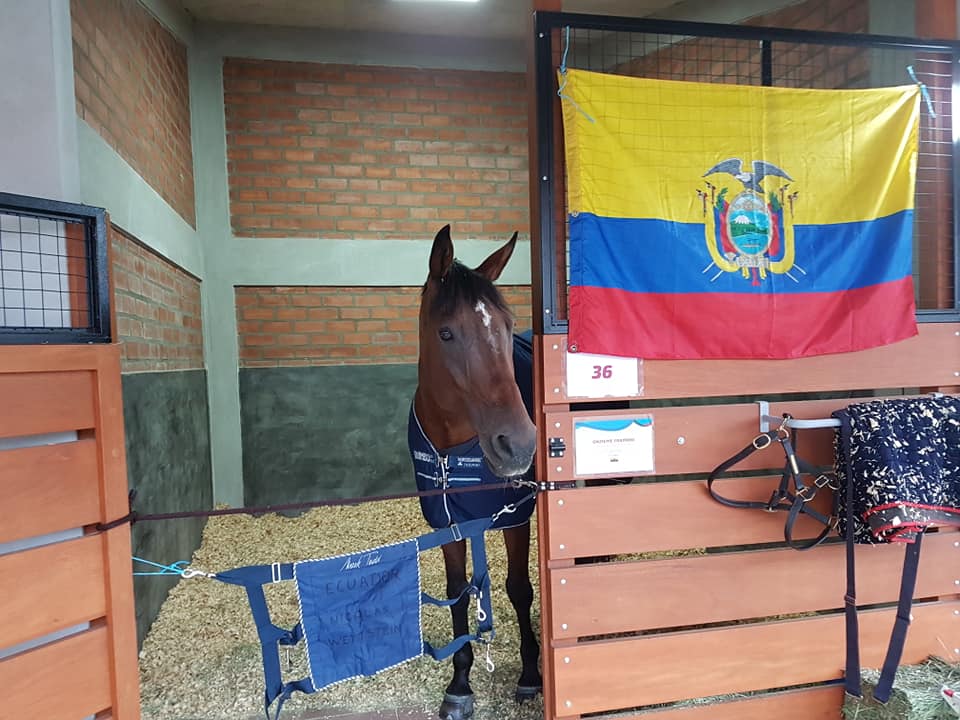 Wettstein sees several similarities between "Onzi" and his dam, a  show jumping mare Wettstein used to compete.
"Their fighting spirit is the same and good jumping style," he said. "Sadly also the bad movement for dressage, but he was good today; I think he understood that this was important. I'm really looking forward for cross-country for tomorrow. He will be really quick and that will be, I think, the determinant tomorrow. We will be really close to the optimum time."
Wettstein, who rides for Ecuador but also holds Swiss and French passports, is based in Switzerland, and "Onzi" lives across the border in France. Wettstein manages a pharmaceutical distribution company, and he squeezes in time in the saddle before and after work. He got his love of horses from his parents, fellow passionate amateur riders.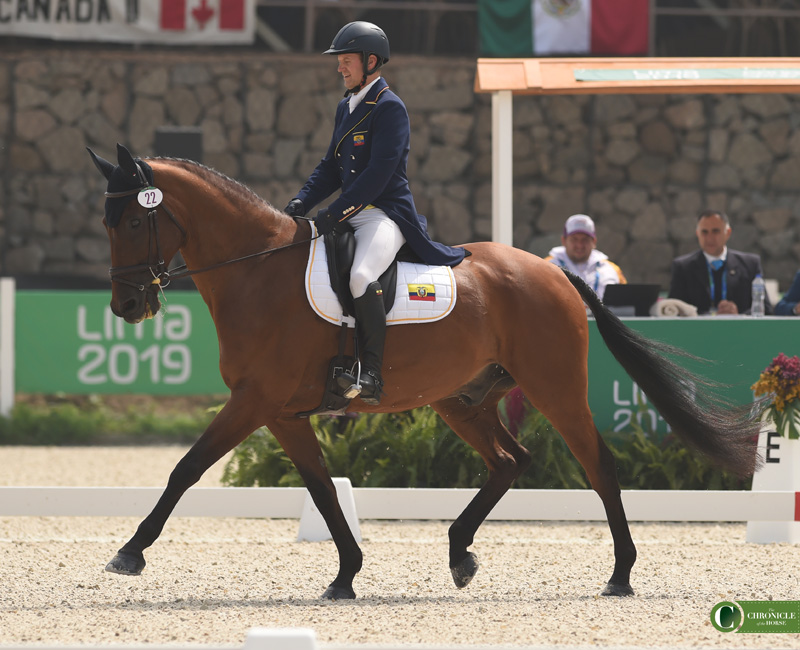 Though he doesn't ride full-time, his competition record doesn't reflect it. He uses every possible vacation day going to shows with Onzi and his other mounts. He even flew on the plane with Onzi on the 44-hour journey from Geneva to Amsterdam to Lima for the Pan American Games. ("He's my baby, and I wanted to see how everything went for him," he explained.)
Wettstein started out as a show jumper riding for Switzerland. He competed on the Swiss young rider squad with Steve Guerdat and trained with Guerdat's father, Philippe, until he was 21. When his young rider horse came to the end of his career, Wettstein's parents pointed out that there were two horses back at the stable who were eventers who he should try out, and after that he never looked back.
Within months he had qualified for 2002 European Championship young rider competition in eventing, and by the next year he was doing current four-star level competitions. He served as the reserve eventing rider for the Athens Olympic Games in 2004.
"I like the fact that [eventing] is more physical, not only for the horse, but also for the rider," said Wettstein, whose ex-wife was Ecuadorian. "That was what made me not change back.
"Sadly it's the last discipline that you can bring a horse from nothing to the top without spending too much money, especially in Europe," he continued.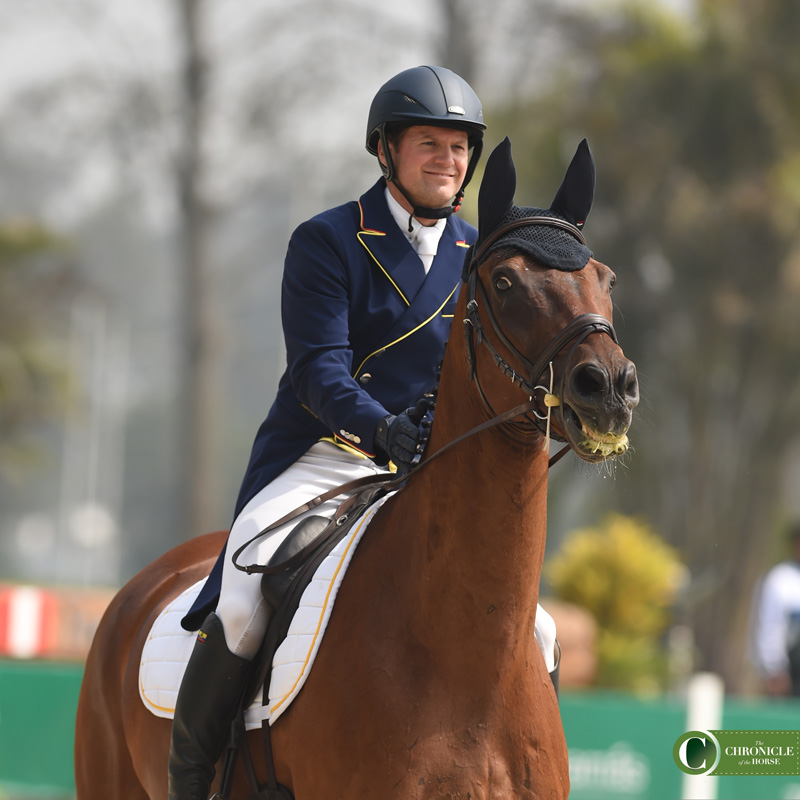 Wettstein started riding for Ecuador eight years ago.
"The mentality [in Ecuador] is very different, and I love it, without being critical of Switzerland," he said. "I really fell in love with the character of the country, and all the parts of it. I've made a lot of great friends. The team atmosphere we have in South American countries is very different than in Europe."
At one point he considered taking up pure show jumping again to represent Ecuador in both sports, but after one two-star grand prix with three rails down he decided to stick to the galloping lanes.
"I realized you cannot do two things really well—unless you're Michael Jung of course," he said.
Wettstein used to head back to Ecuador three to five times a year to teach clinics, but with no extra time off, he hasn't had the opportunity, especially as he's trying to climb the Fédération Equestre Internationale rankings to earn an invitation to the Tokyo Olympic Games.
But that won't be on Onzi.
"He did the Pan Ams four years ago in Toronto, and I thought it would be really nice to finish his career here at the Pan Ams in Lima," said Wettstein, 38. "We'll maybe do some indoor eventing competitions. He won already an indoor in Stuttgart over Michael Jung—that was nice!"
Watch Nicolas Wettstein and Onzieme Framoni at the Stuttgart German Masters Indoor Derby (Germany).

Have questions about the Pan Am Games? We've got answers. Follow along with the Chronicle as we bring you stories, news and photos from the Pan American Games. Check in at coth.com and make sure you're following us on Instagram and Facebook. 
You can find full results by clicking on equestrian on the official Pan Am website.
Check out our July 22 issue of The Chronicle of the Horse magazine, our Pan Am preview issue, for more information about the competitors, and be sure to read the September 2 issue to get full analysis from the Games. What are you missing if you don't subscribe?