Mill Spring, N.C.—Oct. 30
Though he knew that the WIHS Equitation Finals was going to be the last class of his junior career, Dominic Gibbs refused to let that thought creep into his head this week at the Washington International Horse Show.
Instead he focused on that fact that he knew his horse Cent 15 incredibly well, that he trusted his training, and he just needed to try to deliver his best possible rounds.
"Mental game has always been a really big thing for me," he said. "I used to struggle with nerves a lot, and I think having done the equitation for a few years now and really knowing what the finals seasons are like—having that under my belt is a really good thing coming into my last junior season."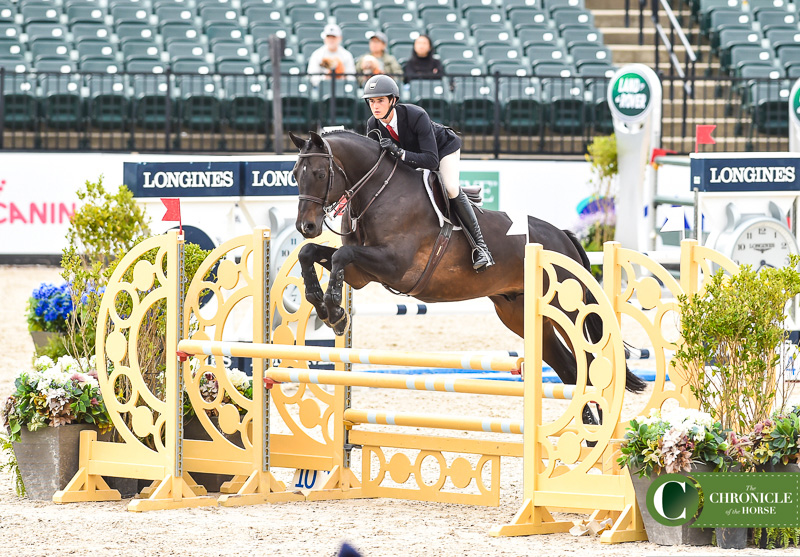 He got things off to a good start on Friday when he finished third in the hunter phase. Today he topped the jumper phase, boosting to him to the top spot heading into the work-off, where the top 10 riders swap horses.
Gibbs jumped last aboard Skylar Wireman's mount Fix Blue and rode effortlessly around the course. While fourth through 10th are pinned at the in-gate, the top three after the work-off are left in the dark with regards to their placing.
When Wireman was announced as the reserve champion, Gibbs' face lit up as he realized he'd closed off his junior career on a high note.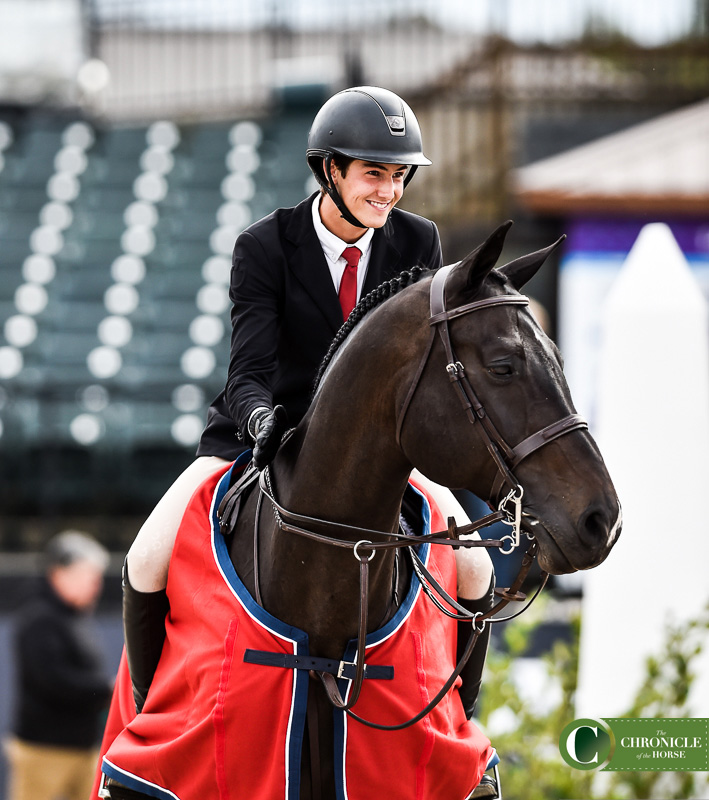 "I'm absolutely on cloud nine," he said. "This is actually my last day showing this year, last day of my junior year, my last equitation class, and I'm just ecstatic to end it on a such a high note."
Gibbs' mount Cent 15, a 13-year-old Hanoverian (Carenzo—Sarafina) was initially purchased to be his high junior jumper, but the gelding found his niche in the equitation ring.
"I feel like I know him like the back of my hand," said the 18-year-old from Colorado Springs, Colorado. "I had originally bought him to be my high junior jumper. which obviously didn't really work out, but he shined as a star in the equitation ring ever since Day 1. And I'm really just so lucky to have such an amazing horse that I've had as a consistent partner through my last few junior years, and I'm really just happy to have him and to win on him again."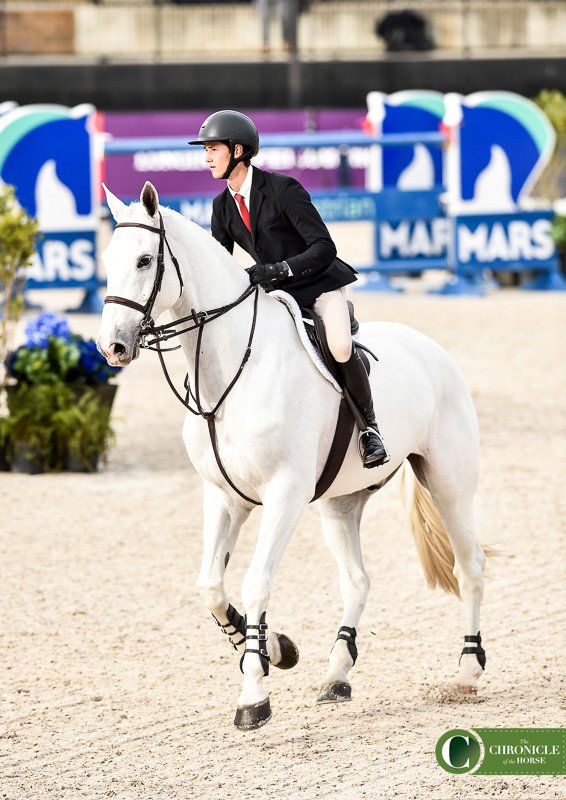 Wireman, who was competing in her second WIHS equitation final, was thrilled to finish second.
"I rode [Fix Blue] for the first time this week, so it was a bit of a new mount for me," she said. "I was a little bit getting to know him still, but he was really great. And getting to switch onto Cent, I love that horse. He's absolutely incredible, and the fact that Dominic did it all himself: he's amazing."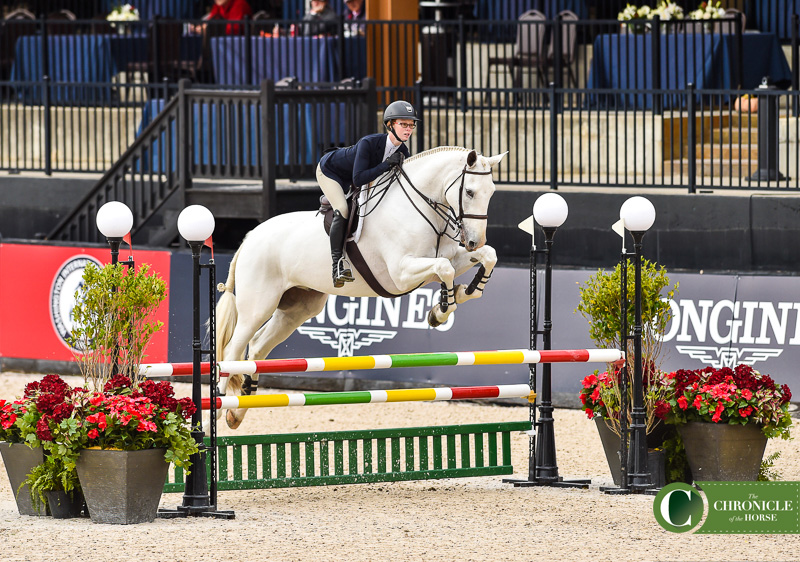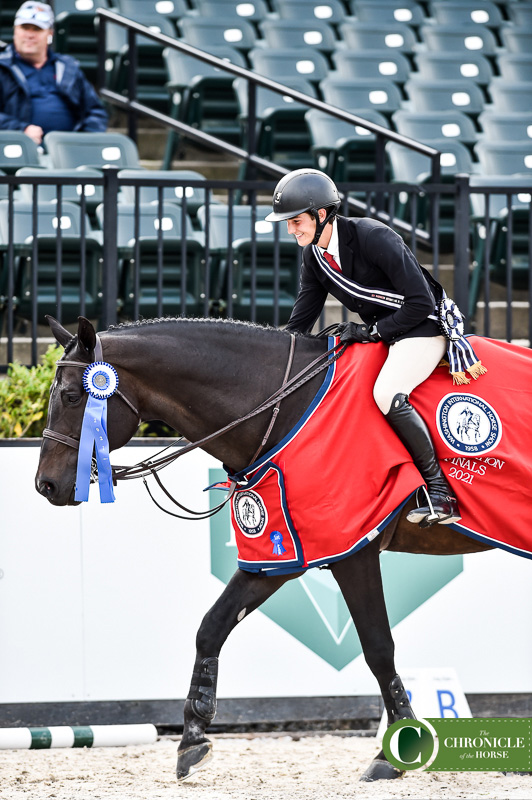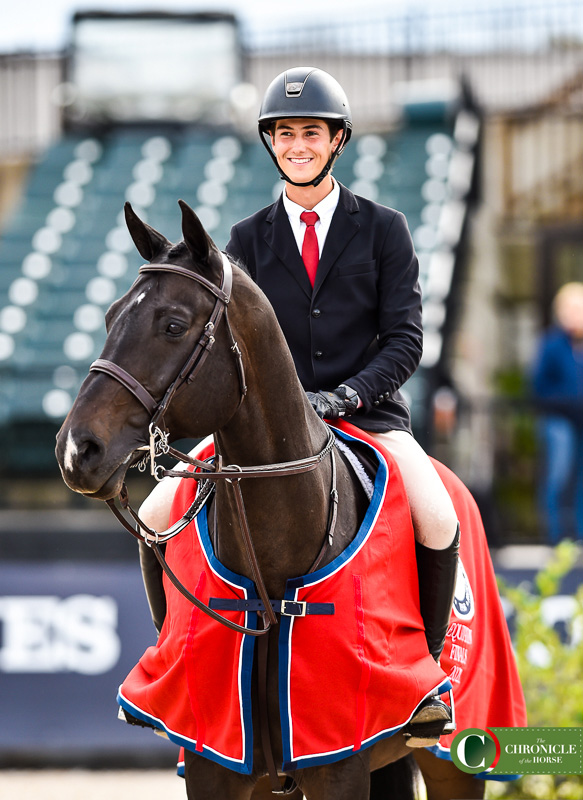 A Storybook Ending For Storyteller And Tosh
One by one the announcer called numbers into the center ring to receive their ribbons as the rest of the WIHS Pony Equitation finalists flatted on. From halt to canter transitions to sitting trot, the field dwindled and dwindled until it was only Maddie Tosh and Olivia Sweetnam left cantering on the rail. Then they called Sweetnam in to receive the red ribbon, and Maddie Tosh burst into a smile aboard Storyteller.
"This is my last year on him," said Tosh. "This is actually my last horse show, and my last class ever on him. So it's super special. He's amazing."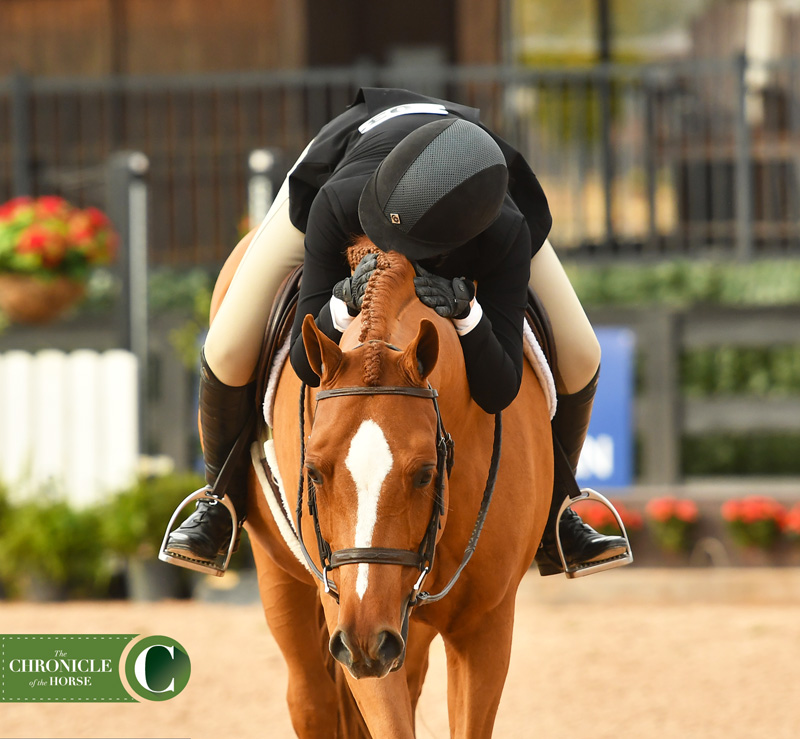 In his 18 years, the German Riding Pony earned a reputation as a top equitation pony as well as hunter champion. He carried his rider to center ring to wear the blue sash of a WIHS Pony Equitation Final winner three times previously.
In 2019, Betsee Parker bought the famed large pony for Tosh to close out her pony riding days, as her stirrups inched closer and closer to horse length. The plan always was for the pair to close out their time at the pony ring together.
"Betsee bought him for me, and I couldn't be more thankful for that," said Tosh. "He's just a dream.
"Coming into the first round, I knew this was my last real big event on ponies," she added. "And I just really wanted a solid good go and not make any stupid mistakes."
Tosh was second after the first round out of 24 competitors and moved into the lead after the final flat portion. And though she wanted that picture perfect swan song for herself, she really wanted it for "Story" before he entered his well-deserved retirement.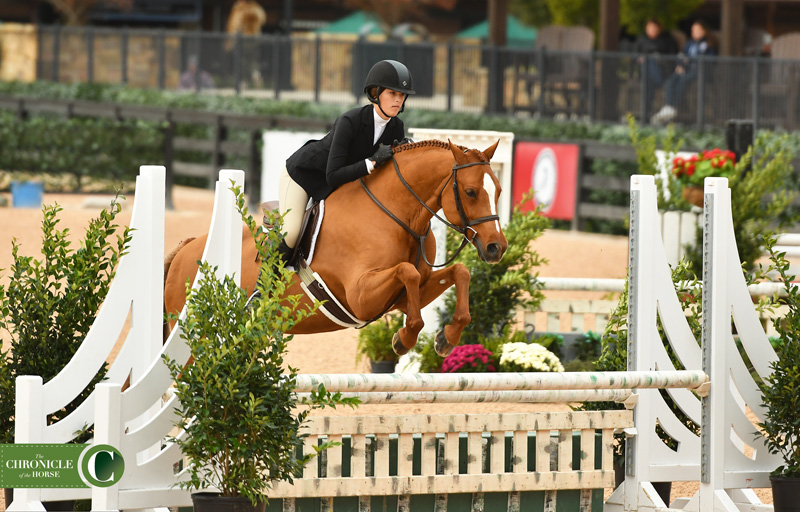 "I obviously wanted to on Story because he's such a great equitation pony," said Tosh. "I obviously know that he's so capable. As long as I don't get in his way, he's kind of the winner at this. So, I was lucky that he was able to go out with a bang.
"Washington is always one of my favorites; it's such an honor," she added. "And with Betsee being here this year, it's super special to be able to share this win with her."
Onto horse equitation classes for Tosh and lush Virginia fields at Parker's Huntland for Story.