Elkton, Md.—Oct 15
Galloping to the huge white ramped tables at Fence 16AB today at the Mars Maryland 5 Star at Fair Hill, Tim Price felt Coup De Coeur Dudevin take a hold. The horse stretched across the first two jumps and then locked onto the C element, a brush corner out.
From that moment on, Price knew he had a five-star horse. The pair finished Ian Stark's cross-country course 3 seconds under the optimum time of 11 minutes and 30 seconds, and they moved into the lead on a score of 27.4 in "Joker's" five-star debut.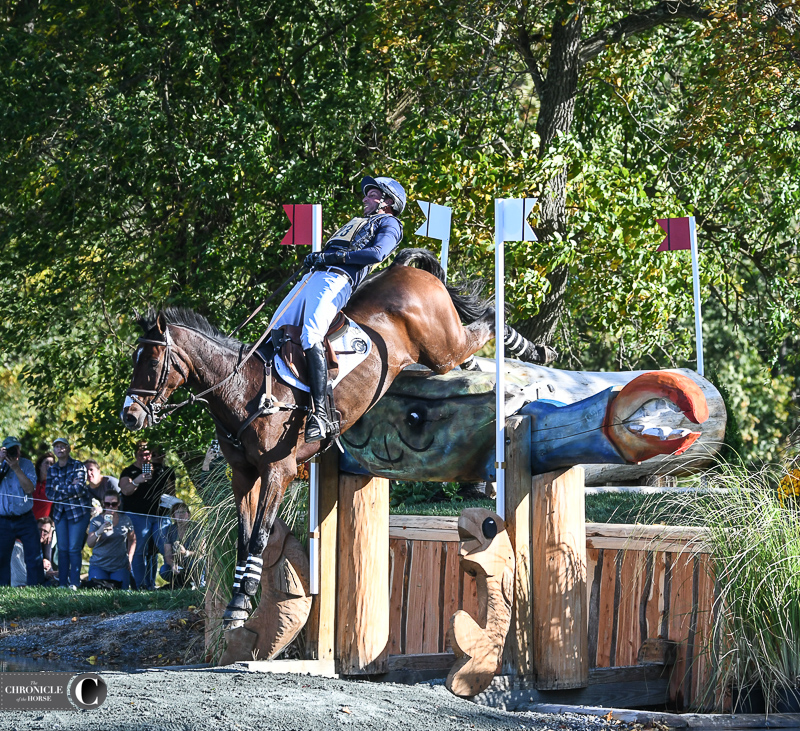 "I was a little bit nervous—is it the right thing to bring a horse halfway across the world with less experience? It kind of puts it all on the line," said Price, who rides for New Zealand and is based in England. "It's a lot of investment from the owner [Jean-Louis Stauffer] and ourselves, but I've always believed in the horse. Today was the perfect occasion for him with good conditions, a great course that I could just go and try and give him a good education whilst being competitive. It was just riding that balance the whole way. But he was exceptional. Really jumped beautifully."
Price had one hairy moment at the Mars Sustainability Bay, Fence 23A, a drop in over a carved crab, but by that point in the course, Joker had grown in confidence and leapt into the water.
"The water at the top with the crab was where he grew another leg and took his own initiative and made a much better decision than me to get the job done," said Price. "That's a mark of a top event horse in general—that they think for themselves, and especially at that stage of the course, 9 minutes or something, that he's still able to have the presence of mind to make a good decision and stay upright and stay on his feet and keep thinking forward and ahead of himself. I'm really pleased."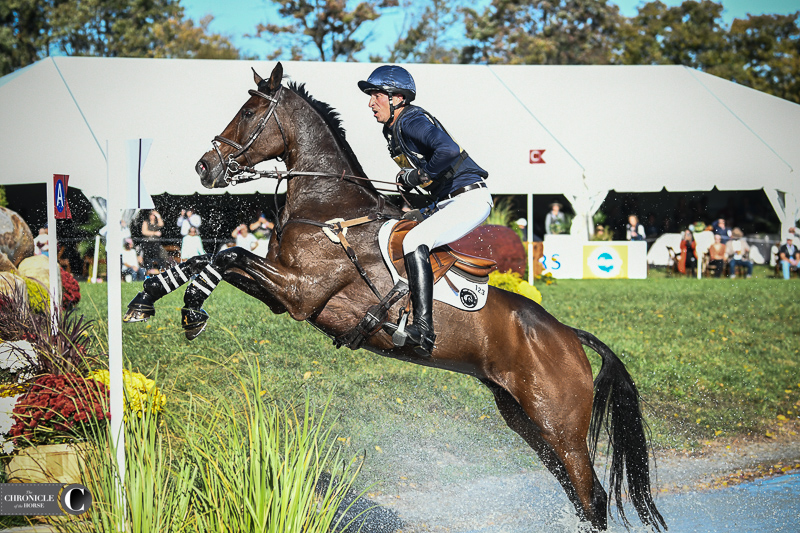 Tamie Smith is the highest-placed U.S. rider in second with Ruth Bley's Danito, a 13-year-old Hanoverian gelding (Dancier—Wie Musik, Wolkenstein II). She made the time and moved from sixth after dressage to second on 29.4.
"Cheeto" has spent much of the year recovering from an accident at home where he broke his withers. He did his first event of 2022 in July at Rebecca Farm (Montana), where Stark encouraged Smith to enter Maryland.
"He's been low on the competition miles this year, so to have him go out and do that and step up—I was quite nervous," Smith said. "These first-time five-star horses, you just never know, and he's not got a high percentage of blood. It's a lot of work from the rider when you're riding a horse that doesn't have a lot of puff at the end, but he sure did. I'm super happy with him."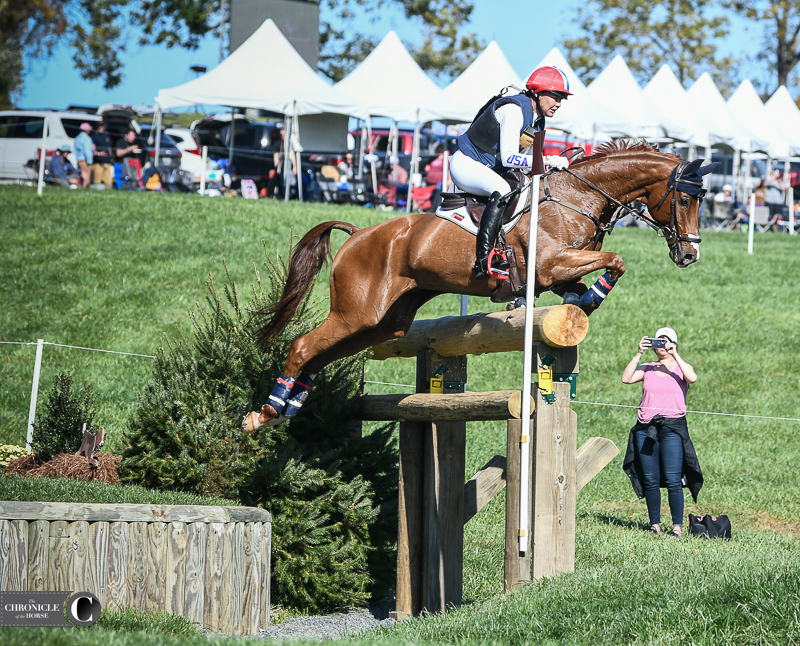 Great Britain's Oliver Townend slotted into third (29.9) on another first time five-star horse, As Is.
In the second year of the competition, and Stark's course design, 13 of 24 pairs made the optimum time. Five-star first-timer Zach Brandt pulled up Direct Advanced after two refusals, and first to go, Liz Halliday-Sharp, retired Cooley Quicksilver at Fence 23B after one refusal.
Fence 10A, the Mane N'Tail Singerly Slide, caused New Zealand's Hayley Frielick and Dunedin Black Watch to pick up 20 penalties, and France's Astier Nicolas and Babylon De Gamma also picked up a refusal at Fence 21, the Sport Corp Corner.
Dressage leader Woods Baughman added 20 penalties at 24C, a brush out of the water, with C'est La Vie 135 to drop to 19th.
Results right after cross-country showed a handful of riders, like Phillip Dutton on Z, and Hannah Sue Hollberg on Harbour Pilot, having flag penalties, but those were taken away.
In all, 22 of 24 starters completed.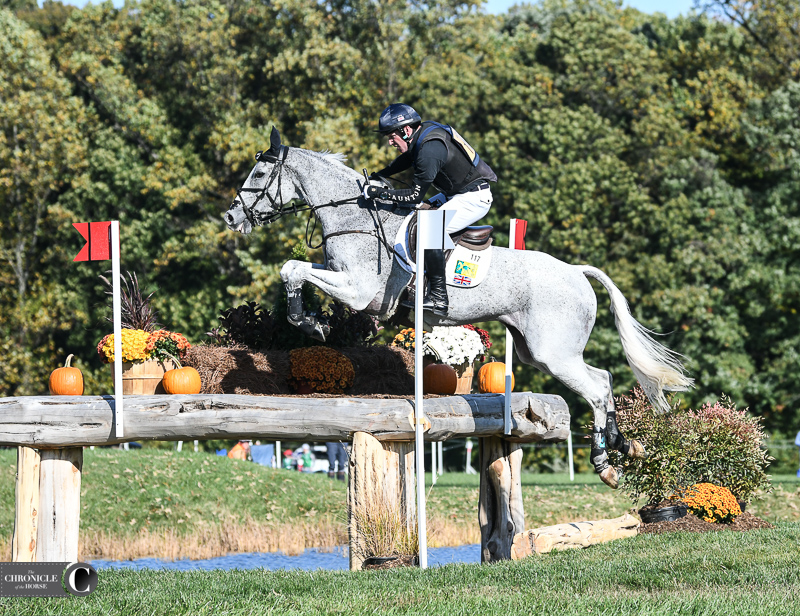 "I think what's made my day is the fact that these two [Price and Smith], along with Oliver Townend, are riding first-time five-star horses, and their horses are incredibly lucky to have three of the best riders in the world," said Stark. "They were magnificent in how they coped with the young horses and helped them and encouraged them. For me, that highlights why I do this. It was thrilling to watch.
"I'm kind of expecting to get a bit of abuse about so many getting inside the time, but it's perfect footing, perfect ground, some great riding—some bold and fast and brave riding—and I would much rather see 10 get inside the time than five on the floor," he continued. "I was a little concerned with so many getting inside the time, but we saw some great riding, so I can live with it. And it puts a bit more pressure on these guys because the results are a little bit closer for the show jumping tomorrow."
Price said he thought the course started off a bit small and basic but  knew the arena combination at 6 and 7AB shouldn't be underestimated.
"There was a real decision to be made there, whether it was four or three strides. It required a lot of thinking time and planning," he said. "Then as you got down around the track, it became big. What Scotty [Stark's nickname] is very good at is he sees it very much through the horse's eyes. For example, the white ramps to the corner [Fence 16ABC], they walked big, they rode big, but the job to be done was very obvious to us, and the horses read it and understood it very well, so it ended up quite fun to watch and fun to ride for the most part.
"It was a good course, and from where I was sitting on a horse that was inexperienced at that level, it was a good course for that job," he added. "As long as you give them a fairly decent ride, they'll hopefully grow and improve as they go. My horse will really grow up from this round and learn a lot from it and come out all the better."
Smith agreed, adding that had the ground been "bottomless," as it can be at Fair Hill, then the results might have been different. Heavy rain on Thursday made things a bit mushy for spectators, especially in the trade fair, but the cross-country footing turned out to be good.
"It was a great first five-star for my horse," said Smith. "He was a little bit green first coming out, but everything was right there, and he answered all the questions fantastic. I was most worried about the crab water [Fence 23AB] not knowing after that long haul up the hill what they would feel like there. I knew that Liz's horse ran out of puff, so I was pretty nervous. I did start off more steady to make sure I got him home. He's little, but he's got a tremendous gallop. I was able to stay in a good rhythm. That water rode fantastic, and he had way more in him that I expected."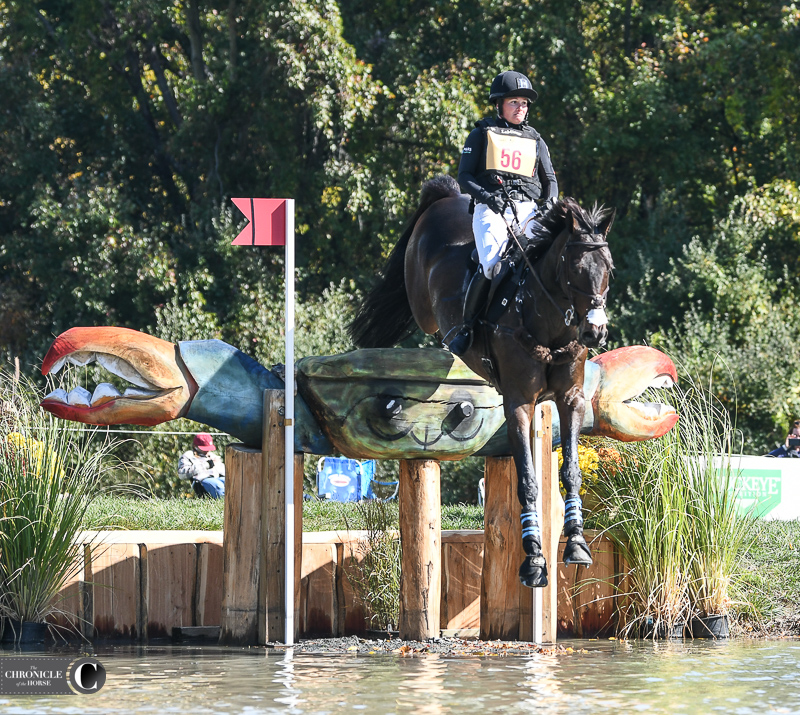 In the U.S. Equestrian Federation CCI3*-L National Championship, Hollberg held onto her lead with Christa Schmidt's Capitol HIM with a double-clear round.
Hollberg had a few setbacks with Capitol HIM in the spring, including a rider fall at the Land Rover Kentucky Three-Day Event and a heel grab, so she dropped him back to the intermediate level when she wasn't able to get enough gallops in to get him fit for the CCI4*-L or a five-star. She didn't want to overface the gelding, so she decided to take advantage of the atmosphere at a lower level.
"I was really lucky to get to go out on Lukeswell first in the three-star. He's a really good cross-country horse and quite quick, so I got to feel my way around the course on him," she said. "He gave me a really good ride. Capitol HIM is really good and a quite different ride from Lukeswell. He's got one or two speeds rather than a quick and nippy horse like Lukeswell, so I have to ride him a little bit differently. To be quick on him I have to be very accurate, which I wasn't completely! But he made up for it and did all the combinations really well and came back to me really nicely and picked up speed at the end."
Thirty-three pairs made the time, and 45 of 54 starters completed.
The final horse inspection gets underway on Sunday morning at 8:30 a.m. for the CCI3*-L and 9:15 a.m. for the CCI5*-L, followed by three-star show jumping at 10:15 a.m. and the five-star at 2 p.m.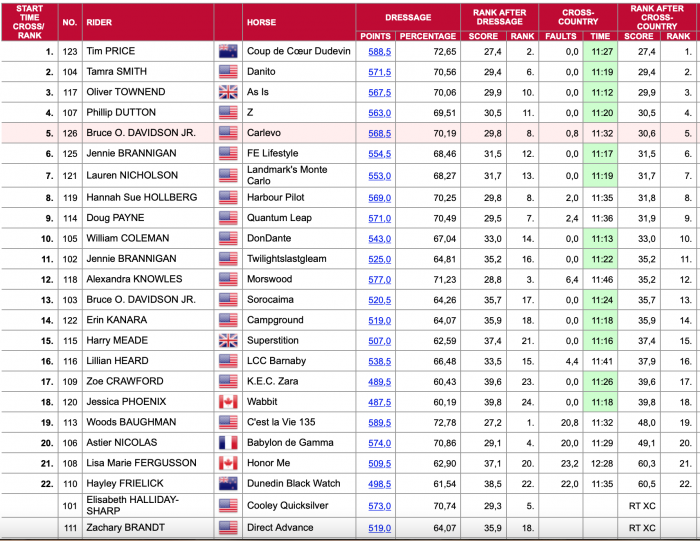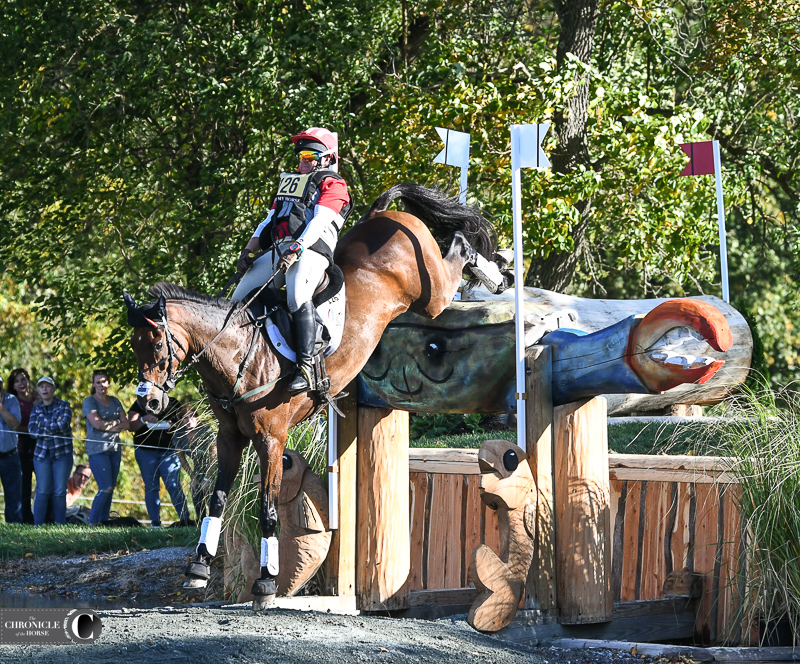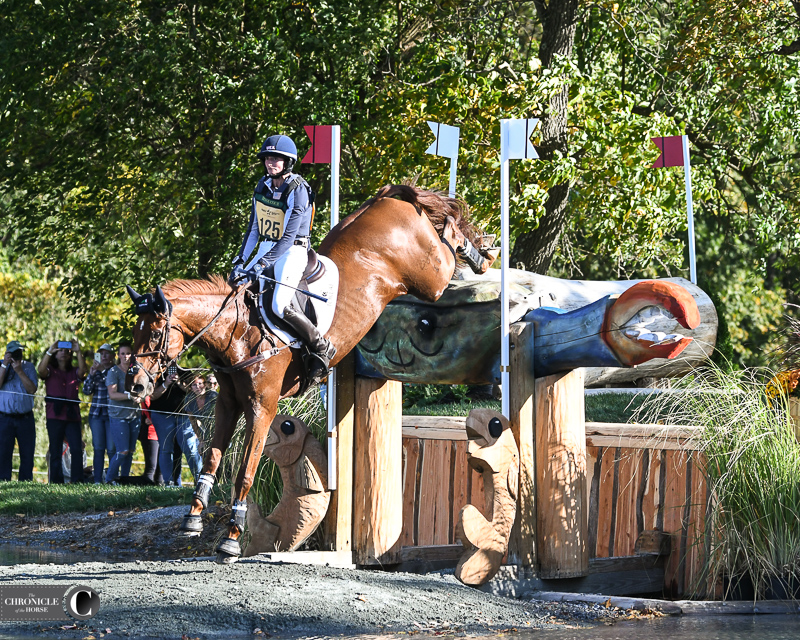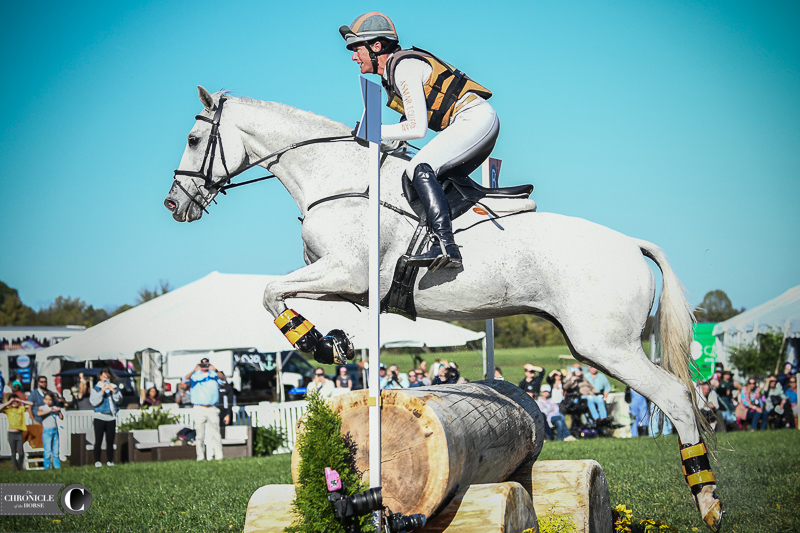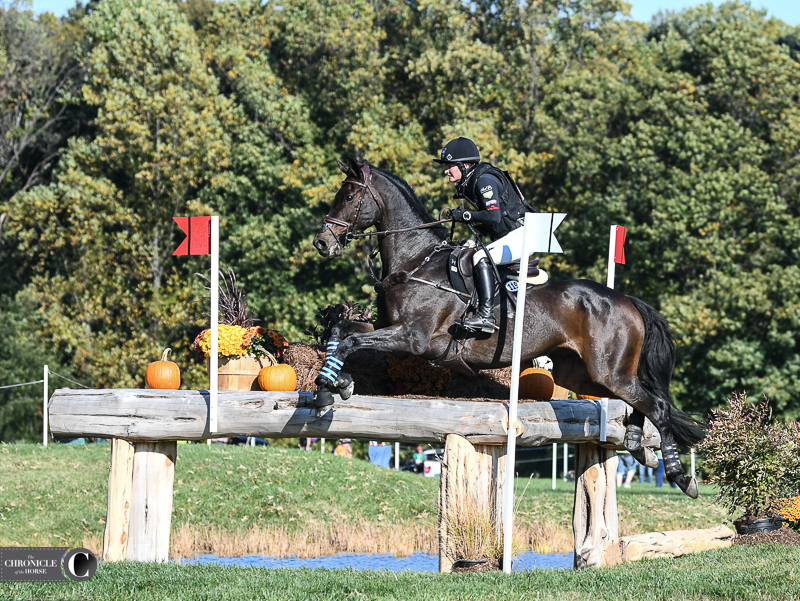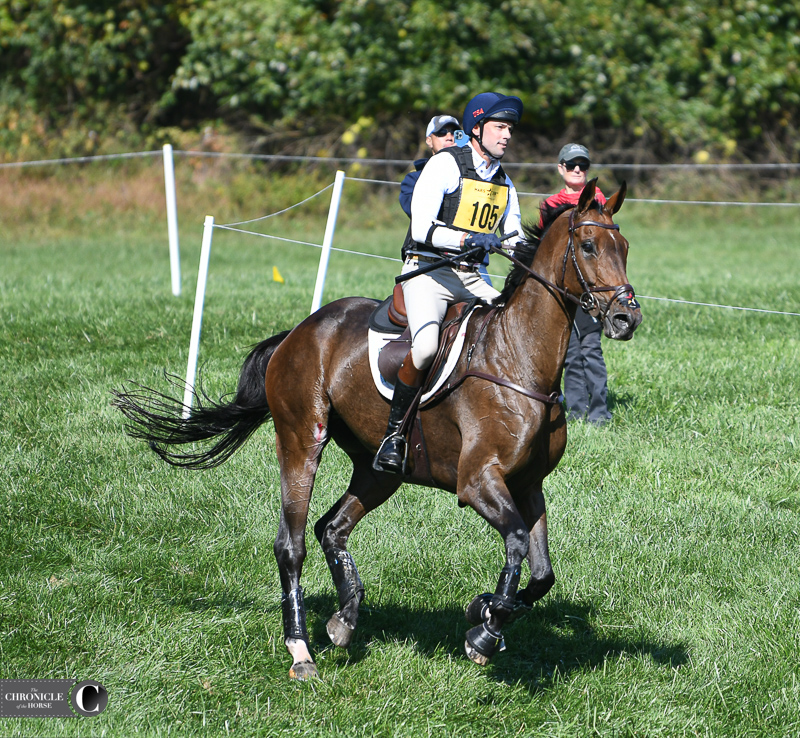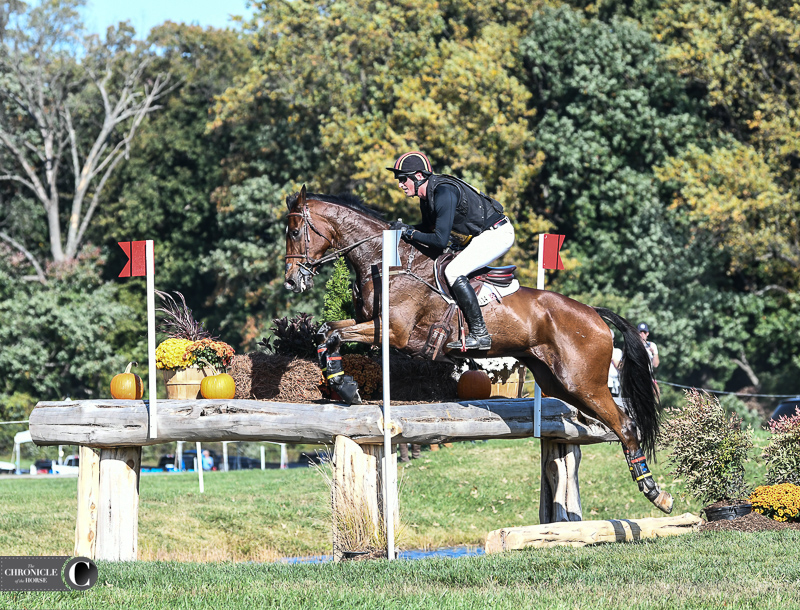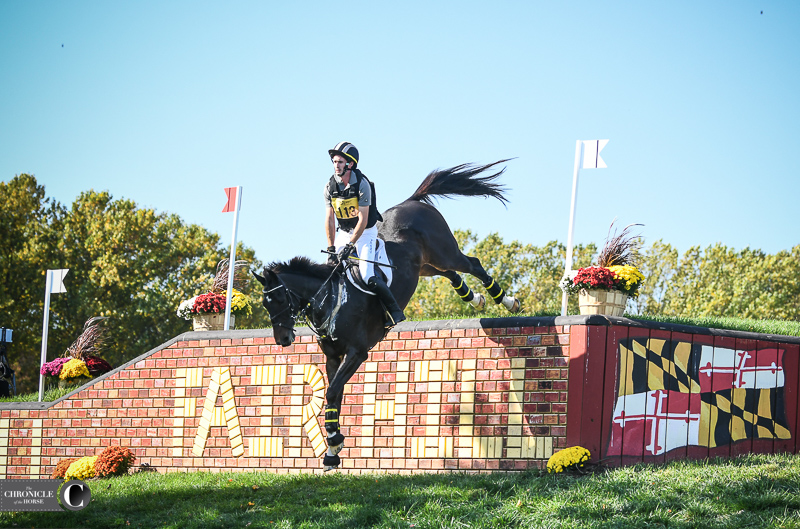 Check out what you need to know here.
COTH's Coverage I Results I Schedule
We're on site all week to bring you news, photos and interviews from the country's second five-star event. Check back at coth.com all weekend and be sure to pick up the Nov. 7 print edition of The Chronicle of the Horse for more.