Wayne, Ill.—Aug. 23
It's not often that a 5-year-old horse scores a 10 on their trot at a national championship. It's even less often that two horses earn 10s on their trots. Michael Bragdell impressed the judges at the Lamplight Equestrian Center first with SenSation HW's "gravity defying" trot in the Markel/USEF Young Horse Championship 5-year-old preliminary test. Alice Tarjan, not to be outdone, also scored a 10 on Fairouz, an Oldenburg mare by Franziskus. Tarjan and Fairouz won the class with a score of 87.80.
"These are two very different trots, but we feel they both deserve a 10,"  judges Lois Yukins, Janet Foy, Elizabeth Kane and Sarah Geikie announced at the end of Tarjan's test.
Watch Tarjan and Fairouz's 10 trot in the video courtesy of USA Dressage:
"I was really pleased with what the horse put in," Tarjan, 39, from Oldwick, New Jersey, said. "It was basically what she's able to do at home so that's all you can ask for. I'm kind of surprised; the quality in this class is so high, so it was really exciting. I think the best thing about [Fairouz] is she's like a metronome, you can't knock her off the rhythm."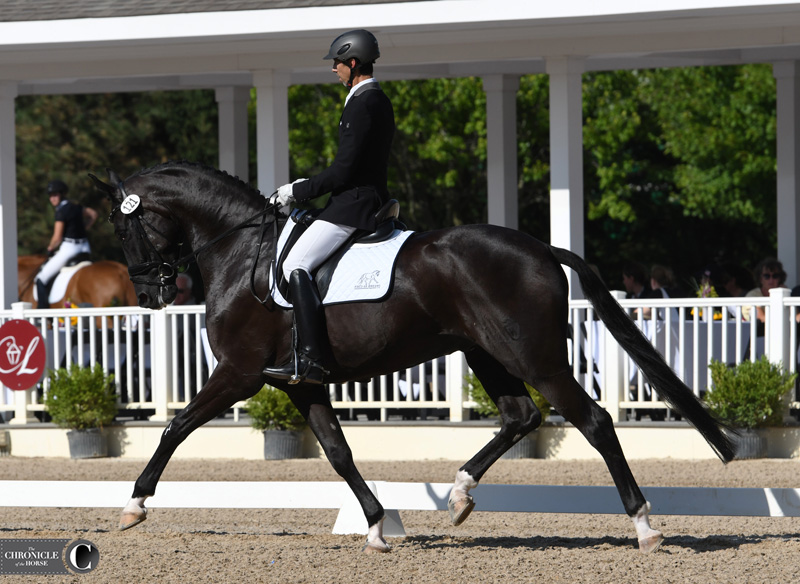 Emily Miles, a veteran of the young/developing horse championships, topped the 4-year-old preliminary test with Sole Mio, a German-bred Hanoverian stallion (Stanford—Donna-Rafaela, Donnerschwee).
"I was super happy with 'Mio' today, the trot work is usually his highlight, and that held true today. We had a few bobbles, I got a little greedy in my lengthened trot but I think the judges like how supple, fluid and expressive he can be," said Miles, 30, of Paola, Kansas. "I was really proud of him, as a baby horse, to go in and keep his brains so well. I think he can get a higher score on his walk, so I'm going to bump that up tomorrow as much as I can."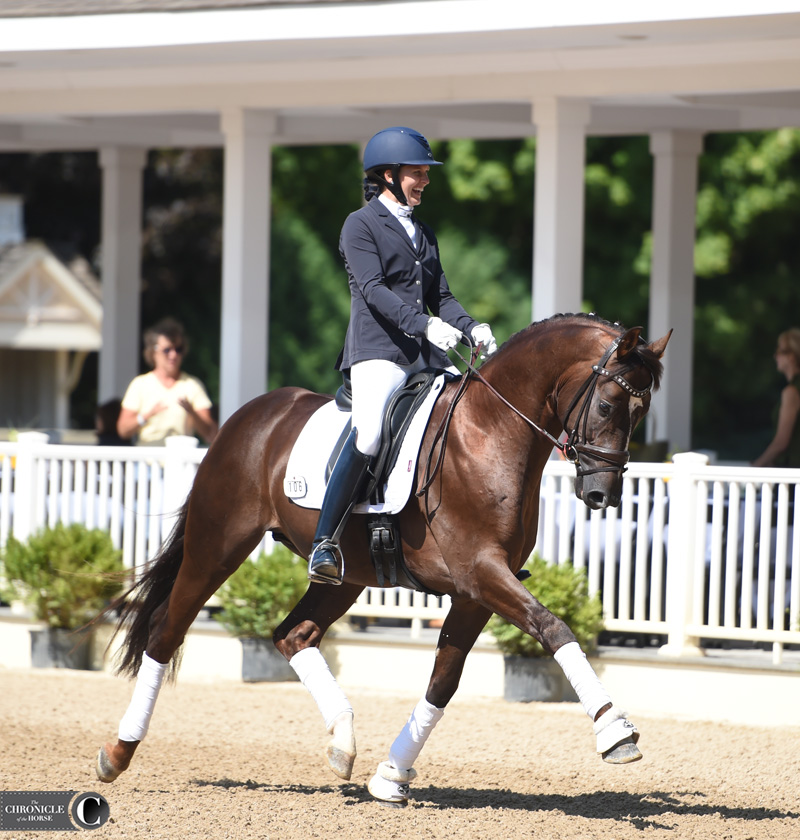 In the Developing Prix St. Georges championship, Endel Ots and Lucky Strike, a German-bred Hanoverian (Lord Laurie—Heidi, His Highness), emerged from a competitive field. They finished on a 72.79 percent.
"I was very pleased with 'Lucky,'" said Ots, 33, of Wellington, Florida. "I mostly try to work on getting him more connected through the canter transitions. He's got a lot of power and a lot of go because he's a big horse, so it's just teaching him to wait for me a little and getting everything to move together. Last year I was traveling a lot; I had a rider in Europe and a young rider so it was hard to make time to focus on my own riding and my horse. I didn't have any of that this year, so I could really focus on videoing my rides at home and trying to improve that way."
Ots competed Lucky Strike in the USEF Developing/Young Horse National Championship in 2017 as well, placing second and third on the two days of competition in the Developing Prix St. Georges division. Ots said the atmosphere is much different this year with the merging of the Festival of Champions.
"It's really cool to have all the divisions together," Ots said. "It's fun for the kids to watch the Grand Prix horses, and it's fun to get to be around all your peers and friends."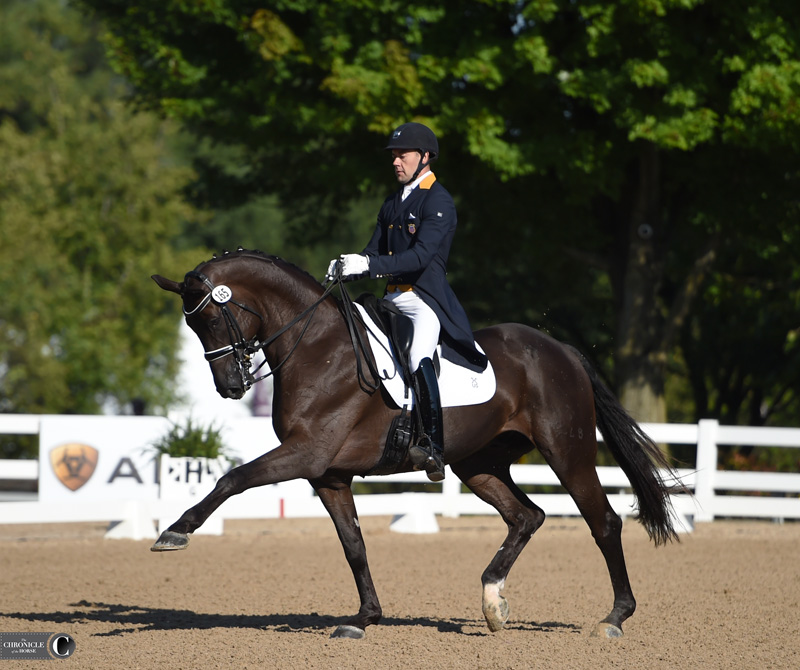 For full results, click here.
USEF Network is live streaming the competition each day.
For more from the U.S. Dressage of Festival of Champions and the Markel/USEF Young and Developing Horse Dressage National Championships check out the Sept. 24 print edition of The Chronicle of the Horse.