Lexington, Ky.—Nov. 9
If you happened to show up at the U.S. Dressage Finals at just the right time Friday morning, you would've seen a Shire completing his training level test while a mule warmed up for a first level ride.
Behold The Desert is a 14-year-old mule owned by Carol Ray-Delfino of Bakersfield, California, and ridden by trainer Laura Hermanson of Austin, Texas. They scored a 65 percent in an open first level test, which they're using as a warm-up for their championship class.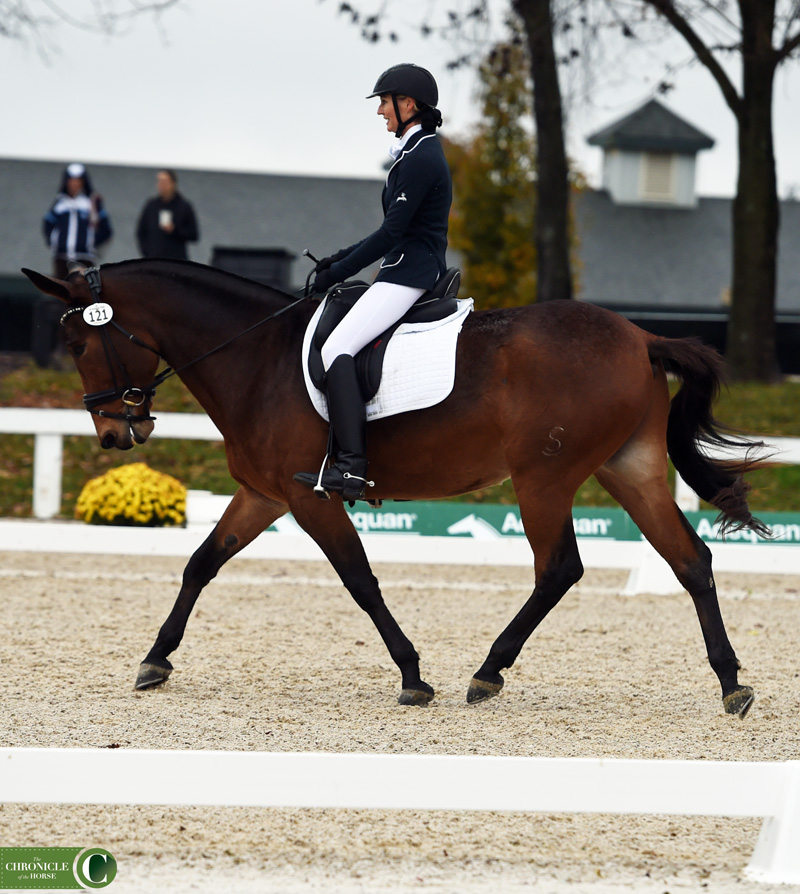 Ray-Delfino bought "Beasley" as a 3-year-old.
"We always went to Mule Days—it's a massive mule convention in California—and finally I said I just have to get one," Ray-Delfino said. She scoured the internet and found Beasley from a breeder in Ohio. Ray-Delfino put Beasley to work training in all kinds of different disciplines.
"He jumps; he's done reining; I've done showmanship with him," Ray-Delfino said. "He does it all!"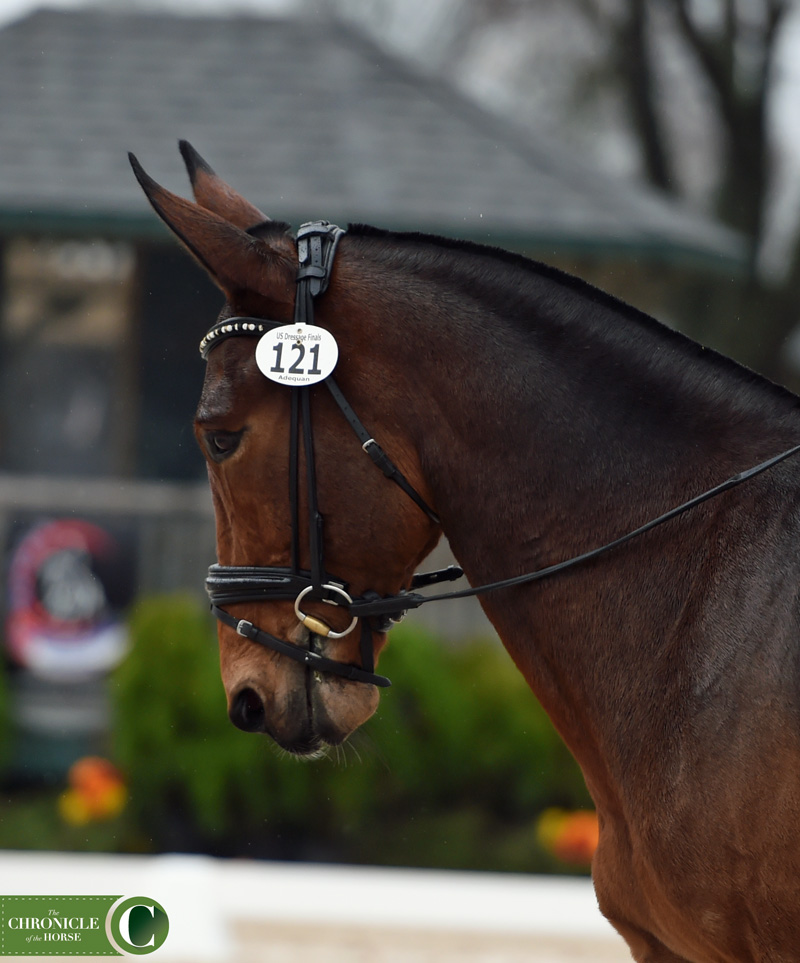 Hermanson, who used to be based in California near Ray-Delfino, had already gotten a bit of media attention for competing aboard the mule Heart B Dyna. A documentary called "Dyna Does Dressage" will be released later this month about their journey in the sport together, and this fall it was screened at the FEI World Equestrian Games in Tryon, North Carolina.
"I told [Ray-Delfino] I think he has nice gaits and could really be competitive in dressage," Hermanson said. "So we took the leap!"
Hermanson fell into mule fandom by accident—she's been a dressage rider all her life and a professional.
"About 15 years ago now someone brought in a mule they wanted me to train, and I loved it," Hermanson said. "They're so smart, and they're really, really willing as long as they've learned to trust you, and you're fair to them. You can't force a mule to do anything."
While riding a mule down centerline certainly turns heads, Hermanson has found the dressage community to be quite welcoming.
"There is a lot of misconception about dressage being elitist, and you have to have a certain breed, but it's really not. People are receptive," Hermanson said. "People see us walking around at shows and are super happy and love coming to say hi. In my experience showing mules I think the dressage community has been super welcoming."
Hermanson and Beasley will compete in the first level freestyle at U.S. Dressage Finals on Sunday.
Up the hill from Beasley's ride was Saltsprings Shires Sir Teddy Bedivere, a name almost as big and awesome as he is!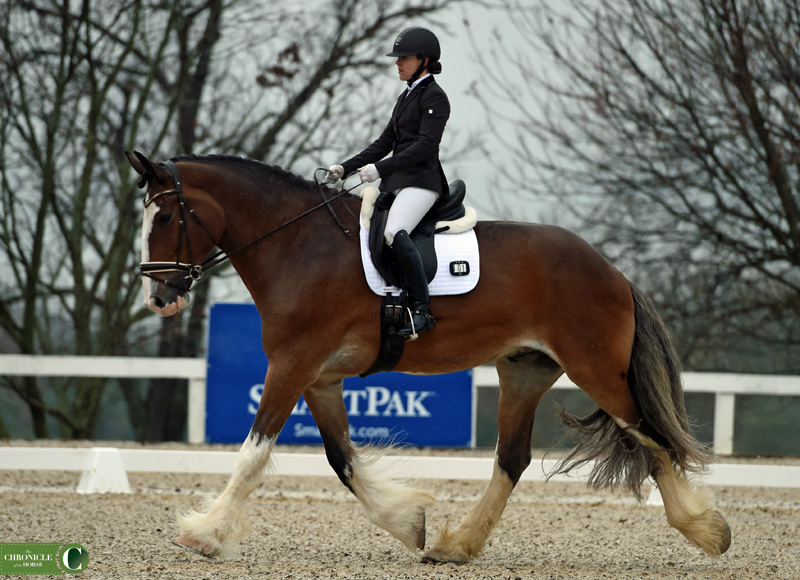 "Teddy" scored a 65.75 percent in the U.S. Dressage Finals Training Level Championship with rider Catherine Brown of Scottsdale, Arizona, for owner Tiffany Goldman of Loveland, Colorado.
"Shires are a rare breed, so we're campaigning the breed and really getting them out there, because they're actually rarer than pandas," Brown said.
Goldman has been a huge fan of the breed ever since she stumbled upon them at a Shire horse expo in Virginia.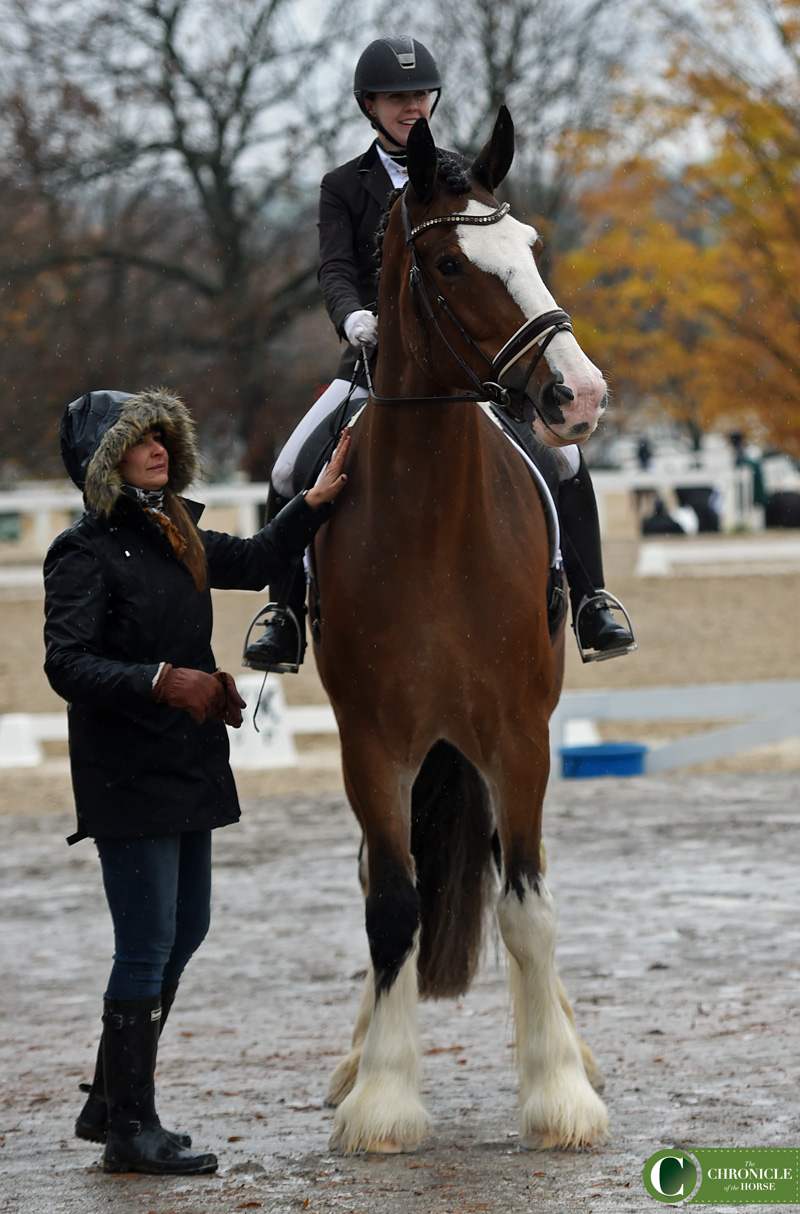 "I absolutely am obsessed with the breed," Goldman said. "They just took my breath away."
Goldman went from not being a horse person to diving into Shires wholeheartedly—she currently owns four including Teddy, who is 12. He's been with Goldman since he was a weanling. She decided to aim him toward dressage because the gelding developed shivers, and she hoped the sport would help strengthen him.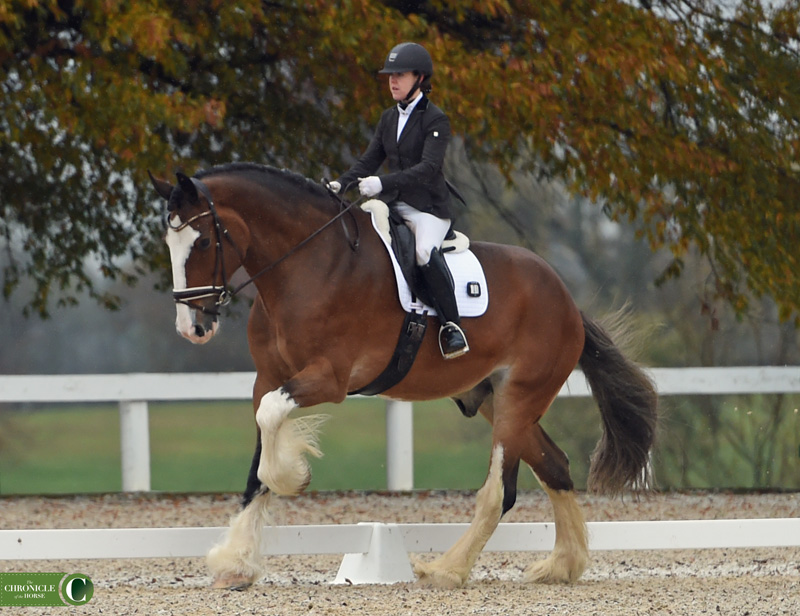 When Goldman realized Teddy was actually showing some real promise in the sport she wanted a professional to campaign him, which is how Catherine Brown ended up on the horse.
"They really are athletic horses; they can be deceiving," Brown said. "You see how big Teddy is, but he can go out there and do the movements."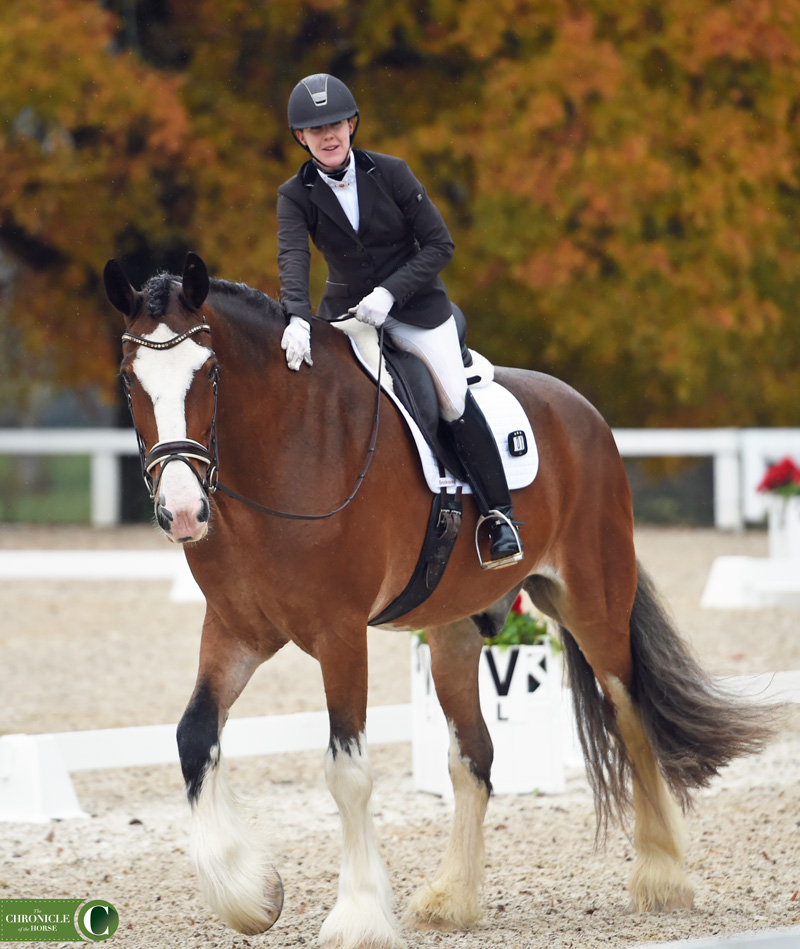 After riding Teddy for the past year Brown has joined Goldman in her love for the breed.
"It is just everything, their heart, their try," Brown said. "He always comes out and tries. He never pins his ears or anything. Even if it's a hard day he really tries."
"They are the most gentle souls," Goldman said. "It's their presence I just absolutely enjoy."
Teddy and Brown will compete later this weekend in the first level championship class. Click here for full results from U.S. Dressage Finals, and check out the Dec. 10 magazine for more in-depth reporting.