I vividly remember passing the U.S. Equestrian Team Foundation exit off Route 206 in Gladstone, New Jersey, as a child. My parents never stopped there, but my heart yearned to see the magnificent equine athletes that resided inside. Although I loved horses, they could not have been further from my life in middle-class suburbia. My parents did not have the financial resources for me to participate, and never in my wildest childhood dreams did I imagine that, 40-plus years later, my horse would spend a night there.
That journey began 12 years ago when, much to my son Alex's initial dismay, I signed him up for a riding camp over his holiday break. Alex had attempted many athletic events, but was completely uninterested in conventional sports. All that changed the day he sat on a horse. I remember my mixed feelings when a trainer exclaimed, "Congratulations! Your son has talent." As a public school teacher, how would I financially support him? We could never afford to buy, train and maintain a horse with the skills needed to compete at rated shows. I also worried that Alex might get injured in this dangerous sport.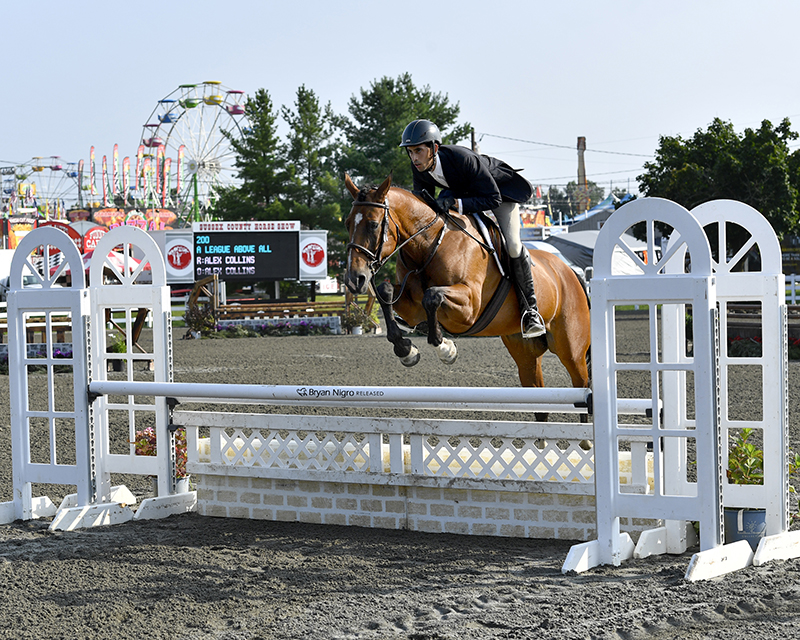 But it was evident early on that Alex, with his gentle, confident demeanor, had an uncanny ability to communicate with horses. Despite my misgivings, I optimistically pressed on in my equestrian journey and Alex's dream.
In the beginning, Alex volunteered caring for horses at a local public lesson barn and received free lessons and riding time in return. He worked after school and full time during the summer. His skills quickly grew and exceeded the experience of the horses and trainers to help him advance, so he was encouraged to move to a private dressage/quarantine barn as a working student.
At this facility his job was to start farm-bred horses, hack imported warmbloods and help with the day-to-day chores. It was an unpaid position and he worked at least 25 hours weekly during the school year, and 60 hours weekly in the summer. In return, he was given the opportunity to ride and show a young, spirited Oldenburg jumper mare. I paid to maintain and show the horse, and within a year the pair finished second in New Jersey Horse Shows Association finals and third place in the National Marshall and Sterling Insurance League finals for high child/adult jumpers. Our family moved to a small farm across the street from the barn where Alex worked.
Alex's arrangement with the mare's owner hit a dead-end—an unexpected fork in the road that put him on a new path where he began paid work for Claudine Liberatore of CJL Inc. Horse Shows. Claudine introduced Alex to the nuances of working at shows, and soon Alex was being hired at shows across New Jersey and Pennsylvania. He took on many hats, starting with ring crew, starter, jumper judge, announcer, show manager; now, as a college student, he is licensed as a course designer. It was a fresh start for Alex that allowed him to meet many supportive professionals. He was able to turn potholes into a paved new adventure.
This is where "Faith" enters our journey. While visiting my friend at a western barn, Alex locked eyes with the small bay filly of unknown breeding. My friend did not want to keep the 3-year-old because she had natural English gaits that were unsuitable for western riding.
We agreed to take the horse home for Alex to train and sell as an English pleasure horse. Then we immediately fell in love with her quiet disposition and work ethic, and we decided to purchase her ourselves. She was supposed to be my horse, but she and Alex quickly bonded. He is a slender 6'3" young man, and Faith is 16 hands, but what they may lack in size conformity, they make up for in their seamless connection to one another.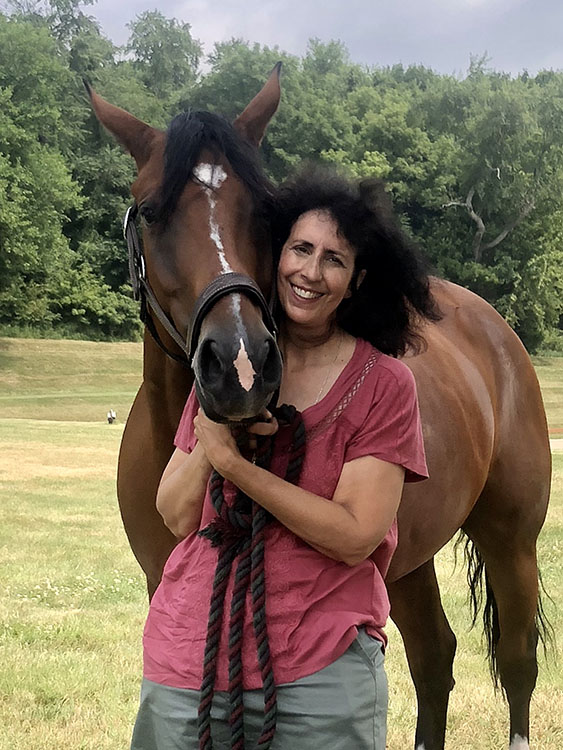 To our utter amazement, in her first time off the farm as a 4-year-old—despite a Ferris wheel and loud monster trucks blaring nearby— Faith, under the show name A League Above All, never lost her soft, relaxed expression in a massive ring with 19 other horses. She won champion in the pleasure division.
When Faith later showed us that she was a willing and natural jumper, Alex realized he could not continue to train her alone. He reached out to Michael Dowling, an experienced hunter/jumper trainer he knew through his horse show work, who taught Alex how to work with Faith and helped him develop his skills for the hunter and equitation rings. Through Michael, Alex had the opportunity to show at Monmouth at the Team, an iconic New Jersey horse show long held at the USET Foundation in Gladstone. That meant Faith got to spend the night at the Olympic barn I had dreamed about as a child driving past. To me, Faith was like Cinderella at the ball, with her braided mane and tail extension in this gorgeous facility.
Alex and Faith also started working with FEI dressage rider Rebecca Cowden—work that dramatically changed Faith's scope and power over fences. Last year, their work resulted in many tricolors at rated shows, and—as the absolute highlight of our lives—winning the $2,500 USHJA National Hunter Derby and 3'3" performance hunter championship at the Sussex County Farm & Horse Show (New Jersey).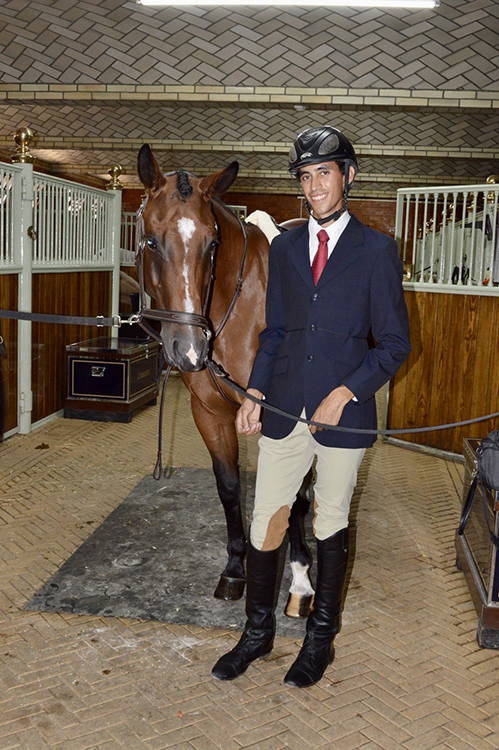 Although their path has not been without its bumps—a timing issue over a jump this year, for example, resulted in a broken wrist that required a plate and screws for Alex (and about 10 years off my life)—I am so proud of my son and Faith, who have shown me how kindness and patience transcends all avenues of life, including our relationships with horses. Faith is a willing participant with her own independent spirit, never to be dominated or conquered, and Alex never expects more from her than she is willing to give.
As a child, I could never have predicted I would have such a joyous daring adventure with one of the most stunning animals on the planet. No matter what the future holds for Alex and Faith, I have vicariously fulfilled my dream through my son, our horse, my husband Mike (who uprooted his life and added part-time farmer to his long list of responsibilities) and all the trainers who have helped us along the way.