Rachel Lindsey didn't anticipate that hauling miniature horse Noel to horse shows would make the little mare a celebrity.
"I go places, and I'll be walking her around, and kids are like, 'That's Noel,' " Lindsey, 35, said of her palomino mini. "It's the craziest thing. They have no idea who I am or who the barn is, but everybody knows Noel."
The fanfare surrounding Noel began when Lindsey started taking her to shows in 2019.
"We just had her in the front stall, and I would put a stall guard so she could stick her head out," said Lindsey, who's based out of her Madrone Ranch Stables in Austin, Texas. "Then I wanted a paddock out front, so it's become part of my set-up where I have this little paddock that travels around with us, and she spends the day in the paddock out front. At night, I put her in a stall so she's secured in there."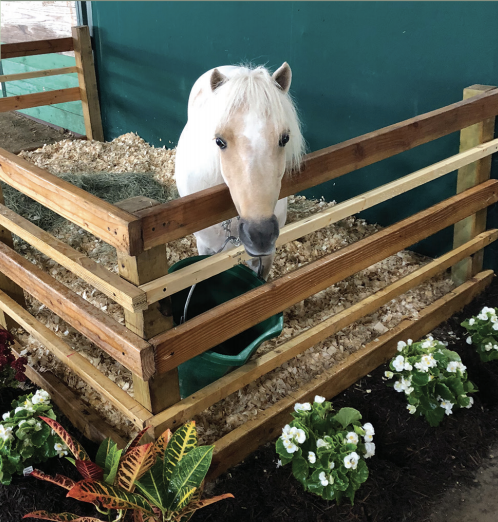 Noel's adventures have taken her from show to show around the country. For Lindsey, it's a childhood dream come true.
"When I was a little girl, I was at a birthday party, and this girl had a pony that drove a cart," Lindsey said. "I got to drive it some, and I thought that was the most fun thing ever. I always asked my parents for a driving pony when I was a kid, and they were like, 'No. You're a hunter, and you don't need a driving pony.' That's why, as an adult, I was just like, 'Well, I want one.' "
Lindsey learned of a "kill pen" Facebook page through a client in December 2018. While looking through roughly 50 miniature horses, Lindsey stopped at a photo of Noel, who was tied to a fence.
"There was just something about her eye. I thought she looked really sweet," Lindsey said. "I was like, 'I don't know anything about her; I assume she has no driving experience, but maybe we can teach her.' "
Lindsey adopted Noel on Christmas Eve and brought her home several days later.
"This kill pen required that you had to adopt [by paying through] PayPal," said Lindsey. "I logged in, and in my account was the exact amount of money that her adoption fee was. I guess I had gotten that money somewhere along the way and had never deposited it into my account, so it was just sitting there in my PayPal, and I was like, 'That feels like a sign. That feels like it's meant to be.' "
Noel was timid during her first few days with Lindsey, but it didn't take long for her to warm up to the children who brought cookies and peppermints every visit.
"I have a lot of kids here in my program at the barn, so I just encouraged everybody to go in and love on her and give her treats, just kind of get her used to the activity and the people," Lindsey said.
"Now, fast forward three years, she's the biggest ham and has the biggest personality," Lindsey added. "She's front and center at my barn and at home."
As Noel grew comfortable in her new life, Lindsey and her assistant trainer Cassandra Clarkson, who had prior driving experience, began teaching the mini to drive.
"We started teaching her to longe and just drove her in hand," Lindsey said. "I got the cart and drove her around empty in the cart, and then I put my dog in the cart, so she got used to that, having a little weight. Then I got in the cart, and she's been driving ever since. She's really good at it and really seems to like the job. It's a good way to give her exercise."
Several months later, Lindsey entered Noel in her first driving class at the Pin Oak Charity Horse Show in Katy, Texas.
"One of the weeks has an all-breeds show, and so I thought it would be fun to enter her, even though I knew nothing about it," she said. "I entered her in that, and she was great, and she won champion."
---
This article ran in The Chronicle of the Horse in our March 22 and 29, 2021, issue and has been updated.

Subscribers may choose online access to a digital version or a print subscription or both, and they will also receive our lifestyle publication, Untacked. Or you can purchase a single issue or subscribe on a mobile device through our app The Chronicle of the Horse LLC.
If you're just following COTH online, you're missing so much great unique content. Each print issue of the Chronicle is full of in-depth competition news, fascinating features, probing looks at issues within the sports of hunter/jumper, eventing and dressage, and stunning photography.