Lehua Custer wasn't planning on showing this season, much less competing in the Great American/USDF Region 7 championships. But with the help of a dedicated owner and a talented young horse, Custer, 37, swept the open third level championship at the Sept. 21-24 show in Rancho Murieta, Calif.
Custer and the 7-year-old gelding (Juventus—J. Rambiance) earned two scores above 76 percent, beating their average from an undefeated season, and have their sights set on the USDF National Championships (Ky.) in November.
COTH: How did you get Ramzes?
Custer: Ramzes is a Dutch horse who was bred at Cornell University. His owner, Wendy Sasser, wanted her first warmblood but her budget was pretty small. We knew we had to go young if we wanted quality.
We found Ramzes as a 1-year-old in 2011. He was in New York so all we saw was a video. When we expressed interest the owner said there was already a sale in progress so we kind of moved on. Then hurricane Irene damaged the hay crop in New York and Ramzes came up for sale again because people couldn't feed horses through the winter. We jumped on him and brought him home.
Hilda Gurney raised him at her farm and he grew up nice and big with good gaits. Wendy and I shared the ride while we brought him up the levels but I kept telling Wendy, "OK, time for you to take over." She's a lovely rider, she works so well with him. They could have a very nice career together, but she really thought he had the potential to go beyond what she could do with him so she asked me to keep working with him.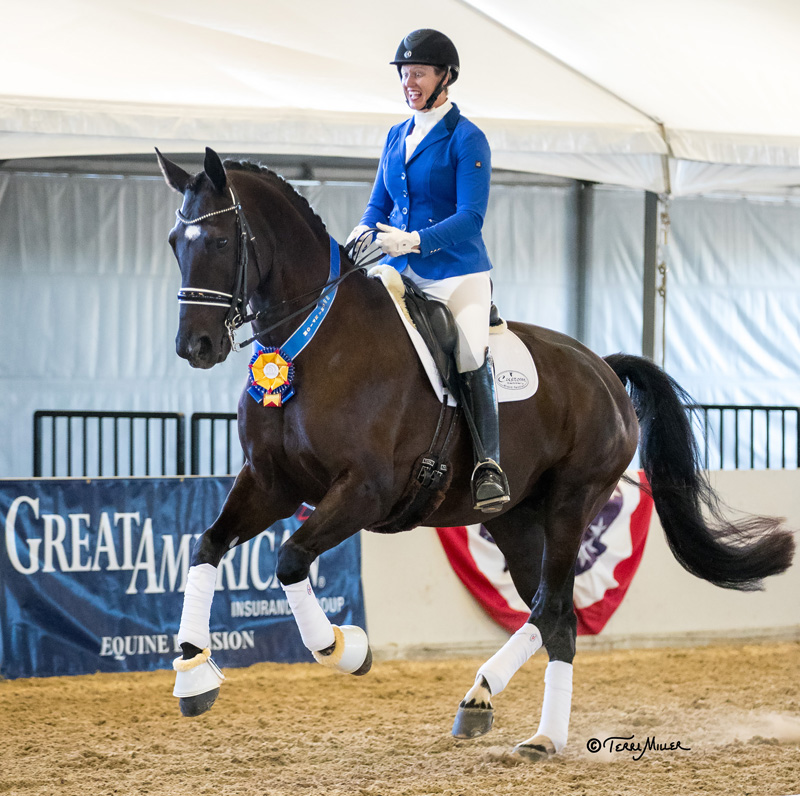 COTH: What was your road to regionals like?
Custer: I actually didn't even want to show this year—I just wanted to focus on training and getting [Ramzes] ready to be an FEI horse—but Wendy entered us in shows so we went. We had a wonderful season, we won every class all season which is mindboggling to me, I'm so thankful that I got the ride and I can't believe it.
Wendy and Hilda talked and said, "We're going to championships." And I was like, "Uh, I don't know about that, that's a big thing and there are a lot of top horses there." But they pushed me and thank goodness they did!
We won every class we were in; I couldn't believe it. I think Ramzes is that good but of course I'm biased. Our average for the weekend was about a 75 percent which is up from our average during the season.
COTH: Are you planning on going to Nationals?
Custer: I wasn't. It's a pretty significant expense and we don't really have that this year. But I posted our results and my nomination for nationals on Facebook and it blew up. I got so much support and so many people encouraging me to go that I started a GoFundMe. We raised just under $6,000 dollars in the first day, so if we can raise the rest of the money we'll go.
It's incredible, it's surreal, I just cannot believe the outpouring of support we've gotten, I'm so grateful to have this many people behind me.
COTH: How did you become a trainer?
Custer: I was born and raised in Maui, Hawaii. I grew up riding a little Appaloosa around in the back yard. I wasn't very good, but we did a little bit of everything. That's just how it was, you rode bareback through the pineapple fields, but we weren't very serious about it.
I got a scholarship to study psychology at Pepperdine University (Calif.). It was a big culture shock coming from the country and moving to Malibu but I met wonderful friends who made it easier and then I got an incredible opportunity from Hilda Gurney.
I didn't have a horse or much money but I went for a lesson with Hilda and she offered me a job that day! I felt like I'd done really poorly in the lesson so I thought she was going to chew me out, but instead she asked me to work for her.
COTH: What was it like working for Hilda?
Custer: It was amazing. She handed me horses to ride that I had no idea how to ride and then she taught me how to ride them. She handed me babies and I learned how to saddle-break and trained a lot of them up to be riding horses, some of them up to FEI. She's made a lot of riders, of course, and I'm so grateful and proud to be one of them.
COTH: How did you develop your own business?
Custer: I spent 10 years with Hilda, then seven years ago I started my own business. Luckily for me, Hilda is still willing to help me and be a mentor. I have a great group of clients who are good riders and really supportive of me.
It was a little tough coming from being an assistant to trying to run everything myself. Hilda had such a great system and everything was so organized, I've tried to take that experience and mold it into my own thing. It's difficult to balance the barn management with training, but it's also been wonderful. I started out driving more than an hour between two different barns and now I have about 25 horses at the L.A. Equestrian Center [in Burbank, Calif.].
I feel incredibly lucky. As long as I can see the dream of success and the potential of reaching my goals I'll keep working my butt off to get there.
COTH: What about dressage has made you stick with it?
Custer: My horse growing up only had one lead, so dressage wasn't our favorite, but I found another horse who helped me learn that dressage was kind of amazing and I had some great coaches who helped me figure out what dressage really was.
I figured out that with the jumping there was the thrill factor and I loved it as a kid, but I knew I was never going to have the money to buy a top hunter or a top jumper and be as competitive as I wanted to be. I saw the potential in dressage to develop and train a horse. This is something I'll never get bored of—I've always been challenged and just found it so interesting.
Ramzes wasn't extravagant as a young horse but as he's gotten stronger he's become something really special and that's exactly why I fell in love with the sport. I'm fascinated by how drastically you can see a dressage horse change with proper training.
COTH: What are your future goals with Ramzes?
Custer: Ramzes has given me everything I could have possibly asked for this year and then some. He's so happy, he loves what he's doing. I ride him every day in a snaffle, dull spurs, and no whip and he hands me the world. He's just amazing.
Every day, every ride with him is special. He's a ham, he's a barn favorite, his stall is right next to our staff lounge so when we have parties he always gets included. But Wendy is really how I got to do it. I'm eternally grateful, I wouldn't have any of this if it wasn't for her letting me ride him.
I rode him in a Carl Hester clinic and Carl commented on his potential to go Grand Prix and that was the most amazing for me to hear—to know that maybe if I do it right and train him well that we'll have a really nice Grand Prix horse. Ultimately that's the goal, that's the dream.
Like this story? We're featuring lots of GAIG/USEF Regional winners on www.coth.com—including a neurosurgeon amateur's bittersweet win, how North Forks Cardi helped his amateur rider overcome nerves, and more. Read about them all!