Mill Spring, N.C.—July 7
Marilyn Little and Clearwater had a knock-out week at the Tryon International Equestrian Center, winning both the $132,000 CSI*** Horseware Ireland Grand Prix Saturday night and the $35,000 1.50-Meter Welcome Stake on Thursday. Little thinks the horse is really hitting his stride thanks in part to a little vacation time.
"After Florida I just turned him out and let him get fresh again," Little said. "I broke my foot in November, and I just wasn't right; he knew it. He's been my partner for six years, and I think he felt that I wasn't quite right. We lost our rhythm. So we had to go home, find it again, get happy again."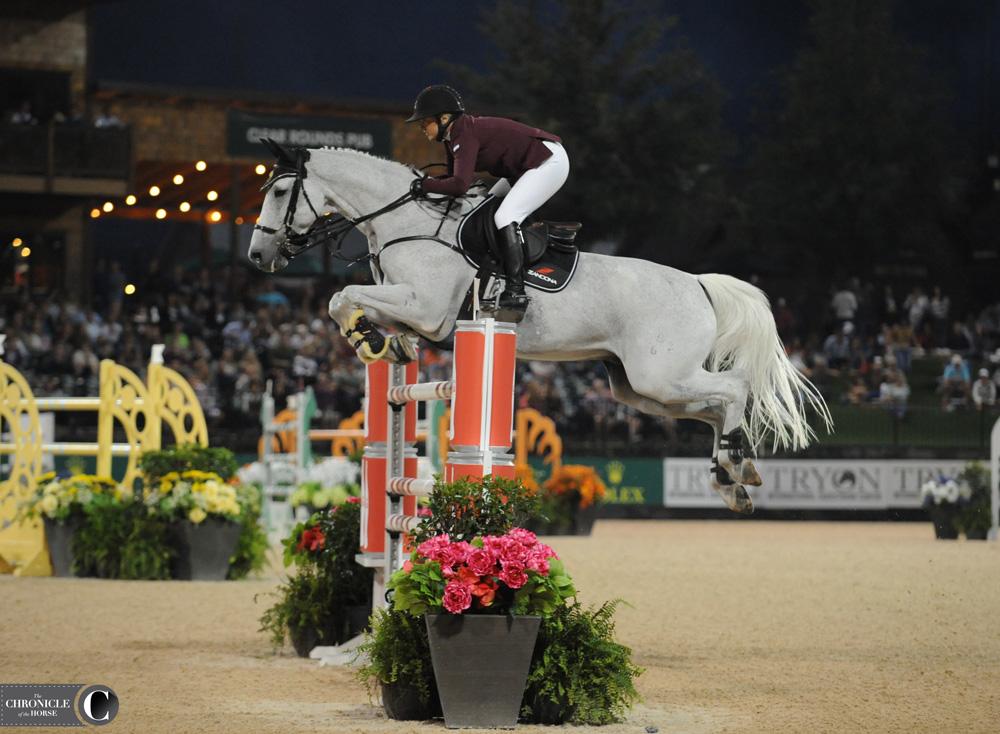 Clearwater looked fit as a fiddle galloping around the Alan Wade-designed track in Saturday night's grand prix; she found a lot of the fences without holding much back on the gelding's big, open stride.
"He was really on fire in the first round; he was very aggressive," Little said. "He had a very fast class on Thursday, and I've just got him really strong and really fit coming in here, and he was on fire tonight."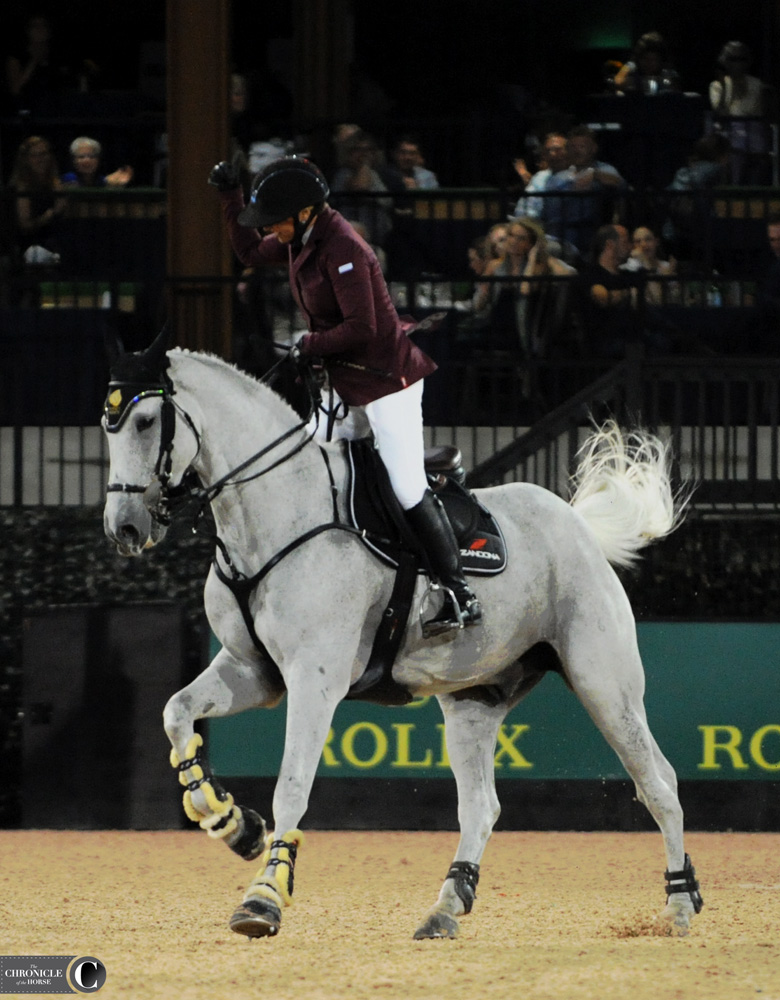 Little came back in the enviable final position of the jump-off, and though a slow clear could have won it, she scorched around the track to beat second place finishers Quincy Car and Fernando Cardenas Jr. by nearly four seconds.
"This week is a huge victory for me because I haven't seemed to have so much luck, and I've really had to learn how to ride Alan Wade's courses," Little said. "They've always been a real learning experience, and this week the courses were definitely challenging, but I loved them. I don't have anything bad to say about them.
"I think they're very technical," Little said of Wade's courses. "This ring, the footing is fantastic; the lighting is excellent; the jumps are beautifully presented, but being square it can become difficult if they build into the corners. Alan is such a ring craftsman; he knows exactly how he's using the ring in addition to how he's using his course. His courses are always a little deceptively tricky."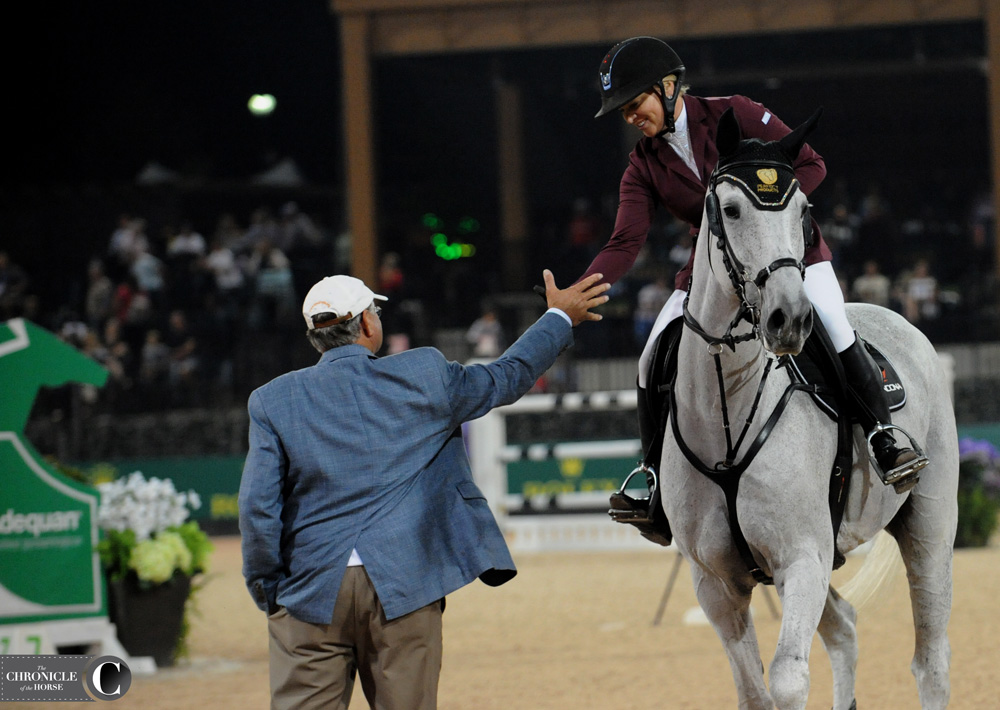 The first pair on the course, Sydney Shulman and Villamoura, posted a clear round, and when the next few in the ring only posted time penalties it seemed Wade may have made a mistake.
"We watched the first few, and everybody thought, 'Oh, he under built,' but you always just have to sit there and wait because the more you study them, the more it's like, 'Oh my gosh, there's a lot to this,' " Little said. "It's wonderful when there isn't just one difficult spot; the rails really came for people all over the course."
Four horses ended up jumping off with just Little and Cardenas going double clear—Shulman was faster than Little but with a rail and Mattias Tromp on Quinta 106 took fourth with one down on the short course.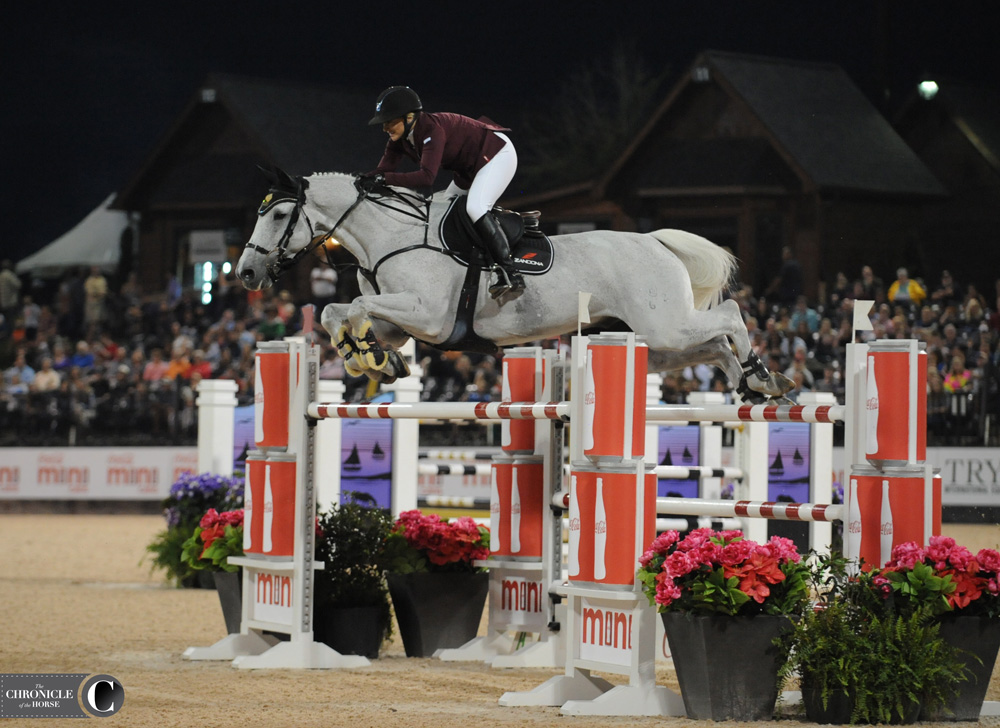 Little is unique amongst show jumpers in that she also competes at the top of the sport in eventing and has been named to the U.S. team for the FEI World Equestrian Games, which will be held in Tryon come September. RF Scandalous is in Tryon for Little to ride this week while she competes Clearwater, and rather than taking away from her eventing career Little actually sees them as a vital part.
"This is a very important time leading up to the WEG with Scandalous, but Clearwater is certainly a huge part of my preparation," Little said. "I only have one eventer, so this is really how I stay sharp. All of my horses are my support team for the eventing as well."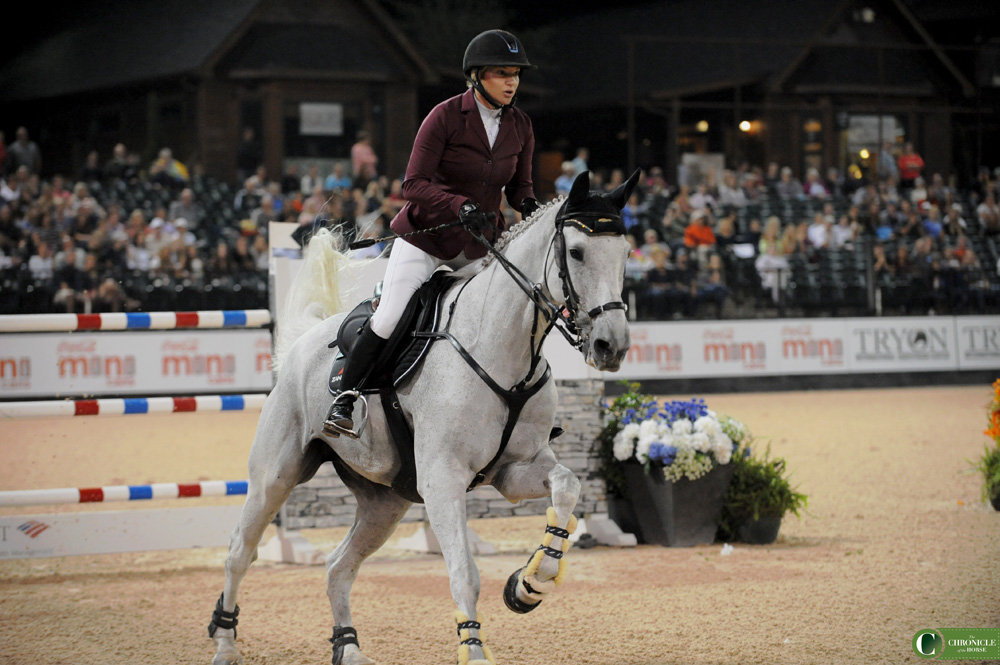 Clearwater's eventing crossover goes a step further in that he is owned for Little by Olympic silver and bronze medalist Karen O'Connor.
"Karen isn't here because Great Meadow is going on, and that is a test event for the [eventing] WEG horses," Little said. "But she's on the live stream, I think they were all watching from Great Meadow; there's a big group of them. I wish she was here, but I know that she was watching every single second—and critiquing I'm sure!"
Click here for full results.