Lexington, Ky.—April 26
In 2017 Xavier Faer was on top of the world. With Tim Price piloting, he was third in the Mitsubishi Motors Badminton Horse Trials (England) and followed it up with a nice trip around the Land Rover Burghley Horse Trials (England). But then a pair of injuries sidelined him for most of 2018.
It all started when "Hugo" fractured his leg in a pasture accident when his longtime pony friend kicked him.
"He got a bit close and got a kick to the foreleg, so he had a bad start to last year, then he had another little soft tissue injury on top of that, so he basically had last year off," said Price. "The year before he had a really good result at Badminton, and that's what I've got in my mind going forward."
Now the 13-year-old British Sport Horse gelding (Catherston Liberator—Faerie Dazzler, Catherston Dazzler) is back at the five-star level at the Land Rover Kentucky Three-Day Event.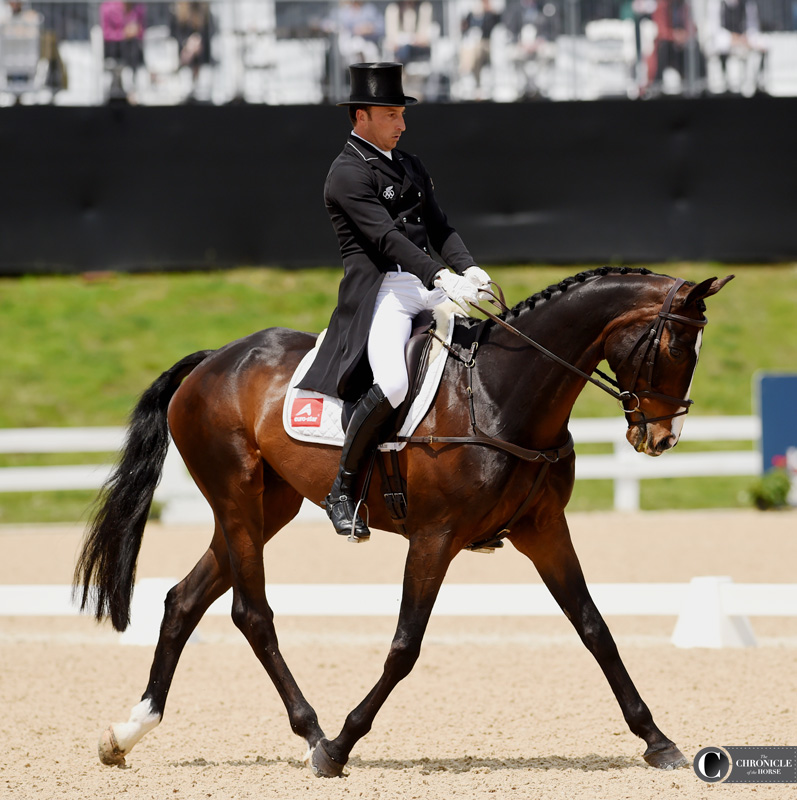 They scored a 30.9 to head into tomorrow's cross-country in a tie for fifth place with Liz Halliday-Sharp and Deniro Z.
Price said their right to left flying changes were a bit weak, but otherwise, he was very happy with his test today.
"Other than that he did some of the best work he's ever done in the ring [and] stayed relaxed, which is the main thing," he said. "He's a bit of a random, spooky horse, and he can see a dragon from nowhere, and none of those appeared today, so I'm really pleased. I think we're here with more of a jumping competition in mind, and you want a good start point, so it's full focus on tomorrow."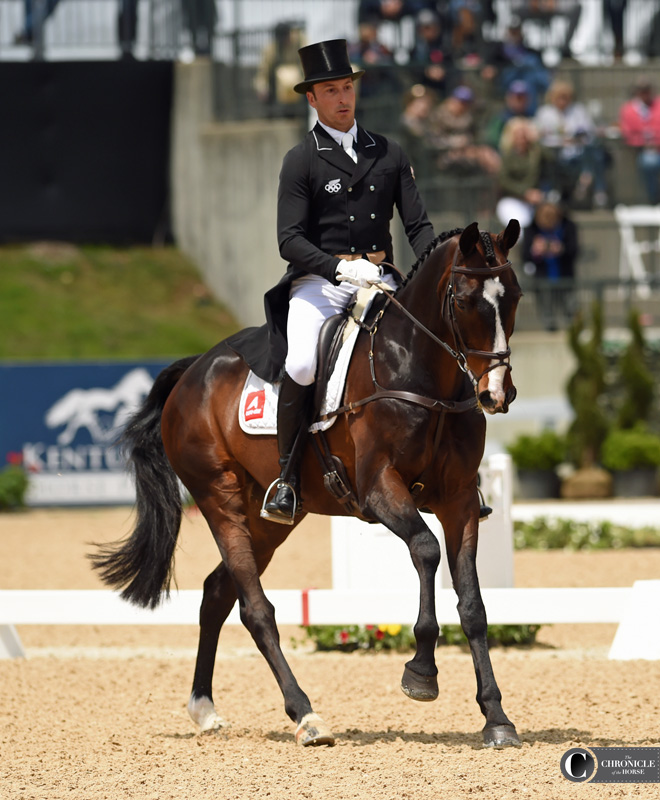 Hugo is a half brother to Tim's wife Jonelle Price's Faerie Dianimo, who won the Luhmühlen CCI5*-L (Germany) last year. His owner, Trisha Rickards, is also his breeder.
"He really should have been named 'Faerie Groundhog Day' as every day is a new day to Hugo…literally," states the Prices' website. "He is not the smartest tool in the box, but he has a great relationship with Tim. He is spooky and is so in love with Classic Moet [Jonelle's 2018 Badminton winner] that he has even learnt to jump on his own to join her in whatever paddock she is residing in. Hugo is like a typical boarding school kid. He has no idea where the washing machine is, but he knows exactly who the staff are."
Tim is looking forward to taking Hugo out on Derek di Grazia's course tomorrow.
"He's a fantastic cross-country horse, probably the best I've ridden," Tim said. "He's usually got great gas in the tank coming home, and that's something I think you're going to need around here.
"I think it's intense," said Tim of the Kentucky course. "He's got things to slow you down all the way home, so the time is going to be difficult. It usually is, and I think never more so than this year. Technicality is right up there; there's skinnies everywhere; you've got to stay on your job as does your horse all the way home. I'm looking forward to it."
Ride Times I Live Scores I COTH Coverage I Website I Schedule I What You Need To Know
We're on site at the Kentucky Horse Park to bring you all the info and photos you need to know from the biggest event of the year. Check back all weekend at coth.com and be sure to pick up the May 20 print edition of the Chronicle for much more.