Aug. 24—Wayne, Ill.
In the Dunham Ring, some of the best young horses showed off their skills in the Markel/USEF Developing Horse Grand Prix National Championship FEI Intermediaire II test. Among them was Candescent, a black Hanoverian mare (Christ—Farina) whom rider Alice Tarjan jokingly described as "a giant mess right now," even after winning.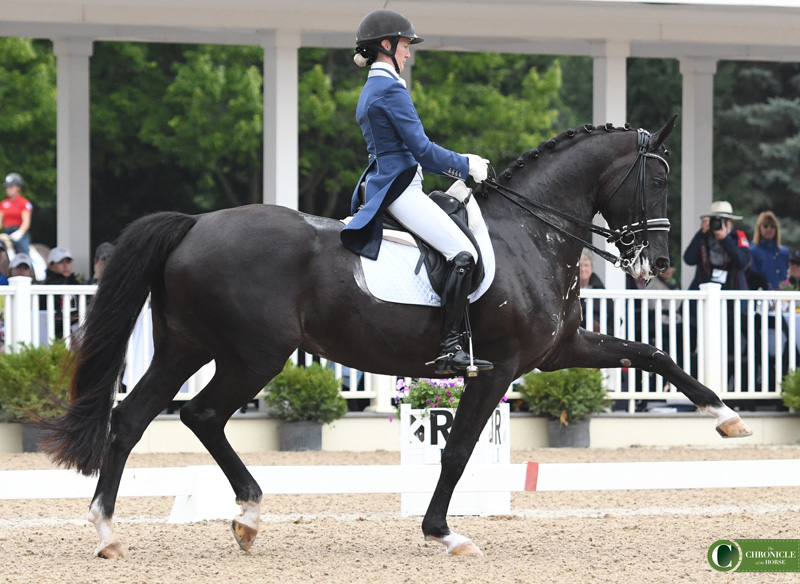 "The horse is really green, she's only 8, so it's all this giant mess right now that we're trying to form into something," Tarjan, 39, from Oldwick, New Jersey, said. "She's a work in progress. I actually bought her to a be a jumper, but she came over and was just a monster. I was scared to death of her and didn't want to jump her, then by the time I figured her out enough to jump her I was like, 'Wow, this horse is really talented in the dressage.' "
Tarjan said that she values the Developing Grand Prix Championship as a tool that allows horses like Candescent, who have talent but need time to learn to use their bodies truly correctly and settle their minds under pressure, to gain experience.
"She's able to do all the Grand Prix movements, it's just getting her around the ring. She's young, so she has time to figure it out," Tarjan said. "She has unlimited scope, she can get her gaits really small and really large, so it can be difficult to get her on one gear and be consistent. She's really cool, but she's more of a challenge to train because she's kind of all over the place. I just want to keep her sound and happy and see where it goes."
Fourteen horses competed in the class today, but Cesar Parra was unfortunately eliminated with Fashion Designer OLD following the discovery of blood around the horse's mouth at the equipment check after his test. In accordance with USEF dressage rules (Article DR124 "Elimination"), evidence of blood on a horse outside the competition arena is cause for elimination by competition management after consultation with the technical delegate.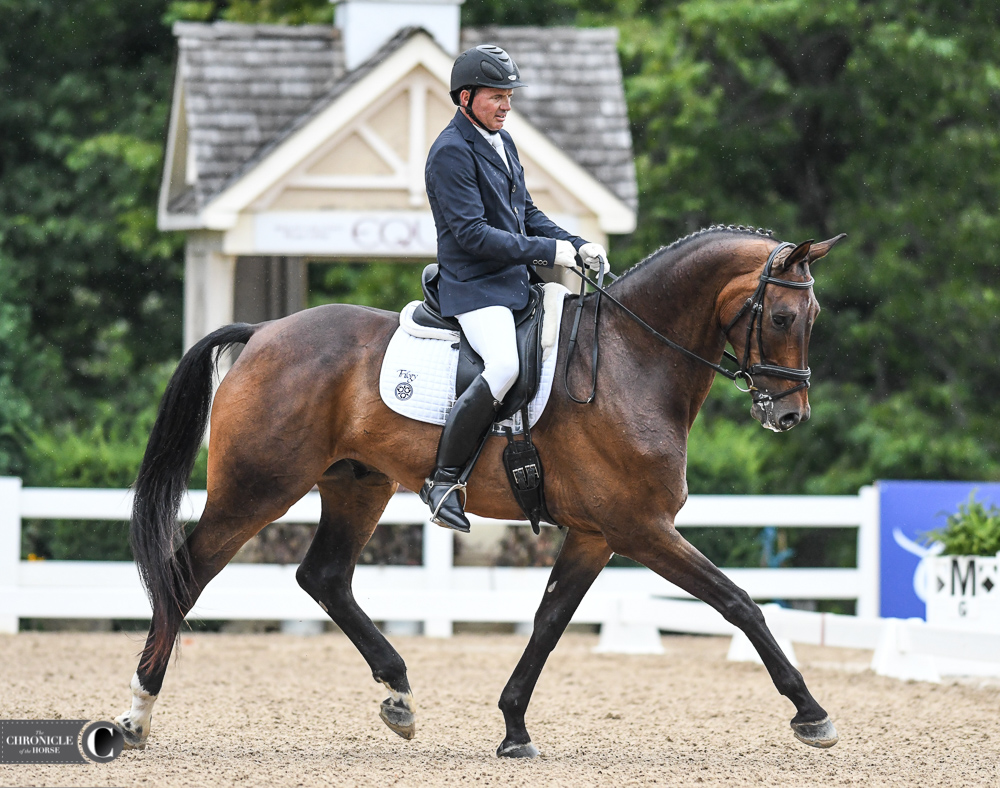 Craig Stanley and his homebred Habanero CWS topped the USEF 6-year-old preliminary test for the Markel/USEF Young Horse 6-Year-Old National Championship on an 89.80%.
The Dutch Warmblood gelding (Idocus—Caliente DG, 00 Seven) is a veteran of the developing horse pipeline having competed the last two years and winning the 4-year-old championship. This year they've been undefeated at third level and in 6-year-old classes.
"Breeding him just makes it a little more emotional," said Stanley through tears. "I rode his mom here. His trot was probably better than it's been at previous shows—it was just another level. He just stayed right there for the whole thing. I could push him a little, come back a little, and it just wasn't obvious."
For full results, click here.
For more coverage from the weekend, click here.
USEF Network is live streaming the competition each day.
For more from the U.S. Dressage of Festival of Champions and the Markel/USEF Young and Developing Horse Dressage National Championships check out the Sept. 24 print edition of The Chronicle of the Horse.
2018 Festival Of Champions - Friday Dunham Ring
Lindsay Berreth / Aug 24, 2018 10:03 pm