Paris—April 12
Andy Kocher sets himself apart from the crowd in a lot of different ways at the Longines FEI World Cup Show Jumping Final. For starters, at 35, it's Kocher's first time ever showing in a World Cup Final. He earned the points to come to Paris after winning his first World Cup qualifying class in October of last year.
And then there is the matter of the horse he won that qualifier on and will be competing starting tonight, April 12, in this year's final—Navalo De Poheton. The 17-year-old gelding came to Kocher's barn in 2017 as a sales horse he assumed would be sold as an adult jumper or low junior.
"He wasn't behaving at that job," Kocher told the Chronicle back in November. "He was taking big advantage of the kids or the amateurs. So I was thinking, 'Well we screwed up now because he's not worth anything if he's not suitable for little kids or adults, and he's getting older. What am I going to do with him now?' "
So Kocher started jumping the horse himself, first in national level open jumper classes and moving into FEI grand prix classes, and he discovered the feisty Selle Français gelding (Cumano—Uzel De Poheton, Double Espoir) had a lot more to offer. The rambunctious gray clearly traveled well to France, because in the paddock area before Wednesday's warm-up round (not a judged class for the World Cup Final) the gelding was thundering down to the fences and snapping off the ground like it had done him wrong in another life.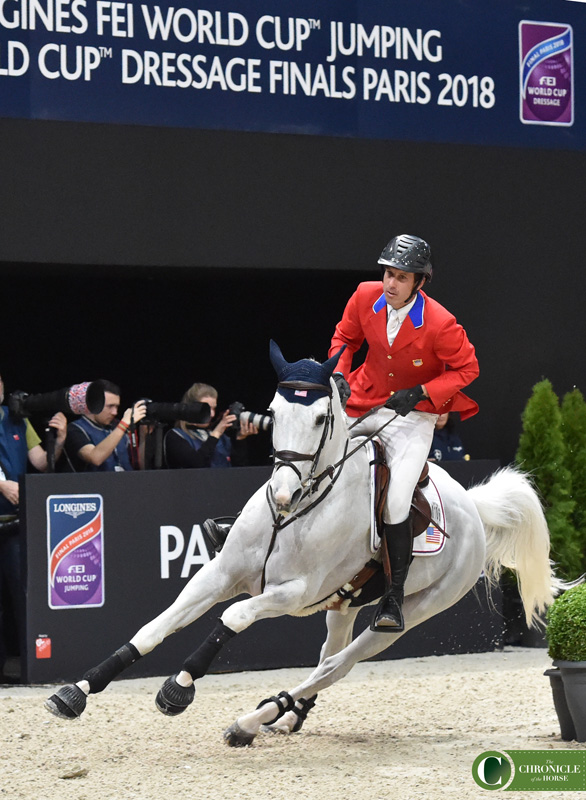 "He was lit yeah; that's kind of how he goes to be honest," Kocher said. "Not all the time, but he feels like you wouldn't know he's 17. He jogged perfect, and I've been showing, but I haven't been killing him. I've been using him once or twice a month, and I don't jump him at home, ever. We just trot around."
Kocher has spent an unscheduled number of months in Europe preparing for the final.
"I took him to the Paris Masters [with this in mind], but I was going to show a few and then come home," Kocher said. "Then I said, 'Eh, I'm just going to stay, because Wellington [Florida] is nice, but it gets a bit old. It's like "Groundhog Day," you know that movie? That's what it feels like. So I'm going to try something new this year.' "
Kocher rented stalls an hour outside of London, necessitating a couple of crossings of the English Channel via ferry with his horses.
"I base there because I can speak the language, and all these other places are always closed, they only work from 9 to 5, and they take two-hour lunch breaks," Kocher said. "London is more like being at home, but it is a bit of a pain to cross the channel.
"They put you on a ferry with the horses; you drive the whole rig on to it but, then they don't let you stay down with the horses," Kocher continued. "They make you go up to the top deck, and there's a bar there, so there's nothing you can do but sit up there and drink."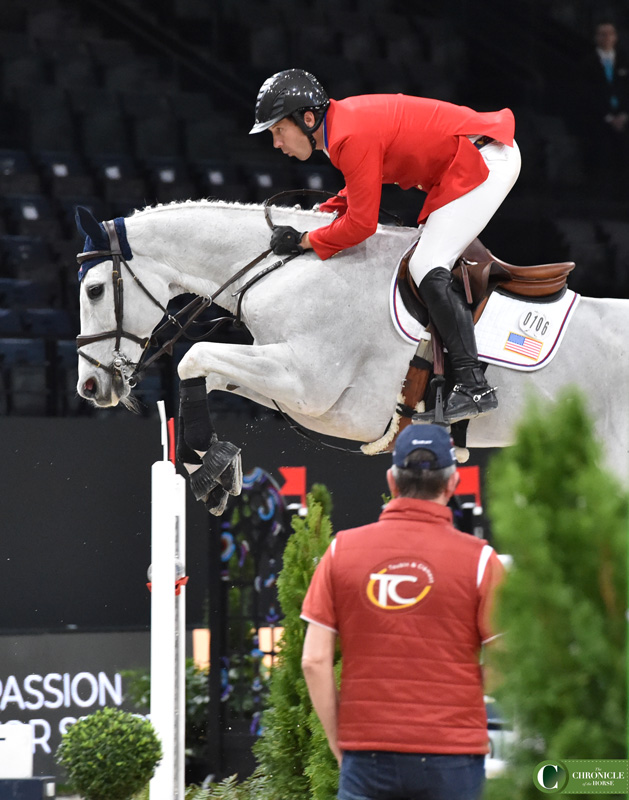 All the riders had a chance to jump a warm-up round Wednesday, and most used the opportunity to pop over four or five jumps and retire from the course. Kocher had a rail down, but he also had the fastest time in the class. For reference, Beezie Madden schooled the whole course with Breitling LS in 41.67 seconds. Kocher did it in 32.3. (Click here for full results—note  that horses marked "eliminated" are horses that riders elected to retire on course after catching a few warm-up fences.)
(Read about how the rest of the U.S. riders fared in their warm-up.)
"Everyone was training, so I thought I'd sneak in a win today," Kocher said with a laugh. "He just barely touched one behind, but he jumped really well, so whatever. The thing I've realized after doing all these big shows is even the best riders in the world don't jump clear all the time. I used to think they did when I would read magazines like yours all the time. I'd be like, 'Oh McLain Ward, he wins everything,' and then I realized that's not true. The guy that wins the most is actually the guy that enters the most."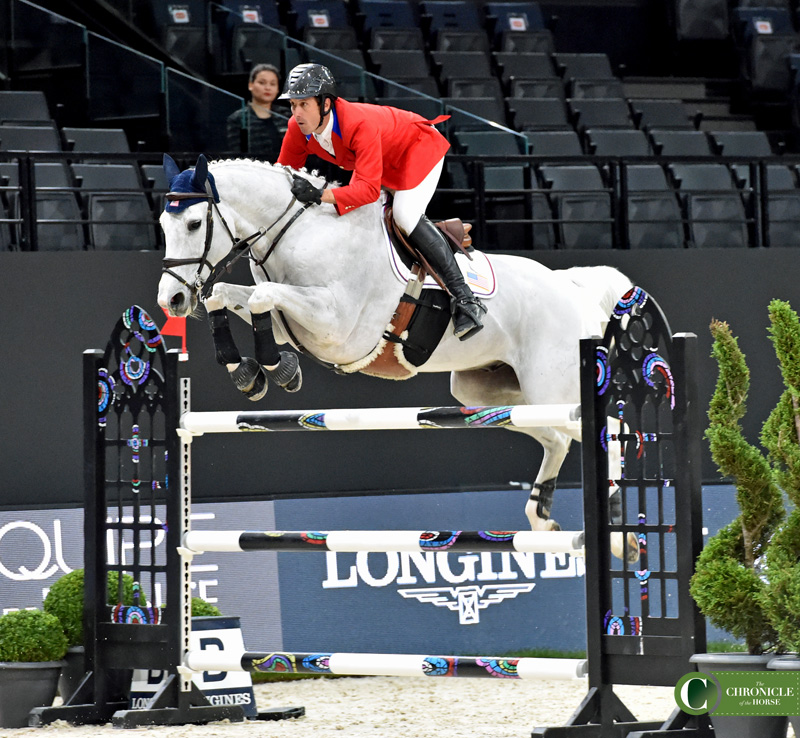 Kocher has been a student of the sport for most of his career, and that hasn't changed as he moves himself up from national-level horse dealer to competitive FEI professional.
"I'm learning, I'm watching, and of course you ride more times you start riding better, and you get better at picking horses," Kocher said. "You realize that if you have to squeeze the life out of them, then maybe they can't jump that high!"
No one would have guessed Navalo De Poheton would be one of the horses that jumped the top level so easily, least of all Kocher.
"I own him with three people. How funny is that? An $18,000 horse, and we have three owners," Kocher said with a laugh. "It's kind of a miracle, to be honest with you."
Kosher's background and mount give him a different perspective on the final.
"We're going to have fun. My thought is probably different than a lot of these people in that I just want to have experience and a good round and a good showing," Kocher said. "Yeah we might have one down or two down, but I want it to be respectable. And if I jump a clear round and do better than that, that's great.
"That's kind of been my life, you know? I never thought I would come to World Cup Finals either," Kocher continued. "I mean I'm sure there are people who are happy to be here, but I'm like, 'Hey, if it all ended tomorrow I would still be happy.' "
Kocher will kick off his World Cup Final debut with the rest of the field at 8:30 p.m. Paris time, 2:30 p.m. Eastern.
The Chronicle of the Horse is onsite at the 2018 FEI World Cup Final. Keep an eye out at coth.com for all our coverage of the event in both show jumping and dressage.
Important Links: Paris World Cup website  ⁄  Orders of go and results /  Live streaming/ All of the Chronicle's coverage
Make sure to follow along on the Chronicle's social media outlets: Facebook, Twitter and Instagram.