Peter G. Doubleday grew up in Syracuse, New York, and graduated from the University of Miami in 1972. He worked for a hunt club stable in Gahanna, Ohio, for three years after college, then began a career in announcing and managing horse shows. At one time Doubleday was announcing 40 shows a year. Doubleday has announced at the Winter Equestrian Festival (Florida), Devon (Pennsylvania), the Hampton Classic (New York), Pennsylvania National, Washington International (District of Columbia), the National Horse Show (Kentucky) and the Royal Horse Show (Ontario). He was also the voice of the 1996 Atlanta Olympics, two Pan American Games, nine FEI World Cup Finals and the 2018 FEI World Equestrian Games (North Carolina). He lives in Southern Pines, North Carolina, with his wife Chrissie, two horses, a donkey, a dog and four cats.
Doubleday fills us in on a typical day working at WEF.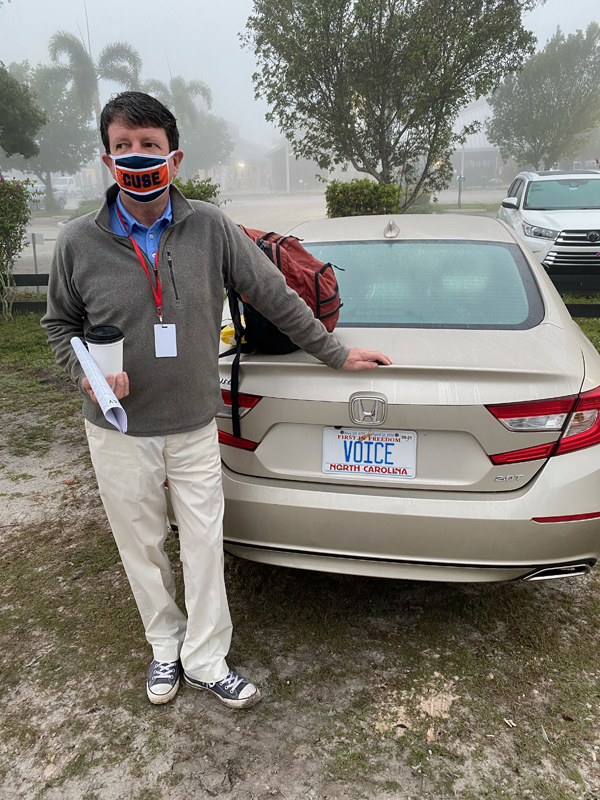 5:30 a.m. The alarm goes off, and it's time for another workday in Wellington, Florida. It takes me about 20 minutes to wake up and head to the shower. As a creature of habit, I continue to use the same items from 40 years ago to prepare for the day ahead: Colgate toothpaste, Edge shaving cream, Arrid extra dry deodorant and Pert shampoo, along with Irish Spring soap. Dress for the day is khaki slacks, a polo shirt with company logo, and my standard Converse high tops: Chuck Taylors.
6:15 a.m. I leave the condo, arriving at the showgrounds within 10 minutes. My temperature taken, my pass is checked, and I'm into my parking space near the show rings. It's time to select a mask from my collection of 15, all with logos from my favorite sports teams: Atlanta Braves, Carolina Panthers, Carolina Hurricanes and my alma mater the University of Miami. It is a daily tradition for some of the announcers and judges to meet in the parking lot (socially distanced) to chat up some gossip, the schedules, work, etc., before heading off to their assigned posts. A large cup of Earl Gray tea from Cassandra Armento-O'Neill's coffee stand [Anonymous Coffee] is next, onto exhibitors' services for schedules and starting lists.
7 a.m. A five-minute walk to the announcers/judge's enclosure at the International Ring.
In my work area, computers are turned on and class sheets and orders are arranged for reference.
7:30 a.m. Onto a much anticipated "talk around" of the nine announcers over the stable PA system a half hour before showtime. I lead it off, reviewing the day's schedule and any special announcements and toss it to the next show ring and their announcer. Not sure if anyone listens, but it is a fun start to a day of talking.
In an attempt not to say "Check 1, 2" into the arena's PA system, I give the course walkers a time check and a good morning to make sure my microphone is working and the system is turned on. Also, I check in with AJ [Holmes], my paddock master, to see about any rider changes, drag breaks or anything pertinent to the day's schedule. We have a super working relationship with one another. A quick call to my wife Chrissie in Southern Pines, North Carolina, to see if all is fine on our farm. Finally, before showtime I go over the day's schedule with my co-announcer, British voice Steven Wilde. We decide when to "tag-team" a class (all five-star classes) or just divide up our duties with a long class or a non-FEI class.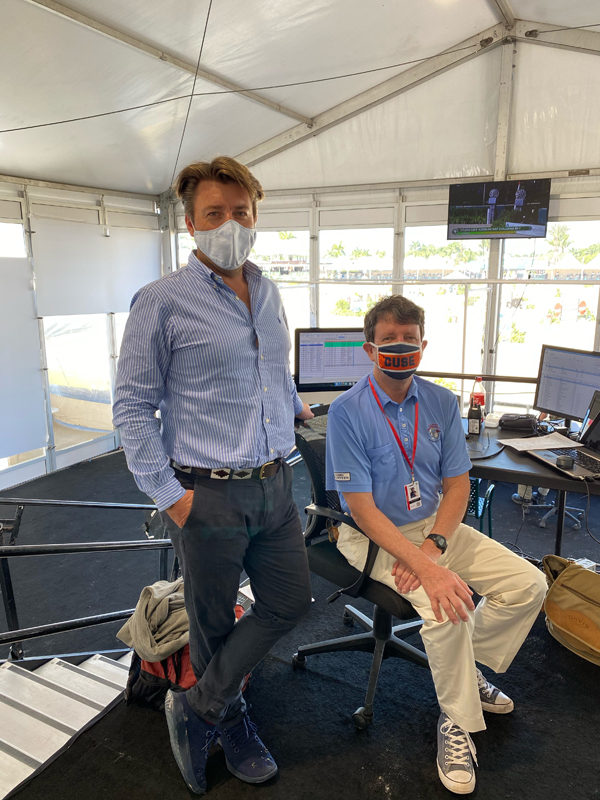 7:45 a.m. A girl who works for the horse show comes and takes our lunch orders: choice of five different sandwiches or two different salads. I opt for a Caesar salad. The announcer/judge's enclosure is well equipped with a refrigerator, microwave and a coffee machine. During the morning a tray of bagels and danishes is delivered as well.
7:55 a.m. I start the welcome announcements, introduce the officials and explain the format of the competition that will begin at the top of the hour.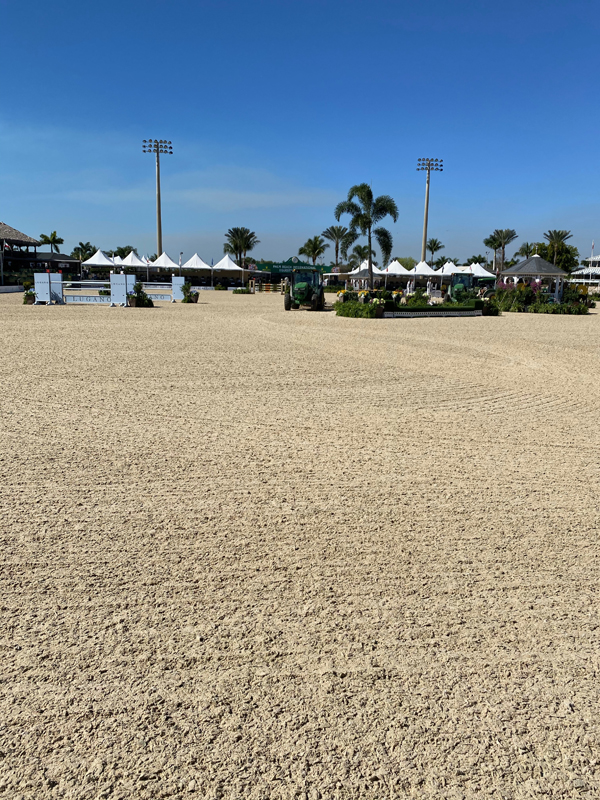 8 a.m. First horse is in. After we all get started with our duties it is important to get into a routine with rider introductions and the starting tone for the jumpers. On long days we (the judges and announcer) often decide to tone the next competitor before a score is announced and the next rider is introduced. The announcer's coordination with the scoreboard operator is very important as well; any scratches, rider or owner changes are conveyed to the scoreboard operator who is also located in our work area.
During the first class I boot up my music computer and line up some music for the prize-giving ceremonies. For the five-star classes, the top three riders return mounted, presented in reverse order, and the winning rider will hear his or her anthem while their flag is raised during the ceremony. I attempt to vary the ceremonial music for the presentation, and I use a variety of songs for the victory gallop; I try to keep it fresh. Sponsorship recognition is of extreme importance, and it is necessary to pre-study scripts and become familiar with the representative's names.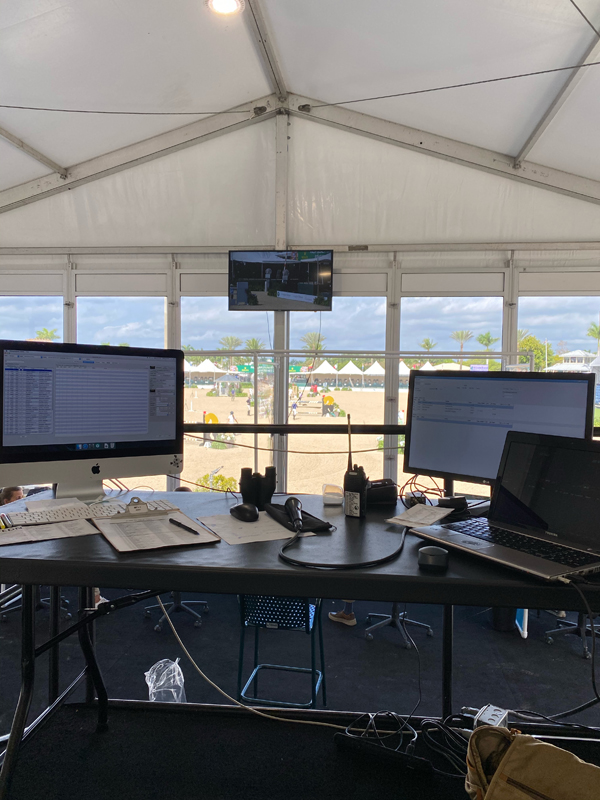 In between classes (usually three to four classes are scheduled per day) it is time to catch up on the cell phone and with important e-mails. I can multitask very well. Midway through the day I drink my first Coca-Cola—one of my last bad habits, but it tastes so good. Lunch is delivered at this point, and one must learn how to eat and announce at the same time.
The days in Wellington are usually 8 to 4 with an evening class sometimes on Saturday night.
4 p.m. Upon completion of my duties, it is a walk back to the car and homeward bound to the nice condo my bosses provide for me.
5 p.m. I take a 5k run if there's time, watch my favorite sports talk shows, catch up on e-mails and horse show planning, and then have a nice cold beer—a choice of PBR or Coors Banquet beer. Normally I would fix a light dinner, call home again and have a long chat with my wife. I have become a reader, and so a good book will launch me into dreamland and onto another day. My last good book was Tom Callahan's "Gods At Play."
8:30 p.m. Toes up, falling asleep with the TV on and beer in hand.
They're busy days, but I love what I do. I have been announcing for 45 years. I hope I have made a difference.