Canadian show jumper Erynn Ballard has spent more time on the road than usual in 2022. After starting her season at home in Wellington, Florida, where she works for Ilan Ferder Stables, the Ontario native found herself swept up in an exciting year for the Canadian program, as Olympic gold medalist Eric Lamaze retired from the saddle to steer the team toward the Agria FEI Jumping World Championship in Herning, Denmark. Ballard spent the summer showing across Europe and North America with the Canadian squad, ultimately earning a spot on Canada's all-female world championship team with one-time sales horse Gakhir, an 11-year-old Dutch Warmblood stallion (Spartacus TN—Zahkira, Labor's VDL Indorado) owned by Ferder and Esperanza Imports LLC.
Three months later, the 41-year-old is still traveling, following the Major League Show Jumping Tour as it winds from Canada down through the United States to a current three-show stop in Mexico. From the second of those three shows, the Club Hípico La Silla CSI5* and CSI2* in Monterrey, Mexico, Ballard takes us through a day in her life on the road.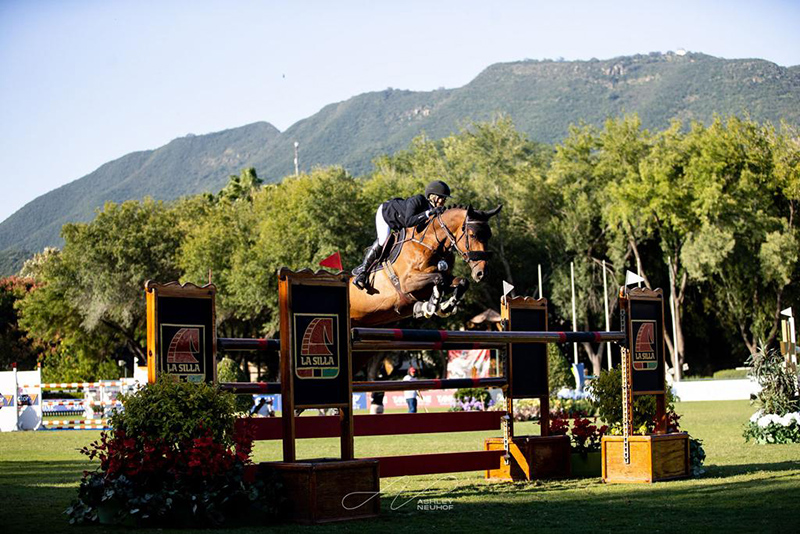 ---
Monterrey Mexico: It is Day 1 of our two weeks of showing at the incredible venue of Club Hípico La Silla. There is so much history and charm to this venue. Major League Show Jumping has given us the opportunity to travel both coasts of Canada and the United States as well as three incredible shows in Mexico, of which this is the second. It has really allowed for exposure at a much higher level for North American-based riders.
These shows have a different feel to them, for me especially. It's not my "ride and show 10 horses a day" kinda of speed. On this specific trip, I only have four horses to show, but all will show today, and the first day of any show is definitely our busiest. I'll be one of four riders showing today, along with Natalie Dean, Wesley Newlands and Karime Perez Nuñez, who represent Ilan Ferder Stables.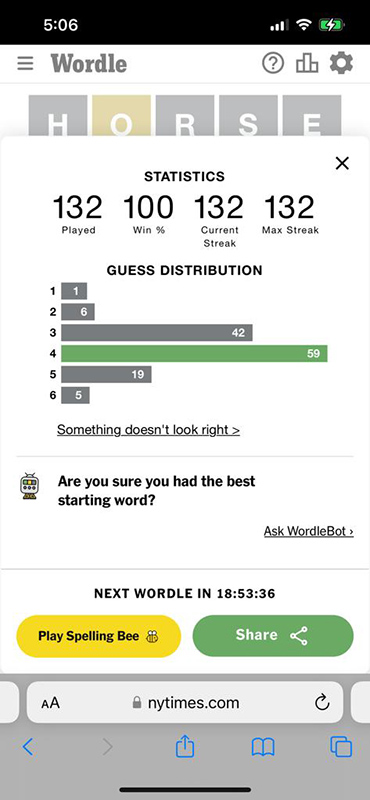 4:45 a.m. My alarm goes off. I am for sure a morning person—it's pretty much routine now to wake up at this time every morning, even on a day off. I always start my day with Wordle, and always with the same word. My friend and fellow show jumper Alison Robitaille and I send our Wordles to each other daily.
5 a.m. Coffee! Well, in this case this morning, it is hot black tea in the hotel room. I am a Starbucks addict, but in Mexico my day starts before Starbucks is open and my oat milk latte ("latte de leche de avena") will have to wait for tomorrow when we start a little later in the day.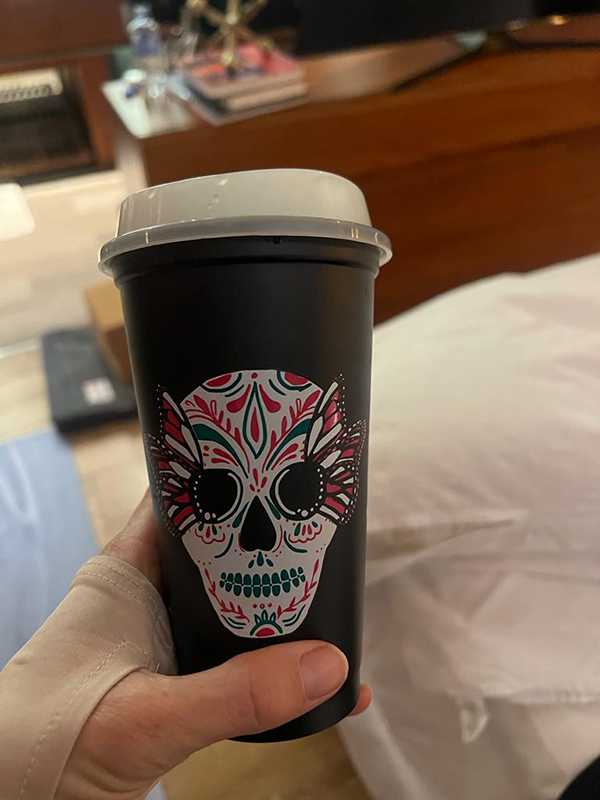 5:15 a.m. Yoga. This has been a much different year for me. Representing Canada at the world championships earlier this year, I spent a lot of time in Europe and a lot of time alone. My yoga mat has traveled the world with me. I try to stretch or do some yoga every morning before I ride. I use the Peloton app for all my workouts, and this morning I do a 20-minute "Focus Flow: Hips" routine.
6:15 a.m. Arrive at the show. We have our whole day planed on the white board, with horses and the schedule for the day. I have two to hack before they show and two to longe. All four will show later.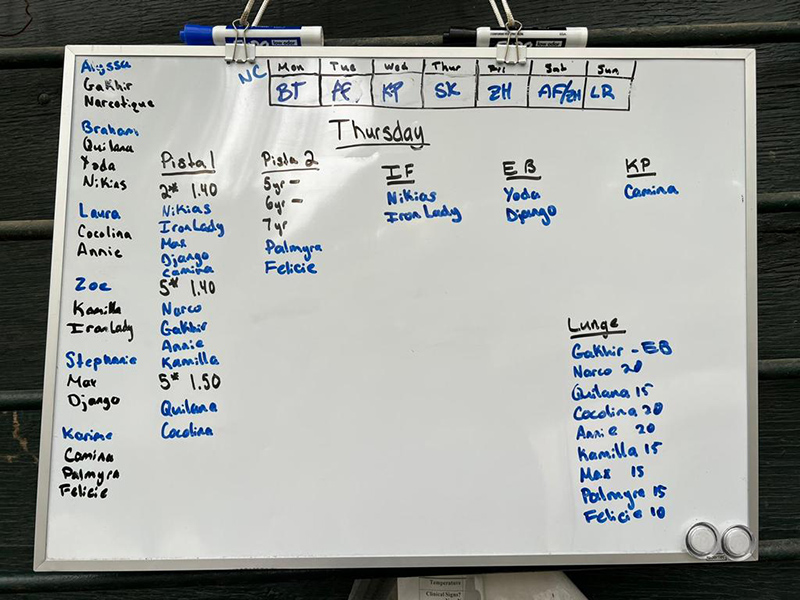 6:45 a.m. The first thing on my agenda is to longe Gakhir.  "Curly" (the nickname comes from when he was a young horse and his mane would stay curly after his braids came out) has really become my best friend this summer. Working for a dealer, horses come and go. This year Ilan gave me the opportunity to be in Europe for four months and I spent every day with Curly. He has such a big, kind personality. I wouldn't want to spend four months with anyone else!
We longe a lot on the first day of the show. When we are on the road so much and turn-out is very limited or non-existent, a nice 15-minute longe offers the horses some free time and independence. It seems to really work for "Curly" to relax him on the first day.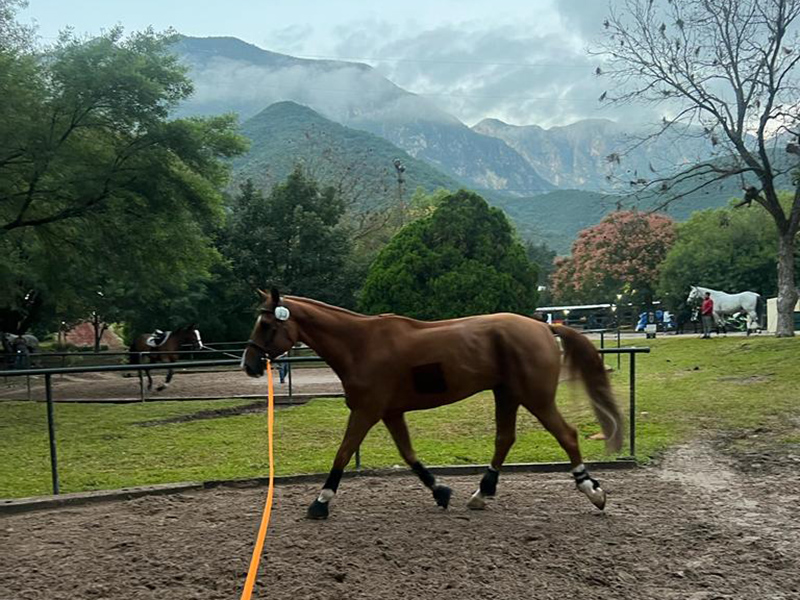 7:15 a.m. My first flat ride is Django Du Lys. He belongs to Wesley Newlands and will jump in the CSI2* 1.40-meter class this afternoon. I give him a nice ride to make sure he's relaxed and ready to show. Each horse's schedule is planned individually for a show day, and it's always planned based on what will suit the horse best on that day. Some longe, some flat, some Ilan prepares for us in the mornings, and some just go to the ring. It's about finding the right balance of energy and making sure the horse feels good and relaxed, and it's very, very much a team effort.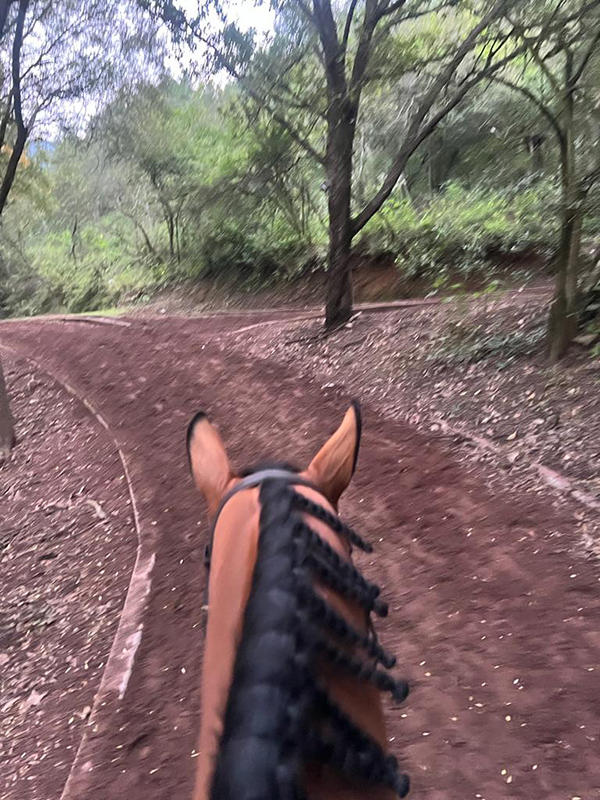 8 a.m. First class, the CSI2* 1.40-meter. We have five horses jumping in this class. My horse is Nikias Ligie V.V., a 9-year-old Belgian Warmblood (I'm Special De Muze—Ligie, Royal Feu) Ilan owns and today is the first time I've competed with him. He gives a great feeling at the jump. We finish sixth in the class with a clear round—what a great start! Wesley, Natalie and Karime all jumped their opening two-star rounds clean as well.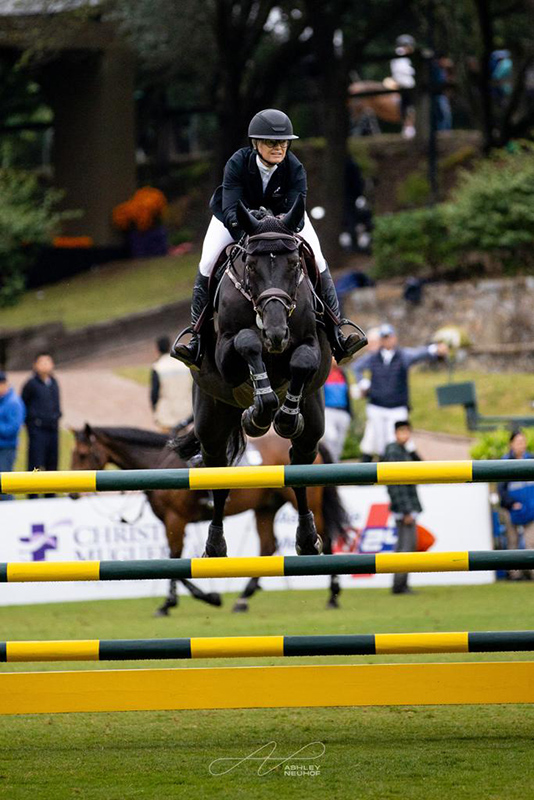 9:30 a.m. Longe Narcotique V/H Dingenshof. "Narcotique" is another 9-year-old Belgian Warmblood (Harley VDL—Jidona van het Dingenshof, Chacco-Blue) of Ilan's. She jumps later on today. I try to spend as much time with my horses as I can. As I mentioned earlier, each horse has their own program. It is not always me who rides them before the show or even the day of the class, but it is really important for me to have a relationship with all of them on the ground. I think it's easy to get so caught up in the sport that we lose perspective of why we do this. It becomes more about the horse doing it for you and less about the horse doing it with you. We have to remember that horses are not machines; they are our partners. So to hang out with her on the longe is time well spent.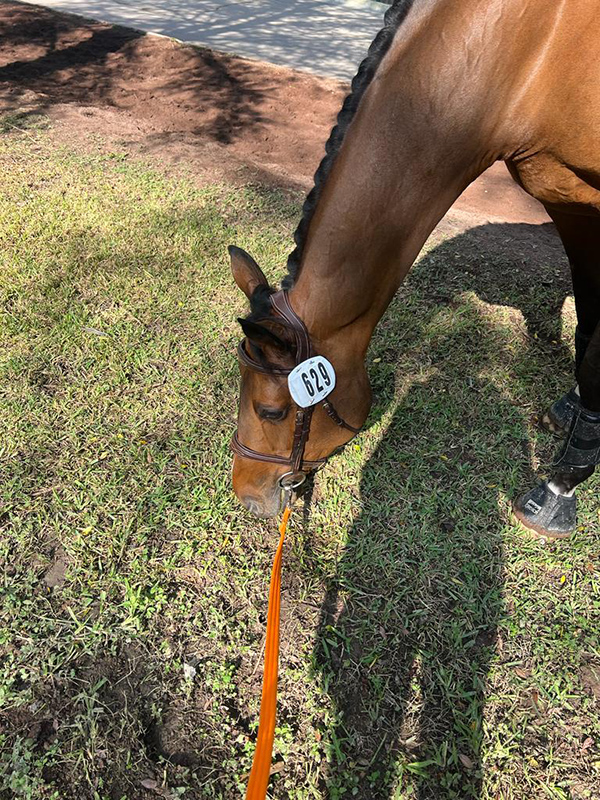 11 a.m. Karime shows both of her 7-year-olds. Karime is a U-25 rider from Mexico who has been riding with Ilan since January. She has two young horses she brought to Mexico, and they are getting the opportunity to show in the most beautiful ring that's being used here for the young horse classes. Such a great experience!
12:30 p.m. CSI5* 1.40-meter class. Narcotique and Curly both have an easy start to a big week! Curly jumps an easy clear. Narcotique ends up with 4 faults. Both horses jumped great. Natalie also jumped a super clear on her grand prix mount for the week Acota.
We have a table in the VIP area where I might grab a snack between classes, but I try to eat as healthy as I can and really limit my dairy and gluten. In a VIP, they don't always have selections of suitable food, so if possible I eat in the mornings, try not to snack too much and eat a dinner as healthy as I can. Living on the road and trying to follow a specific diet can be nearly impossible.
3:15 p.m. CSI5* 150-meter class, the feature class of the day. I am riding Quilana Denfer a 9-year-old Selle Luxembourgeios (Quidam De Revel—Salina IV, Cento) owned by Mario Onate. This is my fifth show on her, and we have had some really good results. I think she is a serious horse for the future; she's got everything it takes. We have 4 faults today because I over-rode a little at the Liverpool, but the rest of the course she jumped rub-free with ease. I decided to take her for a long walk home. I prefer if I have the time to walk them back to the barn myself. It's another small way that I can spend time with the horse.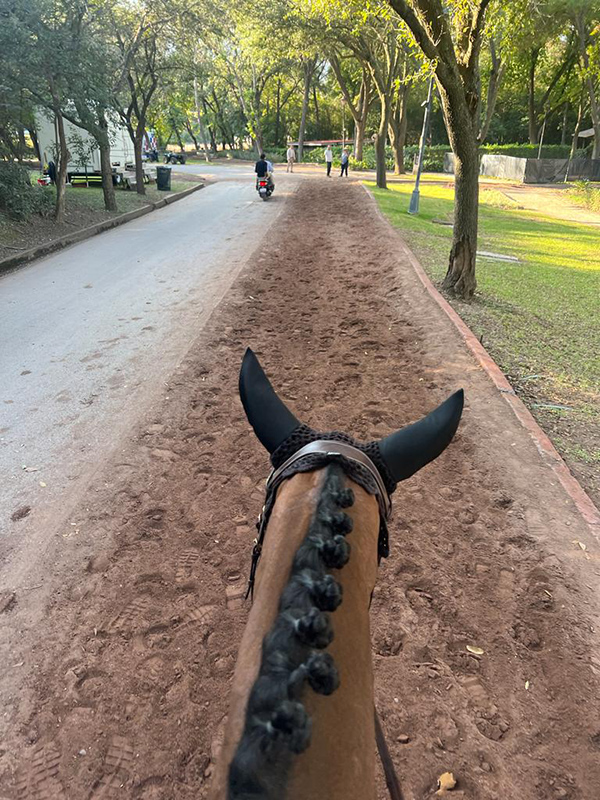 6 p.m. We wrap up at the show and head back to the hotel. We always do the list at night for the next day, with a start time and a break down of what each horse will do. My favorite thing is to see them all tucked in a night with clean shavings and munching on their hay after a day of jobs well done.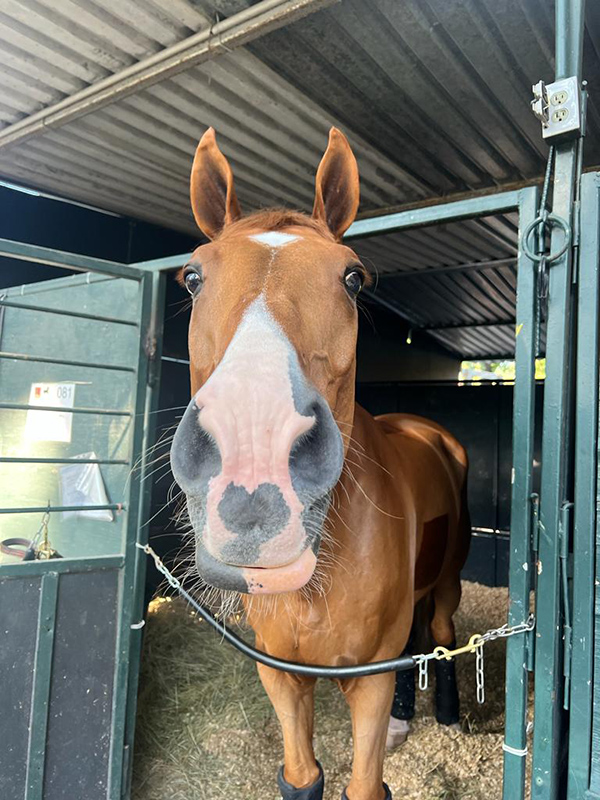 I hate to say that my day ends with the horses, but it usually does! I take a quick shower and find dinner close to the hotel. I am a big Netflix watcher and usually fall asleep watching TV. It's time to get ready for Friday, where the best news is that a later start in the morning means Starbucks for breakfast!