The son of two winter Olympians, Toy Dorgan (USA) and Ross Martin (AUS), three-day event rider Boyd Martin, 41, grew up in Australia and moved to the United States to pursue his dreams of international competition. He's always had U.S. citizenship thanks to his mother, and he's officially been representing the U.S. since 2010. He's finished in the top 10 at every five-star three-day event in the world except Badminton, and he currently has a string of talented five-star level event horses.
Martin has twice represented the U.S. at the Olympic Games, in 2012 riding Otis Babotiere and in 2016 aboard Blackfoot Mystery. He was the top-placing U.S. rider at the 2014 Alltech FEI World Equestrian Games (France) on Shamwari 4 and the 2010 WEG (Kentucky) on Neville Bardos. In 2019, Martin won team and individual gold at the Pan American Games in Lima, Peru, riding Tsetserleg.
This spring, he was the highest-placed American rider at the Land Rover Kentucky 5*-L with On Cue and won the Jersey Fresh International CCI4*-L, the final selection trial for the 2021 U.S. Olympic Team, with Luke 140.
Boyd and his wife Silva, a German-born Grand Prix dressage rider, own and operate their farm Windurra USA in Cochranville, Pennsylvania. During the winter, they are based at Stable View Farm in Aiken, South Carolina. They have two sons, Nox, 5, and Leo, 2.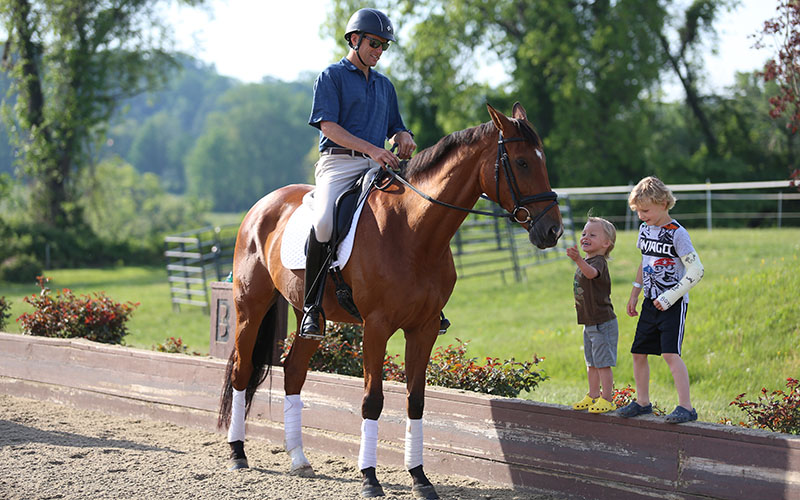 5:15 a.m. I have to creep out of bed because, somewhere during the night, my wife Silva and I regularly have two young intruders, young Nox and Leo, who sneak in. I come downstairs and crank up the coffee machine. For me, this time of the day is the only moment of peaceful quiet and calm that I know I'll experience until I go to sleep at night. While the coffee is brewing, I sit down and watch the news. Often my cats, Manny and Kostya, will meet me downstairs, and I'll feed them. They, too, enjoy the serenity of the early morning.
5:45-6:45 a.m. I go downstairs to my basement, which has been converted to a workout area, to exercise and stretch. After 25 years of riding at the upper levels, my body has taken a fair bit of use, and the past couple of years I have figured out that, for the sake of my health and longevity, my fitness is a top priority. Every morning, I put myself through a series of exercises and stretching: Two mornings a week, I work out with my physiotherapist, and two mornings a week I do virtual yoga with a woman who specializes in hip, groin and core strength. She works with a lot of professional athletes and conducts sessions virtually. The other mornings, I just run through a series of warm-ups for the old body, starting out on the elliptical, doing 10 or 15 minutes on the foam roller, a bunch of stretches and then a series of strengthening exercises.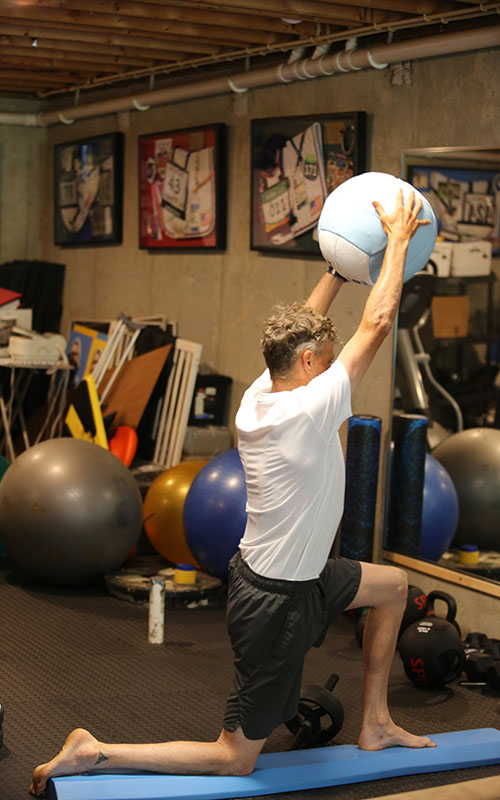 We've got an Alexa sound system down there, and the music is usually either some nice, calm, chill electronic music or the "Rocky" theme music to get the day started. About halfway through the session, I usually will hear small feet shuffling down the stairs, and I'm joined by Nox and Leo, who have a play area in the basement and also like to join me for a workout.
6:45 a.m. I come upstairs after my workout, drink a couple more coffees—no breakfast —change clothes, give the bride a big kiss and head out to the stables around 7 or 7:15. (The staff feed hay at 6:30 a.m. and grain at 7 a.m.; at 7:30 a.m., turnout starts.) I say good morning to everyone, get to the tack room to go through the training schedules, and meet up with my head groom, Steph Simpson, to go over the plan for the day. I like to start with one of my upper-level horses on the flat.
7:30 a.m. The dressage ring is a very enjoyable place early in the morning. It's the only time of the day it isn't full of horses, plus it's freshly groomed, and the morning sun is coming up. It's about this time that I again rendezvous with my wife, whose days are planned similarly to mine. Our nanny Susana takes over the kids from Silva about 7:15, and the boys will come out to the barn at the beginning of the day to cause havoc. Nox usually leaves for school with Silva around 8:45, though sometimes Susana or I drive him.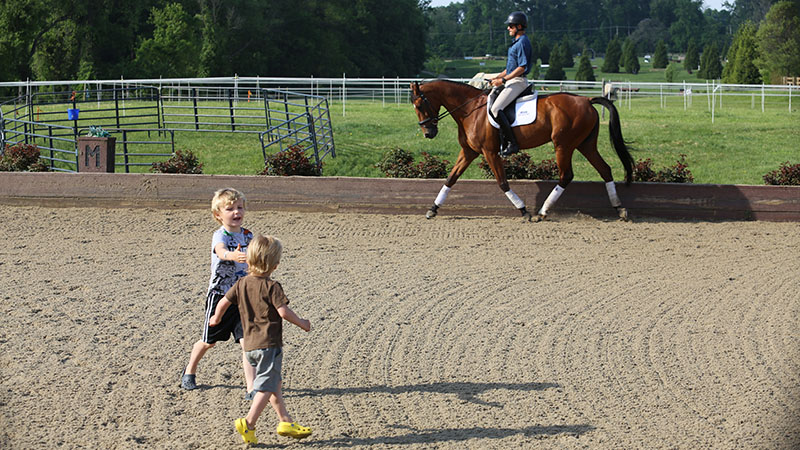 I try to concentrate on the upper-level horses early in the day while I'm full of energy, and it's still a little quiet at the farm. All of my horses will have two riders on them each day: By the time I get on them to do their dressage or jumping, I've already had one of my assistant riders hacking them for 30 or 40 minutes. From an athlete's point of view, if they have had a good warmup and stretch, they're ready to go to work by the time I get started. Usually they have a light sweat before I get on them. It also gives them plenty of time to enjoy their training rather than just the intense 30 or 40 minutes I give them.
About 12:30 p.m. I come into the house for 20 minutes and have another coffee and something small to eat. Afterward, I'll keep riding until about 4 p.m., and then I might teach a few outside lessons to up-and-coming riders who I coach.
5-5:30 p.m. I try to finish my day's work and come back to the house to take over looking after the kids and give Silva and Susana a break. It's a lot of fun to play with them, but, unfortunately, compared to riding event horses, this is when the real danger starts! A couple days ago, we were having a "who can jump the highest" contest on the trampoline, and sadly Nox broke his arm. I guess he takes after me …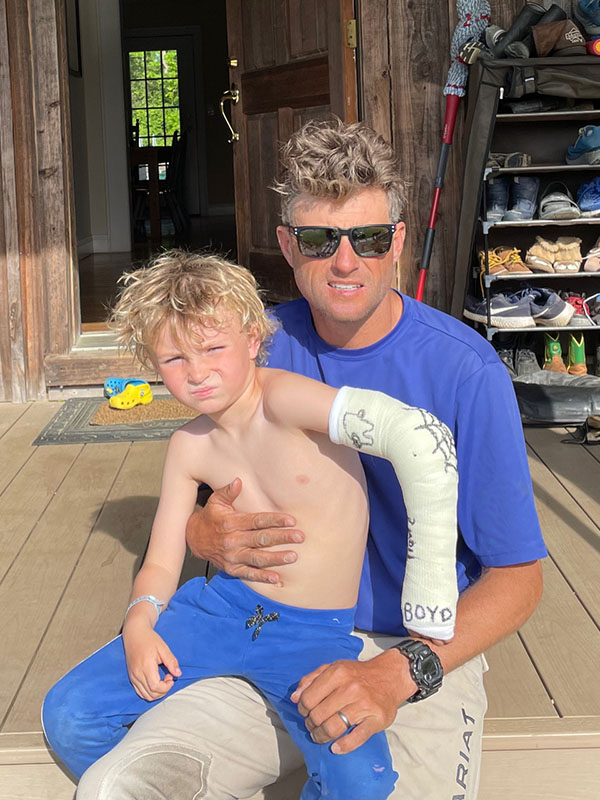 6 p.m. One of my hobbies is jumping on the tractor and heading out to my cross-country schooling course, built by my friend Eric Bull, to shift the portable schooling jumps around a bit so they're on fresh ground for the next day's training. This is an enjoyable part of the day, spending time with the kids or by myself.
The course is open for schooling and is a big part of our business, so it's important to keep changing things up, and it's a good mental break, doing something different from riding and training. This time of year, there are a lot of kids coming after school to cross-country school. It's always nice to see youngsters on their ponies schooling at the same venue as a lot of Olympic riders.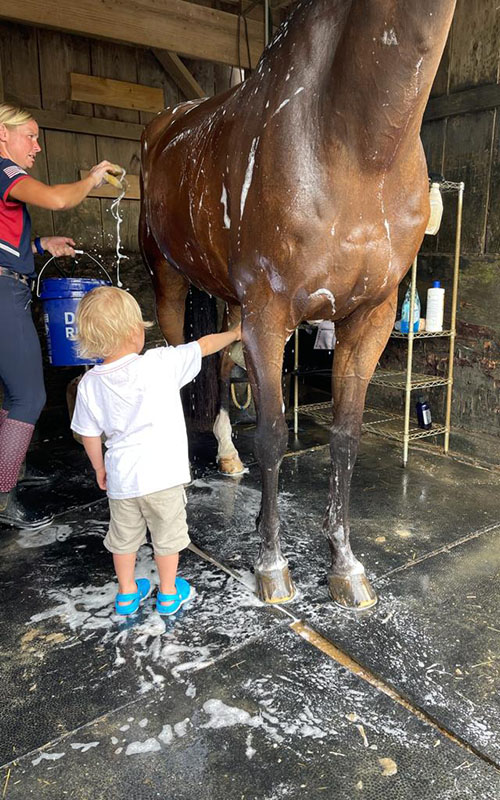 7:30 p.m. I wander around the barn to check the horses. Most of the staff are finished by 6:30 or 7, so I just give everything a once-over and make sure everything is in order. Then I wander back to the house and start cooking dinner for Silva.
Ha – just kidding! We'd be eating a lot of instant noodles!
I'm lucky my wife is German, and they love their food: Silva is a great cook, and dinner is always top-notch at our place. This being an Olympic year, I sadly don't enjoy beer or anything too extravagant; it's often a fresh green salad with a piece of baked salmon.
Evenings: We now have a TV, and the programming is mostly in German, because Silva is obsessed with the kids speaking German.
If I've had a hard day riding and I'm feeling sore, this is my opportunity to head to my infrared sauna for about 25 minutes and then leap into my ice bath for about 5 minutes. This definitely makes me feel better and gives me a good night's sleep. I listen to a lot of athlete's podcasts driving to events, and the idea behind using this for reducing inflammation and bringing down the heart rate made a lot of sense to me.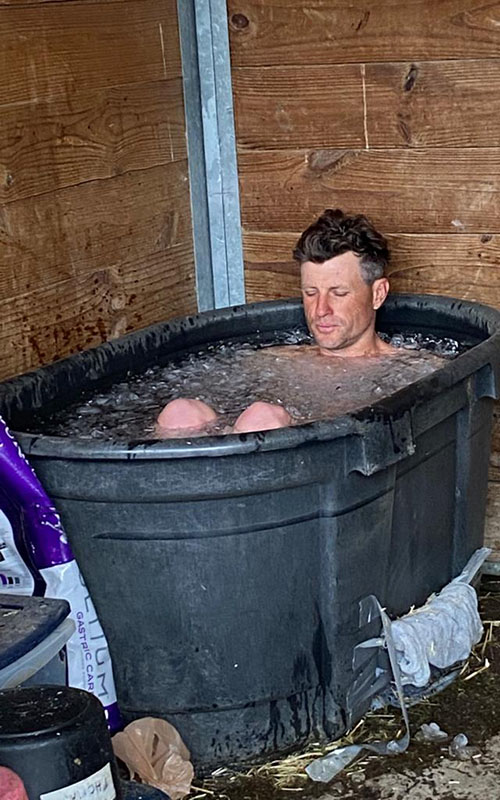 8:30 p.m. I usually fall asleep on the couch, exhausted from the day.
9:30 p.m. Silva gives me a nudge to wake me up and tells me to go upstairs and go to bed.