Anna Buffini, 27, runs her business out of San Diego, but she's spending this winter in Wellington, Florida, to compete at the Adequan Global Dressage Festival under the tutelage of Guenter Seidel. As a young rider, she earned team gold at the Adequan FEI North American Junior And Young Rider Championships (Kentucky) with Sundayboy and won the Young Rider title at that year's U.S. Dressage Festival of Champions (New Jersey). In 2016 she was champion and reserve in the USEF Young Adult "Brentina" Cup Dressage National Championship (Illinois) with Sundayboy and Wilton II. She finished reserve with Wilton again in 2019. She purchased FRH Davinia La Douce, or "Diva," in late 2020 and represented the U.S. abroad at Achleiten (Austria), Rotterdam (the Netherlands) and Aachen (Germany). She recently purchased three-time World Young Horse Champion Fiontini, or "Fio," and will compete that mare for the first time during AGDF.
Buffini takes us through her day at AGDF 5 on Feb. 9, which included the jog for the CDI-W, where she competed Diva. They earned a 70.31% in the short Grand Prix CDI-W for fourth and a 77.60% in the Grand Prix freestyle for third.
---
5:30 a.m. My alarm goes off, but I hit snooze continuously for the next half hour every 7-10 minutes because I set about 14 alarms every day. I almost missed a lesson with Guenter once when I was a 16 because my alarm didn't go off, and ever since then I have been paranoid about it.
6:30 a.m. Grab coffee for everyone going to the show. Horse show diets can be pretty disorganized due to the demands of the day, so I want to make sure everyone is caffeinated and full before we start a hectic move-in day.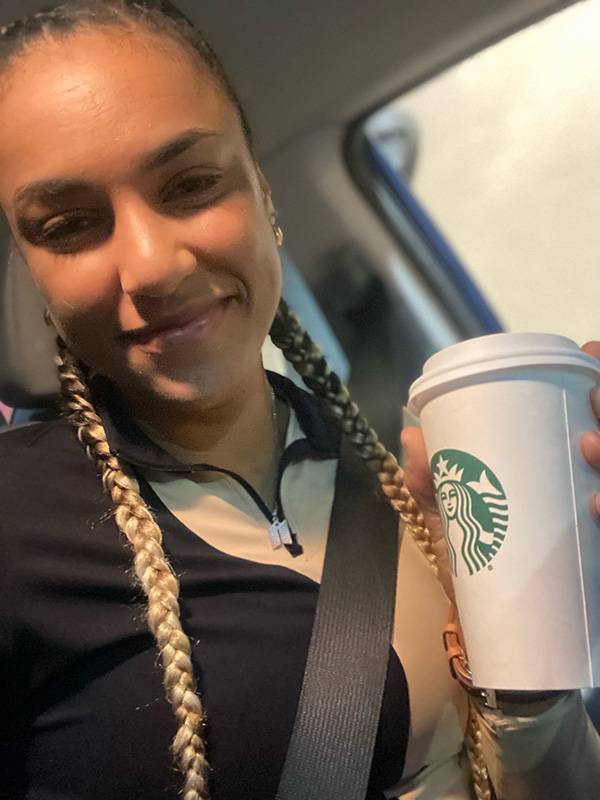 8 a.m. Arrive at Global for the CDI with my two mares. It was rainy, and they're two spicy mamas, so I was very pleased with how well they handled themselves. After the full day of travel from San Diego to Florida, they became quite attached and have to do everything together.
10 a.m. Jog time. Diva used to be wild in the jog and needed two people to hold her and still would knock us around. We've worked so much on her ground manners over the past year, and while the fiery chestnut mare part of her will always be in there, it's calmed down quite a bit.
Noon Time to ride. Fiontini just came to the show to school because we've only been together two and a half months. She was wonderful, and we had a great ride. Diva is such a gamer. Every single ride she tries her absolute best. She's so confident in the show arena, which is one of my favorite qualities in a horse. There's already so much to think about, and to have an insecure or spooky horse on top of all of that can be so difficult. My previous horse Wilton was very spooky, and many of our tests got interrupted because he was genuinely scared of things going on outside the arena.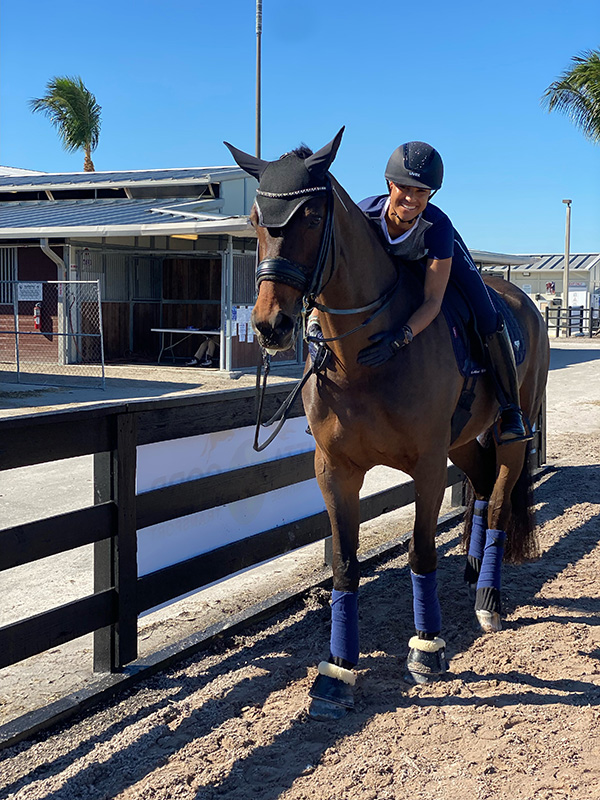 2 p.m. Lunch with my parents. They left my five brothers and sisters at home and flew from San Diego to be here for us. My mom, Beverly, was an Olympic volleyball player, and my dad, Brian, was a collegiate soccer player, so I get my competitiveness from them. I owe absolutely everything to them, and I'm so grateful they've given me the opportunity to pursue my dreams.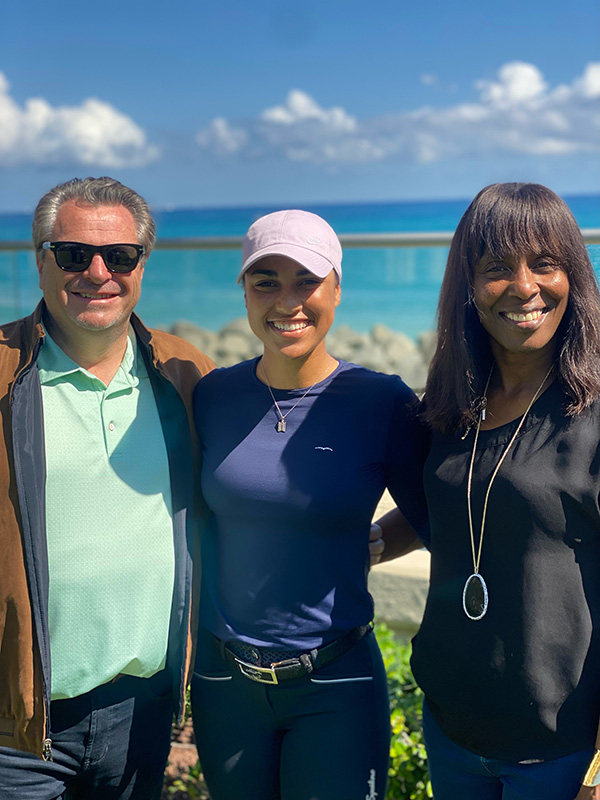 4 p.m. Work out by the beach. My favorite! I've been working out since I started gymnastics as a 3-year-old. But I really started owning my fitness journey at 18. I had a horse named Sundayboy, and we were training for the Young Rider division. He was huge and powerful, and I realized that I wasn't fit enough to do him justice and ride him the way he needed to be ridden. I also believe that if you don't workout yourself you can't have empathy for your horse in their own workout. I know there's a ton of equestrians out there who ride from dawn till dusk and may not have the time or energy, but that already is a workout itself, and you can still understand how hard your horse is working based on your own tiredness.
Back home, my favorite workout at the beach is running these huge sets of stairs we have. If I only have 20 minutes to spare, it's more than enough to time to work up a good sweat by the end. Workouts can be so monotonous, and the beach is absolutely beautiful, so even when you're in pain or out of breath, you get to have the best view in the world and can also cool off in the water at the end.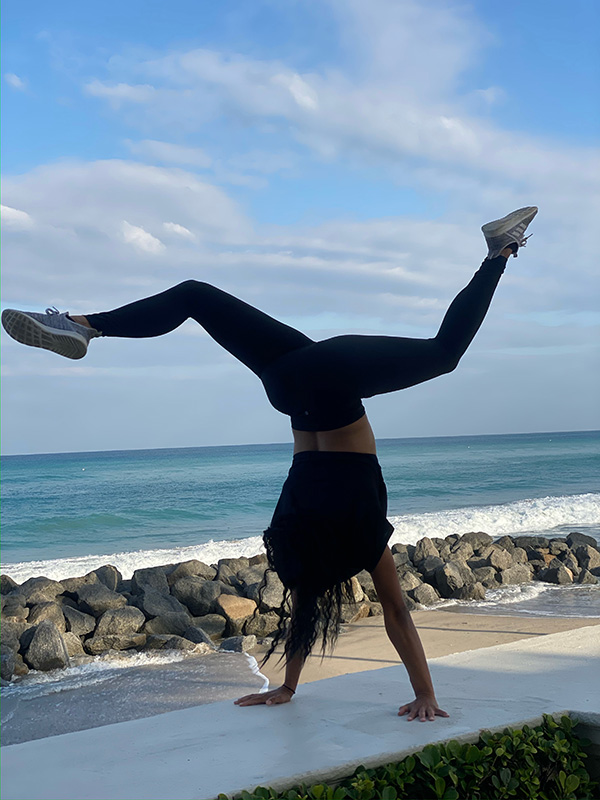 5 p.m. Sound check for the World Cup qualifying freestyle. My music is from my favorite band BTS, and I just love hearing it every time it plays over the loud speakers. My family and I discovered them at the very beginning of the pandemic, and watching them in the evening during lockdown became something we all looked forward to and brought us closer together.  I also am a worship leader, and singing is my other biggest passion in life, so part of the freestyle includes me singing, and it's been so fun seeing people's reactions when they find out the voice is mine.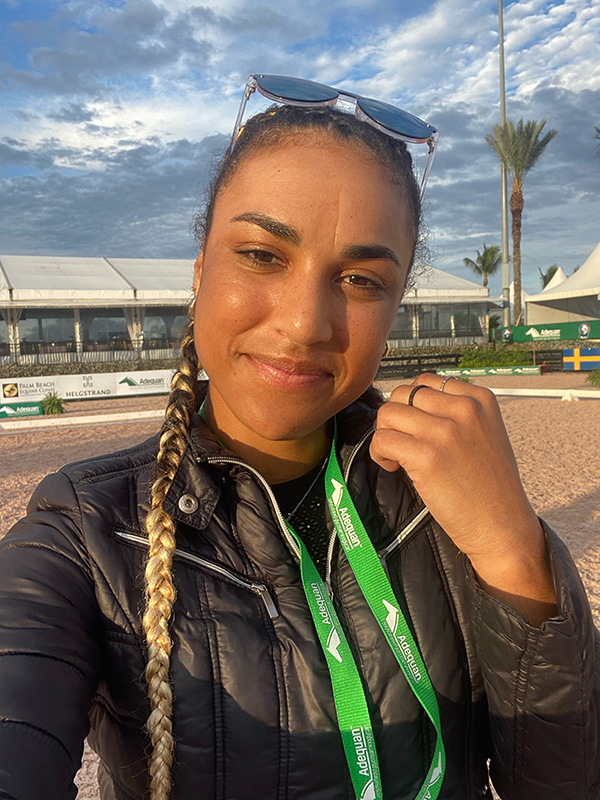 8 p.m. Night check and dinner with Fio to finish off the day. I always want to spend every second I can with my ponies, especially at shows where they're more nervous and uneasy in a new home. I have to alternate who I sit with because they both get very jealous. Diva is much more demanding than Fio, who is quite laidback, so I always have to make sure she has food in front of her when I spend time with Fio. Both mares are absolute pros at shows, and I am so lucky that I get to be their mom.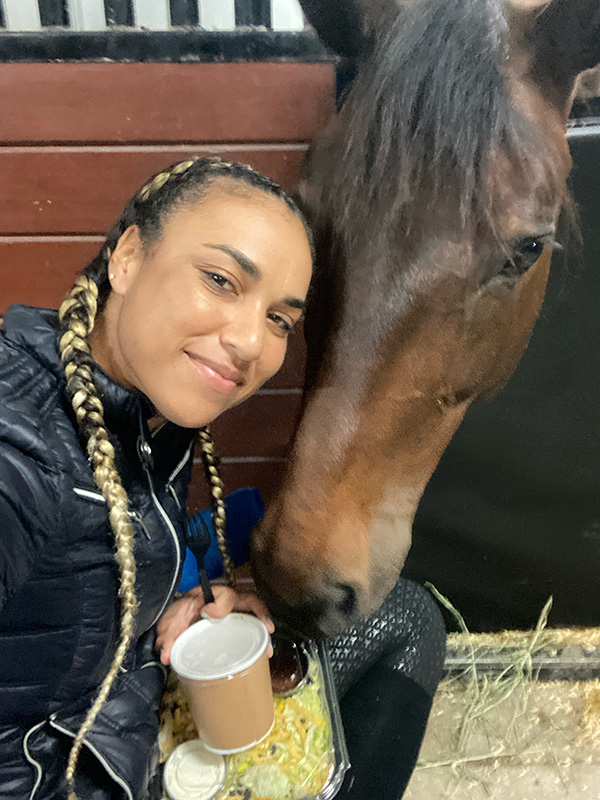 10 p.m. is usually bed time, but I'll stretch it later if I'm out with friends. One thing I always have to work on as an equestrian is balance. Horses demand and deserve so much of our time, but we need to make time for our friends and family too. Wellington is so amazing because all of my best friends are here, and we get to go out to dinner almost every night, which is so rare when I'm home. So as much as I try to stay on a schedule, I definitely value the time I spend with people outside the barn more than I ever have before.